The Changing Face of The Photo Print Market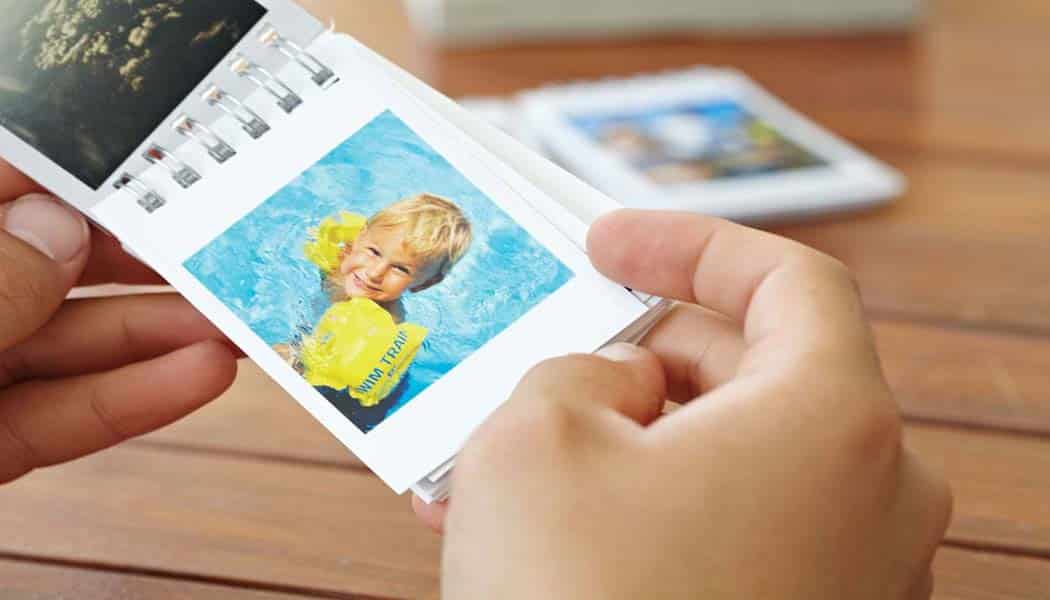 Some interesting trends are developing in the photo output market, all of which are indicating an interest in doing more than simply posting images to Facebook or Instagram is growing.
We already know that between our smartphones, cameras and camcorders, we're taking billions of photos every year. We've seen estimates claiming that with a span of a few minutes today we snap as many photos as the whole of humanity did in the 1800s. Facebook's image upload totals surpassed 300 million per day a couple of years ago. It's a veritable blizzard of digital data and like any massive storm, we find it overwhelming to dig ourselves out. And, up until recently, we haven't been doing much with all those memories other than the fleeting pleasure of social media posting.
More Than Cyber-sharing
However, several of the research forms that track our photo habits are finding that consumers are developing a thirst to do more with their images than simply sharing them in cyberspace.
While the number of traditional photo prints continues to stagnate, the number "prints" of a different type is on the rise, including as the chart from Photo Imaging News below illustrates, the printing of images from social networks/online storage. Also showing a steady increase is the business of photo postcards, photobooks and prints being made from smartphones.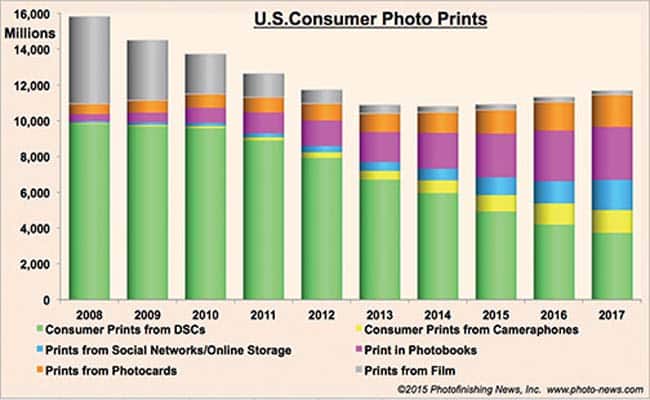 "Most of us struggle to even organize all the photos we're taking, much less take advantage of all the great creative options for our images and videos. That's a tragic irony, because while digital photography has made it easy to "snap and forget" it has also unleashed a wide range of creative possibilities for our images—from wall art, to photo books, sculptures, multimedia videos and virtual collages—there's never been a better time to be taking pictures," explained PDN's Greg Scoblete. "Our technology has also created some unique challenges: digital photos are easy to take, and easy to lose. Unlike printed photos, there's no simple method to ensure your digital photos will be viewable by future generations."
Indelible Prints
Perhaps consumers are finally figuring out one of the best ways to ensure your images will be around for generations is print them out or turn them into some form of tangible photo merchandise and the popularity of smartphones appears to be leading the charges here as well.
In a recent InfoTrends survey, 21% of photo merchandise buyers indicated that they had ordered a photo product using their mobile device and another 39% said they had not but were interested in doing so. Clearly the increased popularity of smartphones as a camera and the willingness of people to order photo products have led to some very cool and exciting new opportunities in the photo output market, where that same InfoTrends survey found that more and more products are now being ordered through mobile apps instead of through a web browser or a kiosk in a retail store.
We'll take a look at some of the hottest new photo printing apps in our next post but we'll mention one that surfaced in the InfoTrends research that has breathed new life into the photobook market.
App-Happy Output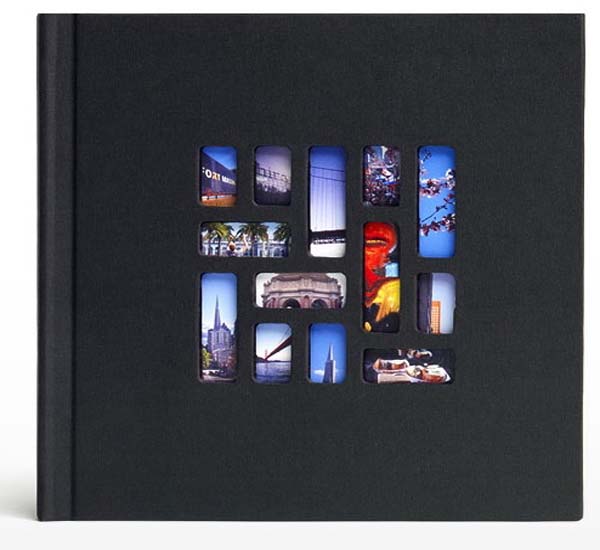 The Mosaic app which is available for iPhone and Android, allows for the creation of a very slick looking photobook in about 5 minutes time.
You are given the option to choose photos from your Camera Roll, from Facebook, or from your Photo Library. Once you select the source, the thumbnails appear on the screen and you simply check the photos you want in the book by tapping them with your finger. The selected photos appear in a pane at the bottom of the screen, and can be rearrange by holding down on the appropriate picture and dragging it with your finger. Once 20 photos are chosen, you can review the book, and you can shuffle the cover photos and flip through the pages.
The mosaic that appears on the cover truly sets this photobook service apart and for $25 this is one print app we recommend highly.
As I said, we'll take a peek at a few more later this week.