Editor's Choice: Abstract Theater
A theater is a great place for taking pictures, since it contains so many props, different things, and potential models that there just might not be any other kind of place with quite as many photographic opportunities as a theater. So today we've picked a picture that grasps these opportunities.
Abstract photographs are not the kind you run into every day. This is more a genre you'll encounter sporadically—unless you do abstract photography yourself. So let's take a closer look at one photo that's both abstract and, in its own way, also a documentary photo.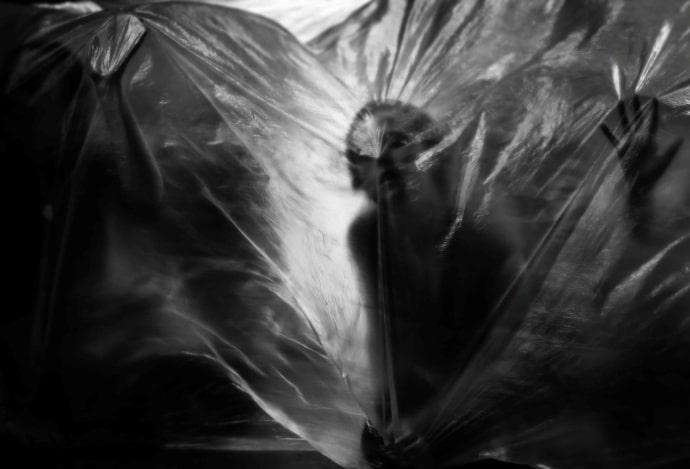 Leave Something Concrete
Abstract art in general, and not just photography, offers an opportunity to leave a lot of room to your audience to work with their imagination. This also applies for abstract photography. It's very nice when something is suggested in an abstract photo, like the hands and face in this one. Then it's up to the viewer what they fill in and imagine.
Composition and Conversion
This is a well-taken photo, in terms of both its technical aspect and its content. The composition is outright artful. The photo's key elements—the face and the palms—are artfully lined up along a single path. Everything else is covered in a plastic sheet that veils the whole scene, making this photograph a partial abstraction. Looking at it, you can imagine whatever you want. The conversion to black-and-white was done very well, as the picture has both full blacks and full whites. So it's full of contrast, with the entire spectrum from black to white being covered. That's the way it should be.
We really like a photo like this. Some people might think that it's easy to take such a picture, but the opposite is true. It's good to have some experience here, because photographing "nothing" in a way that makes it "something" is really quite hard.