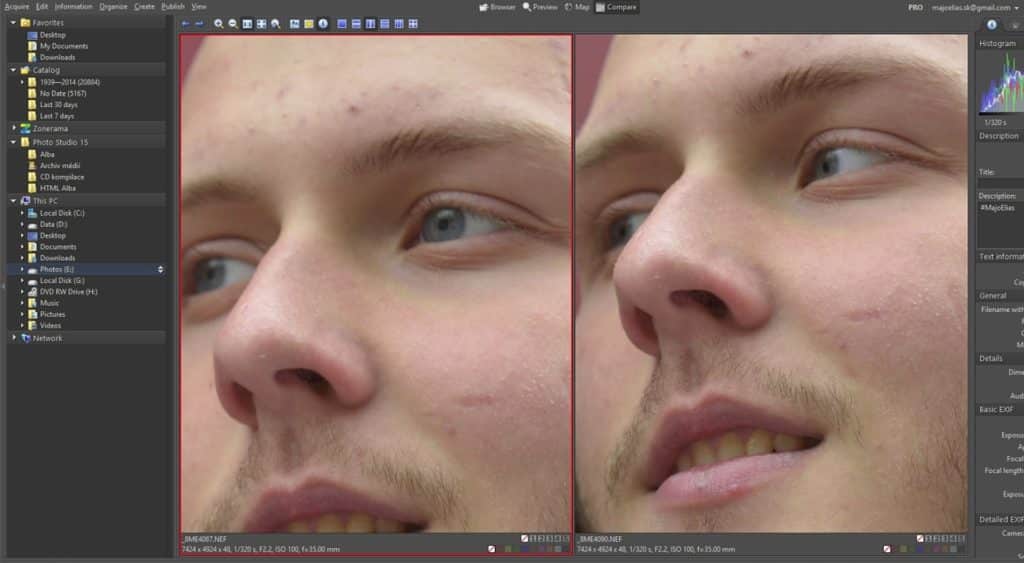 Sorting and choosing photographs is not exactly the most enjoyable part of the art. But it's a necessary one. We'll give you a few tips and tricks for efficiently sorting photos, and for picking a picture's sharpest shot. As well as how to publish your photo picks on Zonerama with no loss of quality.
For many photographers, sorting photos is the most boring part of the photographic process. It's more fun to work with photos than to choose them. Fortunately, the developers of Zoner Photo Studio had this task too in mind while designing their software, and so Zoner offers ways to speed it up.
ERROR – CARD FULL
Your photo sorting work will go easier if it starts behind the shutter. Whenever you have the time, run through your photos, erase a few that look bad even in the preview, and lock the ones that look great. You'll catch on quickly, especially if you shoot reportage. There's nothing worse than having to sift through thousands of identical bad photos.
ALT+M
If you learn just one Zoner shortcut key this year, learn "ALT+M." Remember it well! It's a very efficient way to separate out the photos you'll be working with later. Use it to quickly move a photo to a folder of your choice. So: download photos from your card to your PC, and then in Zoner's Manager, go and browse through these photos. When you see one worth keeping, press ALT+M to easily send the picture to be with the rest of your best. But for now, don't worry about which out of a pair or triplet of photos is sharp—you'll worry about that in the next step. Send them all. Right now, just select the photos that are worth a second look.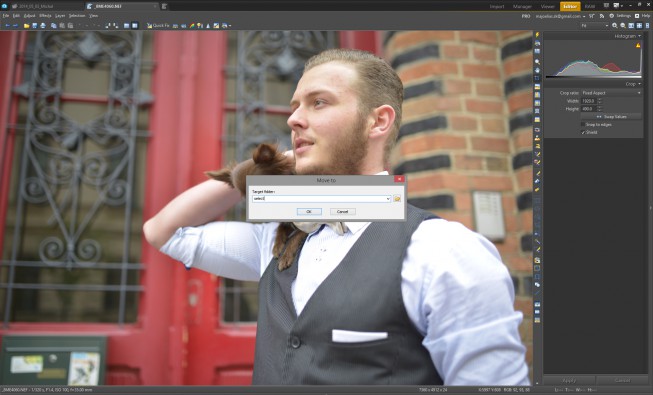 Comparing Pictures
In practice, you'll always be comparing similar photos. The most common reason for picking between photos is sharpness. To compare sharpness, use the Compare function in the Manager module. Select the photos that you want to compare, and then click the button towards the top named Compare. Zoner then automatically divides the screen into halves, thirds, etc. and presents the selected photos for comparison.
Use the blue buttons at the top to change how the screen is divided so it fits your needs. Use the 1:1 button to zoom in to 100% size, then use the mouse to move to the part of the picture that most needs to be sharp (e.g. the eyes). Leave the better photo, and delete the worse photo or photos by pressing Delete. That deletes the active photo. But which one is the active photo? It's the one marked with a red frame. Click a photo to make that one active.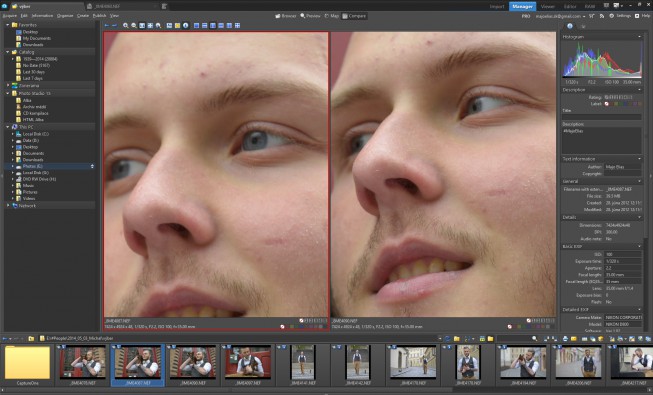 Don't Fear the Reaper
Deletion is a bogeyman for many photographers. But don't fear it! If a photo's bad, throw it out. You'll appreciate the saved disk space. After all, you've already got your prize photos separated out into a special folder. They are safely stored away for you to process and publish. Speaking of which:
Now Publish!
You can and should make a variety of post-edits to your prize photos, such as fine-tuning contrast and exposure. Then, once you want a good place for publishing or even just safely storing them after that, look to Zonerama. It's a fine choice even if you want to keep your photos private. Use a password-protected album, and then distribute the password only as needed.