Rewarding Nature's Best Pics of 2016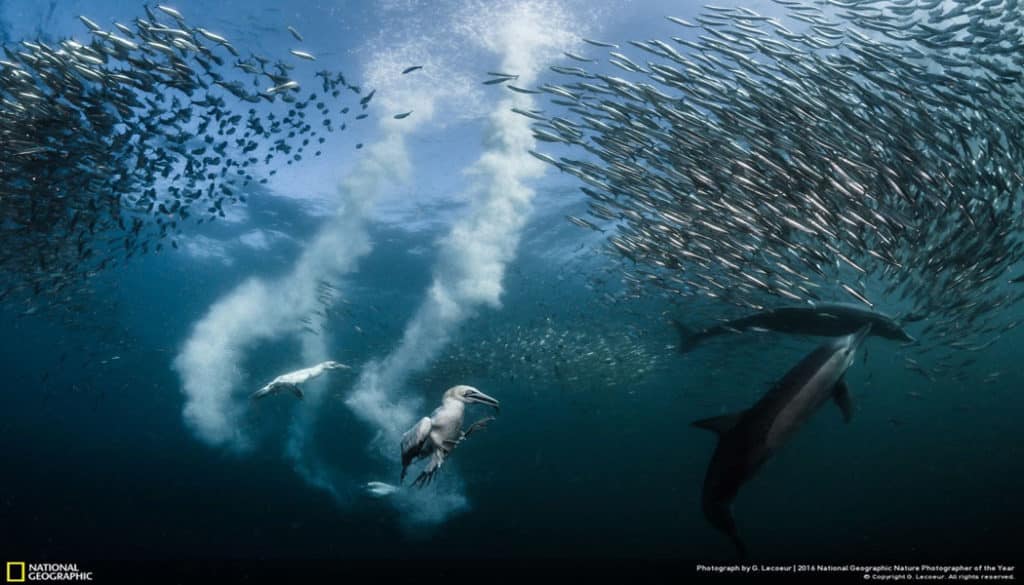 Couldn't think of a better way to end 2016 than with some of the year's greatest photography as National Geographic recently announced the winners of their 2016 Nature Photography of the Year contest.
We were absolutely mesmerized by this year's entries and cannot fathom how Nat Geo's editors ever settled on a winner in any of the assigned categories. The pages of the publication have been treating us to some of the world's greatest photography – remarkably since all the way back to 1888.
What Photography Does Best
The winning images were chosen from more than 10,000 entries and the immediate reaction we had was one of complete wonderment as to how National Geographic actually picks winners from among this many astounding images. What a task!
While the winning images are truly amazing pieces of photography, all the images we had the chance to eye either touched our hearts, totally shocked us or made us think profoundly different about the natural world around us. Simply stated, this is a stunning collection of images.
This year, photographers from around the world competed in four categories: Landscape, Environmental Issues, Action, and Animal Portraits. "The four categories of this year's contest gave photographers a chance to capture the complexity and beauty found in the world around us," remarked Sarah Polger, senior producer for National Geographic Travel and manager of National Geographic photo contests. "We anticipated compelling and revealing images." And all the photographers that entered work did not disappoint.
And The Winner Is….
The grand prize this year was won by photographer Greg Lecoeur of Nice, France, with his photo titled "Sardine Run" 
that we feature as our opening image.
As Lecoeur explained, "I captured this image (above) during the migration of the sardines along the wild coast of South Africa. Natural predation, sardines are preyed upon by cape gannet birds and common dolphins. The hunt begins with common dolphins that have developed special hunting techniques," he begins of his shoot. "With remarkable eyesight, the gannets follow the dolphins before diving in a free fall from 30 to 40 meters high, piercing the surface of the water head first at a speed of 80km/h to get their fill of sardines."
The photo was snapped in June 2015 after Lecoeur waited two weeks to witness predators attacking a sardine run.
Photographer Varun Aditya, of Tamil Nadu, India, won first place in Animal Portraits for this photo of a snake coiled to strike:
"A morning stroll into the blissful forest. Ceaseless drizzles dampening the woods for 12 hours a day. The serene gloom which kept me guessing if it was a night or a day. Heavy fog, chilling breeze and the perennial silence could calm roaring sprits," Aditya explains of the day's shoot. "And there I spotted this 20cm beauty the Green vine snake. I wondered if I needed more reasons to capture this with the habitat. For I was blessed to see this at the place I was at. I immediately switched from the macro to the wide-angle lens."
First place in the in Environmental Issues category went to photographer Vadim Balakin, of Sverdlovsk, Russia, for this photo of polar bear remains in Norway.
"These polar bear remains have been discovered at one of the islands of Northern Svalbard. Unfortunately we do not know definitely whether the bear died from starving or aging, but more likely if we see the good teeth status – from starving," Balakin said. "They say nowadays such remains to be founded very often – global warming and ice situation influence the polar bear population a lot."
The first place winner in the Landscape category went to photographer Jacob Kapetein of Gerland, Netherlands, for this haunting photo of a small beech tree in a river.
"To restore original natural dynamics in streams many measures are necessary. In the 'Leuvenumse beek' a nature organization tried to increase heterogeneity of the river bottom and water retention by putting dead wood in the streamsystem," Kapetein explained. "In autumn when rainfall is high, pieces of forest get flooded. Once I saw this little beech in the water, trying to survive under these harsh conditions. I returned sometimes to this place to take pictures. One evening all the conditions were satisfactory."
We highly recommend you take a few minutes to scroll through images – though you'll almost certainly spend significantly more than a few minutes. Again, this is a stunning collection of photographs.
And we'd like to extend a final end of the year thank you to all the photographers and their incredible work we featured in this blog in 2016 – you have all taken us on a remarkable journey with your jaw-dropping work.
— Image credits: All photos are credited to corresponding photographers and are courtesy of 2016 National Geographic Nature Photographer of the Year