Taking A Comedic Approach To Selling a Category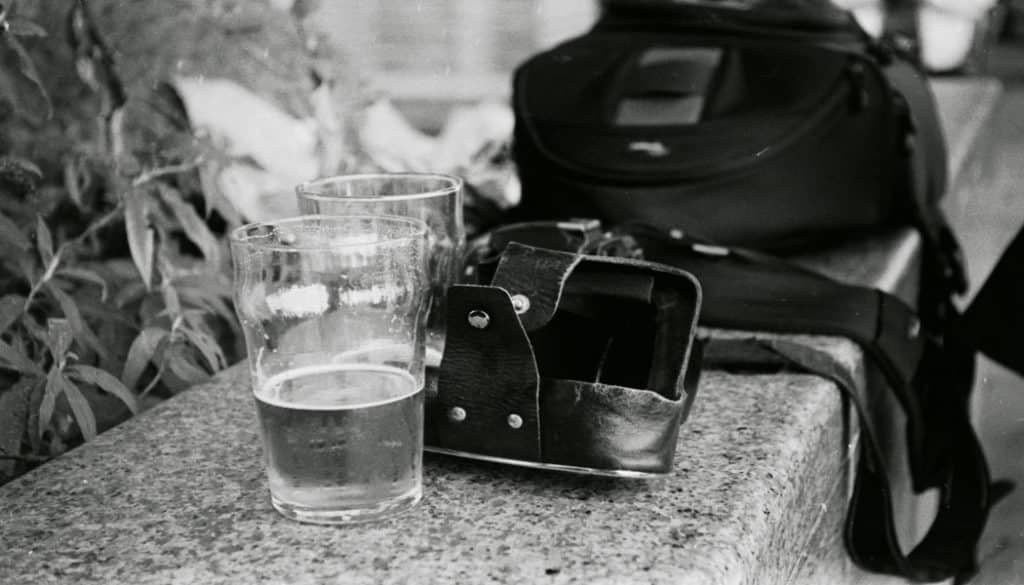 While the mirrorless camera category has had its starts and stops it seems to slowly be catching on with advanced amateurs and even come casual snap shooters. We'll look at a few numbers in a minute but we bring this up because the category has really struggled regarding sending a message about why consumers should get excited about making their next high-end camera a mirrorless one rather than a DSLR.
Yes, the industry has trumpeted that the category offers a lighter, smaller alternative, but up til now, no one has ever communicated that in a clever, impactful way.
Fuji may have recently changed all that.
A Beer or Two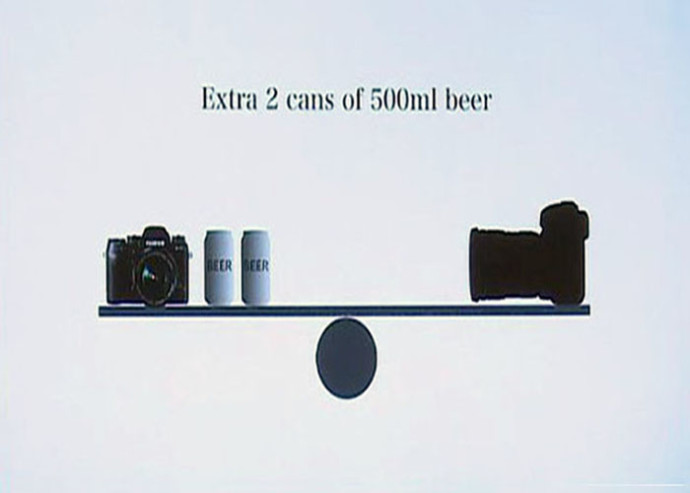 At a recent press event Fuji held earlier this month the company's Vice President Toru Takahashi unveiled a very interesting argument for why Fuji's new XPro-2 is the smarter buying choice over the DSLR competition out there.
You see, DSLRs weigh two cans of beer more than Fuji's mirrorless cameras. The suggestion here being that with the Fuji mirrorless solution you'll have the room in your gear bag for the two cans of beer.
And Takahashi even used a clever graphic of a DSLR next to two cans of beer on one side of an old rolling scale with a Fuji mirrorless on the other side balancing out as even.
Clever Spin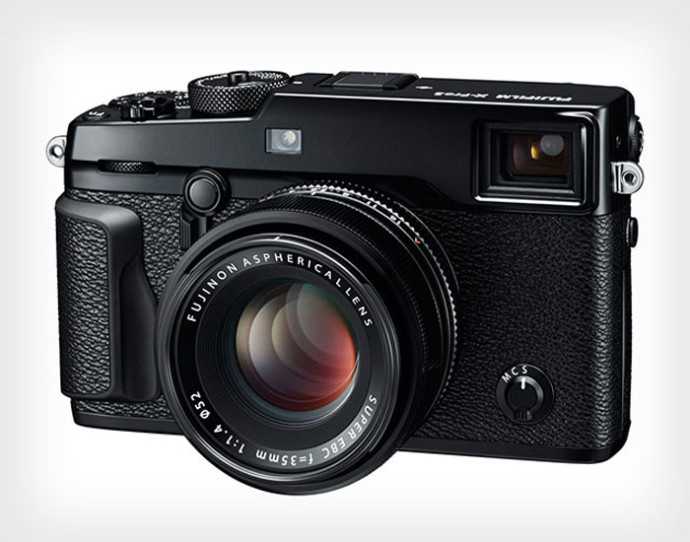 Just a very effective, tongue firmly in cheek message about the convenience and flexibility of the tech built into mirrorless cameras that allows for the more compact, lighter designs. And, I suppose, you can carry a Fuji mirrorless camera with you and get a buzz as well.
NPD did recently release some positive numbers regarding mirrorless camera sales suggesting the category is catching on and beginning to take a bite out of DSLR sales.
According to the NPD Group report, overall mirrorless camera revenue has grown 16.5% over the past 12 months, with DSLR sales declining approximately 15% over the same period.
Even more encouraging is the fact the category is catching on with younger shooters. The latest data shows that over 61% of first time mirrorless buyers are under the age of 35, up from 54% approximately two years ago. Thus the Fuji announcement appears even more spot on as that message would certainly resonate more with the under 40 crowd than it might with the older crowd.
Photographic Sense of Humor
"It's effective for a number of reasons but most of all because photographers, advanced amateurs or the more casual shooters, generally have a sense of humor," began tech marketing guru Lauren Sosik. "They are already well aware that mirrorless cameras have become serious image capture devices so good for Fuji to have some fun with the advantage of the compact design specs. Those specs are a big deal too – in fact maybe more so for many potential buyers. That convenience matters."
Sosik added that Fuji would do well to run with the amusing concept as part of an ad campaign similar to Canon's hugely successful 2015 "Never Again" print your photos ad campaign.
"Showing a sense of humor in advertising has never been hotter than it is right now and the photography space has had success going that route in the past," she added.
A Mirroless Year?
Whether or not 2016 becomes a breakout year for the mirrorless category remains to be seen but the message from Fuji is both encouraging and noteworthy.
Regarding the latest we've heard from the mirrorless rumor mill, we can tell you this: an announcement may be pending announcement from Olympus for the PEN-F; Sony may debut the A 6100by mid-February; Panasonic will announce the 4K GF8 around the same time and there are some folks out there that seem to feel Samsung may soon be exiting the category altogether. Stay tuned on all of the above…and let's hope imaging manufacturers keep their tongue-in-cheek approach going.