Capturing the Beauty of the Fall Season
Simply stated, fall is a spectacular season of colors – an absolute explosion of bright sunlit yellows, oranges and reds that at certain times of the season can almost overwhelm the senses. Capturing the season's many hues with your camera is a fun and inspiring endeavor and we thought we'd offer up a few autumnal tips and tricks prior to the first few leaves hitting the ground.
If you're lucky enough to live in a part of the country where the leaves annually turn and put on their colorful magic show your trip to find the perfect spot can be a short one. If not, you may want to book a brief vacation and we'll tell you the three best regions in the U.S. to consider are the New England states; the Colorado Rockies; and the upper Midwest of Michigan, Wisconsin and Minnesota.
Lighting is Essential
When shooting in the fall season, to cut to the chase, lighting is everything. And yes, obviously in this case we are talking sun. Midday sun is always a bit too harsh for capturing the beauty of landscapes, as it often washes out the color you're trying to capture. Try shooting later in the day when the sun is low in the sky as it creates more interesting side lighting, adding some much needed depth and scale.
To buck a common fall shooting myth, a bright sunny day is not an optimal shooting day to capture fall's beauty. An overcast day is actually way better as you can shoot all day long and the provided light is soft and even. Autumn's saturated colors contrast nicely with a gray day.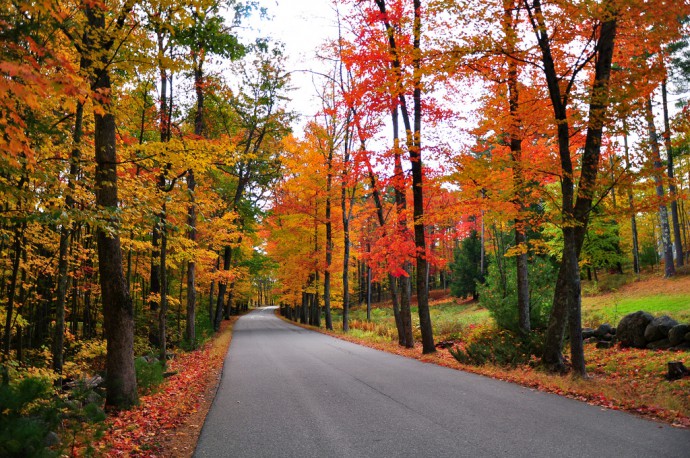 Not All About the Leaves
If you begin to tire a bit of shooting colorful leaves, autumn sunsets can be quite spectacular. Instead of relying on your camera's auto mode or even using a "sunset" mode feature many of today's cameras include, you may find that this is an ideal time to switch your camera into aperture or shutter priority mode and take a variety of shots at different exposures. The nice thing about shooting sunsets is that there is no 'right' exposure and experimenting can often produce some great results.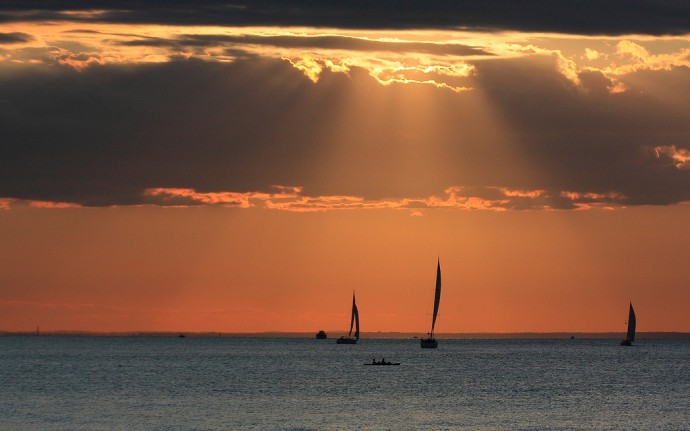 Also, bring along a tripod if you have one – the steadier the camera, the better the shot, especially since you may want be zooming in close to really capture the stunning colors you'll see.
Look for Details
Capturing some of autumn's subtleties can make for some great photography as well. Don't become transfixed by all the colorful landscapes. Consider some close-up shots as you stroll along. There are other beautiful things happening synonymous with autumn that are worthy of your lens' attention like the many interesting mushroom formations you'll find hanging from the sides of trees or the interesting way streaks of sunlight may peek through the trees and cast a spotlight on leaves that have already fallen and become scattered on the ground.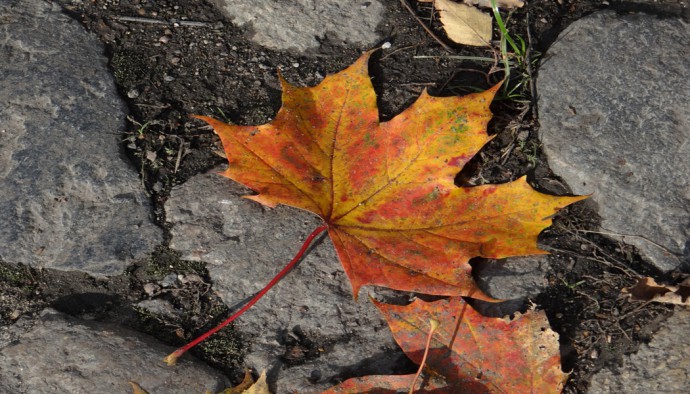 If you're taking a morning stroll and there's a bit of a mist or fog, these elements can add some interesting mood and atmosphere. A slow shutter speed might work nicely here to capture some of the mystery these conditions cast.
In closing, fill that frame with the beauty the setting offers and make sure there are no power lines, signs and any other unwanted objects that will take the focus away from the subject and the beautiful parts of the landscape you picked to shoot in the first place.