Fire And Smoke: Photographing Fireworks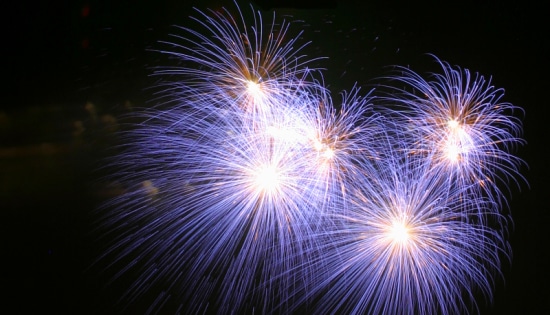 I can still vividly remember the first time I photographed fireworks. A group of friends and I were leaving from one of the housing high-rise complexes that ring the town just before the fireworks started at the dam lake, on our side of town, and during the first launches, we were standing at the edge of our neighborhood. Even though I had my tripod with me as well as a digital camera with zoom, it was still not enough.
What followed was a frenzied dash downward with my tripod. On the way I repeatedly checked my position, only to find that I was too far away, or in a poor spot. In the end I found a somewhat better position than my original one, and even managed to get some photos. But today I prefer my memories of running around with that tripod to the pictures that followed. The moral of the story? A photographer needs a very different location than an admirer does!
Starobrno Ignis Brunensis
Brno's fireworks festival, Starobrno Ignis Brunensis, is actually the largest fireworks show in Europe, about on par with the famous fireworks festival in Vancouver, Canada. It has quite a good name abroad, which has brought it a snowball effect in the form of foreign pyrotechnicians who participate in the show to strut their skills. It includes a competition segment, which takes place at the city's dam lake; it concludes each year with fireworks over the local castle. (This is Europe. Every locale has a castle.) This year the show began atop the hill named Kraví hora, one of the most elevated points in the city.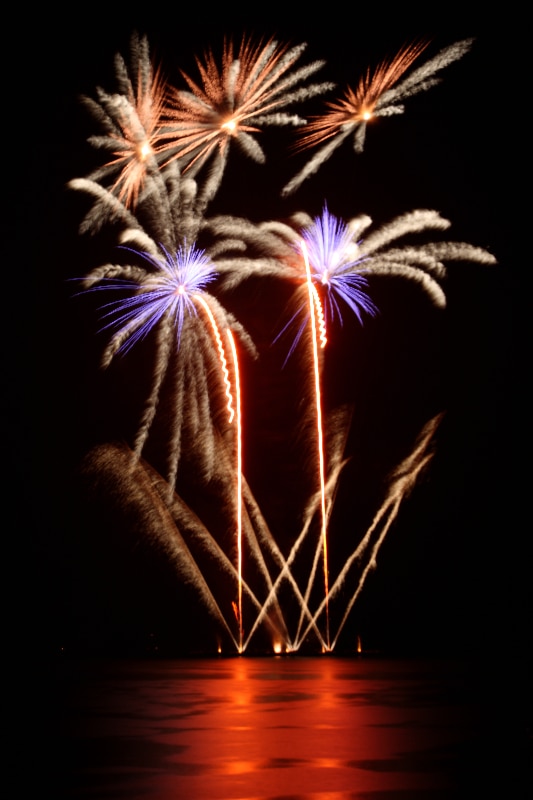 A Place of Our Own
Ignis Brunensis photographers in the know pick their sites in advance. The wisest of them arrive on-site even before sundown, to find their desired composition and align their tripods. The best sites often become meeting points for groups of photographers who talk up a storm about their art and help out any newbies who have joined them.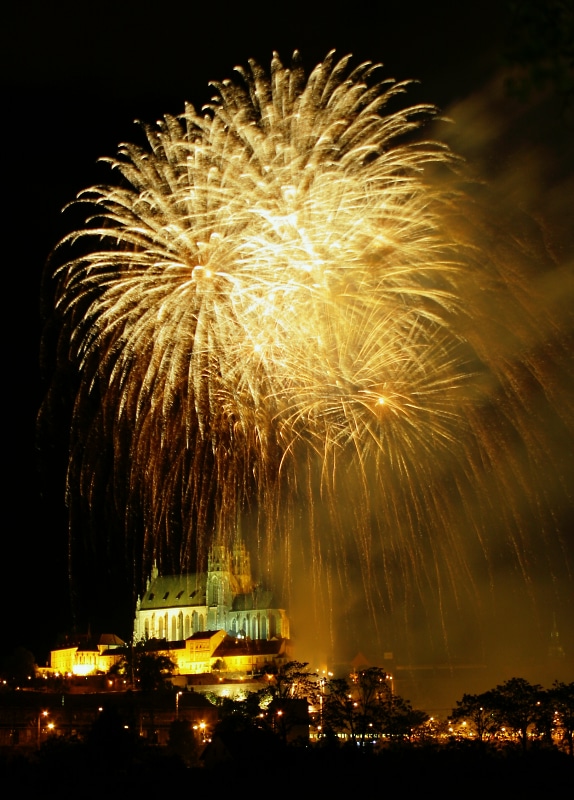 In the years before the festival's current renown, snagging a site from which to capture the Brno Dam segment was easy: you just had one member of your "gang" head out in advance to secure it. Today, if you don't have enough people in place beforehand, the flood of visitors will sweep you away at the last minute. And even if they don't, they may stand right in front of your lens, and after that there's nothing you can do about it. But if you set up your tripod right by the water, nobody can stand in front of you, and as a bonus you can make use of fireworks' reflections in the water.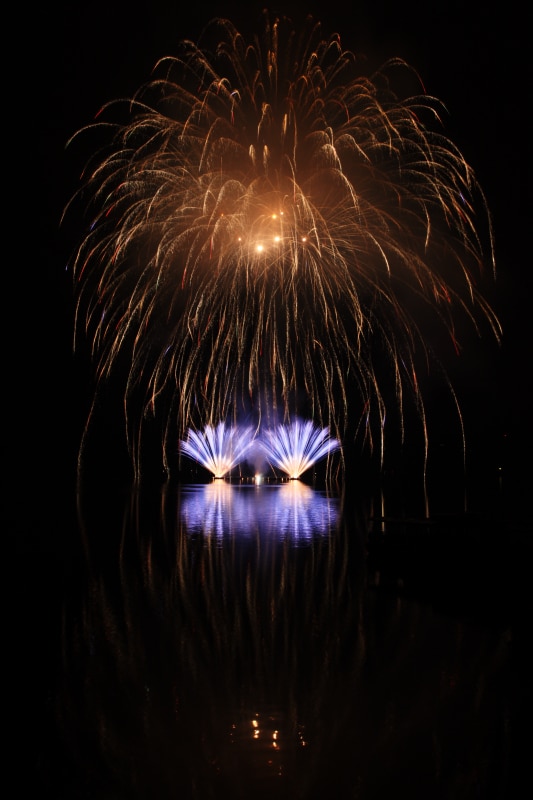 Among the more "non-traditional" launch locations used over the years was one at the local racetrack. Preparing to photograph that sequence, a friend and I accidentally occupied the spot intended for use by a film crew—we arrived long in advance and not a soul was there, so we only knew of our mistake when they showed up minutes before the start of the show. The fireworks over Zelný trh, the city's historical market square, were also a photographic dilemma, but thankfully I got access to a balcony of a theater on the square, which in the end got me quite a unique shot of not just the fireworks, but also the square itself.
The traditional closing fireworks over Špilberk Castle are best photographed from an upper-floor apartment on nearby Veletržní street. I had the good fortune to live on that street a few years. (The view from my place in those years was enchanting even without fireworks.) But there are other, more publicly accessible, excellent positions nearby, both high and low—the low ones take advantages of the clearings provided by green spaces and demolished buildings.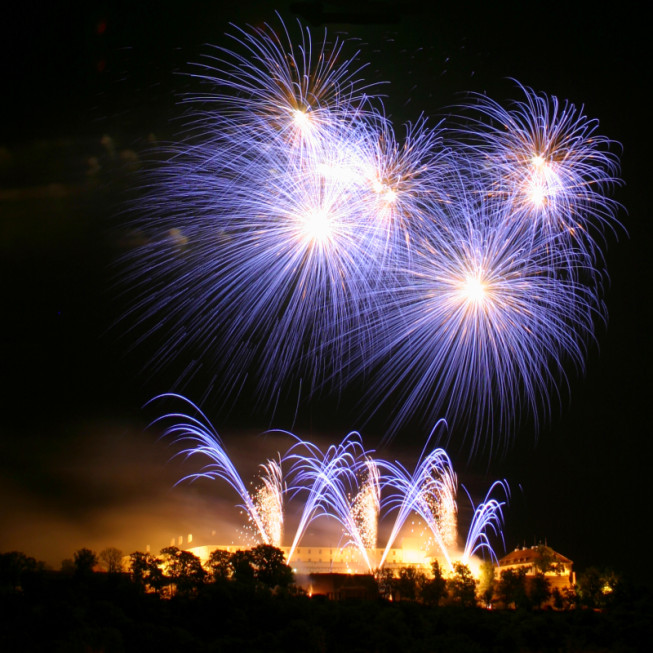 In short, if you can see through it, you can photograph fireworks through it—all it takes is footwork, vision, and imagination. And awareness that at a distance, even a nice view may be a poor choice due to smog and haze.
Presenting Fiery Fire And The Elements
When preparing for your own fireworks photography experiments, you also need to keep in mind the other elements. Reflections of fire on water form beautiful images, but what about water in the sky? Actually it's less clear-cut of a problem than you'd think, as fireworks don't get cancelled for showers. But in a real storm, they can't even be set off, and at the very least the start has to wait. The good news, though, is that rain washes away mugginess and smog.
Raindrops falling on the surface of the dam lake conjured up a dynamically lit surface for me on one fireworks shoot. The reflections blended into the scarlet water and its islands. The wind, meanwhile, is also not to be taken for granted, especially because of the smoke it carries off. Be glad when it does that! Sooner or later on a fireworks shoot, you'll encounter smog and cloudiness, and when you do, the best you'll be able to do is to photograph ground effects. The aerial effects will be nothing but colored smoke…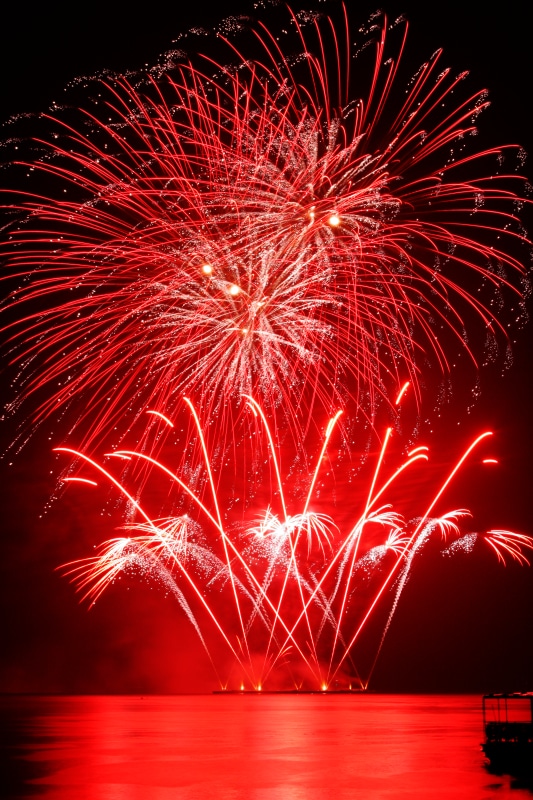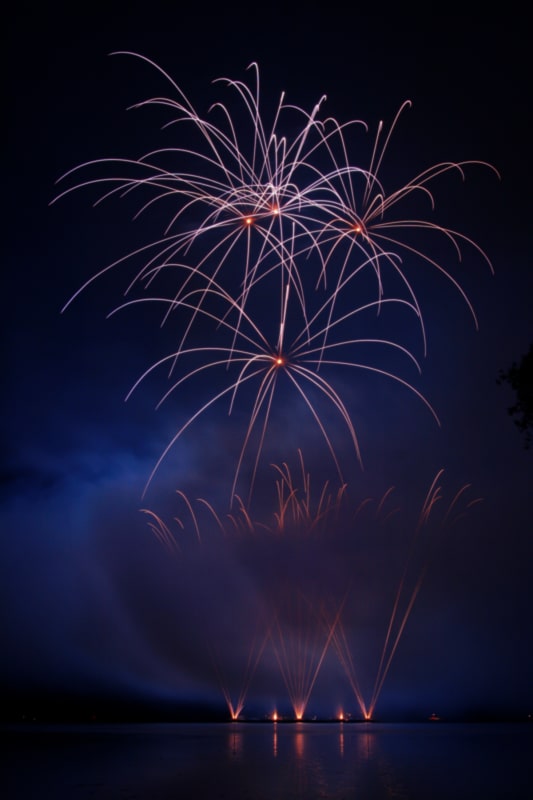 Composition the Scene
When composing scenes in my viewfinder, I've always found it useful to choose a conception early, and then avoid major changes to the scene if they weren't really needed. Changing camera settings, tripod position, focus, etc. all takes time.
You can photograph fireworks effectively as a whole, half a whole, and even in detail shots. The typical show combines ground and aerial effects, used in various combinations. You can guess what height will be used for the fireworks based on the trial shots that come before the show. That moment is your last chance to set your camera's focal length and adjust perspective. As for the horizon line, try to get it levelled before the sun goes down.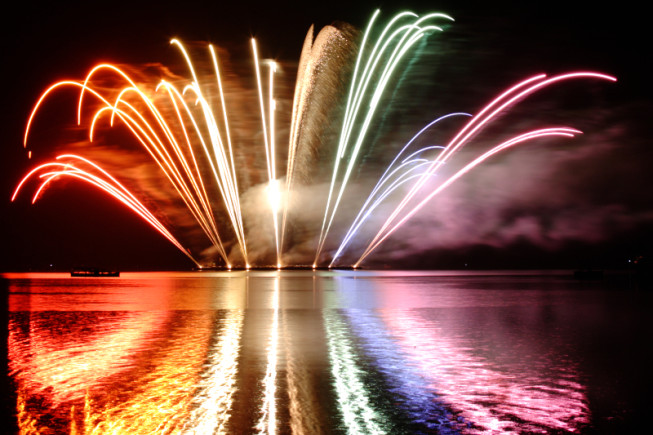 The best placement for the horizon depends on your intentions. Photographing fireworks with a low horizon is fine, but if there's water around, you can also use reflections on the water surface and place the horizon in the middle, or even photograph the reflections alone (or you can go to the opposite extreme and capture only the sky). You can also find a site where there's an interesting object in the foreground to give the shot depth and a story.
Never forget that your work also depends on the pyrotechnicians out there performing their fiery theater. The effects to be used are their choice. So it's a good idea to read up in advance on who they'll be. Any respectable fireworks show will include a program or magazine where you can find this out; other places you can look are the organizers' website and news articles published before the show.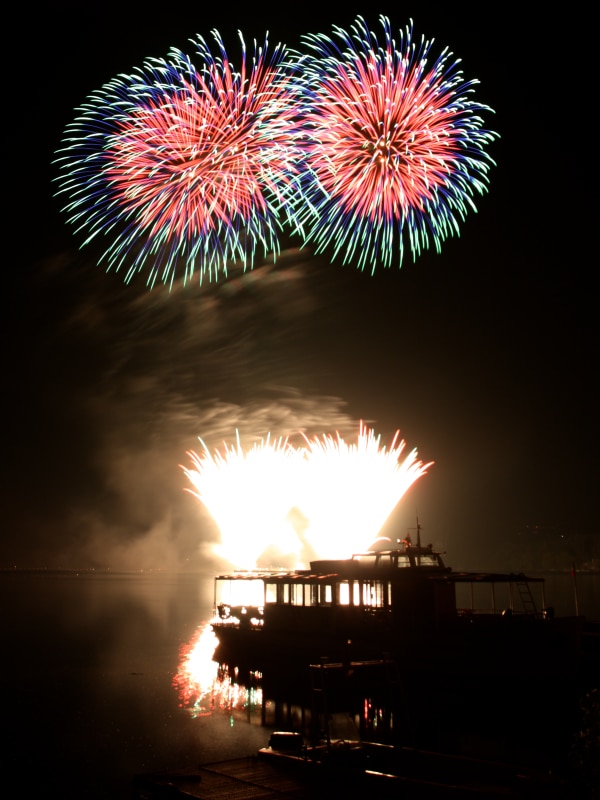 Closing Notes
There are many guides to photographing fireworks out there. Most are good, but none can replace you. Your wits, your sense for the interplay of fire and air.
My final advice is, don't be afraid to go out and photograph fireworks! Don't worry about camera settings, and really, just enjoy the show. The more relaxed you are and the more fun you have, the better photos and memories you'll take away.