Interview Lucie Drlíková—"Finding the right angle isn't the only way to get amazing underwater photos"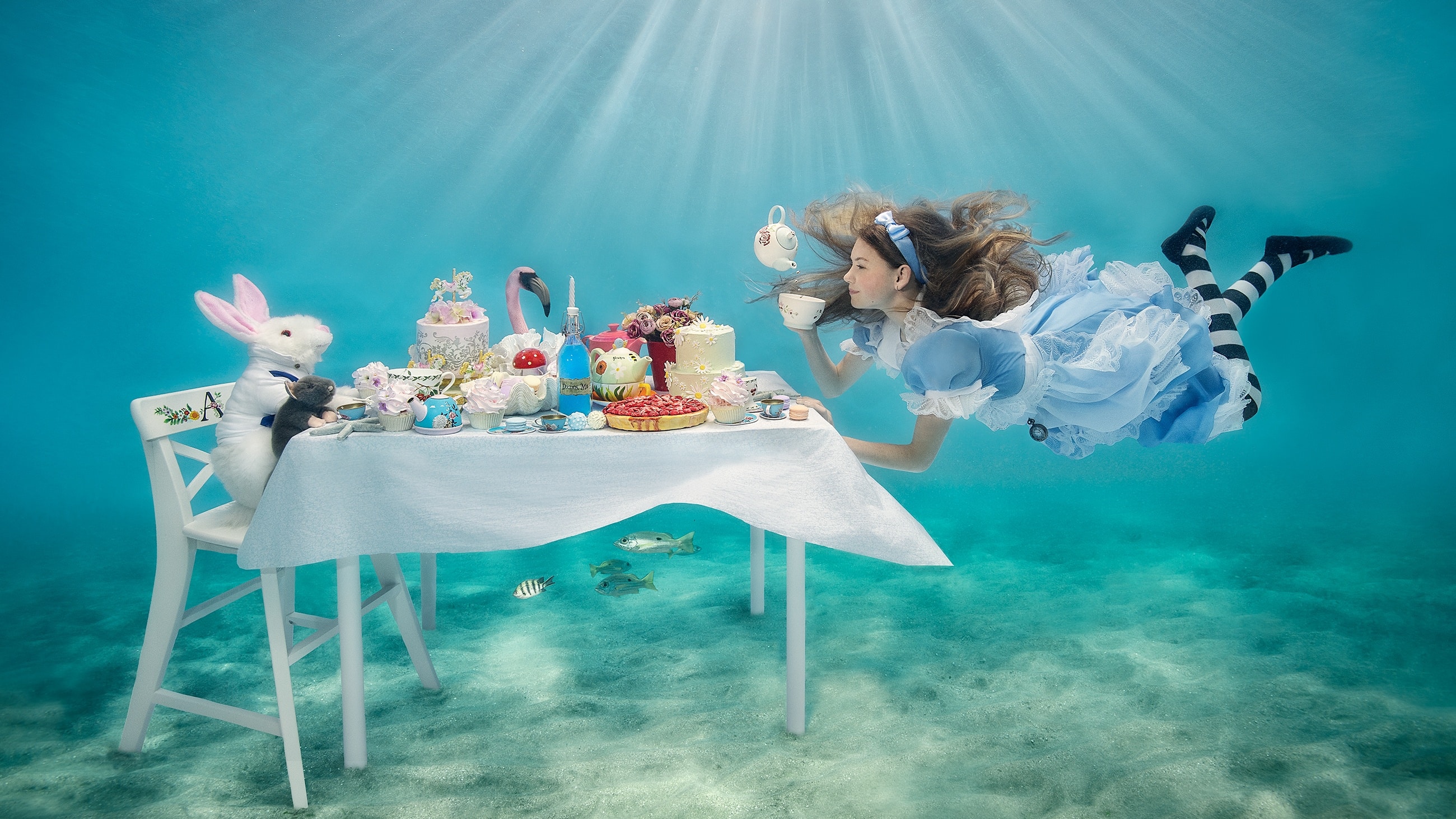 Lucie Drlíková is a versatile photographer whose talents include painting and sewing. She creates incredible props for her projects, which she calls "food for my soul." She is a photographer and videographer that specializes in underwater photography. She has won many awards and her work has been exhibited all over the world. She comes from Veselí nad Moravou, a small town in the southern Moravian region of the Czech Republic. She spent many years working in Prague and now resides in a small home outside Prague.  
I learned about Lucie and her work from a friend who had Lucie take beautiful maternity photos.  Until then, I had been living in my landlocked bubble without knowledge of Lucie's work. When I was expecting, I knew I wanted unique maternity photos.  
Where do you get inspiration for your work? What aspirations do you have for your work as a photographer? For example, do you say to yourself, 'I want to make an Alice in Wonderland calendar or exhibition?' How does it work?  
Well, Alice happens to be part of my project, Once Upon a Dream in Waterland. I started this project in 2018 and have been gradually adding characters to it. Once it's complete, I'd like to publish a big, multi-generational book that you can pick up and flip through while sitting down with a cup of tea. I'd also like it to be accompanied by an exhibition. This exhibition will mainly be paintings, but will also include videos that document the costumes, props, and how the project came to be.  
How do you prepare for your projects? I know you can sew and that you make everything by hand. Did you have to take classes?
I grew up at a time when there weren't many sewing classes. My mom could sew, so she taught me how to sew. By the time I was 20, I could sew my own clothes, even though it wasn't professional. I have this special ability where I can learn just about anything new. I don't mean to brag. Today, you can Google just about anything. So, when I have a concept in my head, I first carefully study the techniques I plan to use. I'm very feisty when it comes to my work, and I don't remember a time when I've said I won't do something because I don't know how.  
This all must be very costly, so I assume that your commercial photography covers these costs? 
Exactly. In order to do the types of projects I dream of, I also do commercial photography. Or sometimes I am contacted to do a bigger project. For example, I have done some large-scale projects with the bathroom brand, Ravak. I only do my own personal projects about three times a year. It's not just the props that cost a lot of money, but I have to order rather expensive thermoplastic material for the costumes to last. That doesn't even include my work. Renting pools and arranging other details are other expenses. We are talking about expenses that amount to over $1,500, and I pay for it all myself. I am so passionate about what I do, that I do it even if it is a bust, financially speaking. I do it only because I want to. It's important to me and I enjoy it. 
You must have an impressive costume and props room :-) 
Well, parts of my home look like a theater props room (laughs). In my old apartment, my costumes and props took up two rooms. I recently moved and almost two-thirds of my possessions were related to my work. But that's not how it is for any ordinary photographer. I'm probably one of the few photographers that provide their own costumes.  
How do you have time to get everything done? 
I have to say, I work quite a lot. I have a routine and I work from the time I get up in the morning, often late into the night. Sometimes I finish at one in the morning. But I can do this because I don't have any children. Even so, it's not entirely normal for me to sit in front of the TV at night and do nothing. Even if I'm watching a movie or listening to music, I'm doing something—creating, editing. Now, with my recent move, it's affected my ability to meet deadlines for photoshoots I've done.  
So, during Covid, did you "finally" have time for your own projects?
Covid gave me the chance to get back into painting, which I didn't have time for because of my photography. That makes me very happy.  
Why do you use a wide-angle lens to shoot underwater photography? 
Let me explain. Water is like a huge filter, many filters in fact. To make the photo look right, you need to be close enough to focus with a focal length of about 24mm. The conditions don't allow you to work with a longer lens.  
You use a diving mask when shooting underwater, right? How do you focus underwater? Do you ever use autofocus? 
I mainly use my Nikon 7Z II, which has spot focusing with eye recognition. This is a huge help. Plus, eyesight deteriorates with age. That's why I got an external monitor so I can see everything I need to see.  
I know you have a custom-made waterproof case for your camera. Do you need another case for your monitor as well? 
Yes. You don't need one if you are only doing photography as a hobby. I have one because photography is my job. I say this because it can cost about three times the cost of the equipment itself.  
I noticed that many models have clean, beautiful reflections on the water's surface. Do you use something special for that, or is the reflection created in post-processing? 
It's all about the right underwater angle. It's not so much about practice, it's something I can just see all of a sudden. The reflection is formed automatically beneath the surface—it is mirrored. Everyone can see it. But it depends on the angle of view. The surface must be absolutely calm. For example, if the model and I slowly submerge ourselves, the reflection is completely clear. If someone jumps in the water, the water moves and there is a mixture of colors, bubbles, and blurred contours.  
How do you communicate with your assistants underwater? Do you use diving signals or do you have your own signals? 
The people I work with are all people I can trust. They always keep one eye on the model and one eye on me, just like I do. For big shoots in deep water, I only bring along people I've been working with for a long time. They can often tell what the photo needs without being told. When someone is starting out with me, they always start with lighting, which they work from the water's edge.
From your photoshoots with famous people, like former first lady Dagmar Havlová, do you remember any strange or special requests that surprised you, such as special requests for beverages, food, etc.?  
I'm not in charge of production, so I don't deal with those types of things. I treat them like I would any ordinary client. Sometimes this can lead to closer relationships, if there's chemistry. That's just like with anyone else you meet.
A commercial for Ravak? How did you get a gig doing commercials?  
They approached me because they knew I specialize in underwater photography. I trained their model to move underwater for almost a month before the shoot. 
So you were like Bruce Willis from Armageddon. Someone else was in charge of the shoot and you were a part of the team. How did you feel in this position?
I can be a team player too:-) I didn't mind being part of a team. The commercial was filmed in Mělník in a 4m deep pool where Ravak built a real bathroom. It took quite a while to do the underwater filming. The director was giving us directions as in a normal shoot, but everything was done underwater using a hydrophone. It was a great experience.  
Would you say it's a good idea to specialize in something? Does it give you a business advantage because your work is worth more?  
Yes and no, because there isn't much specialization anymore. I've also been doing this for a very long time.  
How does post-production work? What do you focus on most and how long does the editing process take?
I first deal with colors, skin, and most of my time is taken up by cleaning up the impurities in the water. It may seem like water is clean, but even pools don't have crystal clear water. Finally, I deform the subject's outfit and adjust sharpness.  
In terms of photo editing, do you ever use image stacking? 
  I don't do very much image stacking for clients. Only if the client doesn't like a part of the photo. This doesn't happen when I'm photographing ballerinas (laughs), but sometimes a person's leg turns out looking like a hoof and it doesn't look good. But in another photo, the leg is nice and straight. Then, I use the leg from the other photo.  
So total editing time is about 3 hours per photo?  
The most time-consuming task is when you have to choose five photos from, say 500. That's a challenge. The editing itself takes an hour and a half, sometimes two.  
How is it photographing pregnant women in terms of safety? Has anything ever happened that scared you? Did anyone ever go into labor?  
God, no. Safety comes first. I always have people at the shoot that makes sure safety comes first. I would never take any chances. I was once in a drowning situation myself and it wasn't pleasant. You have to remind yourself that it's just a photo. No photo is worth risking your life. 
How did you get the idea to do underwater maternity photography?  
It happened by chance. Underwater maternity photography came gradually after at least two years of experience and after experimenting with friends in the sea. Before that, I consulted doctors about the risks for the moms-to-be and the fetus, such as the risks of holding their breath.  
As your client, I must say I still cherish the photos I have from the shoot. But even more, it was the memories of the experience of the shoot that are most valuable to me. 
This is what makes me happiest, because no one can take away the experience and memories from you. This motivates me to keep doing what I'm doing and know I'm doing it right. 
I'd like to thank Lucie for the interview and for finding time in her busy schedule, with her recent move and heavy workload. Her energy is inspiring and I hope to meet her again soon.
Lucie Drlíková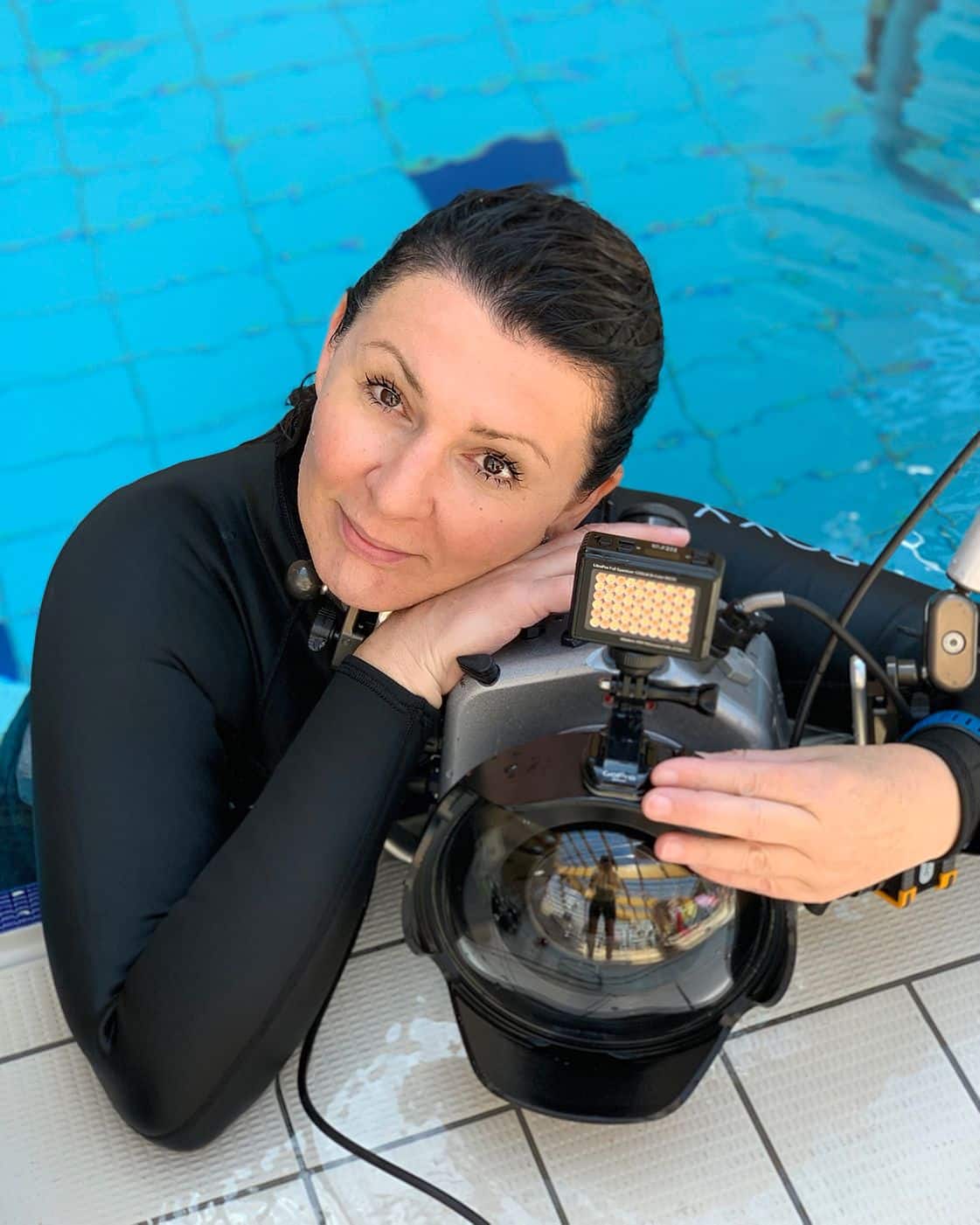 Lucie Drlíková is an award-winning underwater photographer, cinematographer, and painter. She is originally from Veselí nad Moravou, Czech Republic. At the age of twelve, she started diving with her father and hasn't stopped. Lucie specializes in underwater portraits and the creation of unique underwater scenes for her clients and projects. She calls it "food for my soul." She uses her multifaceted skills to create intricate works of art. These works involve creating her own costumes and props, make-up, painting her own backgrounds, and coordinating her team. Lucie is best known for her work as a photographer but has also worked as a cinematographer and underwater supervisor for the film and advertising industry. Her images have been published in magazines, album covers, and book covers worldwide.