Setting Up Your Photography Studio: What Type of Lighting Should You Choose?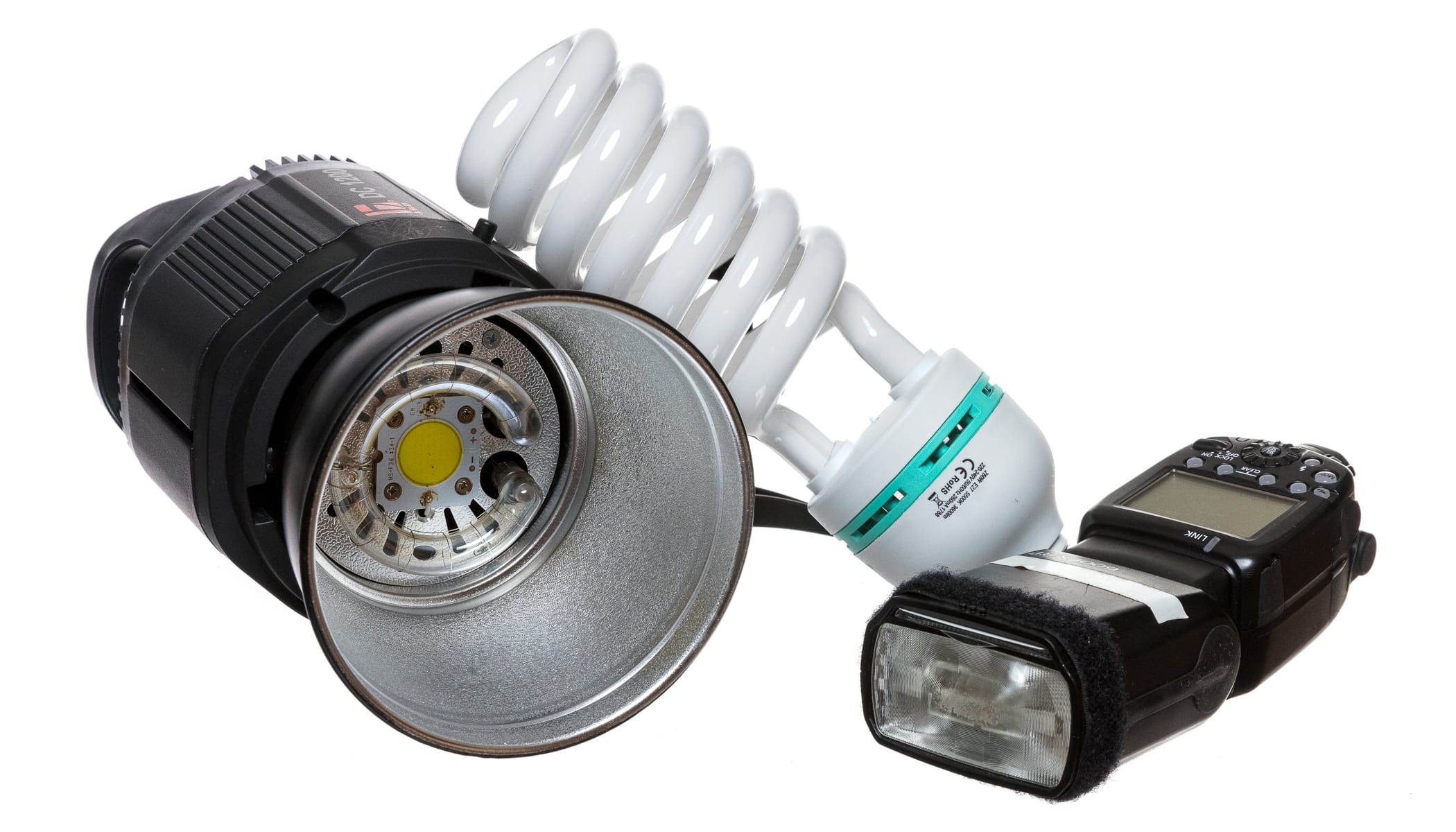 There are many of you out there that might be considering a start in studio photography. Aside from renting a studio, there's also the option of creating a space of your own design. In this case, one of the most important decisions you'll be making will be choosing the lighting. This includes not only choosing specific brands of lighting, but also the types of lighting. There are more options out there than you may think. 
You can plan your studio in many different ways. Some photographers may want to focus on family photoshoots, others only require a small, clean space for product photography, while others may prefer a tastefully furnished room for doing maternity photoshoots in an at-home setting.
Of course, other factors, such as budget or whether or not you plan to shoot video, play an important role and can affect the decision-making process.
You have the following basic options when it comes to studio lighting: 
Studio strobe lights

Natural light

Continuous lighting

Camera mounted flash
Each has its own strengths and weaknesses that are worth looking at in greater detail. 
Studio strobe lights 
I chose to start with strobe lights because they are the most common type of lighting found in most photography studios for rent. They will serve as the measuring stick against which the rest of the options will be compared in the sections that follow. 
All of the equipment that belongs in this category has one thing in common: it is all some form of an electronic box that accumulates an electric charge and sends out a bright flash when the trigger is pressed. For this reason, it produces the brightest light of all the available options. 
However, the actual lighting effects aren't visible prior to shooting, so the main flashlamp is almost always supplemented by a second modeling light (LED or lightbulb). This light is considerably weaker and serves only for the photographer to be able to see.
The strength of the flashlamp is in watt-seconds (Ws). Most studios have strobes in the 300 to 600Ws range. You'll need a more powerful light if using a higher aperture as well as when using light modifiers, particularly softboxes. The light doesn't shine directly on your target, but rather is diffused in the softbox, using a lot of energy.  
Also, depending on your budget, there are several other factors to keep in mind:  
Number of lights

: Two is the minimum, but three or four would allow for more complicated lighting situations

Camera's shooting method:

Today, everything is wireless, but some lights have a receiver installed inside while others don't. Integrated options allow us to set brightness remotely, but you are limited by the manufacturer's shooting method.  

Mains-powered or battery-powered

: Factoring in price, mobility, weight, and need for cables  

Maximum power

: With more power, using a huge softbox and high aperture at the same time isn't a problem

Minimum power

: Cheaper strobe lights in particular can't be dimmed much, so having it close to the lens or shooting with an aperture of f/1.4 is a challenge. A trade-off may be using the modeling light alone without the flashlamp.  
Other important factors to keep in mind include recharge time after each flash, lamp burn time, color temperature, total weight, and also bayonet type for attaching accessories. Some lights allow automatic brightness setting with TTL metering, but this is approaching higher-end equipment and you most likely won't use this function anyway.
Studio strobe lights are a solid choice, but once you start requiring additional, improved functions, the price starts to quickly creep up.
Strobe lights also have the following disadvantages:
Inability to be used for video
Inability to easily take photos of groups of people

Require

experience

, because both

exposure

and

brightness

must be set

manually

. Your camera won't be able to measure exposure because the light in the photo is different than the light in front of it.
These problems go away when we ignore the main flashlamp and use only the modeling light for lighting. However, we merely get a simple continuous light with low intensity. A powerful studio bulb would be a better solution for much less money. 
Natural light
Natural light from the window has many of the same features as the strobe light. It is suitable for still photography, as well as for shooting video. What's more, the camera measures exposure on its own, so you don't have to worry about technicalities.
You won't have as much control as you have with "official" studio lighting, but that doesn't necessarily need to be an issue.  For instance, if you specialize in tabletop or flat lay photography where you shoot straight down from a bird's eye view, you will simply have your table close to the window and arrange things as you like.  
However, using natural light doesn't mean you will only shoot small scenes. Even some commercial studios are set up with a series of nooks and crannies, such as those of an old castle, and the model fits in perfectly during daylight or with the help of hanging lights or lamps. 
The use of studio lighting in these types of settings is not unheard of, but also isn't a necessity.
You'll run into issues with natural lighting when you wish to set up the lighting in a certain way, adjust its intensity, or when you want to light your subject from several different sides. With the help of reflectors, this is possible to a certain degree, but it doesn't compare to other types of lighting.
Continuous lighting
We now arrive at a sort of middle ground between natural light and studio strobe lighting. In this category, you'll find multiple options, from equipment that looks similar to studio lighting, only with a bright LED instead of a flashlamp, or simply one or more lightbulbs in a special holder that can be used with umbrellas or softboxes. This studio bulb option in particular is very affordable. These types of lights can be found in ordinary stores and are labeled daylight. 
As with the other types of lighting, they are still considered photography accessories with relatively precise color settings and color quality according to the CRI index (the higher the CRI, the better). Using an ordinary household lightbulb is risky because it will significantly affect the colors in the image.
All continuous lighting options offer some flexibility, making them comparable to strobe lights and can be arranged around the room as you wish.
Unfortunately, these bulbs have low wattage. For example, let's imagine we are comparing a 300w studio strobe light with a continuous light where the manufacturer lists a power output equivalent to an impressive 2000w (thankfully the energy consumption is usually much lower). Then this bulb or LED emits 2000w of energy per second. However, the flash emits its own 300w per 1/200 second. If we were to use the same shutter speed with a continuous light, it comes out to be roughly equivalent to (2000w) * (1/200s)=10Ws.  This is merely a rough comparison without taking losses into account.
As a result, you need to use a long shutter speed or higher ISO sensitivity.  However, now ambient lighting plays a role too, so the room must be darkened.
When photographing still products, none of this should matter. A camera on a tripod can manage long exposures so the results are of high quality without needing to compromise. However, when photographing people and larger groups in particular, where you need to light a larger space, the performance limits you.
Camera mounted flashes
Small speedlights were previously made for only the camera's macro rails, however, they have gradually become wireless and can now be placed anywhere. 
This option has significant advantages and disadvantages. The flash is relatively small and uses batteries, so it can not only be placed in the softbox, but also hidden anywhere else without the need to worry about cables. On top of that, it's very portable so when you decide to leave the studio, you can easily add four flashes to your photo bag along with extra lenses. 
Another interesting feature is that you can easily create color effects using colored gels. While these are also compatible with large strobe lights, their small pieces aren't big enough and you'll need to deal with larger sheets or hard-to-manage material that sits directly on the light's cover. 
Even though flashes are significantly more powerful than bulbs, they are still no match for large studio strobe lights in terms of performance. The standard-issue Canon 600EX and similar flashes are roughly comparable to 70w strobe lights. When shooting with a low f-number, it won't be a problem, but rather an advantage. But forget about shooting with an f-number of f/16 with ISO 100. What's more, speedlights don't have a modeling light, so you have to make a rough guess for your final photo, or take test shots beforehand.  This also means there is no possibility for even makeshift lighting when shooting video.
Replacing and recharging AA batteries after every other shoot also may not suit everyone. 
What to choose? 
If you are unsure and money is not a huge concern, then studio strobe lighting will probably be the best choice. However, if you're just starting to experiment with studio photography and want to save as much money as possible, photo studio bulbs are a more budget-friendly way to get your feet wet. Still, everything has its own specifications and the final decision ultimately comes down to your own preferences and requirements.