Share Your Zonerama Photos Anywhere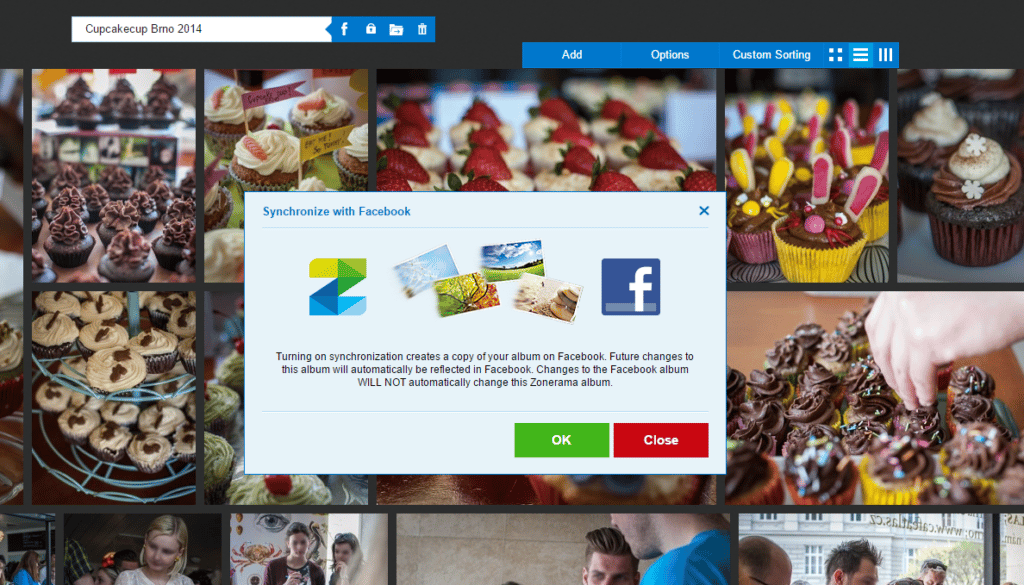 Every week, we select interesting photos from the Zonerama web galleries and show them off in this magazine's Editor's Choice feature. The Zonerama galleries are free, and you can upload your pictures to them at full size, either over the Web or using the Zoner Photo Studio photo software. But what about when you want to show off your albums elsewhere on the Web? Don't worry, it's simple!
The Share Button
No matter which album or photo on Zonerama you want to share, you can always start from the blue Share button at the top right of the page—or at the bottom right for individual photos.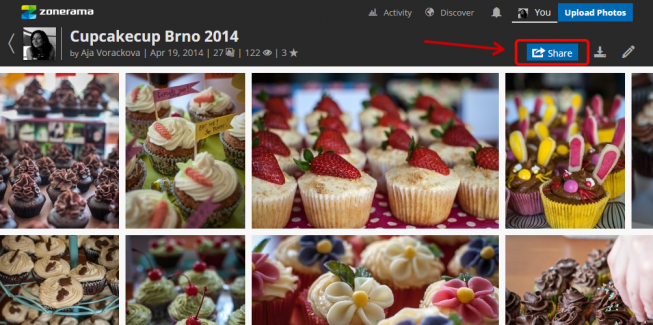 Clicking it opens a window with a link to the album or picture, buttons for sharing on social networks (Facebook, Twitter, Google+, tumblr, and Pinterest), and a box for sending a link by email.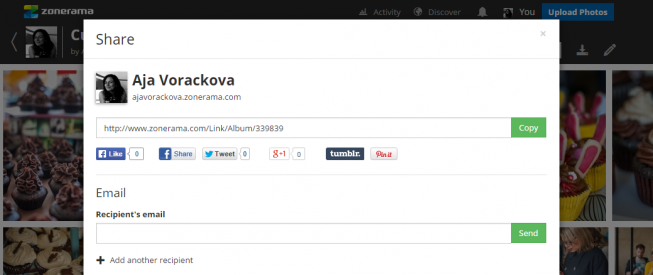 Add a Gallery to Your Website
But Zonerama can do more than just this! We provide you a way to include what's called an "iframe" element on your website for an album of your choice. This is a frame containing photographs from that album. Here a picture will be worth a thousand words:
Adding the frame is easy. In the sharing window we mentioned above, scroll down and click the word Embedded. That displays some HTML code. Include that code in your website, and your on-site photo presentation is ready! You can fine-tune the width and height of the presentation, as well as the color of the tooltip that appears when you hover the mouse over the album.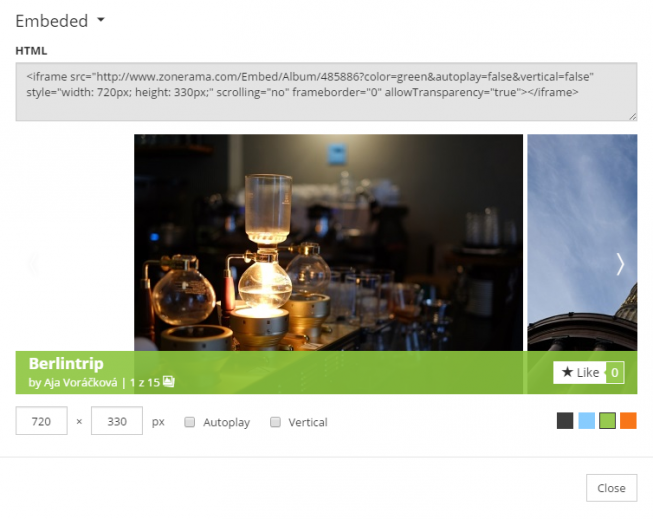 If you need a vertical iframe instead of horizontal, that's no problem—just turn on the Vertical option. Use Autoplay to set whether the photos in the preview should move forward automatically, or only after clicking the next-picture arrow.
Make sure to get your page looking how you want first before you copy and paste the code into your page.
Share New Albums Automatically
If you're active on social networks and want to draw attention to your Zonerama albums right as they're posted, you can. It's easy to set things up so that people you've friended receive a notification every time you post a new album, picture, or video.
When you're creating an album, turn on Automatic sharing at the bottom right, and then click the network where you want to auto-share. Zonerama only automatically shares your public albums, of course.
Synchronizing Photos with Facebook
Like showing off your photos on Facebook? No good having to upload them twice then! If your Zonerama gallery is connected to Facebook and you turn on "Synchronize with Facebook" when creating a new album, it will save you lots of time. Your Zonerama photos will be uploaded to Facebook automatically, so you can look forward to brand-new likes.
You can turn off synchronization at any time. To do that, click the pencil icon (Edit Profile) on your profile, and then click the "f" button for your album of choice. This button appears after you hover over the album.

You can also do this while in the editing mode for an individual album.

Share your pictures on Zonerama, add photographers whose photos you like to your Favorites, and learn from them, because you can never have too much inspiration.