What You Need to Know About Geotagging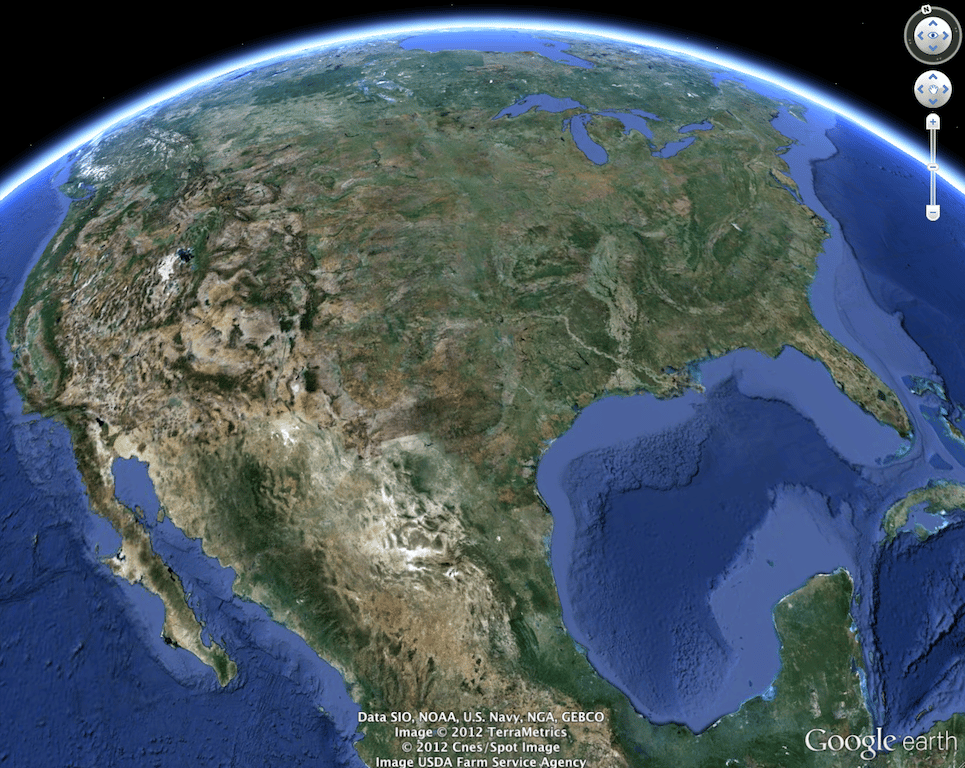 "No matter where you go, there you are." — Confucius
Thanks to the U.S. Department of Defense, your photos will never get lost again. The same Global Positioning System (GPS) that guides our cars and ships to their destination can help you locate exactly where you were when you snapped a photo. It's called "geotagging" and, when used properly, can be a great addition to your photographic bag of tricks. Here's what you need to know:
How do I geotag images?
There are two basic ways to geotag photos: one while you shoot, the other after you're done. If you snap photos with a smartphone, there's a high probability they're automatically geotagged. Most smartphones produced over the past three years contain GPS and embed location data into your photo's EXIF data automatically.
If you don't shoot with a smartphone, you'll need a camera with built-in GPS or a GPS accessory that you'll carry along with your camera. Some memory cards, like the Eye Fi, can also add location coordinates to your images as you shoot them.
What if I don't shoot with a smartphone or want to geotag older photos in my collection?
Just because you don't have a smartphone or camera with built-in GPS doesn't mean you can't join in on the geotagging fun. You can manually add your coordinates in the EXIF data using Zoner Photo Studio. There are two ways to do this. The first can leverage GPS data collected by an accessory tracker, the second will rely on your memory.
Let's start with the first: GPS data collected by a tracker. Working in the Manager module in Photo Studio, you select Information/GPS/Assign GPS Data… This brings you into Photo Studio's GPS module where you'll be able to import GPS data collected by a tracker. You'll also have the option here of manually assigning a location if you didn't use a tracker. Don't worry if you don't remember the exact latitude and longitude, you can simply key-in a city and save it to your photo.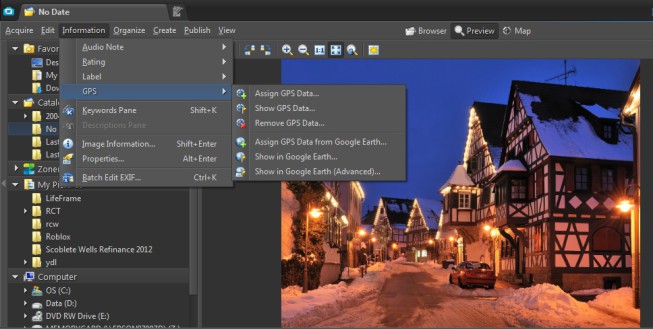 Another way to add location data is using Photo Studio's EXIF editor. Select Information/Image Information… from the Photo Studio menu to pull up the editor and select Image Origins from the drop down menu. You'll see fields where you can key in information for city, state, country, etc.
Why would I want to do this, anyway?
There are a few reasons to geotag your images. First, it can help you organize them. Once they're tagged with your location, you can search your collection in Photo Studio by location. Say you want to find all the pictures you took on your trip to the Grand Canyon. Using Photo Studio's Filter feature you can narrow down your search for images to only those taken in Arizona. You can also view your images on a map or Google Earth to quickly find photos from specific trips you've taken. Photo Studio can really take advantage of GPS, so it would be a shame to leave your images untagged.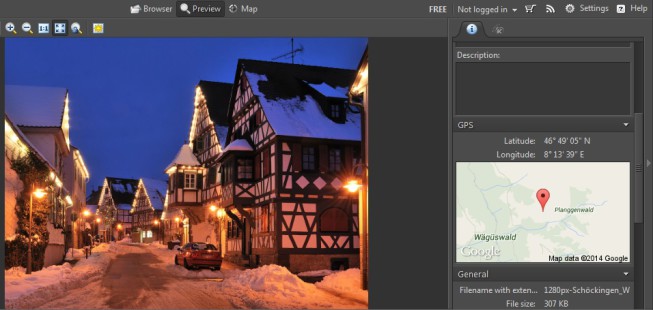 Second, geotagging lets you do some high-minded internet service by contributing geo-tagged photos to the Google-owned Panoramio. This service is integrated with Google Earth and helps build a detailed image database of, well, the world. If you want to contribute geotagged images to Panoramio, you'll help others searching for unique travel spots get a ground's eye view.
Any downsides to geotagging?
Unfortunately, it's not all good. If you're an avid social networker, frequently posting images to Facebook or other sites, geotags could give away information you'd rather keep hidden. That's why it's a good idea to remove geotags from any images you post to Facebook or other social networks.
You can do so quickly in Photo Studio. Working in the Manager select Information/GPS/Remove GPS Data… and it's gone.