Apple's Free One-Hour Photo Workshops…Hmmmm
I guess the reaction to this news should actually be, what took so long? As Apple continues to improve the imaging capability on their iPhones and the image editing capability on their Macs the notion of helping consumers become better at both ends of the photo chain should surprise no one. Thus they are now offering free 1-hour photo classes in Apple Stores and are having no trouble filling them from what we hear.
The classes are offered at varying times at Apple Stores throughout the U.S. and include the following topics/descriptions – as per Apple:
 iPhone Photography: Learn how to capture and share stunning photos with your iPhone. We'll show you how to compose a shot, edit with the Photos app, and share your snaps.
iPhone Videography: Inspiring, feature-length films have been shot on iPhone. Learn how to use your iPhone to capture your best moments on video.
Perfect Your Photos on Mac: From quick fixes to fine adjustments, we'll explore the key elements of great photo editing with the Photos app for Mac.
Edit Your Movies on Mac with iMovie: We'll show you the fundamentals of movie editing with iMovie. Learn how to set up your story, fine-tune footage, and share your movie with the world.
A Global Effort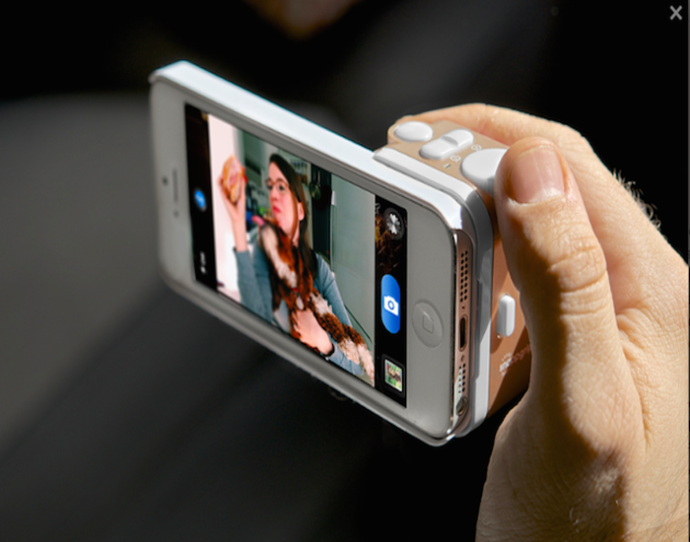 The effort is part of Apple's retooled "Start SomethingNew" campaign, a global effort that is currently running in the U.S., Australia, Belgium, Canada, France, Germany, India, Italy, Japan, Netherlands, New Zealand, Philippines, South Korea, Spain, Sweden, Switzerland, U.K., Vietnam to name but a few of the countries the campaign is running in around the world.
Perhaps the coolest aspect of the effort is Apple's online gallery featuring various artworks created using Apple products like iPhone 6s, Apple Pencil, iMac, MacBook Pro, iPad Pro, and iPad Air 2; hardware and accessories like Pencil by FiftyThree, MeFOTO Sidekick360, and olloclip Active Lens; along with apps, like Adobe After Effects, Adobe Photoshop Express, Darkroom, Union, NightCap Pro, Filmic Pro, Final Cut Pro, and Procreate.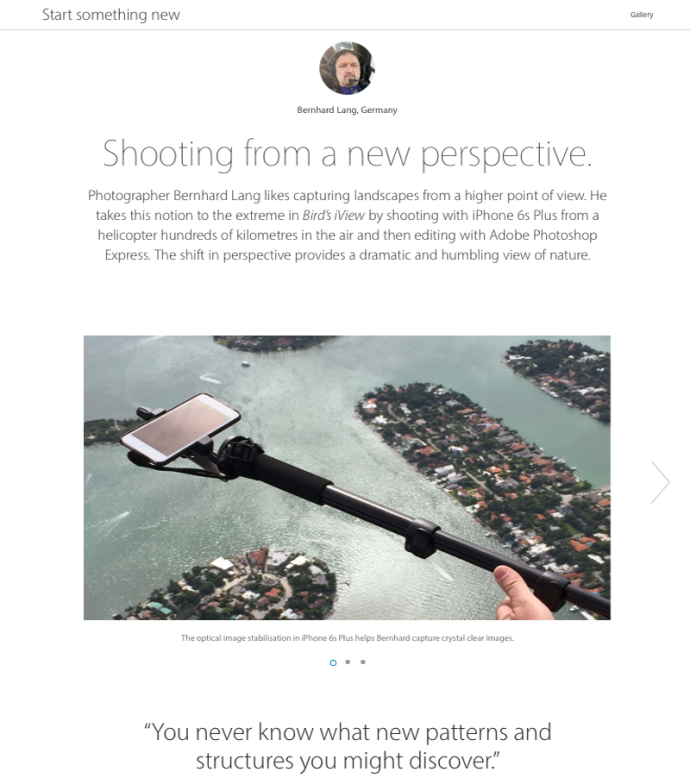 When you consider the revealing little tidbit from the 60 Minutes segment on Apple that aired late last month, claiming Apple has over 800 people solely dedicated to working on the iPhone's camera, all the above makes a ton of sense. What's really worth pondering however is the fact that the iPhone camera has become the most used feature of any Apple product…ever. That's a mouthful.
No Limits?
If anyone in the imaging industry really believes that there are limitations to what an iPhone, or any other smartphone camera for that matter, can actually do, time to think again. The truth may be that the imaging tech in smartphones has barely scratched the surface and 2 or 3 years from now the idea of taking a picture, or shooting video with anything other than a smartphone might be laughable. Maybe that statement is too, no one knows for sure.
The one thing that is certain though is the fact there are over 800 people working on the next iPhone camera so our guess is it'll be better than the last one.