Athletics Photographer Aleš Gräf: How Usain Bolt Made Me Fall Off a Table (But Not Really)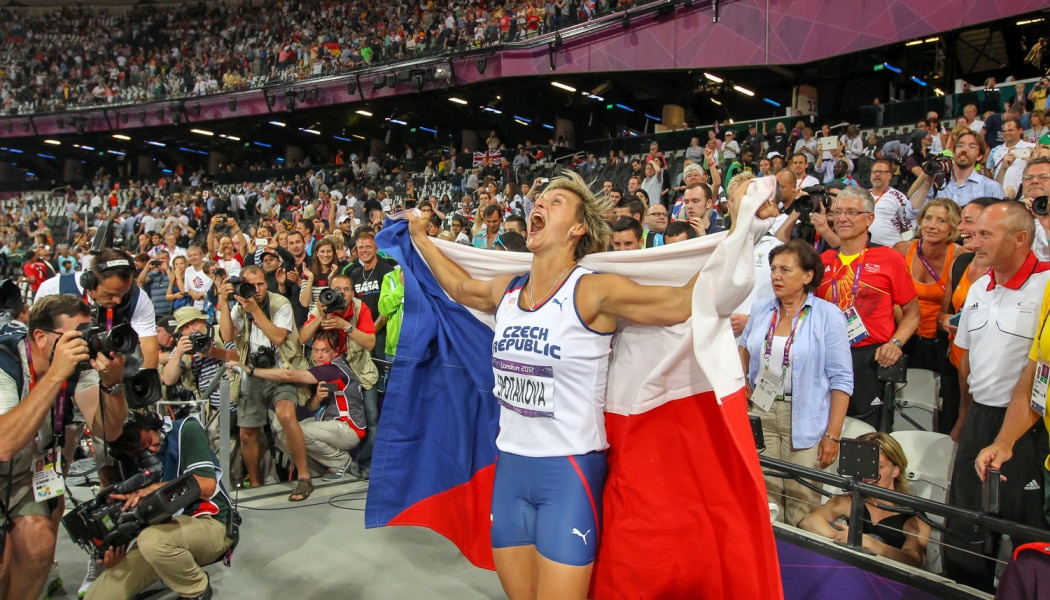 At the end of September, the photographer and athletics enthusiast Aleš Gräf will head out to Doha, Qatar, where this year's World Athletics Championship will be held. He's being sent there by the Czech Athletics Federation as their main photographer. Read on to find out how he got his start in photographing events like these, how hectic they can be, and how Usain Bolt "tests" photographers.
You've been attending athletics events for a number of years now. What got you started with it?
I think my first time heading somewhere was in 2004, back during the big rise of digital photography. But I'd already gotten a taste for photography a few years before that, at the turn of the century. For two years, I was regularly traveling to  Syria in my job as a land surveyor. In Aleppo I worked on an order for measuring the current state of the Great Mosque of Aleppo from the 8th century—which allegedly houses the remains of St. Zacharias, the father of John the Baptist. An overall reconstruction of this marvelous building was planned, and so detailed documentation was needed for everything, including the decorations of its interior and facades. Alongside the standard surveying methods, we also used traditional instruments for the photogrammetric method, in cooperation with the leading Czech technical university. In addition to these instruments, we also tested the use of an Olympus digital camera; it had a resolution of one million pixels, still practically unseen in those days. This was my first contact with a digital camera. I had almost never been in contact with traditional photography. 
You specialize in photographing athletics events. Why did you choose this area specifically?
I grew up in an athletic family, and I was actively involved in athletics as a boy. My father was a great Czechoslovak runner; he raced the Olympic gold medalist Zátopek and was the very first Czech to beat him. My mother was also involved in athletics at the very top. As a boy, I longed to make my way to the Olympics as an athlete. I didn't succeed at that. And it wasn't until 2012 that I then "fought my way there" as a photographer. It was an amazing experience. I could even take pictures right on the field during the competition. I think I experienced the same feelings as an athlete who gets to compete there.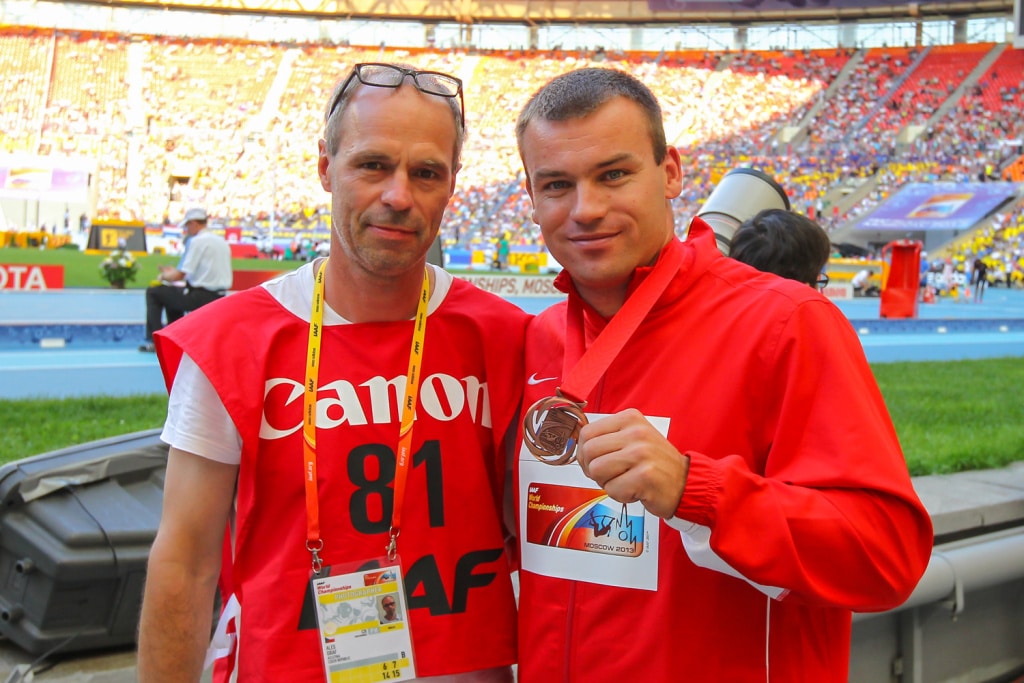 Is photographing athletics your main profession now?
It isn't. I make my living off of "civilian" work, so in part for reasons of time, I carefully pick and choose which events that I attend. In recent years this has mainly meant European and world championships, for both indoor and outdoor sports. Every year I try to supplement these with some other, less typical events. This year for example it was the IAAF World Relays Yokohama 2019. I did that in part so I could get acquainted with the environment of the next Olympics. I generally finance these trips myself, either fully or at least largely.
You're only paid for finished work, and the logistics are all up to you. How demanding is this?
I need to plan for major events like world and European championships and the Olympics carefully, especially when it comes to plane tickets. All the tours and accompaniments arrive at the event over the course of a few days, and they always fly out a day after the event ends. So if you hesitate, you can end up with an unplanned extension to your stay for lack of a ticket. As far as accommodations are concerned, the organizers offer "media hotels" to accredited journalists. This has the advantage that they take you straight from the airport to the hotel, and you have your transport between the hotel and the stadium taken care of throughout the event. But I make my choice individually. I like to stay as close to the stadium as possible, ideally within walking distance, as it saves me a lot of time and keeps me self-sufficient.
What's the basis on which you get your photography permits for these events?
The different athletics federations each have a limited number of spots assigned for journalists and photographers. The accreditation process generally runs several months in advance, online. But most newspapers and news websites today don't bother sending their photographers to events like European and world championships. They buy their photojournalism outputs from global agencies. That's also why you'll often see one and the same photo in the majority of new sites, newspapers, or magazines. They're all just interested in the Olympics. There's a huge excess "accreditation pressure" for those. Only a few accreditations are granted for the entire Czech Republic. For the London Olympics, I think it was eight. So only eight sports photographers from our country will get a chance to shoot there. When you consider how many sports there are at the Olympics, that's very few. 
This year's world championship in athletics will be in Qatar, which isn't an entirely typical location for this kind of event.
I've visited Doha before, a few years ago, but that was for an indoor-sports world championship. Yes, this will be a fairly atypical world championship. Because of the heat, it's not taking place until the autumn, and what's more, the organizers have abandoned the traditional model of morning and evening programs. The competitions won't start until after 4 p.m. each day, and they'll run nonstop until midnight. When a marathon or walking is on the program, it will run even longer, until 2 a.m., and for walking events of over 50 km, even longer than that—until 4 a.m. Holding out for ten days of this rhythm nonstop will be tough. The marathons and walking events will be held outside of the stadium, on a seaside promenade. I'm curious how the whole track's lighting will be; it might give us room for some interesting pictures. 
This championship is newly introducing a conception called DNA—Dynamic New Athletics—that is, athletics that tries to be viewer-friendly. We'll be seeing a change in the conception of certain disciplines after years of stability; in what ways has the new conception caught your interest?
For example the 4X400 meters relay mixed, where two men and two women can run in any order. So the running order is constantly flowing. A fifty-meter head start in the last section won't necessarily be enough for victory. If you have a woman in that section and your pursuers have a man, they'll easily smash you.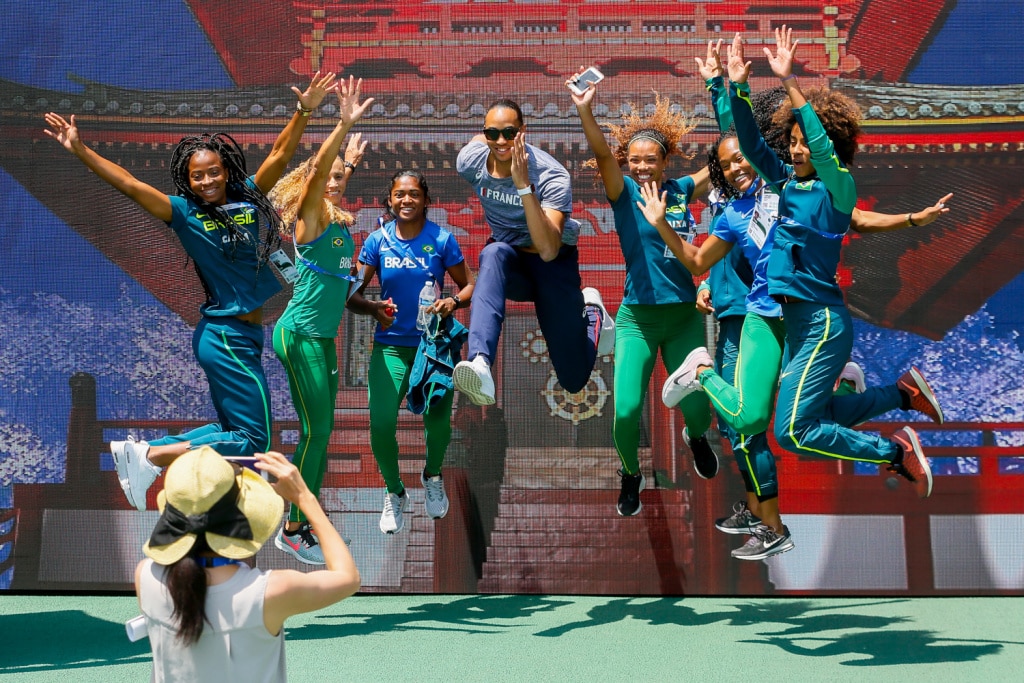 Today the visuals from top sports competitions are not unlike the visuals from a concert!
I like them. Everything's more colorful and more impressive, and that's good for photos. And definitely for audiences too. The athletes' entries onto the grounds via various shining, blinking, or smoking gates are interesting, for example. It feels like gladiators dashing into an arena. On the other hand, sometimes too many effects is too much.  The year before last, at the indoor European championship in Birmingham, they changed both the intensity and the color of the lighting in the hall. A nice colored-light show for the audience, but hell for the photographers. Also, one of the track's curves had a giant light plate over it that blinked in different colors and lighted the grounds in different ways. It was nearly impossible to take a "clean" photo without tinting. If you're shooting to JPG, which is standard for this kind of photography, and you're not shooting to RAW, your white balancing possibilities afterwards are very limited. For the first few days, I was really unhappy because of all this. All my photos were tinted red. But when I saw the reddish photos from world agencies in the news afterwards, I calmed down a bit.
What's specific about shooting at a stadium?
Taking pictures right on the field is only permitted for a very limited number of photographers—the ones who've been granted "infield bibs." Generally it's 18 photographers. Most of the slots are taken by global agencies—AP, AFP, Reuters—and the host country's agencies and local photographers. Only a few are left for other people; generally it's two slots that have to be shared.  And meanwhile, over 200 photographers come to the world championships. Certain disciplines can be photographed from outside without problems. For others, mainly the technical ones, it is a problem. The way things work is that you have to make a request a day in advance for a particular discipline and competitor to get an infield bib so you have the right to enter the field. If your request is approved, you receive some very limited time out there. For Barbora Špotáková's javelin throw, I only made it onto the field just before her attempt, and had to leave immediately after she was done throwing. I was there for about two minutes. The athletes get at least three chances, but you've only got one. You either pull it off, or you're out of luck. So it's important to have figured out in advance what you'll be photographing, and from where. But this system is understandable. As many photographers as possible need to get in their turns. It used to be that when I headed out onto the field, I was as nervous as if I were competing too. My hands shook so much it was almost impossible to take a decent picture. 
Does your close familiarity with athletics help you choose your shots?
It's definitely an advantage in, for example, how it helps me to predict athletes' movements, or how I'm able to quickly orient myself when something important is going on. That's because during the competitions, everything's happening in quick succession, often in parallel; the programs are packed very tight because of the television broadcasts. There's a trend of cutting what were previously four-hour blocks down to half the time; there's less time for everything. But on the other hand, sometimes the media also send reporters to these events who basically haven't been kissed by the muse of the sport. I remember one smile-raising story from the decathlon at the famous Hypo-Meeting Götzis. It's from a few years back—Czechs remember this as the era of Roman Šebrle and Tomáš Dvořák. The crew of a certain Czech commercial television channel arrived there, and when their director found out that I was also Czech too, she approached me in dead seriousness to ask in which direction the runners on the track would actually be running. Because she needed to tell their cameraman where to set up his camera. A little while later she ran up again, saying it was always best to be at the finish line—but she needed me to say where it was. 
What do the "packages" that you photograph always have to contain?
Since the Czech Athletics Federation is usually paying for my travel, fulfilling their assignments is a priority, and that above all means depicting Czech athletes—and of course the main events as well. Traditional photos of an athlete running, jumping, or throwing are best taken during warm-ups or preliminaries, where there are fewer emotions. In the final battles, meanwhile, things are precisely the opposite. There emotions take priority. To capture them, you have to choose your standing spot carefully. The space for photographers at the stadium is quite limited, and it can be quite a problem sometimes to see both the course of a race and all of the contestants' trainers, partners, and overall escorts from a single place. This escort is where a runner will be first headed right after a race, and this is where you get your real emotions bursting out. Everything happens really fast; there's no time for moving around. But even the best-considered photo can be ruined by this or that. There are lots of referees, cameramen, and assistants on the field, and each of them is a potential danger for a photographer. They'll get into the frame, and your photo is done for.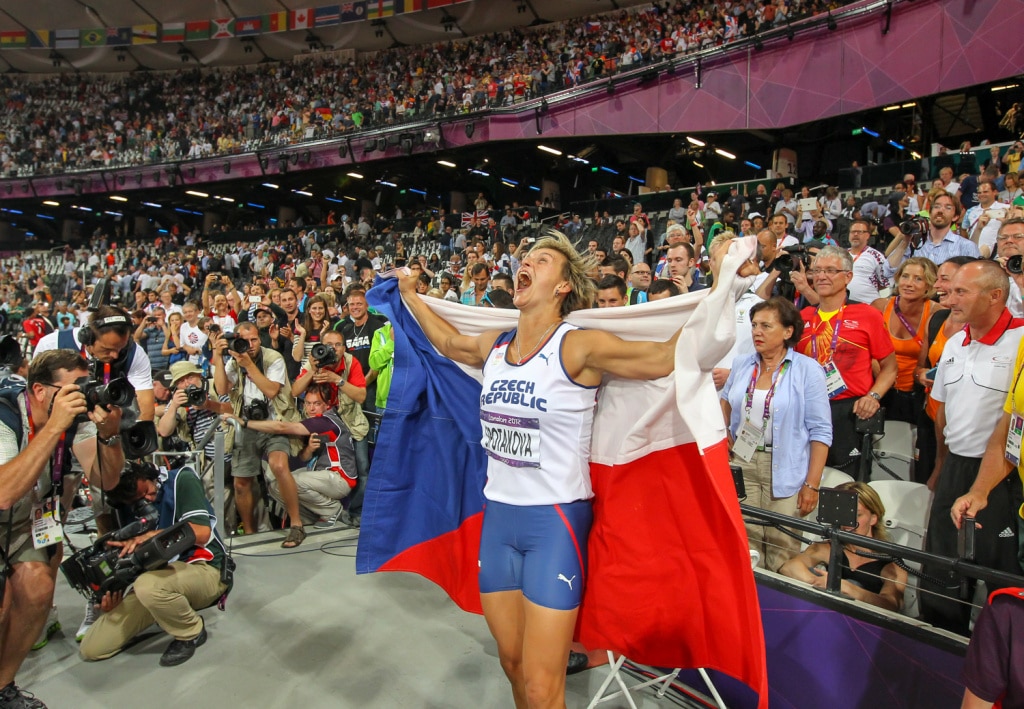 How do you like to play with your photos?
Motion blurring always spices things up, I like to play with that. I also photograph various details, for example in athletes' clothing, tattoos, or hairstyles, or unusual starting rituals. It's also good to capture some of the things that television audiences won't see. Where possible, I arrive at an event a few days in advance. I like the atmosphere and the time before the start of a competition. Usually there's a relaxed atmosphere full of optimism and expectations, and you can capture the "backstage" and the decorations in the city, and register the stadium and the athletes' arrivals, training sessions, and press conferences in pictures. Once the competition begins, there's no time for anything.
Right during the events, you're likely under a lot of pressure to pass everything you produce onward as fast as possible.
Yes; when you have to shoot for an online news service, you need to process and send your pictures immediately. So you're running around the stadium with not just a camera, but a laptop too. So you might have Zuzana Hejnová, for example, running victoriously over the finish line at the world championships, and the moment the emotions die down, you have to download, process, and submit it all right there on the field. In a few minutes, as quickly as possible. But I usually process my photos after the event ends and send them off to photo galleries at atletika.cz, the social profiles of the Czech Athletics Federation, and Atletika Magazine. After the event, I go through all my photos and edit them again at home on a 7-inch calibrated monitor, to create the final set of pictures that I'll hand over to the client.

Every photographer wants the very best photo—it must be hard sometimes to keep your footing.
In 2011, at the world championship in Daegu, South Korea, Usain Bolt made a false start and was disqualified. This became a bigger sensation than if he'd won and defended his title from Berlin. After his botched 100-meter, he wanted to pick things back up on the 200-meter. He won it with room to spare, and after crossing the finish, he jumped over the barrier and ran up among us photographers, so that he could celebrate in the stands along with the audience and his loved ones. That set off a rush and an uproar among us photographers. My Asian colleagues, especially, took no pains whatsoever and literally bowled over everyone and everything that got in the way of their hunt for the best possible photo. So I climbed up onto a nearby table, wanting to photograph all the action from above. The impenetrable flock of photographers around Bolt literally smashed down the table I was standing on as well. I fell hard, my leg took it hard, and my camera gained some visible wounds too…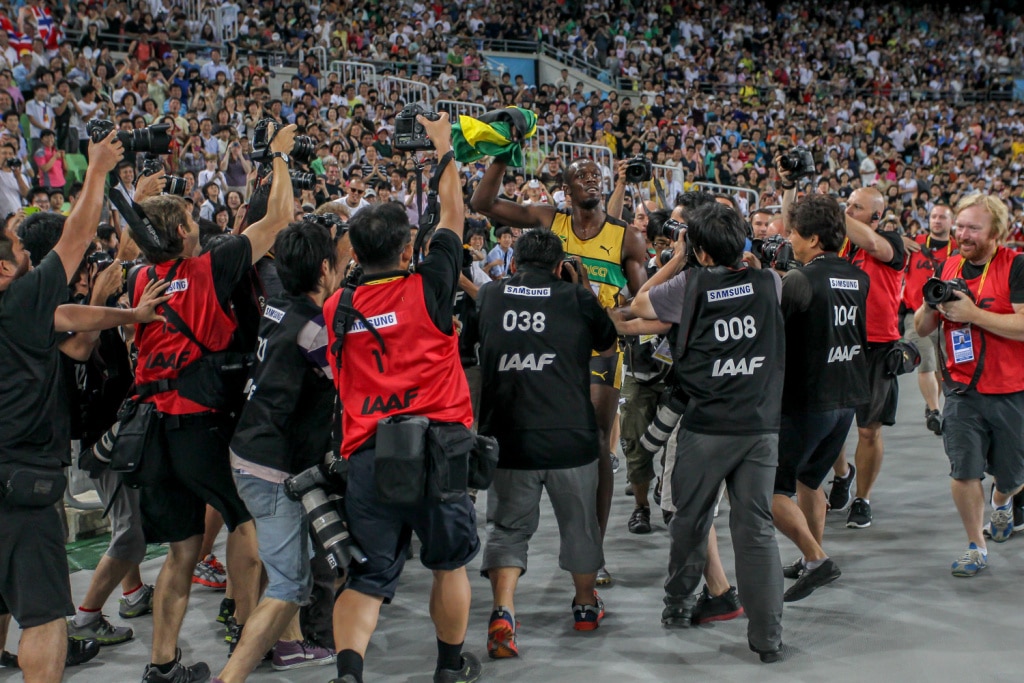 Athletics disciplines can vary a lot. Which ones do you like to photograph?
The javelin and the running races, especially the long ones. They give me more time to play with photos. I don't like the hammer throw, on the other hand. For photographers, as well as for everyone else moving around on the field, it's a very dangerous and treacherous discipline. The hammer often ends up flying off in an unexpected direction. You have to be on your guard nonstop. 
Athletics gives us world-renowned athletes; how is it to photograph these stars?
The reign of Usain Bolt was a chapter all its own. It felt in that period like the other athletes were cheery and loosened-up just like he was. A number of them tried to copy all his playing around. It was great for photographers. For years, Bolt would always attend the Golden Spike in Ostrava, here in the Czech Republic. Thanks to his close contacts with this competition's manager, Alfons Jucek, he was practically at home there. It was always a real experience to photograph him, and an even bigger one to get up close to him. He held a press conference before each meet, and the room was always packed. We photographers would sit on the ground directly beneath the podium. Bolt enjoyed these conferences quite a bit. He'd often test us to see how alert we were. He'd try to "get us" with an unexpected gesture or bit of silliness. He had an enormously good time with this, especially when some of us were asleep on the job and weren't ready for the moment. 
What gear do you take out with you?
I'm a "low-rent" photographer, with no rich foreign agency behind me, so as little gear as possible. Especially if I'm flying—I take all my gear with me on-deck. I like having my things under control. Because of this, I have to think hard about every lens… and about my choice of airline. I typically take 1–2 cameras, and as for the lens, it's EF 24-70/2.8, 70-200/2.8, 300 or 400/2.8. The sort of basic equipment you'll find for the vast majority of sports photographers. The advantage of big events like the World Championship and the Olympics is that Canon is there on-site, and sometimes other brands too; accredited photographers have a rental service and an overall camera service there for them. You can borrow nearly anything you need for free, and you can also give new items a try. I know a photographer who arrives at top events practically without any photography gear. He'll do the whole shoot with just rented items.

What tips would you have for people who are serious about sports photography?
I'm self-taught, and definitely no theoretician. I work by trial and error. I learned by watching real photographers to see how they do it, where they shoot from, what gear they use. I was lucky enough to be able to learn from and observe the very best right from the start, and to do so at big international events. And what's more, I knew right away that I wanted to photograph athletics, that is, a sport that I know well and one that I like.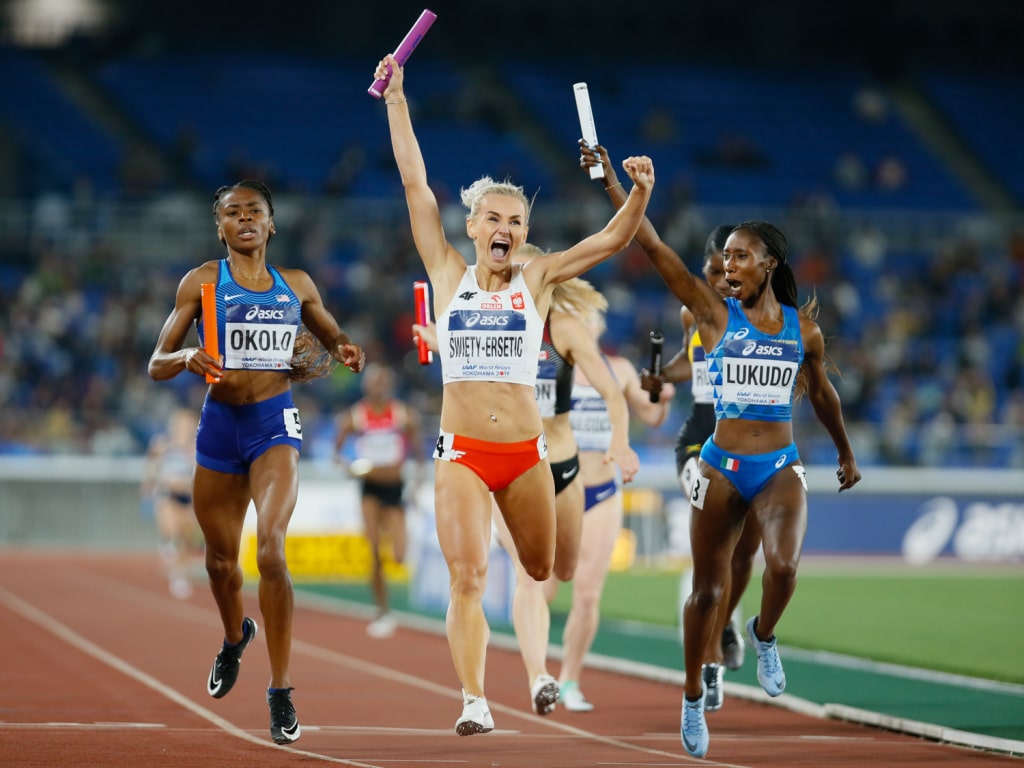 If you'd like to get to know Aleše Gräf's work better, you can visit his photo bank.