The Best Way to Capture Images for Wall Art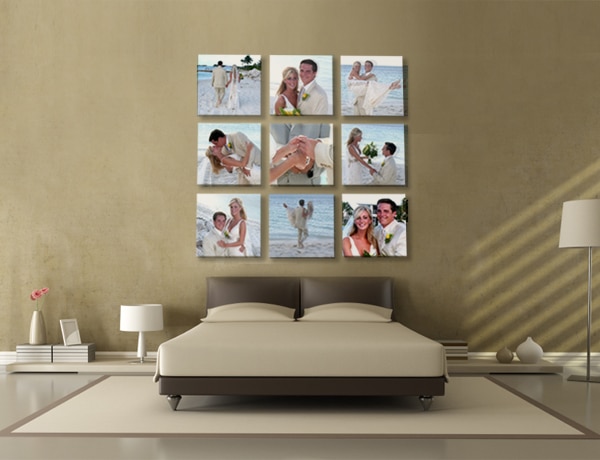 Here's how to take a photo that will look great on your wall.
Turning your photographic memories into larger-than-life pieces of art is a thrilling way to turn them into long-lasting, more permanent pieces of your life. And you'll find a plethora of services that will turn your digital image files into what is commonly referred to as wall art, so for those of you that aren't doing larger format printing at home, there's no need to feel left out.
The trick is making sure the images you're capturing are worthy of the enlargement process so you'll be excited enough to go the wall art route in the first place.
SO, WHAT IS WALL ART?
While there's no hard-and-fast definition for what constitutes a piece of photographic wall art, for our purposes, we're talking about using your photographs and having them printed onto a unique material, such as canvas, glass, mirror, acrylic, aluminium, or bamboo. In general, these prints are large (upwards of 20-inches wide or larger) and are meant to be hung on the mantle or prominently displayed on a wall.
As we mentioned earlier, these images can be ordered online, using photos you've snapped on your own. Portrait studios, weddings and other professional photographers are also offering the option to have their images (of you) turned into wall art.
WALL ART WORTHY?
But before you get too worked up, let's make sure you are capturing images worthy of the process.
Right out of the chute we'll tell you this, if you only shoot pictures with your smartphone, you're not part of this conversation.
Now that those folks have left the room, here are a few tips/tricks to help you improve your images for the BIG time.
• Follow this rule of thumb – check out the dimensions of your images (this is as easy as highlighting the file and hitting Command and the I key on a Mac). When you see numbers like 4608 x 3456 this equates to 15,925,248 pixels which means the file size is roughly 16 megapixels (think one megapixel for every one million pixels).
Then use this formula to determine what print size this file can handle: divide the width and height dimensions by 300, as that's the number of pixels per inch typically suitable for high-quality printing. Thus, using this math, that aforementioned 4608 x 3456 file will nicely reproduce a 15 x 11-inch print. And so it goes.
• With high-capacity memory cards for digital cameras now costing next to nothing, you can stop worrying about using your digital camera's low-resolution setting. Use all the megapixels your digital camera can muster as you'll need them for larger output – as a rule, always leave your camera on the high-res setting.
• Don't think because you resize the image in a software program like Zoner Photo Studio you've succeeded in making it suitable for larger output, you haven't. If you attempt to print out a resized image you'll see a major dip in quality.
• Fill the frame: This one is always a good idea for better photos but with an image that will be blown up substantially, your main subject should take up the bulk of the frame as you're about to hit the shutter button. Extemporaneous items will loom even larger when the image is blown up to wall art size so fill that frame with the reason you shot it.
(Image: Letter Your Legacy)