Business Headshots for Various Professional Talents: Choose the Right Poses, Colors, and More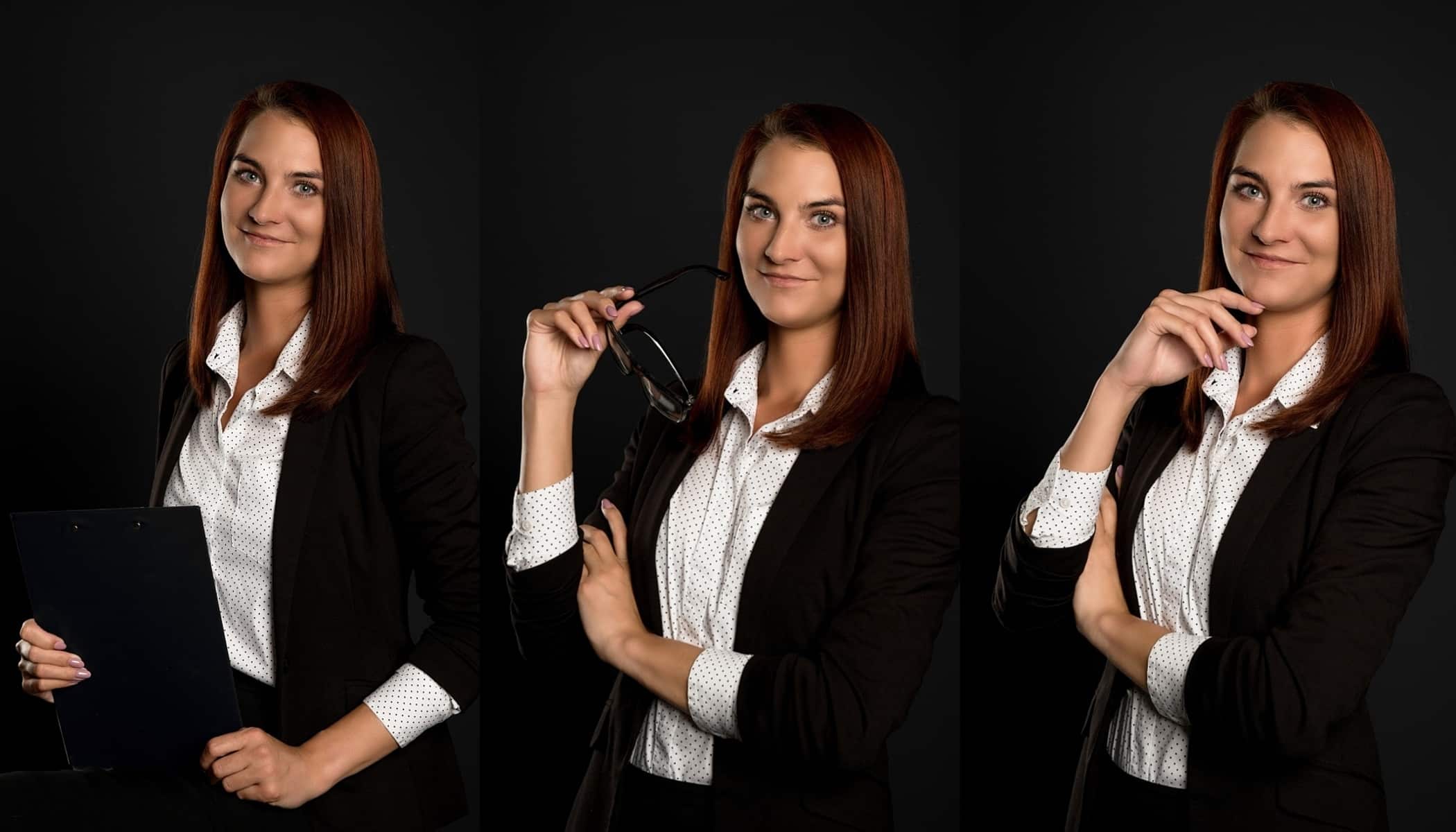 In today's digital age of social media, visual presentation is critical. This especially rings true in the job market where a professional-looking headshot can help you snag an interview or new clients. In this article, you'll learn how to take a good business headshot, what props to incorporate, how to choose and coordinate your subjects' wardrobe, and what to steer clear of. Let's take a professional headshot that will help your subject sell themselves in the job market.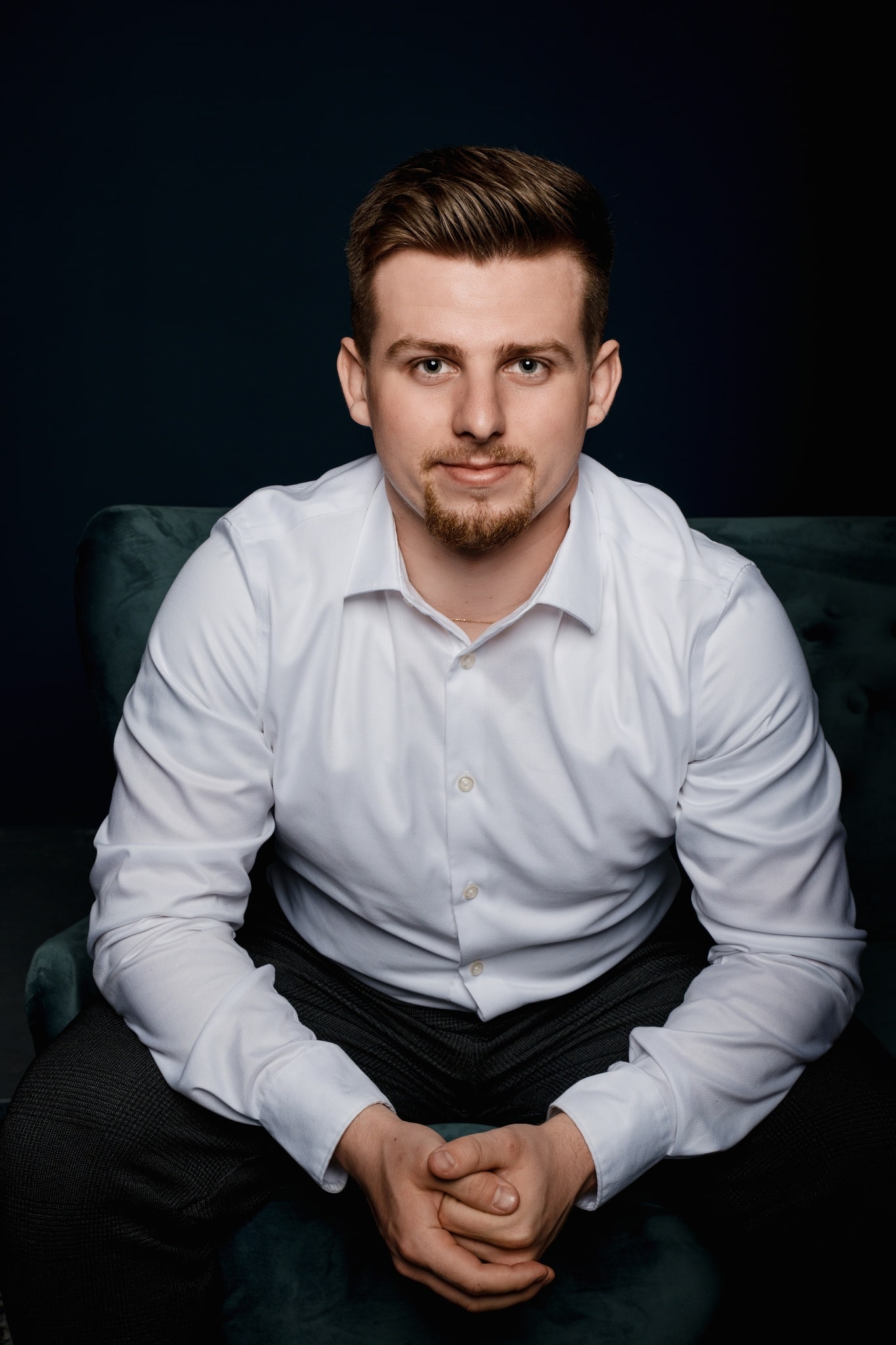 A business headshot is a type of visual business card in today's job market. It represents not only individuals but companies as a whole. When looking at this type of portrait, we must get the impression that this is someone who can be trusted with our business and is someone we want to collaborate with. The subjects should appear kind, yet reliable. The overall look of the headshot should be adapted depending on the specific occupation. What are the most important elements of a business headshot?
The type of industry the headshot is meant for, such as conservative or creative 

Non-verbal communication and poses 

Setting 

Clothing and color scheme

Props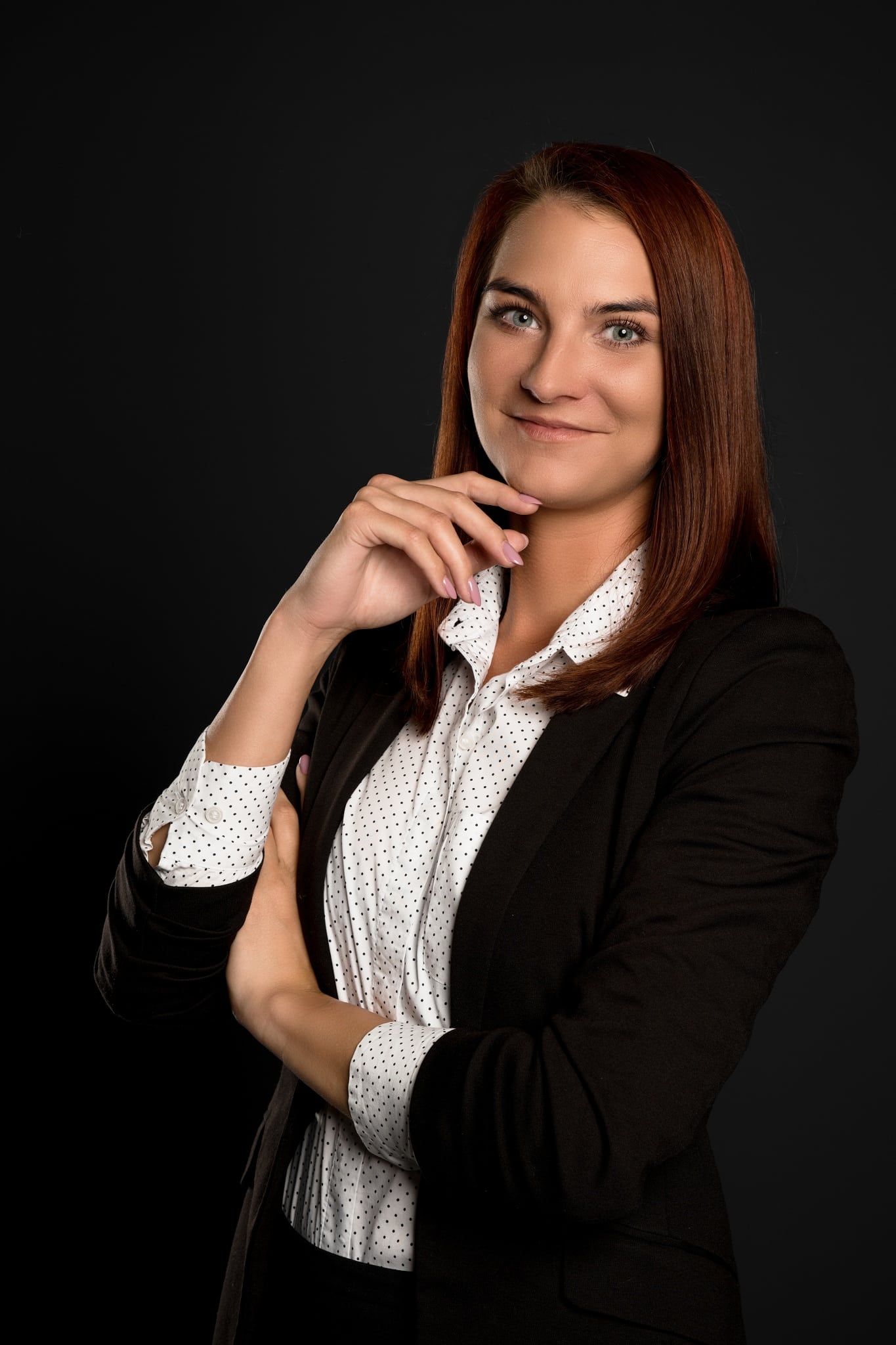 Conservative industries
More conservative industries include those that strictly adhere to a certain dress code and other rules to ensure that the company runs smoothly. These industries include banking, law, city government, and individuals such as politicians or high-level management of large corporations. When taking these types of headshots, we need to adhere to these basic principles:
Men should be photographed wearing classic suits with a tie or a button-down shirt

Women should be photographed wearing pantsuits or skirted suits, knee-length or longer sheath dresses, or formal jumpsuits 

Take corporate colors into consideration

Taken at the company itself or in a studio

May incorporate props such as glasses, pens, clipboards, etc.

Professional

lighting and flash

.

Photos kept as realistic looking as possible when editing in

Zoner Photo Studio X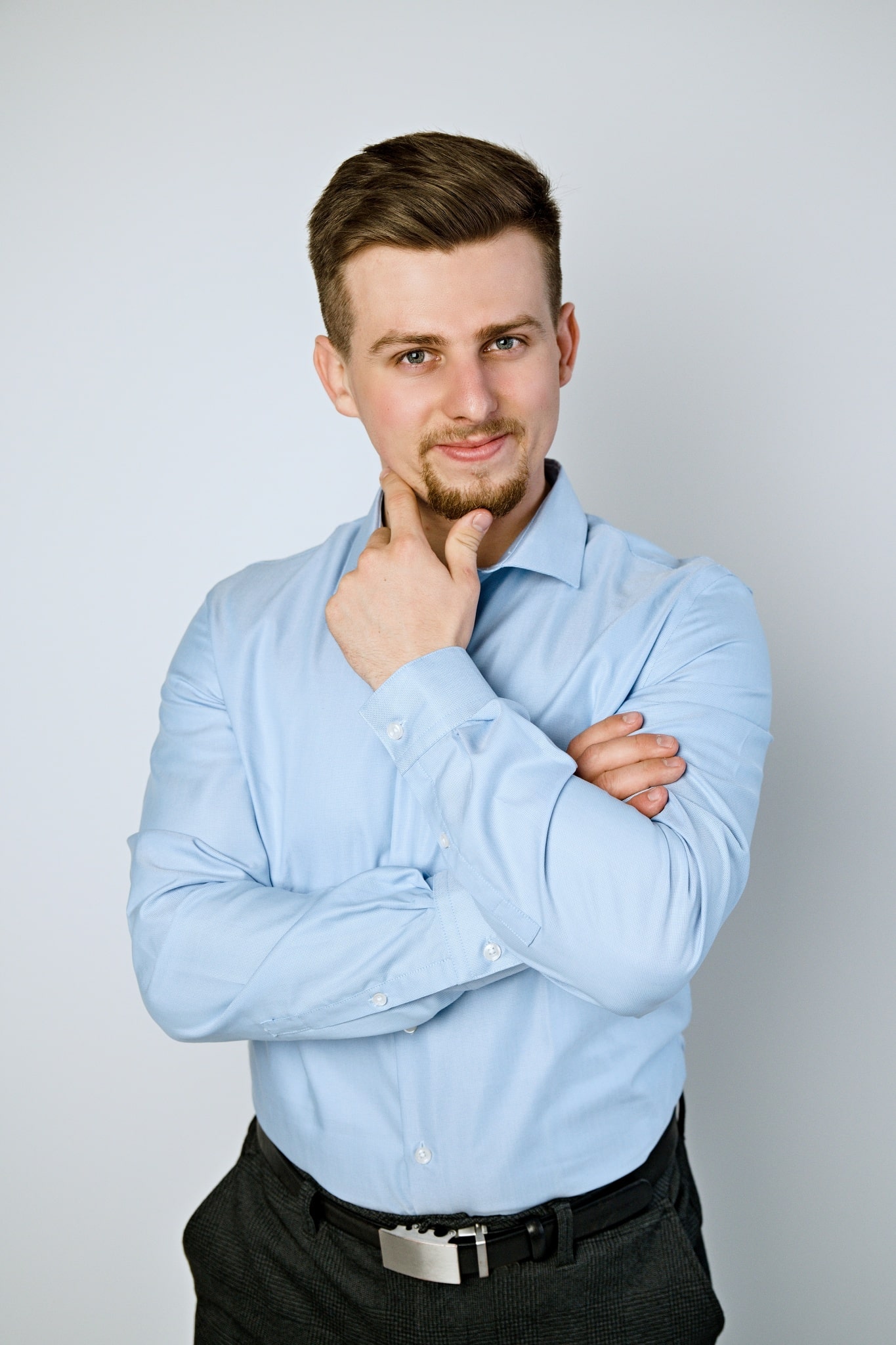 In terms of colors, it is important to be modest. Choose neutral background colors for the studio. When shooting at the company's location, avoid backgrounds with paintings or posters on the wall and blur the background. For clothing, avoid bold colors such as orange, yellow, pink, purple, and red (with the exception of men's ties for individuals in management positions). Under no circumstances should the color overpower or overshadow the person who is having their headshot taken.
Colors do help us convey certain messages. For example, blue evokes communication and gives off a feeling of calm, suitable for people in sales or public relations.  Black in combination with a red tie or other accessory evokes power and commands respect, used above all for individuals in management positions.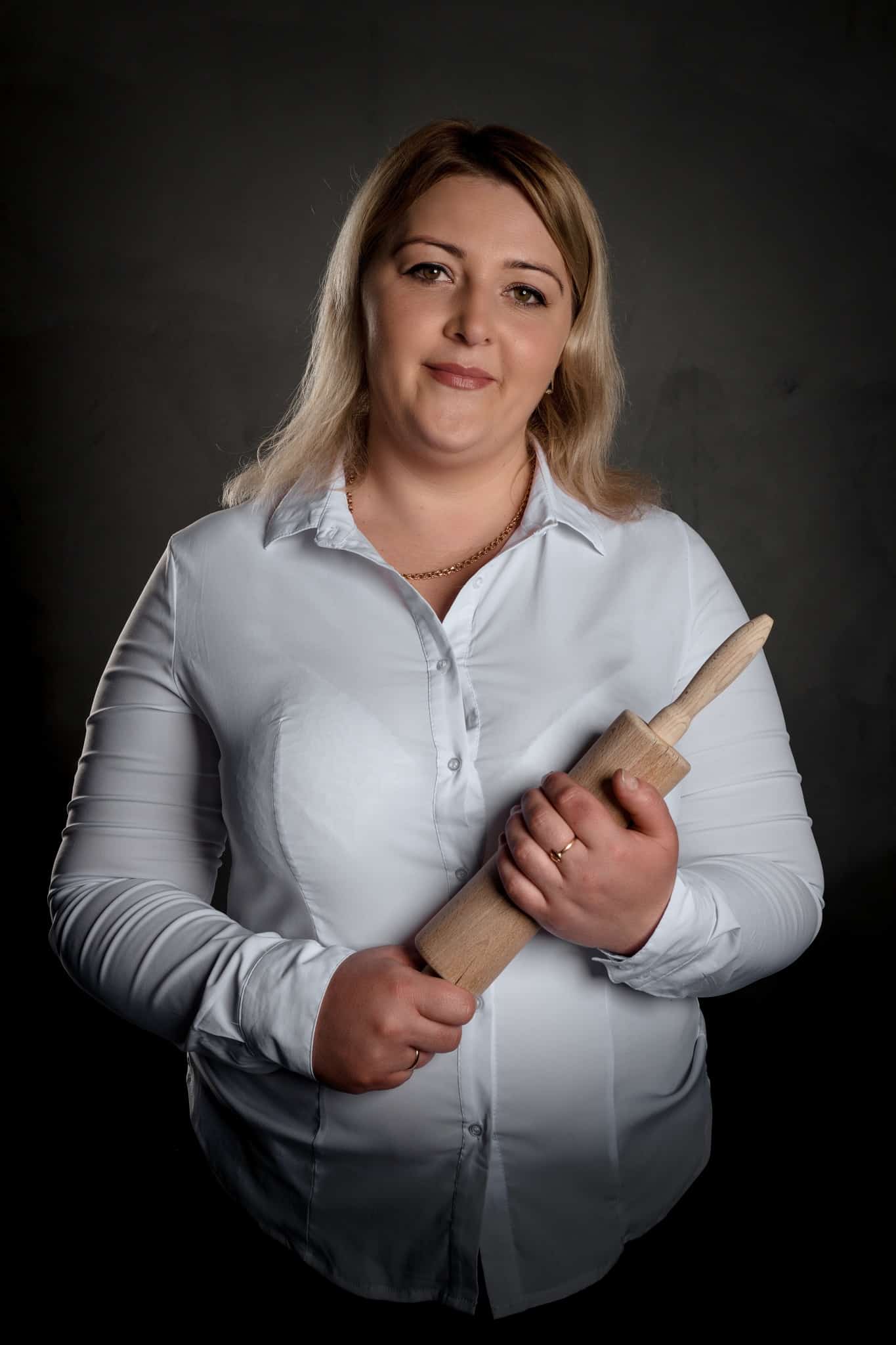 Creative industries 
Creative industries allow more space for improvisation and creativity. These professions include artists, craftsmen, news anchors, actors, singers, employees of event planning or marketing agencies, tattoo artists, seamstresses, hairdressers… Creative headshots can be taken in different settings, including outdoors. The dress code is not as limiting as it is with conservative industries, though the colors should match the surroundings and shouldn't detract from the person in the portrait. What should be used for business headshots in creative industries?
Realistic work environment

Normal work outfits 

Props that show or demonstrate tools related to the trade 

Natural lighting, flash, color filters

May utilize bolder editing in

Zoner Photo Studio X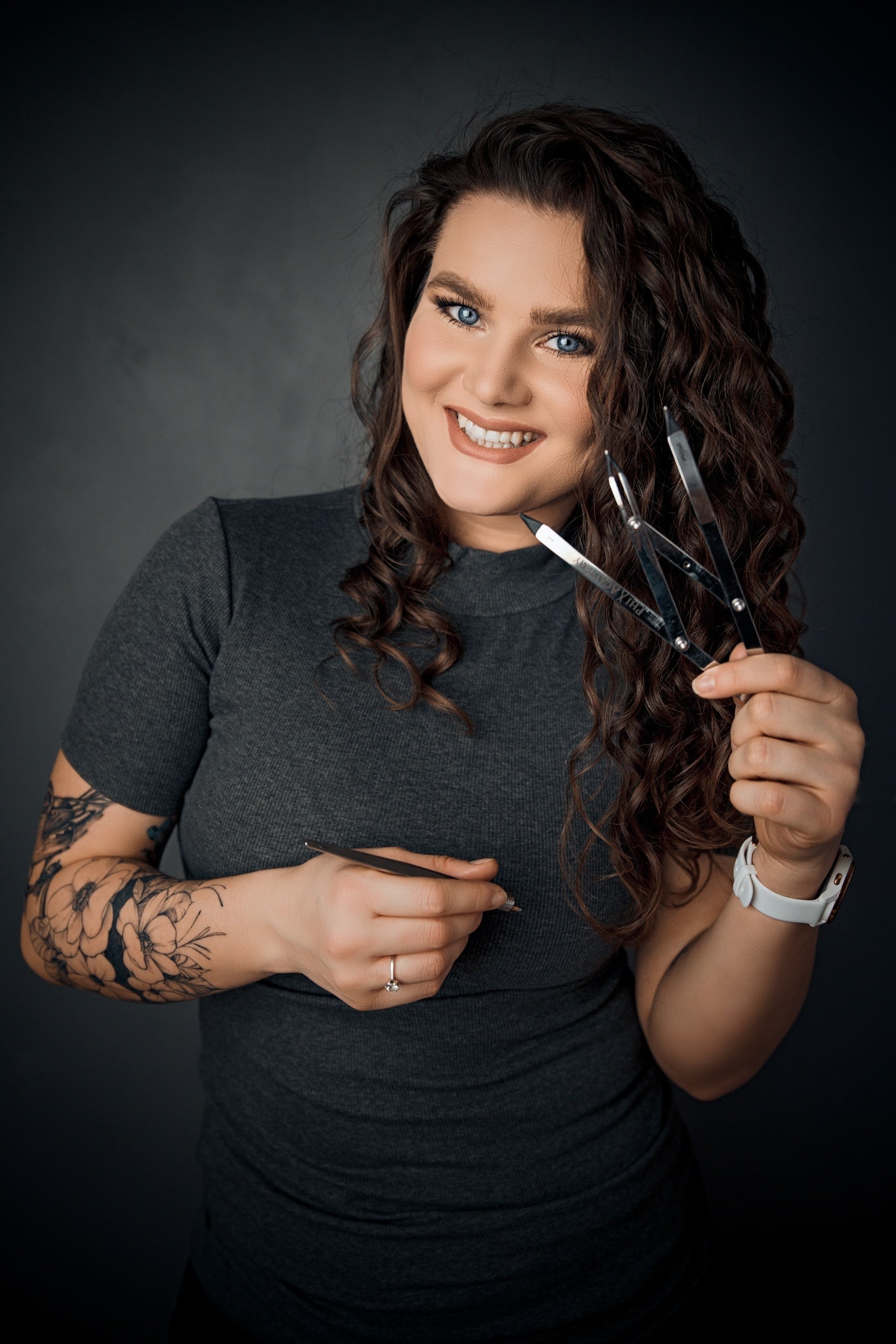 Let's take a look at a specific example. A hairdresser needs a new headshot for her website and Facebook page. First, we take a standard headshot in the hair studio using natural lighting.  For this type of headshot, we have her look straight into the camera. She can also have a prop in hand, such as scissors. Then, we can take her portrait at work – doing men/women's haircuts, applying hair color, or styling hair. The goal is to create a comprehensive series of photos to show what a potential customer can expect. 
Poses
For business headshots, the first impression is the most important. What is communicated through non-verbal communication is crucial. Our goal is to take a headshot that gives off a positive and reliable impression. What should be avoided when posing for a business headshot? 
Arms crossed across chest (indicates insecurity) 

Hands completely in pockets (at least the thumbs should be showing) 

Hands crossed in front of the groin in the "fig leaf" position (indicates uncertainty)

Hands in hair or behind the head

Hands covering the face

Hands in fists (indicates aggression)

Sullen or stern facial expressions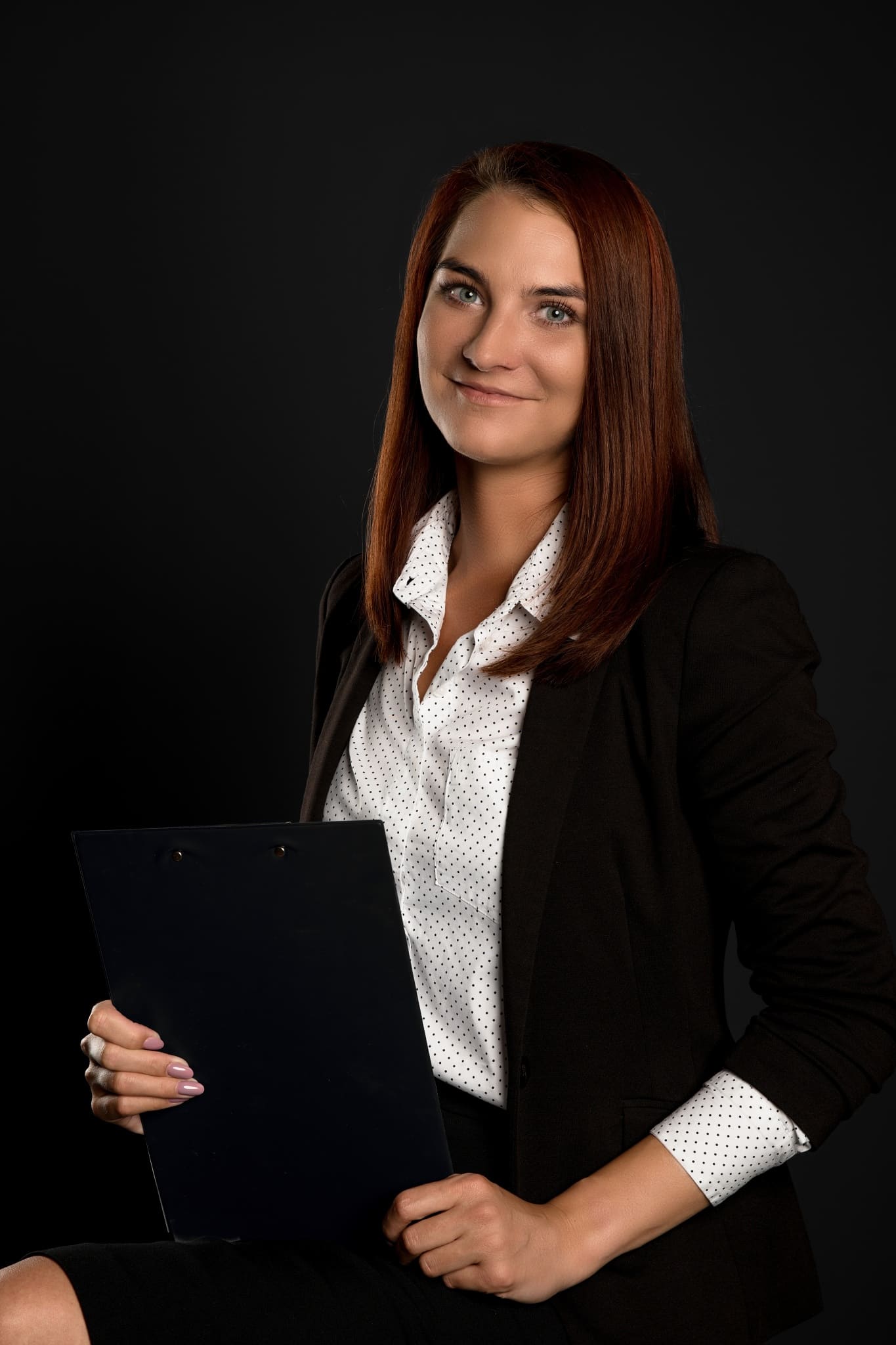 You must be asking yourself what the subject should do with their hands to make the portrait look right. Arms crossed is a very common gesture, but usually not a good choice. An alternative may be one arm bent at the elbow and the other arm raised towards the face. It can rest under the chin or have the index finger raised slightly against the cheek. 
For business owners and salespeople, we can use various gestures with open hands to indicate an openness and willingness to help. For seated poses, we can rest the elbow on the leg and support the chin with the hand. Or we can rest both hands on our legs, interlace the fingers and slightly lean in towards the camera. This pose conveys openness and eagerness. The hands can also be occupied with the props mentioned earlier.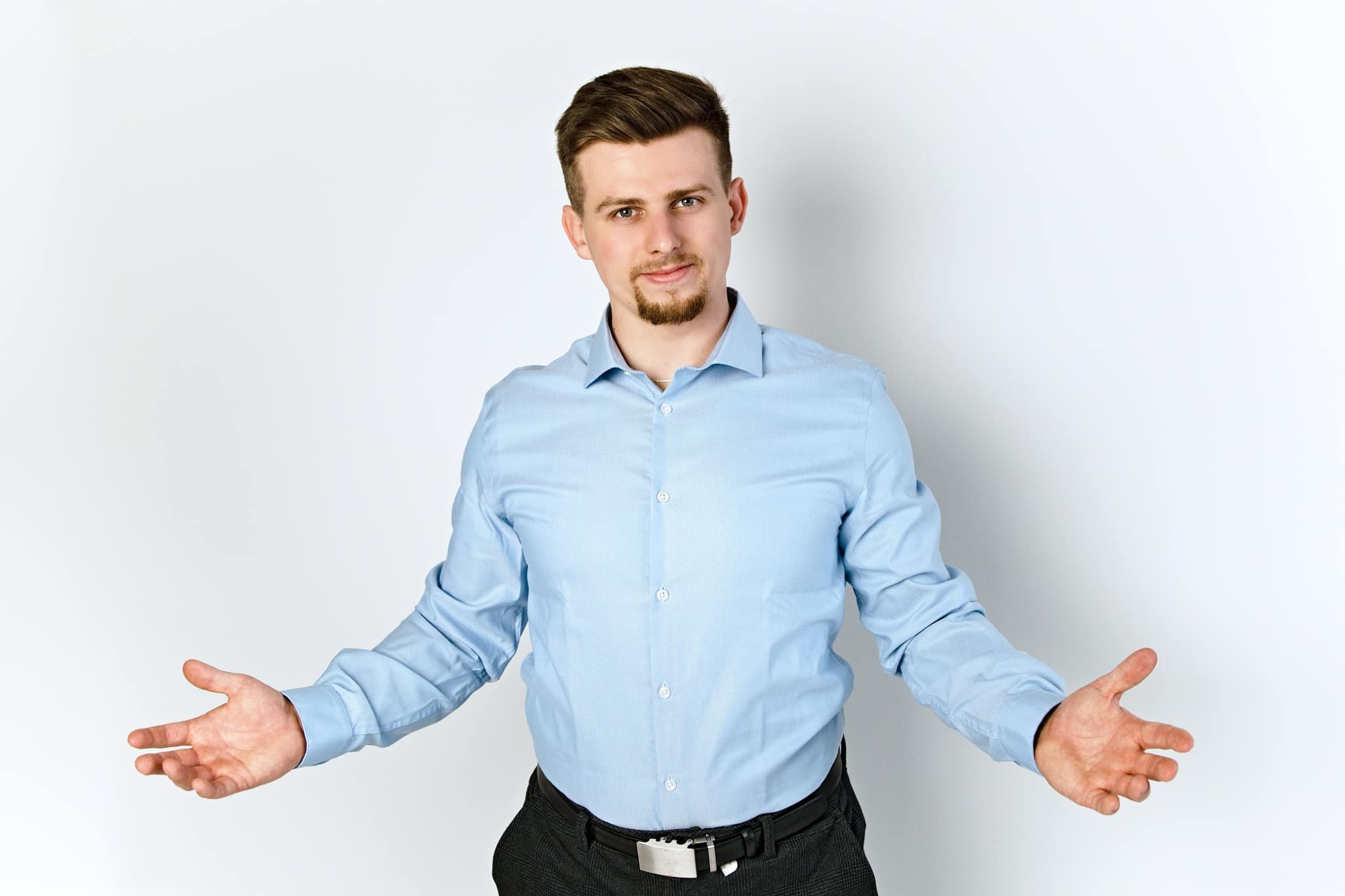 Facial expressions are equally important. With more conservative professions, a faint smile with pursed lips, and a confident gaze into the camera. A slight tilt to the head indicates openness and a willingness to listen. People in more creative industries can have their portrait taken with a broad smile with their teeth showing. For the portrait to look realistic, the smile must appear not only in the mouth but in the subject's eyes as well. The overall expression should appear kind and relaxed to a certain degree, depending on the specific job.