Tips for taking pictures in the fall: foggy mornings, color overflow, and a spooky Halloween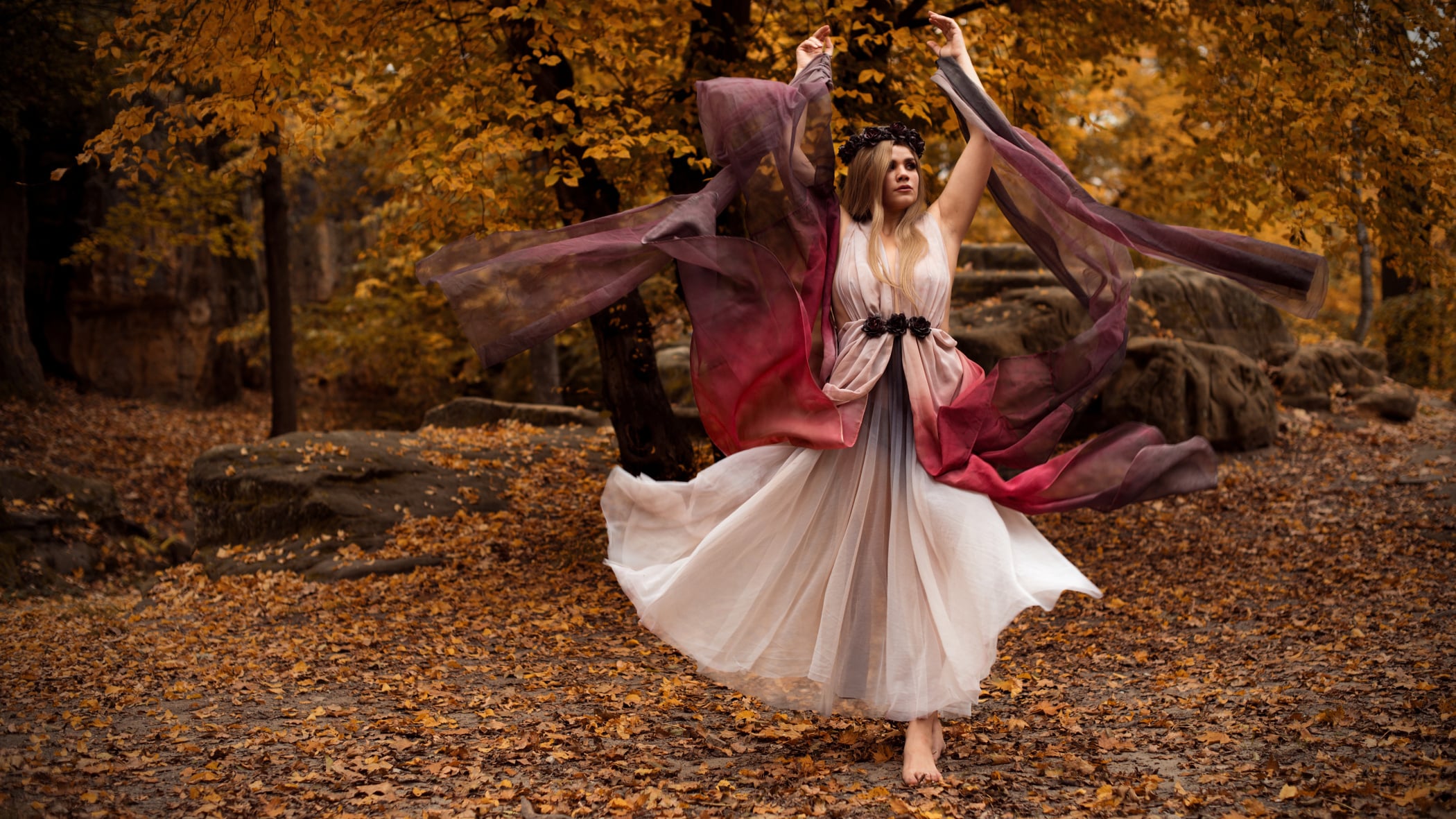 Some opportunities for taking pictures last only a few weeks, but if you take full advantage of them, you can have amazing results. Let's have a look at how to best take advantage of these opportunities while taking pictures in the fall. Whether it's a magical morning veiled in fog, colorful images of the countryside, or photos of Halloween costumes – fall opens the doors to your creativity! 
Fall is one of the most distinctive seasons, offering a stunning color palette, foggy mornings, pleasant weather, and good subjects for thematically-coordinated photography. For example, Halloween offers a plethora of opportunities for our creativity and visual attractiveness to thrive. In the fall you can impress with both fall colors and makeup. 
Fall colors
Fall colors include reds, yellows, oranges, and browns. It's the season of warm colors and you can beautifully photograph a variety of subjects, for instance red-heads (and not only them of course). Fall clothing in reds or yellows can be coordinated with fall colors themselves. Or, utilize stunning contrast with green clothing. Whether they're earthy or natural tones, bold colors are ideal. 
In the city, in the park, or in the forest… in short, everywhere you look the trees are beginning to change to yellows and reds at the end of September.  September offers a colorful palette.  It's the transition between the lush, green summer and colorful fall. It offers pleasant weather and is the finale of the wedding season. 
Come October, fall is still in full swing. The trees are full of colors and opportunities are everywhere to be seen. November brings more of a "fading out" of colors and the season of dreary grays, blacks, and browns before the whites of winter. 
Pleasant fall weather
Fall is the transition between hot and humid summers and cold winters. The weather is pleasant and you can photograph subjects wearing beautiful clothing: comfortable sweaters, elegant hats, trench coats, and stylish scarfs and shawls. The bright colors of fall have a lot to offer. The atmosphere lends itself to taking pictures in the park with a cup of coffee or in a café. 
The light is plentiful into the evening and not so glaring and unflattering as it is in summer. You can take pictures in the afternoon without risking sharp shadows or overexposed photos. Fall also frequently offers a more dramatic skyscape. Of course, the risk of rain is always there, but you can always hide out in the already mentioned cafés.
Moreover, fall offers the ideal conditions for a "photography stroll." Whether you want to take pictures of the city, nature, models, or animals. Your pets won't be hot and are more likely to be comfortable and playful. The same applies to human subjects as well.
Photogenic foggy mornings 
Fall mornings are wonderful because there is a big chance that there will be fog, which is welcome in any type of photography. The fall mornings don't come as early as the summer ones so you don't have to wake up at the crack of dawn and they are certainly better to capture the sunrise.
We recommend you keep a careful watch on the weather. A great source for this is the webpage Yr.no. It provides one of the most accurate forecasts you can get and based on it, you can find out whether to expect fog, rain, or clear skies.
While fall gives us beautiful colors, they are often characterized by dreariness, which is magical in their own right. This is displayed perfectly on a foggy morning. We recommend you try to photograph landscapes at least one fall morning. Even portrait photography will find beauty and inspiration in something as beautiful as a colorful fall landscape. 
Halloween photography
Halloween is a great opportunity for theme-based and costume photography. It offers a variety of ideas, whether it be costumes inspired by movies or creative use of a spooky atmosphere on Halloween night. Vampires, werewolves, pumpkins, horror movies, pagan rituals all bring to mind images of Halloween. 
Halloween is a very inspiring and creative opportunity which can bring a breath of fresh air to your photography. If you're more of a journalistic photographer, Halloween has people dressed up in costumes, many parties, and overall, is a great opportunity for getting interesting snapshots.
Empty tourist locations
Not abandoned, but emptier. As soon as summer ends, overcrowded spaces are afforded some breathing space. In the summer, you could go to these places late in the evening for a golden hour, but now they will be closed. Tourist locations are often crowded in summer because they are popular for their beauty – Castles, historic buildings, places of interest, among others. 
Their beauty and uniqueness make them ideal places for taking pictures. Oftentimes you should speak with the owner or maintenance crew before taking pictures, but non-commercial photography is often allowed. Don't be afraid to ask, write an email, or call. Arrangements can be made easily and without complications.
Photographing among fallen leaves
The last of the options we'd like to recommend is photography among fallen leaves. They can be played with in many ways. You can throw them in the air and capture how they fall. It's very rewarding and fun. Definitely try it with families or children. Your subject can lay in the leaves and you can photograph from a bird's-eye view. Spread your hair over them and you can add a few leaves to the top of your hair. 
Or try a fun trick with your umbrella, where you fill the inside up with leaves, turn it, and take pictures of how the leaves fall on the person holding it. You can also put leaves in the foreground of a picture before taking it. Your model can hold a beautiful leaf over a part of her face or make a fan or bouquet of leaves. Let your imagination run wild! 
In closing
Fall is beautiful, colorful, cheerful, and fun. Don't be afraid to start new projects and try something you haven't tried before. Take full advantage of the renewed energy that comes after a hot summer.
If you've ever considered taking pictures of landscapes, try it on a fall morning. If you've ever wanted to do theme-based or costume photography, try it around Halloween. If you've ever wanted to take pictures of a beautiful renaissance castle, try to arrange it for the fall. 
Enjoy the splendid colors and take in their energy because after fall comes winter and we won't see these colors again for a long time.