Camera Sheds Creative Light on Issue of Pollution
When you stop to think of the influence photography has had on the world it begins to boggle the mind. For well over 100 years now photographers have been using their cameras as instruments for change, as a way to see inside our souls, as way to take us all over the world…and beyond.
A Tool For Awareness
We have taken a look at a few photographers that are lifting their cameras to their faces in an effort to raise awareness for a plight they feel strongly about. Most recently we looked at J. Henry Fair's aerial shots that are revealing industrial scars and the environmental damage we are doing to our planet.
Along the same lines, we give you Benjamin Von Wong, a photographer who describes his style as "hyper-realistic art" and attempt to grab his audiences attention through a fusion of special effects and innovative imaging concepts.
His latest photographic effort is all about plastic pollution and helping to raise awareness for a topic he himself calls "boring" – thus the challenge was in finding a way to make it far more interesting through his craft.
He decided that gathering 10,000 plastic bottles would be a good start. He came upon that number thusly, "If the average American uses 167 plastic bottles a year, in 60 years they will have used 10,000 plastic bottles."
Simple enough, except, how does one go about gathering 10,000 plastic bottles?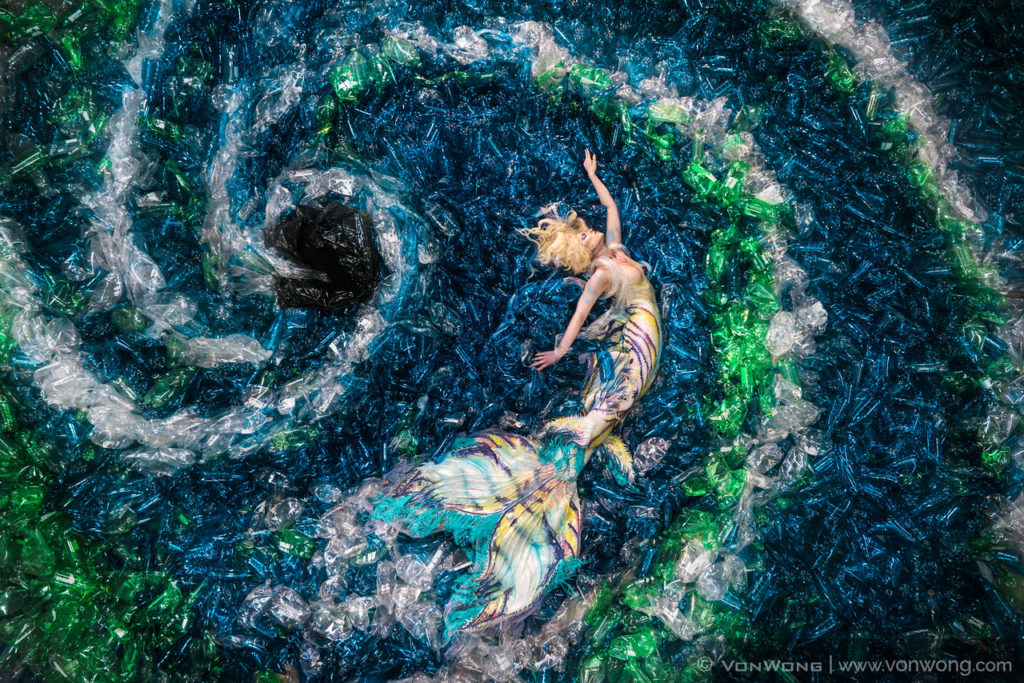 A Team Effort
With the help of a close friend Von Wong called up a bunch of waste management centers to pitch the project. So enamored with the idea, they even offered to drop them off for us in a 50-foot truck, no strings attached. Once delivered, a few more buddies helped him de-label, un-cap and clean this unusual delivery.
Now, about making all this interesting – how about shooing a mermaid that has become beached on an island of plastic bottles? Huh?
"One of my greatest strength as an artist is that I am often too naive to realize how crazy my ideas are," Von Wong admitted regarding this particular one. "Alone, I was just a photographer – but thanks to the help of amazing individuals we transformed a lifeless pile of used garbage into a message: #MermaidsHatePlastic."
Using a donated warehouse space as his studio, Von Wong began laying out his collection of 10,000 plastic bottles in various configurations until he was finally struck by the aforementioned beached mermaid idea.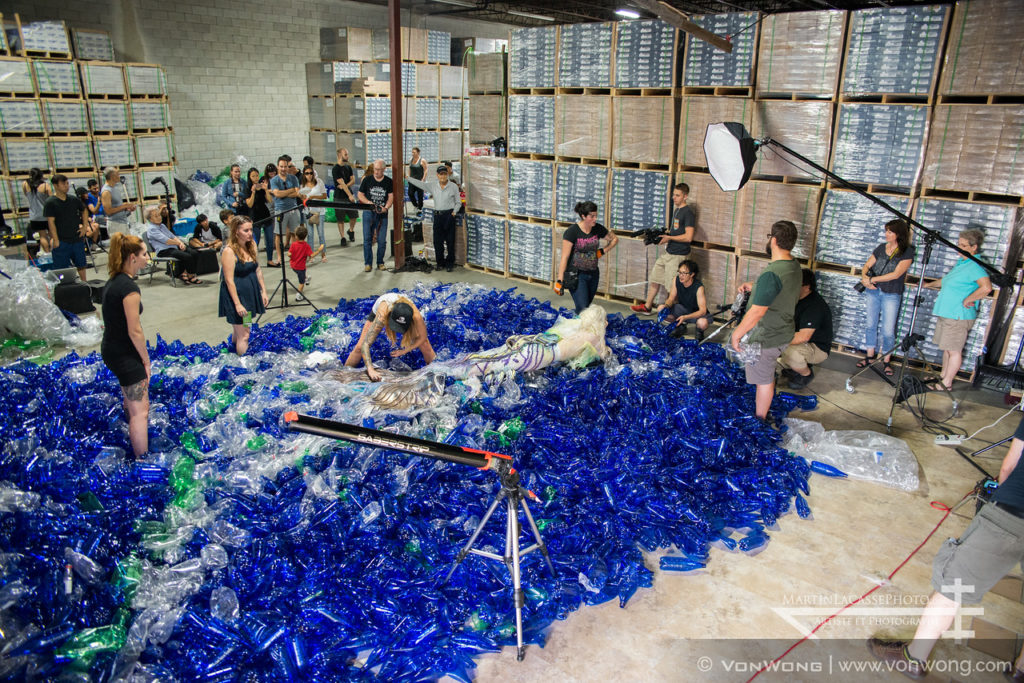 Shooting for Change
"Change happens when individuals come together to fight for something they believe in," Von Wong added. Along with the challenge of making plastic pollution interesting enough to spark a dialogue, Von Wong also faced some difficult challenges making this photo shoot work.
He overcame them all and is now hoping our planet can overcome the issue of plastic pollution.
"There is a revolution right now of individuals making the effort to go re-usable by bringing their own mugs or bottle with them," he explains. "It doesn't need to cost much. Take a simple pledge to reduce the amount of plastic in your life and tell your friends to join you too."
For a more detailed look at exactly how Von Wong pulled this shoot off check out his YouTube video. And to find out more about how you can get involved in this fight check out this site.
— All images courtesy Benjamin Von Wong