The Digital Camera Still Matters
As 2015 draws to a close, I thought it might be a good time to take a look at the what's happening with the digital camera market – but instead of examining it's obvious decline in sales, I thought I'd go a bit deeper into exactly what the sales numbers might be suggesting.
To cut to the chase, yes, digital camera sales are way down overall. In part this is due to the fact, as with any game-changing tech, sales initially soar out of the gate (which they did for digicams in the early 2000's) and then they naturally level off and begin to drop a bit. A big reason for this with digital cameras was the fact by 2010 everyone had one.
iPhone Changes Perspective
But a funny thing happened a few years prior that was unique to this category – Apple invented the smartphone – and what digital cameras did to film cameras, smartphones began doing to digital cameras. Since the overall market peaked in 2010 it has since seen over a 60% decline is sales.
So, it's dead right, blog over?
Not so fast. Though point-and-shoot digital cameras have really suffered in the post-Apple iPhone launch world, mirrorless sales in the U.S. are rising, with sales volumes up 16.5% over the past year, according to market researcher NPD Group.
Sony is actually having a banner year in this category with the success of their a7 series helping the company generate 66% more revenue from mirrorless sales over the last twelve months. Gaudy figures indeed.
The news isn't as rosy for DSLR sales, but not exactly dreary either, as NPD Group claims DSLR sales volumes fell 15% over the same period.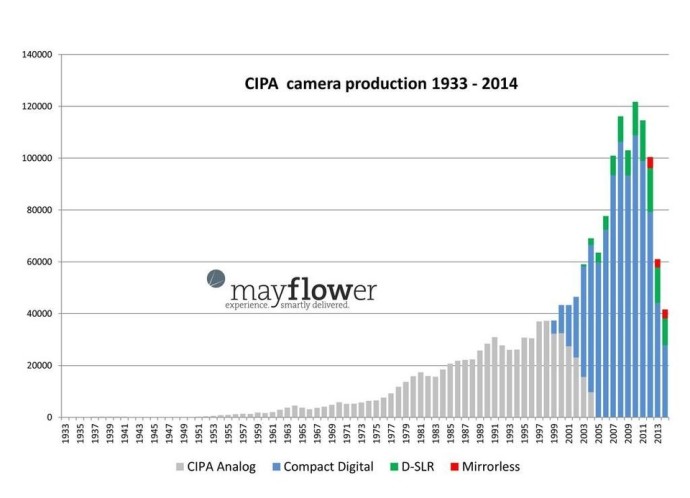 Mirrorless Bright Spot
"Growth in the mirrorless segment shows this new technology and form factor are resonating with consumers," said Ben Arnold, executive director, The NPD group. "Going forward, mirrorless will continue to command a greater share of the interchangeable lens camera category."
And another piece of encouraging news for the digital camera category is the fact the latest data also shows over 61% of first time mirrorless camera buyers are under the age of 35, up from 54% approximately two years ago. That's a big deal as this is a huge chunk of the camera buying demographic that was lost after 2010. That this demographic has taken to mirrorless, based largely on wanting to take higher quality pictures than a smartphone can deliver, is very tell-tale and represents a huge boost to the digital camera market's future.
The other big factor the traditional camera market faces is the fact consumers love their smartphones because they can do everything – they go way beyond simply being a camera as they are really more of a broad-based digital communication device. As result, and we have mentioned this frequently in this space, the device is close at hand, all the time – the camera you always have with you, as we've explained.
Moments That Matter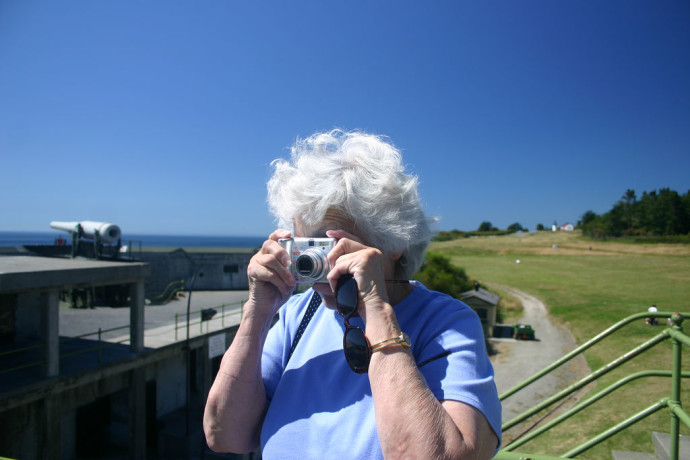 That's a tough nut for photo manufacturers to crack as folks don't typically reach for their cameras unless the day is structured around taking pictures. That can be viewed as a good new/bad news scenario with the good news being the fact they are using their digital cameras when the moment is important to them – thus the growth in the mirrorless category.
The traditional camera makers like Canon, Nikon, Olympus, Fuji, Pentax, etc simply have to continue making lightweight, compactly-designed models in the higher end categories with the selling point that this is what we'll grab when the moment, and capturing it, truly matters.
Clearly, smartphones have become the defacto device for casual snapshots today, and the traditional camera market needs to let go of that fight…it's over. But the thirst to capture high quality images with depth, emotion and feeling will always remain and camera makers need put all their eggs in this basket and continue to produce the imaging tool we'll want to reach for when we're shooting something other than what we're about to consume for lunch.