Editor's Choice: The Beach Factory
Everybody loves shooting landscapes—especially beautiful natural landscapes. But these aren't the only landscapes. You can also point your lens at cityscapes instead. Even a picture with smokestacks and factories in the background can be enchanting. Just like this one on Zonerama.
The basic idea behind cityscapes could be summed up like this: they use the same artistic and technical approaches as for natural landscapes, but instead of documenting nature, they document places reshaped by humans—typically in cities and industrial areas. This cityscape photo from Zonerama is a good example of this: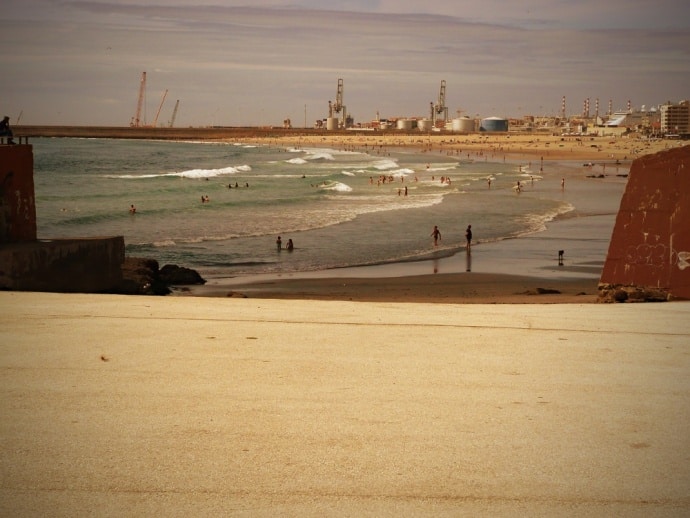 This photo perfectly captures the site's atmosphere and reality. It's textbook beach weather, and the shore's full of people enjoying the water and warmth. The background's made up of smokestacks and factories—that's the industrial part of the picture.
Mildly tinting the photo towards yellow was a great choice. This yellowness gives the photo a summery atmosphere. The yellow and brownish hues are a great complement to what's going on in the picture.
Framing and the Rule of Thirds
This photograph has almost perfect composition: the image is divided into a foreground and a background, which gives it depth. Meanwhile the background doesn't stand out strongly, and so it doesn't distract from the picture.
The photo's subject is very nicely framed by the concrete blocks along the sides, and a long wharf divides the "factory" part from the "recreational" part.
But the bottom part could be cropped a little to make it so that the picture is divided precisely into thirds.
A Rose Among Thorns
You might imagine a seaside holiday more as something for a faraway beach with a crystal blue sea, but even a beach in an industrial zone can be a great topic for an interesting photo. Keep your eyes open, and you too can capture some contrast out there that isn't apparent at first sight, and yet it will get your audience's attention right away.