Editor's Choice: A Forest of Abstraction
Back when the art of photography was born, exposure times were very long for the first few years: the materials and methods we use to "freeze time" today weren't there yet. These long exposure times led to unsharp pictures.
We've found precisely such an unsharp picture on Zonerama. But in this case, it's deliberate.
Abstraction Through Panning
This author created this picture through panning—a technique where the camera tracks a moving object. This technique is used to emphasize a picture's dynamics and is especially widespread in sports photography, but it can also be used to deliberately give motion blur to unmoving things—like trees.
The panning gives this picture an abstract feeling. You have to look at it for a while to see that "those lines" are in fact trees and that "that blue" is the sky.
Invisible Composition?
Is there anything like a composition in this picture? Yes, there is! Thinking up a photo like this is also much more difficult than it might seem at first sight. You need to have at least a rough idea of how the picture will look and feel.
This photo has a great combination of colors—it doesn't have many of them, and yet they have wonderful contrast. The picture has is divided via its colors roughly into thirds—especially via the three most visible vertical stripes in the picture. Horizontally, it's divided by the three blue stripes (stains) at the bottom and the tree tops in the middle part.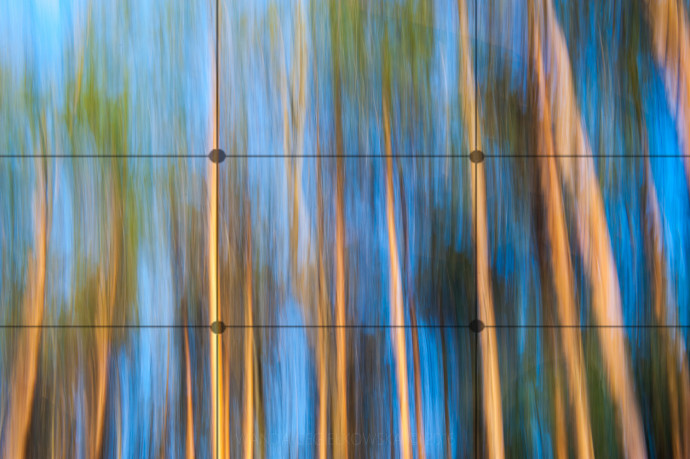 Photograph or Painting?
The photo overall gives off a very calming impression. And its color coordination qualifies it for hanging on a wall—either as a forest photo or as an abstract painting. And yet it's not a painting, as you can see thanks to the fact that there's no green among the blue and yellow gradients. Actual paint would run together and would leave green areas.