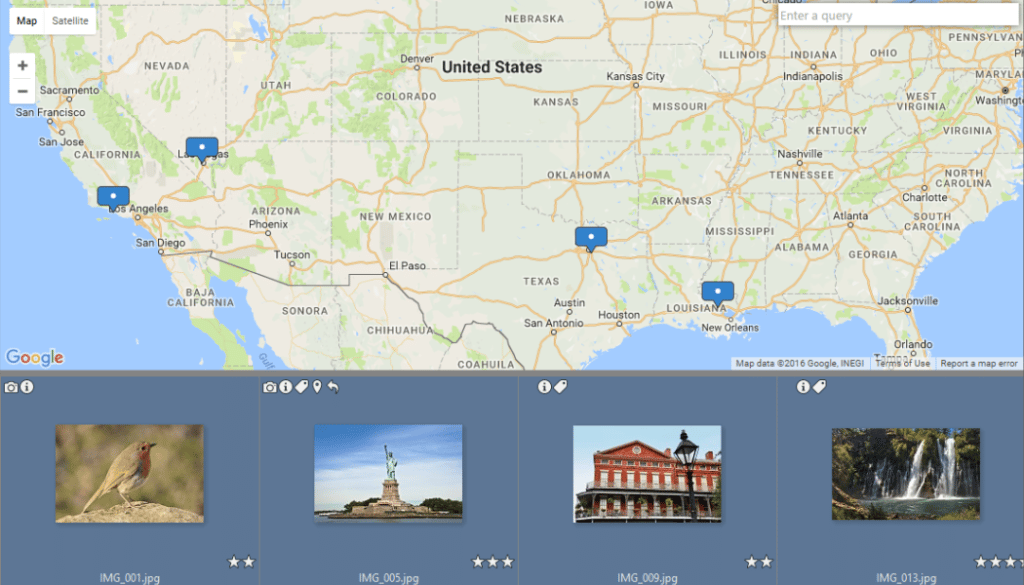 You might be among the many photographers who completely ignore the possibility of GPS-tagging your photos. "After all," you tell yourself, "it's not like I'll ever forget where I took a picture!" But nobody's memory is perfect—not even yours. Scout's honor: can you really find the precise spot where you took a particular picture, say, five years ago?
Most cameras and phones produced in the last few years can GPS-tag your photos automatically. But if your camera doesn't have such a function, or you need to do one-off location tagging of a photo, then you can do the same thing using an easy feature found in Zoner Photo Studio.
Information on exactly where a photo was shot can come in handy sometimes. Especially for older photos, where you don't have the shot fresh in your mind anymore. If you take a lot of pictures on the road, then adding shot-location information to your photos is very useful.
Assigning GPS Data to Photos
To work with this information on where photos were taken, use the Manager. Click the Manager's top-middle button that normally reads "Browser." This shows a menu. Click "Map" in this menu. This shows a Google map, usable for viewing and setting photos' shot locations.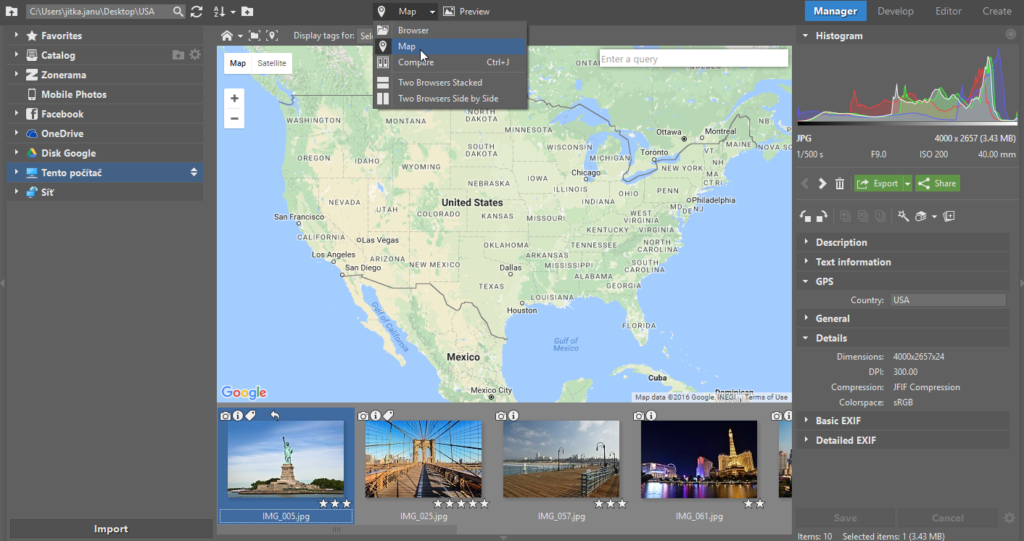 To show the area you're interested in, use the search box at the top right, or zoom and pan the map manually. The search box is generally the faster route. Type the name of the place you're looking for into this box, just like for a regular Web search.
My photos were taken using a Nikon D7000 camera, which doesn't have GPS. So these photos will need manual tagging.
Actually assigning GPS data is very simple. Once the map is showing the right area, mark photos in the Filmstrip at the bottom, and then drag and drop them to the specific places you want.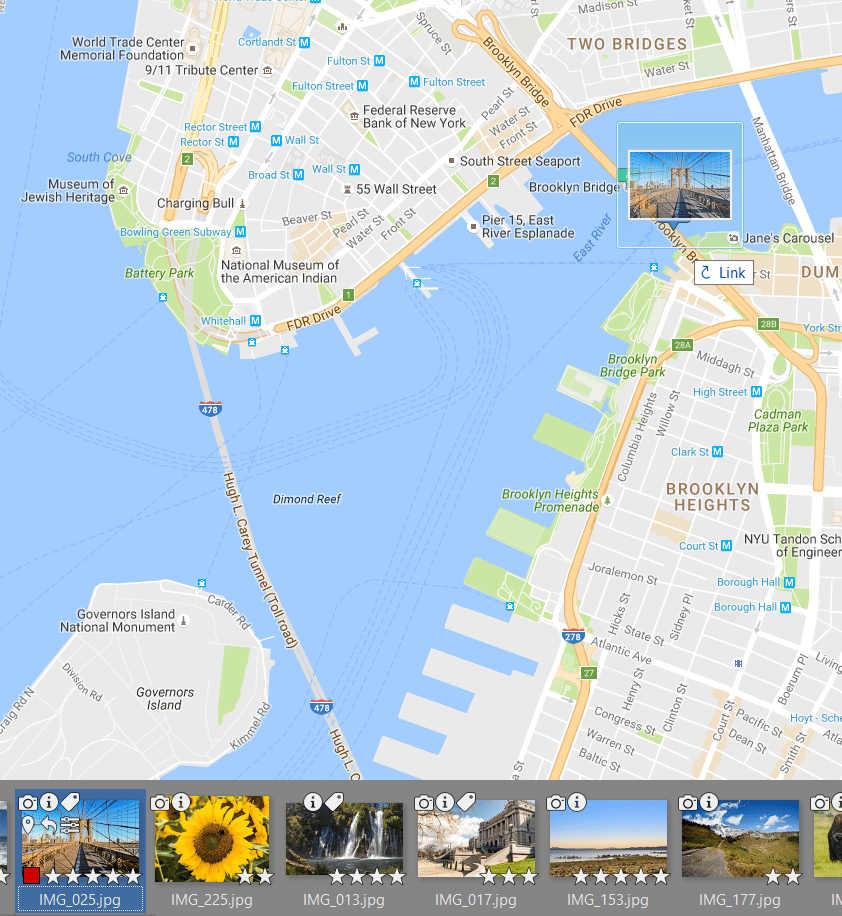 The map then gains a mark indicating where the photos were taken. Once a photo is GPS-tagged, Zoner Photo Studio shows a small "map pin" symbol at the top of that photo's thumbnail. Meanwhile, for any photo you click in the Manager, the program's right panel shows a GPS information group that describes the photo's shot location via words, coordinates, and a small map.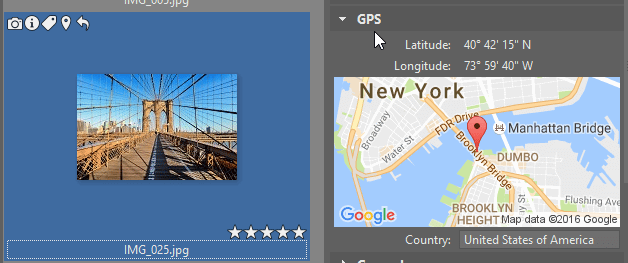 Finding Photos by Their Shot Locations
If you add shot locations to photos regularly or your photos have GPS coordinates straight out of the camera, then you can end up with quite a lot of GPS information. Often you end up with multiple photo sets from the same location, and you want to work with all of these photos as one set. You can do that! To do so, use the Location View in the Catalog section of the left panel. This view is put together using the GPS data in all of the photos that you have cataloged.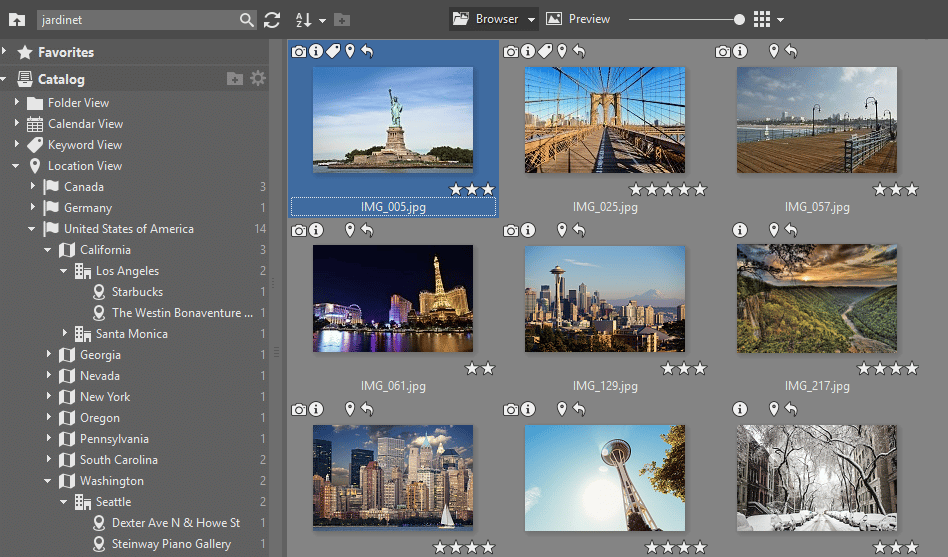 Once your pictures are GPS-tagged and cataloged, it's easy to do things like showing all your photos from a vacation in the Alps at once, or quickly putting together an album of photos from all fifty states.

Which Trip Was Which?
The biggest advantage of GPS tagging is that you always know where a photo was taken. Thanks to manual tagging, there's no photo that you can't GPS-tag, so you'll never again have to look at a photo and wonder where it might have been taken.
And meanwhile thanks to the Catalog's Location View, you have an easy, well-organized way to see every place where you've ever taken pictures.