Zoner Photo Studio X Step by Step. Part 2: How to Get Your Photos Organized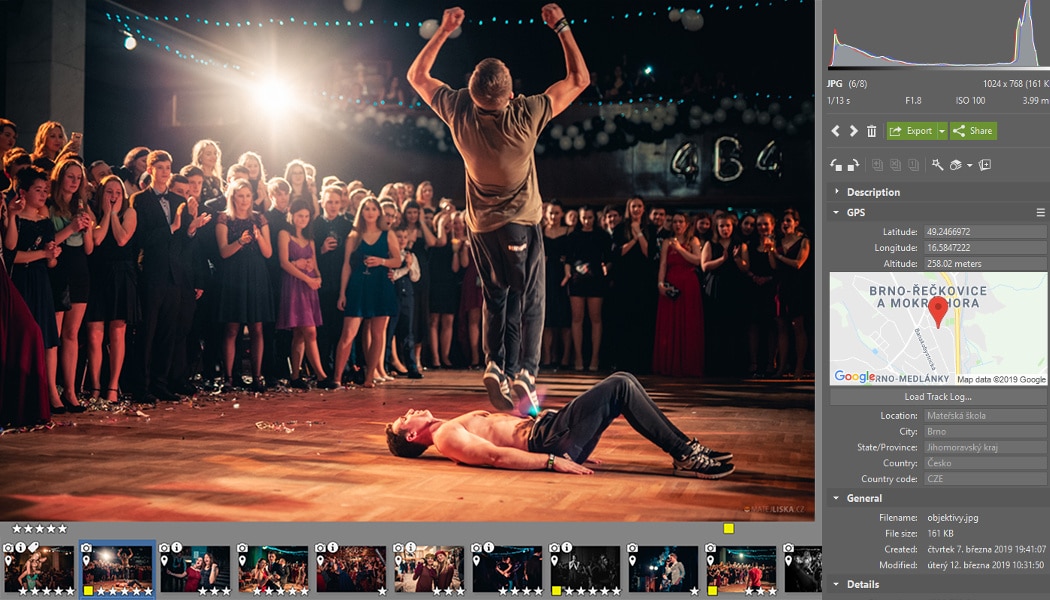 They say the Delete key is a photographer's best friend. There might be something to that, but here we'll show you that sorting photos don't have to just mean erasing the bad ones. We'll teach you tricks thanks to which you'll never have to have disorganized photos again. But that's not all—Zoner Photo Studio also knows how to do things like sorting your photos by GPS coordinates or keywords. You'll learn how to put these features to good use, and soon your photos will be better organized than ever before.
In Part I, we took a look at how to get photos onto your computer. But what now? Before you get started with editing them, it would be good to pick out which ones are worth editing and which ones go in the trash.
Don't (Just) Delete Photos. Sort them!
It may be that you sometimes go through your photos and delete the bad ones. And that can't be called a bad thing, but on the other hand, you're stealing time from yourself with extra clicks for each deleted photo. It's only a second, but if you have thousands of pictures in a folder, it adds up. So it's better to first examine all your photos and only erase the waste at the end.  
Start up Zoner Photo Studio X and go to the Manager, and then enter the Preview view by clicking its button at the top. Then go through your photos one by one, and click the stars and colored labels in the right panel to tag the photos as needed. You've got 9 colors to choose from, and 1 to 5 stars. What system you make using all that is up to you. Just make sure you stick to it so that you don't get lost.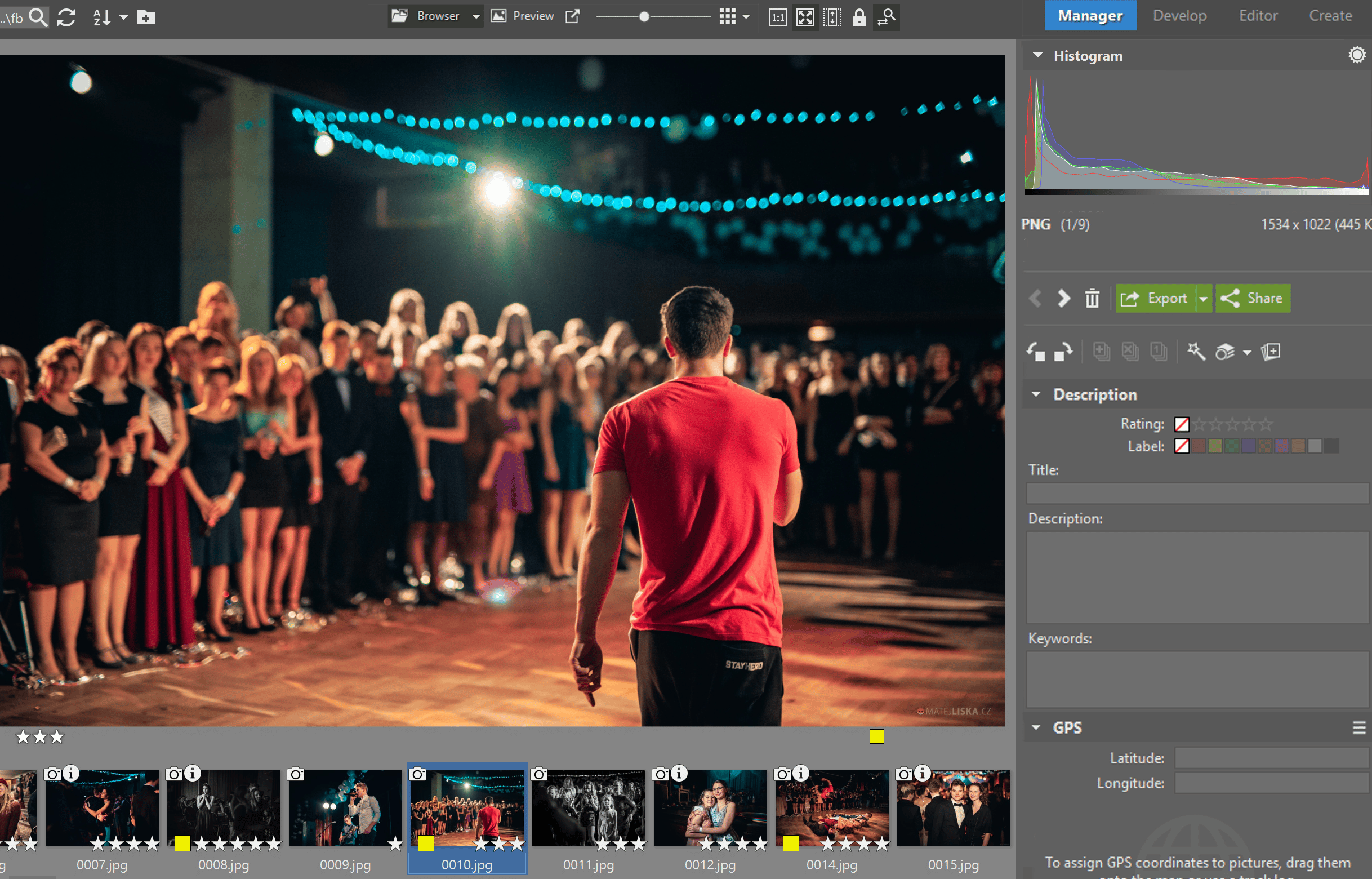 I'd recommend trying a system like this one:
* photos you'll keep to yourself

*** good photos worth publishing

*****

the best of the best

color for photos that will go separately onto Instagram

another color for photos that will need complicated edits in the

Editor

(wait to add this until you're working on photos in the

Develop

module)
Wait to delete the downright bad photos until the end. When that time comes, work in the Manager, open the menu at the top left, and then go through it to Organize -> Sort by – > Ratings. That will sort your photos by their number of rating stars. Select all of the photos that you haven't given any stars and delete them all at once.
Add Photos to the Catalog
The Catalog isn't something that you have to use, but it's good to know what its benefits are. Besides the fact that photos load faster when you're browsing the Catalog, this view lets you search by keywords, ratings, and other attributes throughout the whole Catalog, not just in a folder. You can also browse photos for example by where they were taken or by their dates even if you have them sorted differently inside their folders.
To add a folder and its photos to the Catalog, click the icon that with a folder and a + that's next to the Catalog item in the left pane.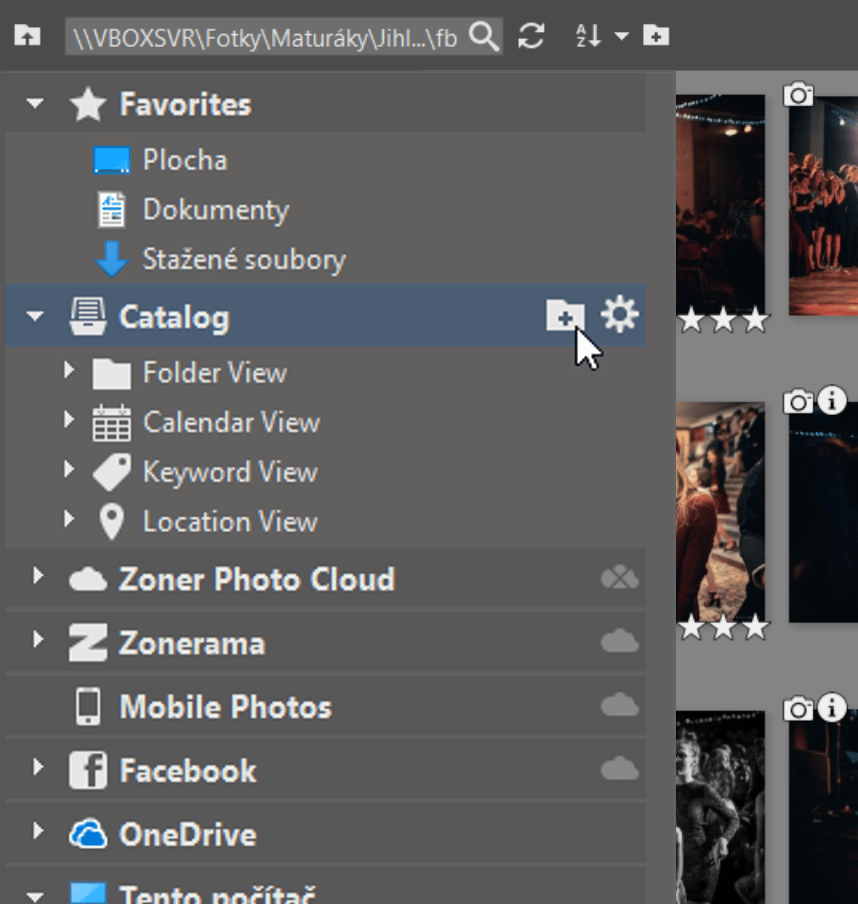 An example from practice: I take pictures of dances over in the Czech city of Jihlava often, and I need to pick out the best photos from them for my portfolio. I click into the search box at the top left (Ctrl+F), under Rating I search for five stars, and under Coordinates I click on the Get Position from Map icon, and then I find Jihlava. That way I can show the top picks from all the dances in Jihlava that I've photographed, without needing to go through individual folders.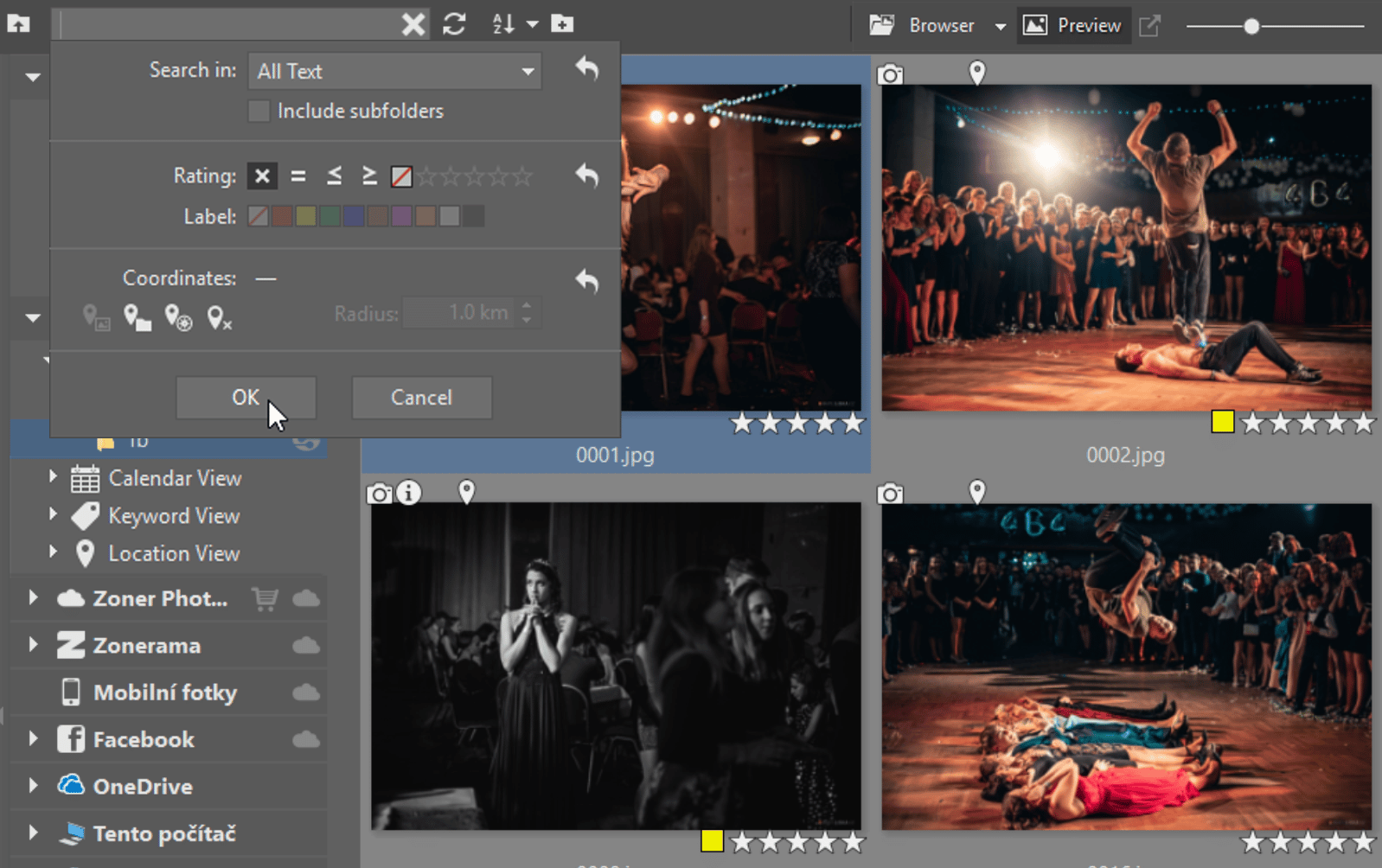 Tip: You don't need to keep adding more and more folders to the Catalog. Just add the folder that all your photo folders are inside of—the one where you keep your whole archive. Then your new photo folders will get added automatically.
Check the Histogram
When you're going through and choosing photos, the histogram will help you out. And especially the blowout display feature (Shift+O). That will help you see if there are any overexposed spots in a photo.
Right under the histogram, you'll find basic EXIF information on a given photo. It's sometimes useful to check this technical information to see what speed you used for a blurry photo (so you can prevent blurring in the future), or what ISO in what situation is too much, and that's still OK.  
Fixing Bad Dates and Times
Sometimes you can end up forgetting to switch to Daylight Saving Time, or you might be using two different cameras each with their time set a little bit differently. That can lead to ugly results when you're putting together photo series. Luckily ZPS offers a convenient way to adjust photo times.
Select the photos whose times you want to shift and use Information > Batch Edit EXIF.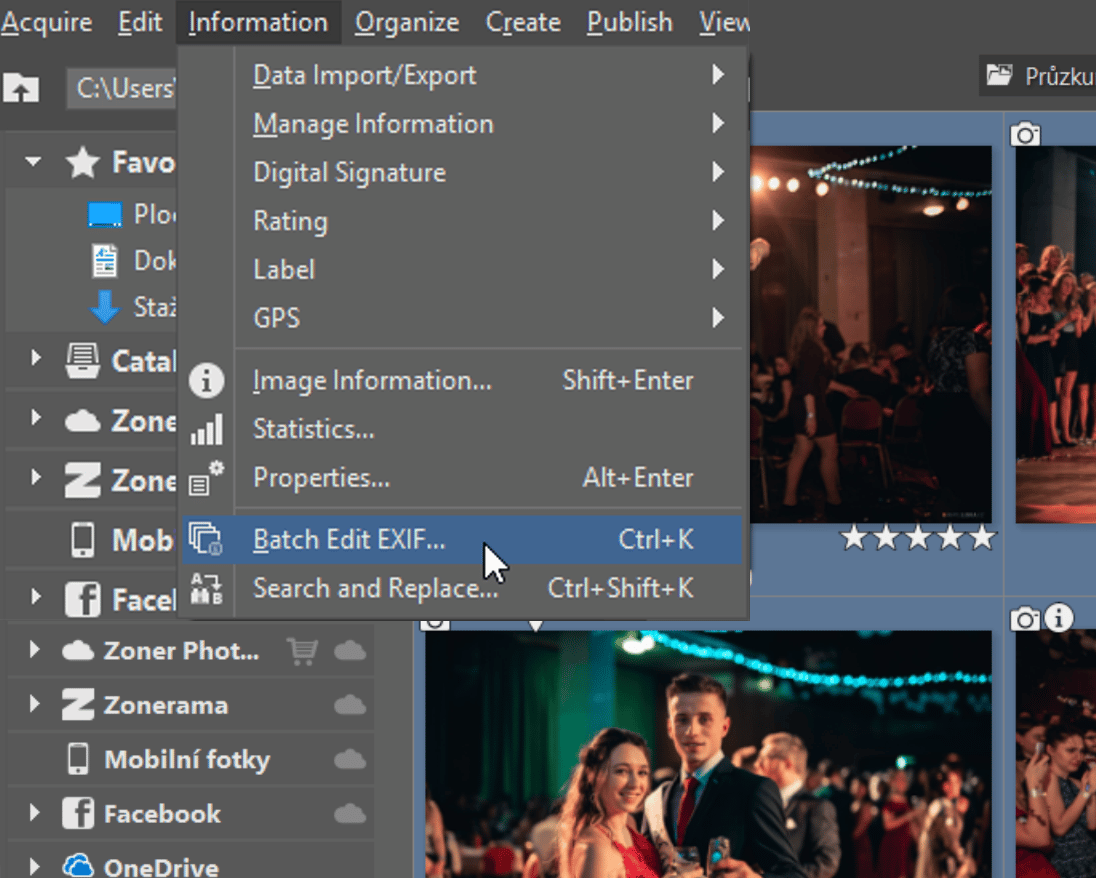 Switch to the Date and Time tab and then choose by how many hours, minutes, and seconds to shift the time. If the date is wrong, shift it using the calendars in the middle section.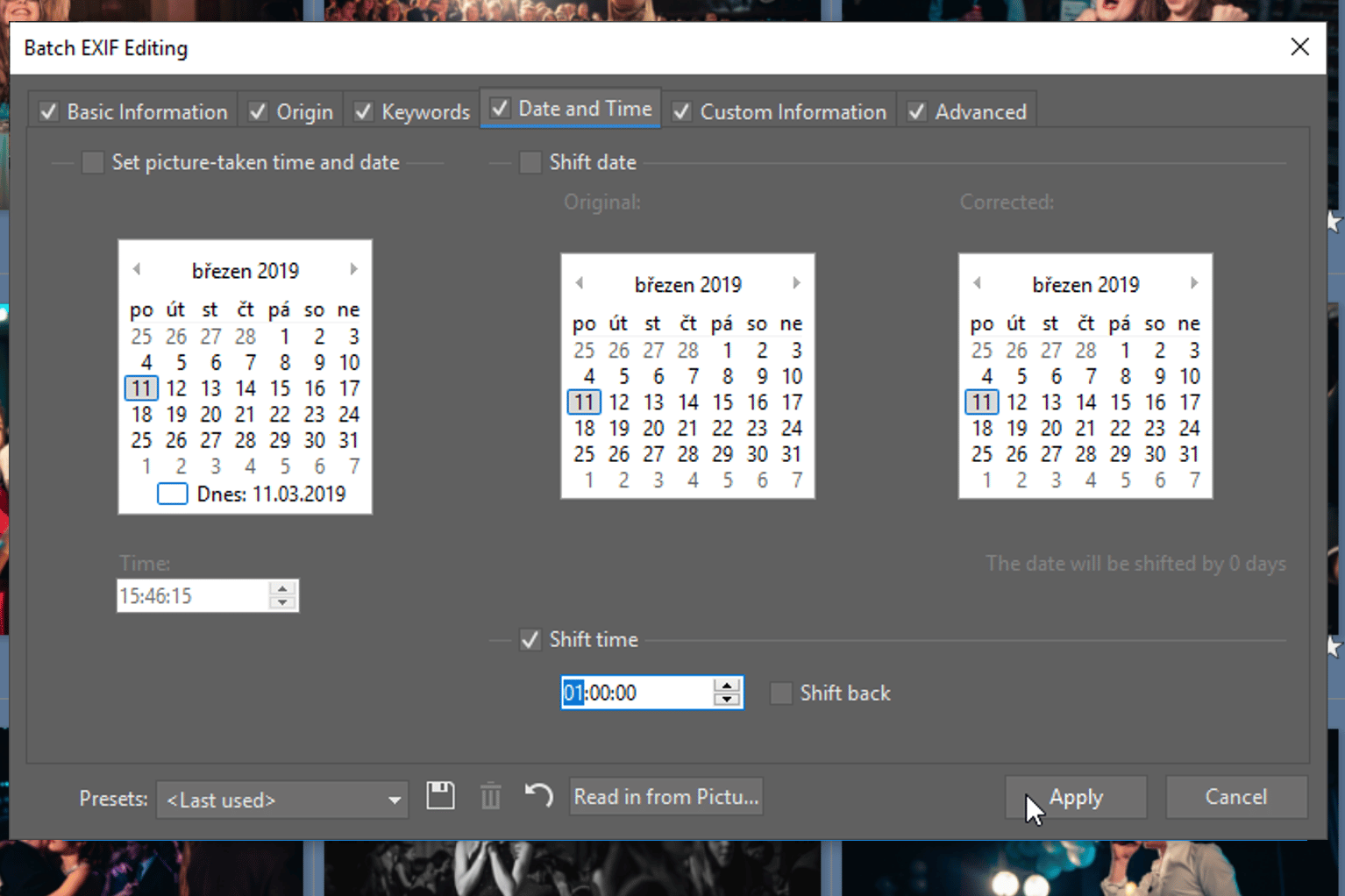 Add Keywords and GPS Coordinates
Keywords are a useful way to ensure that your photos are findable not only by when and where they were taken but also by what things they show. You assign keywords by hand, but doing that to pictures one by one would be pointlessly slow. Luckily it's enough to just select all the photos you want to tag and then drag them into the left panel onto a keyword you're already using. That tags the whole batch.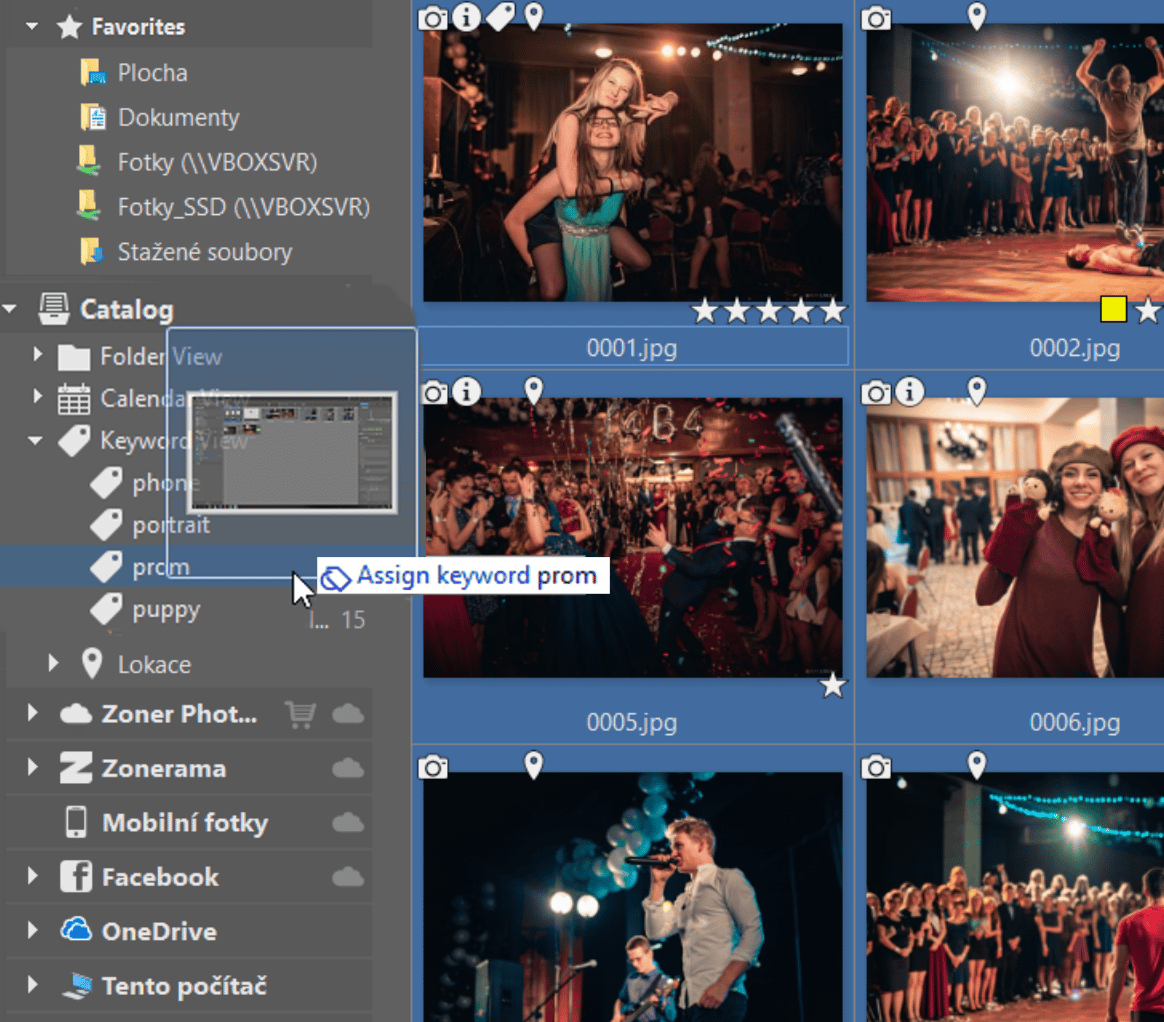 If your camera doesn't add shot locations automatically, the most convenient way to add them manually is by switching to the Map mode in the Manager. Using the map search, find the shot location, and then just like with keywords, select photos and drag them onto the location. For more information, see our article on assigning GPS coordinates to photos.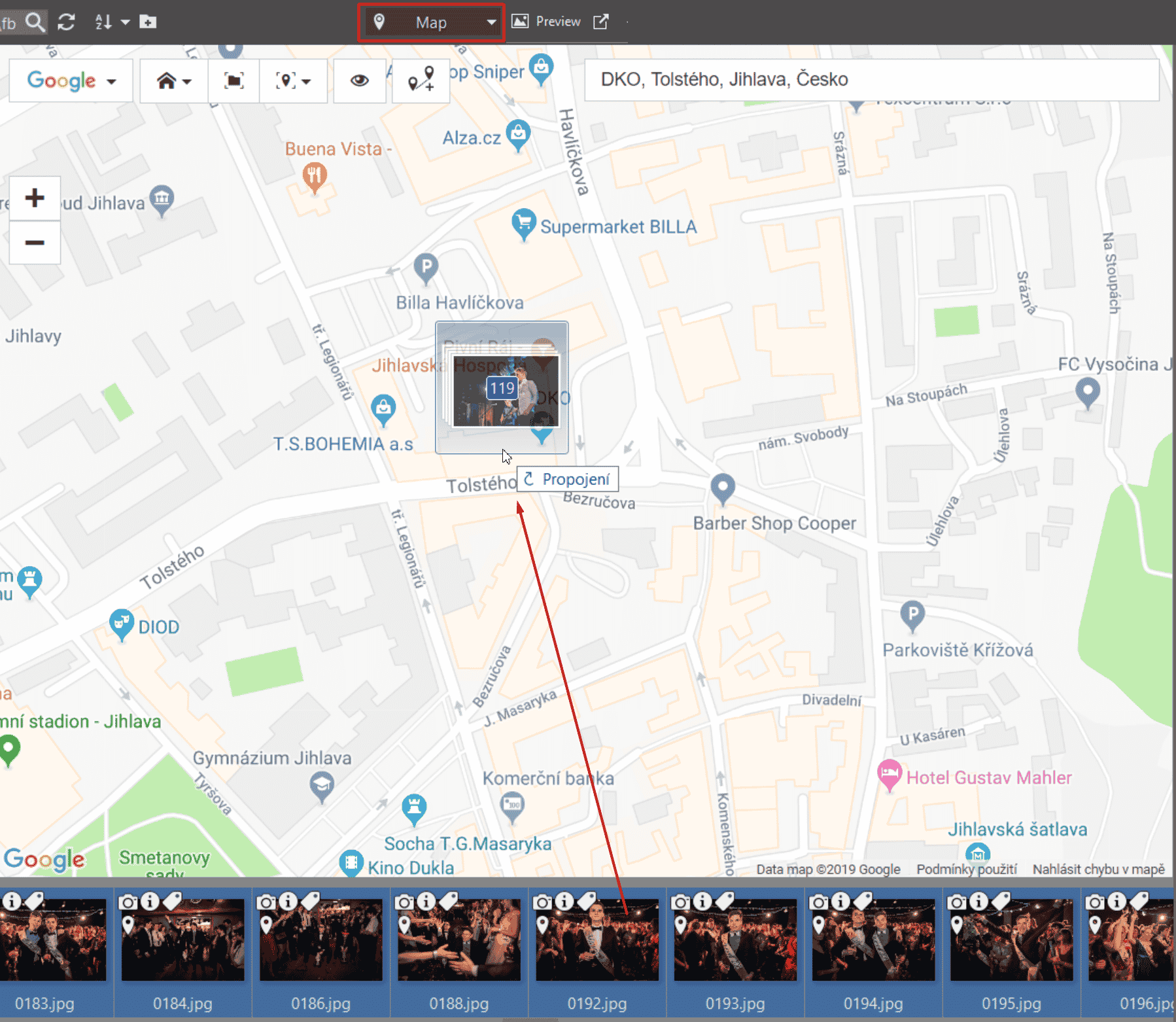 What's Coming Up Next?
In the next part of this series, you can look forward to practical guides to working with Zonerama and Zoner Photo Cloud. Download Zoner Photo Studio X and try it free for 7 days—you can get started today.