How Lens Profiles Make Your Life Easier
Every lens type has its own set of distortions and optical defects. In some pictures these are not visible, but in others they are very, very visible. The good news is that these defects are very easy to correct while developing pictures from RAW. Zoner Photo Studio has enabled manual correction of lens defects for many years, but version 17 is the first to offer automatic correction. Equally attractive here is the support for camera body profiles. If you want the maximum from your pictures, then you should definitely pay attention to these two features.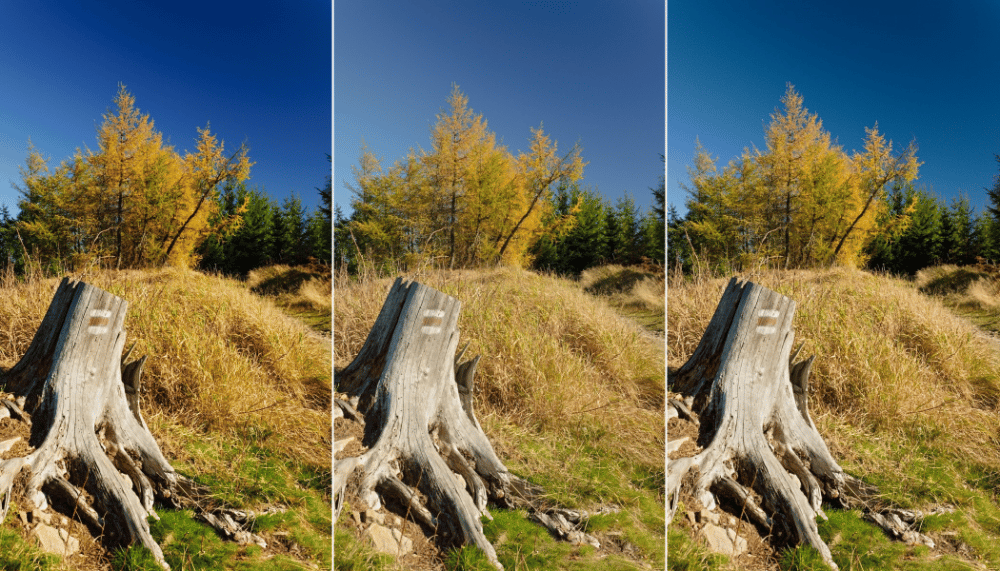 Automatic lens defect correction is based on the principle that the distortion in any particular lens can be, and often is, publicly known due to someone out there having measured that distortion. And because the differences in distortion between individual lenses of the same line are insignificant, you can create a "template" of the distortion and optical defects for a particular lens on a particular body. (On a different body, it can cause different distortion.) These templates, called Lens Correction Profiles, or LCPs, are used for automatic digital lens defect correction.
ZPS can auto-correct these lens defect types:
warp, i.e. image deformations such as barrel distortion
chromatic defect, a defect that usually creates green-blue or purple "auras" on high-contrast edges in a photo
vignetting, which causes darkening in a picture's corners
Auto-applying LCPs in Zoner Photo Studio 17
First you will need to install Adobe DNG Converter if you have not done so already.
The next step will be to precisely identify your lens. Carefully check your lens's model number, because for many lenses, multiple versions are released. For example there might be an original version for the lens and then a Version II with slightly different optical properties, and thus different defects and thus a different lens correction profile. Once you know the precise make of your lens or lenses, it's time to pick and assign LCP profiles.
Select a RAW file, click the button at the top right to open it in the RAW module, and then towards the top of the settings in the right-hand Side Panel, click the tab named Lens. Turn on LCP profile, click Add Profile…, and select the profile for your lens. If you have everything set up the standard way, then you'll find Adobe's LCP collection under \ProgramData\Adobe\CameraRaw\LensProfiles\1.0. Fortunately you won't have to dive down to there; you'll start out there automatically. Go down from there into the folder for your lens's manufacturer and in it, pick the item for your camera body's manufacturer. The combo that fits you will almost certainly be in there. Once you find it, click Open.
Use this approach to assign profiles to all your lenses. Zoner Photo Studio will automatically detect which profile belongs to which lens. Then turn on the options for the auto-corrections that you want to have made.
Camera Profiles
Every camera offers different imaging modes. They tend to include Portrait, Landscape, and modes for neutral or vibrant colors. These modes affect a picture's colors, contrast, and overall tonality. The trouble, though, is that they only manifest themselves when shooting to JPG. If you're shooting to RAW, then to apply these modes, you need to either use the manufacturer's own software when developing the RAWs, or use software that supports camera profiles. In the latter case, you may have to experiment to find the profile that works best for you on a particular photo. These profiles are called DCP profiles. The advantage of using DCPs in Zoner Photo Studio is that it will give you developed pictures that are very similar to JPGs made in-camera or developed using the camera software… but unlike with those, you can fine-tune settings while developing them.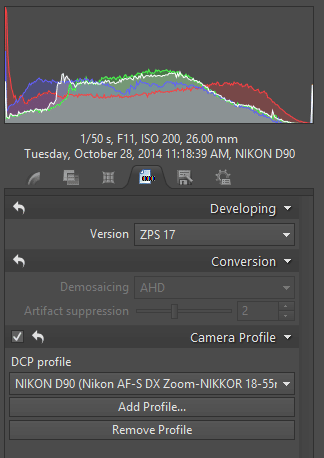 Use the following approach when adding DCPs in Zoner Photo Studio. For DCPs too, you will need to have installed Adobe DNG Converter. To use them, switch to the Conversion Settings tab in the RAW module's Side Panel, and then turn on Camera Profile. Then click Add Profile… and go to the DCPs for your camera. With a standard installation, they are located at C:\ProgramData\Adobe\CameraRaw\CameraProfiles\Camera. Select the folder for your camera, then click the profile for the shot mode you used, and click Open.    
Here is how using DCP profiles looks for the Nikon D90. There are profiles for all the modes that this body offers:
Adobe DNG Converter does not offer profiles for all lenses and cameras, but on the other hand there is no direct connection between camera types and profiles. The cameras listed are primarily defined based on their sensor sizes. So if you don't see your camera listed, just choose one that has the same sensor size as yours.
For Canon, for example, you'll find profiles for the 50D (an APS-C sensor), the 1D (an APH-H sensor), and 5D (a Full-frame sensor); for Nikon, you'll find the D90 (APS-C) and the D3x (Full-frame).
For a complete list of supported lenses and bodies, see here. See if profiles are available for your bodies and lenses. If so, then don't hesitate to take advantage of this convenience and try Zoner Photo Studio for 30 days free. It can bring you one step closer to perfect photos, and with no extra work!
Last updated 25. March 2015