Kevin Bruseby, Swedish landscape photographer: "The best images are often just waiting for you around the corner"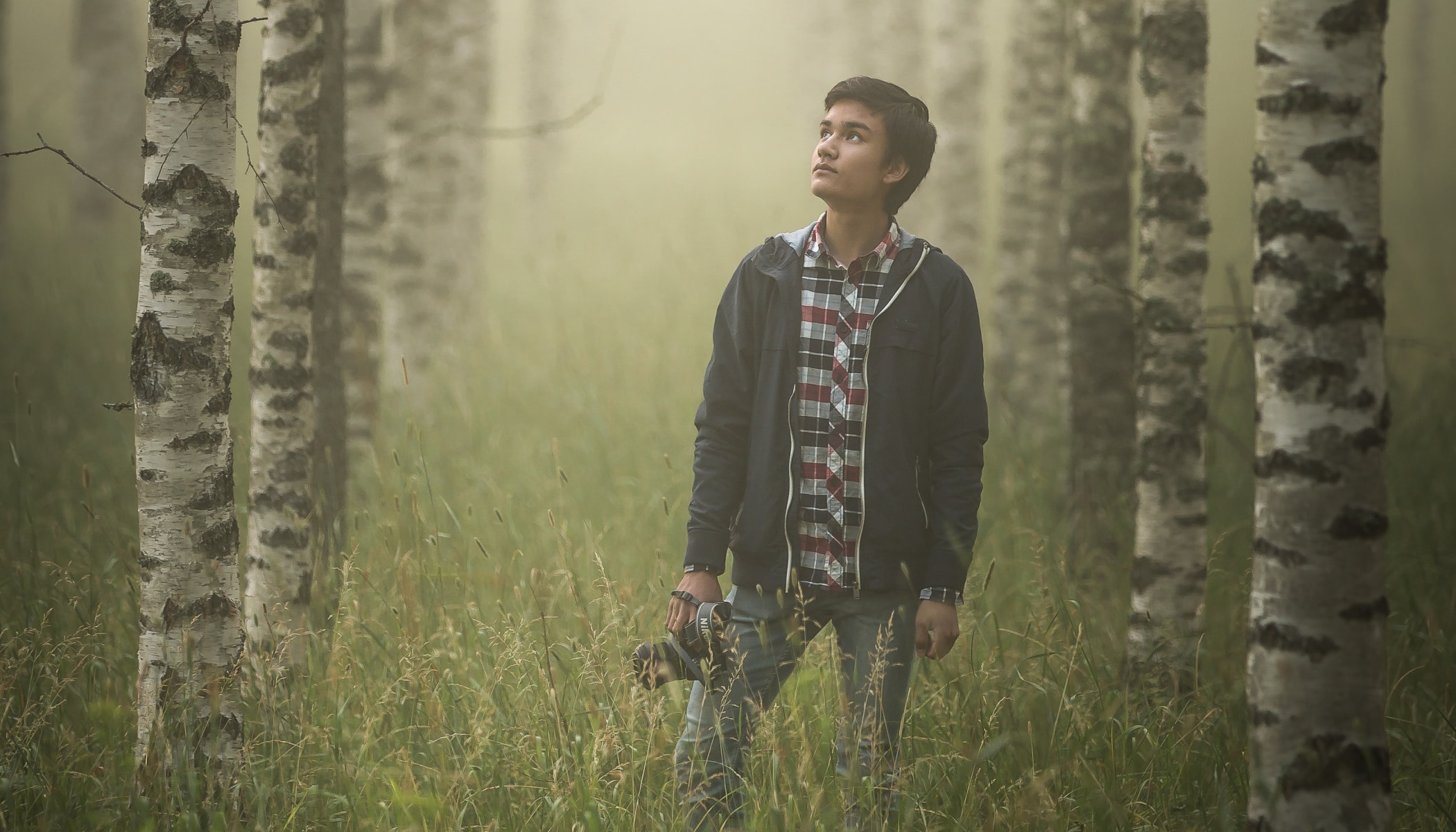 Kevin Bruseby is a 17 year old Swedish photographer and also one of Zoner Photo Studio's ambassadors. His Instagram profile is filled with images that have captured the attention of a solid crowd. His interest in Meteorology has brought him the relationship with his camera and hunting for shots (but not only) in the fog and mist is his favorite within his native land. What else has Kevin told us about? Find out in our latest interview here.
Kevin, you're very ambitious as a photographer. You've been taking pictures since the age of 13, and you've had over 5000 Instagram followers for three years. You sell your photos as well and you actively seek out partners worldwide. Is this your path for becoming a professional photographer? 
When I was 6 years old, I became interested in Meteorology. I was deeply fascinated by nature and different weather fenomenas and as I got older, this interest of mine kept growing. When I got into photography at the age of 13, my interest in meteorology was one of the main reasons why I found photography so attractive. I really wanted to find a way to document the beautiful moments I experienced outdoors and photography enabled me to not only document my adventures but to also create meaningful art.
Today, photography is an important part of my life and I could not imagine my life without it. However, despite its significant importance to me, I do not intentionally strive towards becoming a professional photographer. I generally produce the best looking images when I feel motivated and can work on my own terms, which is why I can't see myself working full time as a photographer.
I'm also afraid that I'd lose my passion for photography and have less time for my personal photography if I had it as a full time job. My main goal is to still work with climate related topics and use my photography as a way to digitally express my work.
Obviously nothing is set in stone. Looking back, I am very happy with my progress and I am anxiously awaiting the future. Even though I don't intend to become a full time photographer, my current target is to work with brands as much as possible in order to gain a meaningful experience for the future.
Landscapes make up a considerable part of your work. What appeals to you about the landscapes of Sweden? 
I am very much drawn to the simplicity of the Swedish landscapes. Even though there are not any mountains or waterfalls where I live, the landscapes are still breathtaking and there are endless possibilities in terms of image composition. Another thing that I really appreciate about the landscapes of Sweden is that everything is so accessible. As long as you pay attention to certain restrictions and flight zones, you can practically take photos anywhere. I'm also very lucky to be living in the countryside, this translates into always being close to nature, even the minute I close my front door.
Despite the fact that the landscapes of Sweden offer many photo opportunities, it can also be quite a challenge to get solid looking images. When doesn't snow in the winter, we're usually left with a very gray and uneventful period stretching from November to March. It can really drain you and it's hard to maintain creativity during this period, which also shows the importance of taking advantage of every chance you get.
Do you travel abroad for your photography? (Or would you like to…?) 
I do travel abroad for my photography, but not as much as some other creators on Instagram do. Due to a lot of schoolwork and my young age, I am not able to travel as much as I would love to. However, during the past few years, I have been lucky enough to visit some incredible places, like Switzerland, Austria and the Swedish Lapland. While I do not mind taking photos in my home region, I definitely hope to travel more in the coming years.
I've heard that landscape photographers need to be patient and come back to certain spots up to several times just to get better light. Is that how it is for you as well? 
I can definitely agree with that statement. Landscape photography can sometimes be a real challenge and I often end up visiting the same place several times before getting the image I want.. In the end it mostly comes down to good timing and having the weather on your side. For example, in July 2018 I got to experience the most incredible sun rays I've ever witnessed just two kilometers from my village. Since then, I have not seen any that even come close to the ones I saw that morning. And I always go out when there's fog.
In your experience, what weather conditions are ideal for photographing landscapes? 
In my opinion, foggy weather enables you to get the best landscape images. While a good sunset by a lake also makes for some good images, nothing beats an early foggy morning in a magical forest. From my experience, fog always creates a special atmosphere that really lets you experiment with light and different compositions.
Another thing that I believe makes shooting in fog such a unique experience is that in the end, it all comes down to timing. If you're not at the right spot at the right time, the images can turn out completely different. While fog usually moves quite slowly, it can also change very quickly and sometimes the scene can look completely different within just a couple of minutes.
For me, fog has helped tremendously to create various images just within a small geographical area. As mentioned earlier, I am not able to travel much but thanks to foggy weather conditions, I've been able to make the most out of what I have. In fact, the majority of my fog-images are actually taken within a radius of about 4 km from my home, which I think proves that you don't need to travel far in order to get beautiful images. Sometimes the best images are just waiting for you around the corner.
What photography gear do you take with you when you're heading out? I've noticed that you even have a drone. 
When heading out on a mission, my essential photography kit consists of a camera body, two lenses and my drone. Since I often take my bike when chasing fog, I try to pack as lightly as possible but also making sure I bring all the essentials. Whenever I go on a fog chasing mission with my mother (@coloursthrumylens) and we take the car, I bring my remaining two lenses and other photography "tools" such as my lensball.
When heading out with my bike, my gear consists of a Nikon D7500 and two Sigma lenses. One 18-200mm lens and one 18-35mm lens. I use a DJI Mavic Air for my drone images, which really suits me since I always strive towards bringing gear with me that takes as little space as possible. Whenever I have the opportunity to take the car, I bring my Sigma 105mm lens and my 150-600 Sigma tele-zoom. I really enjoy taking photos with this lens and if you run into some kind of wildlife, you'll really be glad you brought it with you.
You use Zoner Photo Studio exclusively for your photo editing. Do the other Swedish photographers that you meet know about this software too or are you sort of a Zoner pioneer?
I would say that I am a Zoner pioneer. I actually do not know anyone among Swedish photographers that use Zoner Photo Studio for editing, which I think has to do with people simply not knowing about the software. Zoner Photo Studio is an amazing package and I believe that more people should give it a try in order to see its full potential. My father introduced me to Zoner Photo Studio 13 many years ago and it has been great to see how the software has kept getting better with each new version.
What features are irreplaceable for you?
The feature that I probably use the most when editing is the colour shift tool and the shift primary colours tool. I really like to experiment a lot with different tones and hues in order to find the colours that suit an image the best. Even though I generally keep my photos as realistic as possible, I often like to tweak the tones a bit in order to make certain colours stand out more.
Other than that, I would say that I do quite basic editing. I often experiment a lot with the tone curve in order to bring out more contrast in an image and make it less flat. I also like to add sharpness with radial filters on certain spots in order to enhance details in an image that I think should be more highlighted. I still have lots of improving to do though in terms of editing but I'm really looking forward to developing my own style in the coming years.
Are there any tricks you can recommend to beginner photographers that are guaranteed to improve a landscape photo—either during or before post- production? For example—what should photographers watch out for?
The first tip I would recommend is to shoot during either sunrise or sunset. I personally find it almost impossible to get good images in harsh daylight and even though a lot of things can be fixed in post production, it is impossible to recreate the same atmosphere that you would have had on an early foggy morning.
Another thing that I would recommend is to not only take images of the things you see. Try to frame your subject in order to make the image more interesting. This is something that I always try to apply in my own photography and in some cases it can really make a photo pop in a totally different way.
In terms of camera settings, I would highly recommend shooting in RAW. It offers you with way more possibilities when editing and it is definitely a step in the right direction if you want to improve your photography. I would also recommend learning how to do exposure bracketing at an early stage. If you are a bit unsure how much light you want in your image or if you simply just want a foreground with a correctly exposed sky, exposure bracketing is the way to go. It is a technique that I use regularly and it definitely is a great tool to have as a photographer.
Finally, in terms of editing, my main tip would be not to oversaturate your images. When I was new to photography, I was obsessed with pink hues and I would always move the tint slider all the way to the right until I got to the point where the image was completely pink. At the time I thought that my images looked perfect, but now, looking back on it three years later, I can instantly see that I was a bit crazy with my editing.
You call yourself an environmentalist and your website states: "Apart from the photography aspect, a goal of mine is to make a positive impact on the world through my work and social media. Therefore, I always make sure I support brands that work with topics related to sustainable development." What does that mean in practice?
Ever since I got interested in meteorology, I've been very fascinated by nature and it has held a special place in my heart. I normally spend several hours a week outdoors. I feel like it's my duty to do my part in order to preserve our planet. So, when getting into social media, I knew that I wanted to use my influence to make a positive impact on the world. In practice, this means that I choose to mainly work with and promote brands that work with sustainable development. For example, over the past year I have worked with several watch brands that work with preserving forests and recycling used watches.
Landscapes aren't your only subjects. (What are your other genres?) 
Since I have done a lot of assignments for brands over the past year, I have also gotten to do a lot of commercial photography. This includes anything from food, interiors and product photography. It has been really rewarding to get to photograph other genres apart from just nature photography and it is definitely something I would like to do more of in the future.
And in closing: what has recently pleased you the most? 
I must say that product photography has pleased me the most. I find it very exciting to photograph products and it is also a perfect way to improve your creativity. This year I am also planning on investing in a basic studio setup in order to experiment more with my product photography. I am very excited to see what the future holds!