Photo Plus Expo Takes New York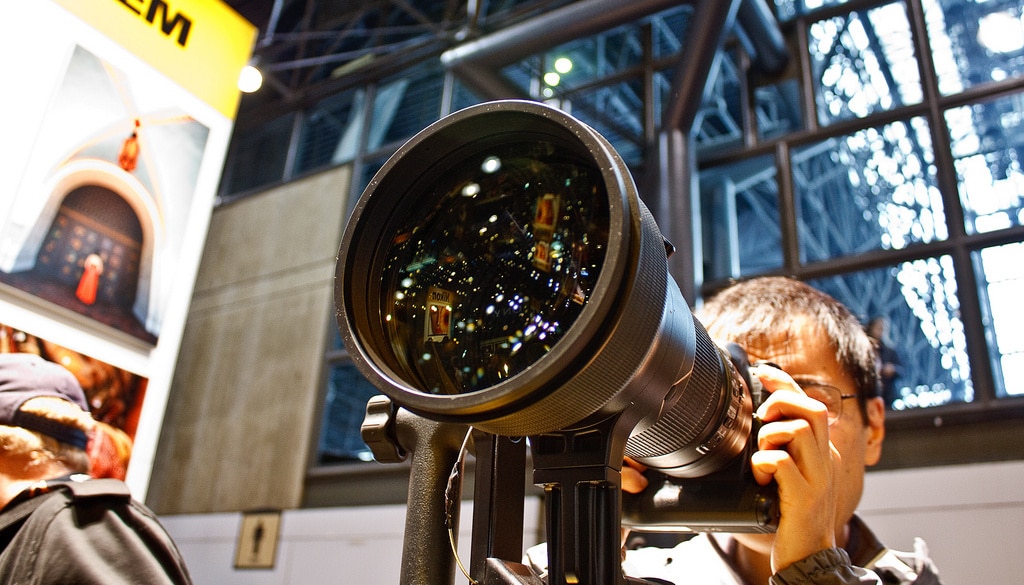 New York's annual Photo Plus Expo is always a photographic feast and the 2014 show, that closed this past Saturday, was no exception. 
Perhaps a bit short on new camera intros this year, as the big Photokina show in Germany last month stole most of those headlines, we did spot a few pretty cool photo treats we thought we'd tell you about in this space this week.
The GoPro of Panorama Cams
A company called VSN Mobil debuted an intriguing little camera that appears to be jumping into the recent panorama craze that is happening in photography. The V.360° essentially uses a 16-megapixel backside-illuminated image sensor and a lens surrounded with mirrors that enables it to capture a single 360-degree shot. The device also records 360-degree video and comes, like the GoPro camera, with a multitude of accessory attachments enabling it to be placed/attached just about anywhere.
The V.360° also connects to Android and iOS phones and tablets via Bluetooth, for camera controls, and Wi-Fi, for transferring stills and videos from the camera to the mobile device of your choice. They apparently haven't left a stone unturned. The free app lets users manipulate the 360-degree video or image to see every available angle or lay the perspective flat for a panorama that requires no stitching to complete…very cool indeed.
Toss in waterproof, up to about a depth of 3 feet and for 30 minutes and shock, vibration and dust resistant, along with a built-in GPS sensor for geo-tagging images and you've got a pretty slick little, take-anywhere action cam for $349. Expect the V.360° to be available in just a couple of weeks.
Epson Keeps Keeping On
We have always been huge fans of every printer Epson comes to market with and their new SuperColor P600  just adds to the company's solid printing legacy.
A few of the more important specs on the P600 include resolutions of up to 5670 x 1440 and a variety of black densities courtesy of Epson's newly formulated UltraChrome HD inks. There are nine individual 26ml ink cartridges in all with the usual auto-switching available between photo and matte black. A three-level black ink system uses screening algorithms to determine drop density and ensures a wide tonal range for your monochrome print.
The P600 churns out full-bleed prints up to 13-inches wide and also has a roll feed mechanism for panoramic prints as long as 129-inches. The printer also supports printing to canvas, art board and CDs for some added printing flexibility. We were told the printer will retail for $799 and should begin shipping during the first quarter of 2015.
Big Boy Cams
And although these next two cameras were originally released at the aforementioned photokina show in Cologne, Germany in late September, we got our first peek at both at PPE. Both Nikon and Canon offered PPE show-goers a little hands-on time with the Nikon D750 and the Canon EOS 7D Mark II.
A quick look at the specs for the D750 include a full-frame 24-megapixel image sensor, 100-12,800 ISO, 6.5 FPS, 51-point AF system, full HD video (1080p at 60/50/30/25/24p) , Wi-Fi remote control, tilting rear display – starting at $2299.95.
The Canon EOS 7DMark II showcases an APS-C sized 20.2 Megapixel CMOS sensor with Dual DIGIC 6 Image Processors, shoots up to 10 frames per second at ISOs ranging from 100–16000, and features a 65-point all cross-type AF system – starting at $1799.
Simply stated, two photographic heavyweights in the DSLR category that just continue to throw haymakers in this space.
And, though not something we spotted on the PPE show floor, we'll close with yet another very cool, imaging-related piece of news involving an excellent solution for keeping all your memories safely stored, well organized and always instantly at hand – Zonerama.com, our free, unlimited photo-cloud service. As a vital back-up to your entire image library, Zonerama.com is also as a great way to gain instant access to your images. Simply stated, Zonerama.com is a smart, secure and valuable addition to your imaging bag of tricks.