Photographing Models in Different Environments I – Nature
The first of a series of articles on how to find shot locations outdoors and what elements within them to put to work. There are few limits outdoors, and so this is a good environment for practically every type of photography.
This article is for everyone who wants to head out to take pictures with a girlfriend or a female model and is still deciding where to go. And for those who have decided, but are still seeking inspiration for their future pictures. Most of this text also applies for photographing male models, but because that's a much less frequent situation, I've focused on female models, and the illustrations are in that spirit.
Nature = Calm
When you head out into the streets or into a bar to take your pictures, you have to count on there being people around. That's not true outdoors; when you choose a spot that's at least a little secluded, you can work in relative peace, without needless shyness or stress affecting either you or your model. Although it's been my experience that even on an abandoned forest trail, someone comes around at least once an hour, you'll still do much better here than in the city.
Without gawkers around, it's no problem to do experiments that may or may not turn out. You can just try things out and not worry about whether passersby will act like you're crazy—or envy your ideas. And you also don't have to be afraid to place lights far away from yourself if needed, or to put aside your bag full of gear—there's nobody around to steal it.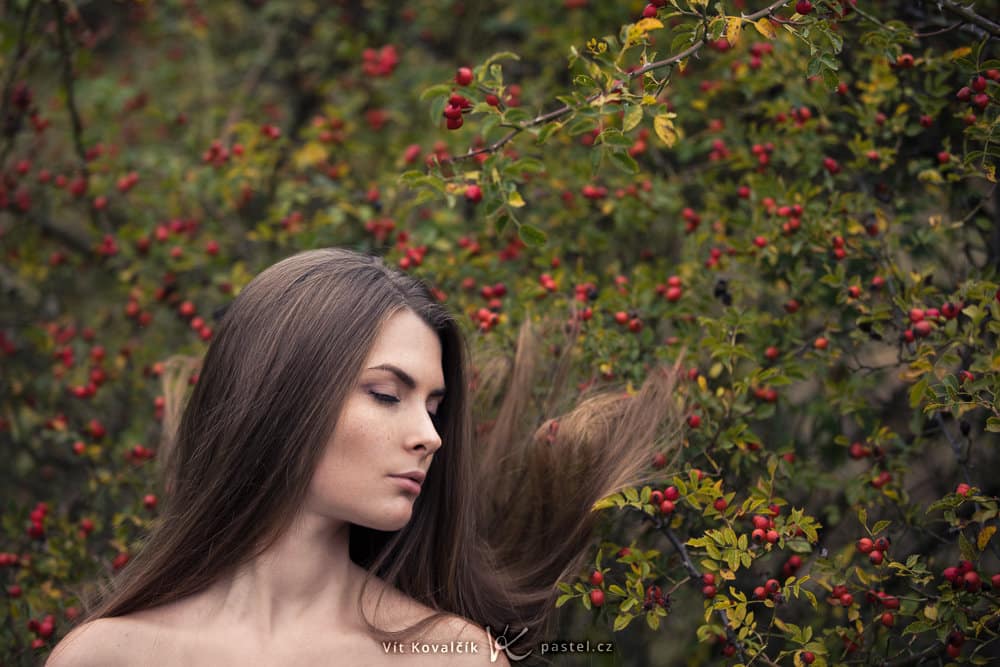 When choosing a site, it's simplest to use the area around where you live. But over time that does get monotonous, so it's not bad to also head out to scout new locations from time to time. Sometimes I pick out interesting spots in this way and then head out on my own to scout them so I know if I can use them later. But it's just as possible to head out with your model on a journey into the unknown and improvise.
I seek sites on maps most of the time—hiking and satellite maps either on Google Earth or on the commercial map service that competes with it here in the Czech Republic.
Water Surfaces
I'd like to note straight off that it pays to focus a lot on water surfaces. Large artificial lakes tend to be tourist destinations, and there can be too many people around them, in summer especially. But for photography, a small natural pond or lake can be enough. While you will run into fishermen there, if you choose the right time or the right nook, you'll have your spot all to yourselves.
The reason why I'm emphasizing lakes and ponds is that around these, you can usually find many different types of landscapes, and so your pictures can have plenty of variety.
There's definitely also water itself, of course, and it makes for a great background. The model can also stand partly immersed in it if that makes for a good shot.
Some ponds can also have dams and floodgates, which themselves offer so much to photograph that you can spend an hour just on them.
Around ponds, there tends to be a worn-down path among the trees, producing a photo-friendly atmosphere. These paths work so well in pictures on their own that you don't even need to have water in the picture.
Sometimes trees meet over the water, letting you take a more dramatic type of picture.
Beyond the nearest wall of trees, you'll then typically find either the forest or a field. Both of these are, once again, good for some more pictures.
Remember that sites can change over time. For example, in recent years, Czech ponds have been drying up, so instead of a beautiful little lake where I expect one, I can end up with gray cracked dirt. So independently scouting the landscape and "storing sites in your cheeks like a hamster" with the aim of heading back with a model a year later can be risky.
Other Sites
If you're not a fan of lakes and ponds, there are also other places outdoors that are good for photographers. You can find forest trails practically everywhere, and sometimes you'll also run into bridges over streams along them. The forest itself also offers impressive sights, like tall grass, etc., but you do have to keep in mind that there will be lots of ticks there, and inspect yourself for them thoroughly back home.
Where I live, there are lots of publicly accessible lookout towers in the forests, and these work well as long as there are no hikers already camped out in them.
If you also have a lonesome tree-lined road available, that's another spot worth checking out.
City Parks
Parks are a special kind of "nature." On the one hand, you have to fine-tune your shots so that there's nobody out walking a baby in the background, but on the other hand, you've got lots of mowed grass and nicely tended paths to use in your compositions.
Parks also have plenty of decorative plants, which look great in photos.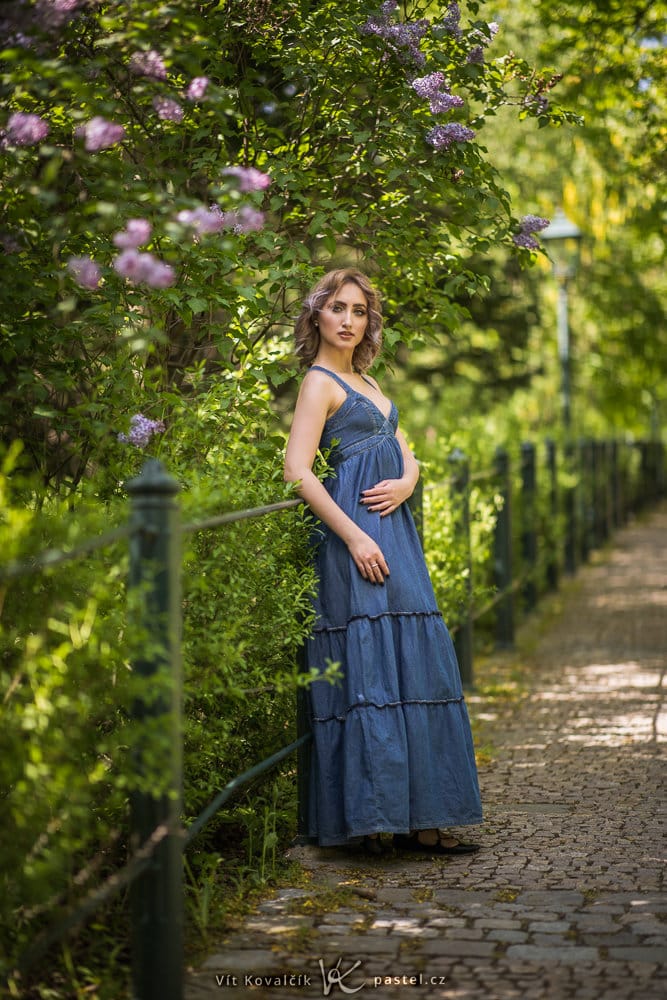 Weather and the Seasons
When taking pictures outdoors, you're exposed to the weather's caprices. Typically even just one day in advance, you still can't be sure that it won't rain. Because of this, you have to check on the morning of the shoot whether it makes sense to head out. Sometimes the weather is so unpredictable that your decision may come only, say, an hour before the shoot.
Everyone has their own favorite weather. Some, meanwhile, insist on certain backdrops, like sunrises and sunsets. But I personally can adapt to just about everything. The only thing I almost never want is rain; it's impractical. A cloudy sky on its own is practically never an obstacle, but it does depend on your vision for the final pictures.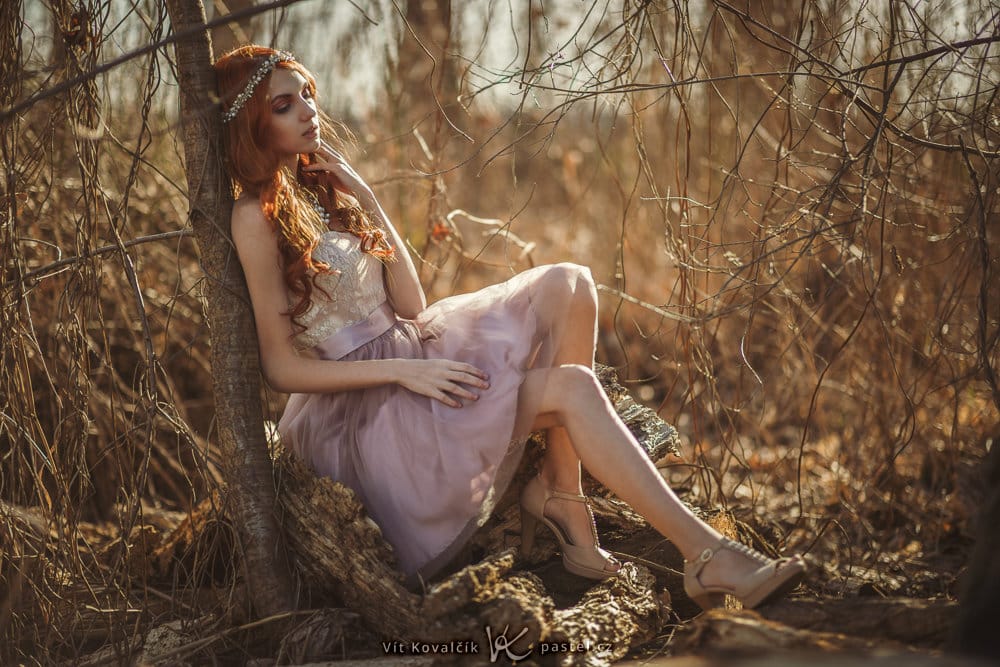 Tip: Looking Through Greenery
No matter when and where you are, I recommend paying attention not only to your model and the expanse of nature behind them, but also what's in front of them. You can get some striking pictures with the help of some branches or flowers in front of the camera. Either the model can be touching them, or they can serve purely as decoration to frame the shot.
Next Time in the City
The great outdoors are only one possible environment for model photography. Many photographers find a city's streets closer, and they may even live near all sorts of landmarks. So the next installment in this series will be about taking pictures with an urban backdrop—and (despite the outdoor focus) a bit about working in interiors too.