Retouch More Naturally. Use the Power of Frequency Separation!
Retouching has long been more than just removing pimples. Retouching tools are constantly improving, and today you can retouch portraits more conveniently and effectively than ever with tools based on "frequency separation." These let you adjust skin's color without blurring its structure, or for example soften wrinkles without discoloring the skin.
Zoner Photo Studio X has these advanced tools too. You'll find them in the Develop module. Your options are:
The

Smoothing Brush

(U), which blurs the colors in a given location.

Structure Cloning

, which adjusts structure without affecting colors.
Frequency separation works by separating color/tone information (low frequencies) and detail/texture information (high frequencies) into two separate imaginary layers. This gives more natural retouching with fewer harmful impacts on a photo's appearance.
More Natural Photo Retouching with Structure Cloning
Generally people's faces contain multiple shades, and so just cloning one part of their skin to another part doesn't look good. That's why the Retouching Brush (J) offers the Structure Cloning option. You'll especially appreciate it when remedying wrinkles and other skin defects.
That's because this function enables you to transfer the source location's structure only. The retouched skin will keep the same colors as it had before the cloning. Thus your changes will look much more natural.
Structure Cloning works similarly to the Retouching Brush. So you just Ctrl+click the source location to select the source and absorb its structure. Or you can skip this step and just click in the picture, and the program will choose a source location automatically.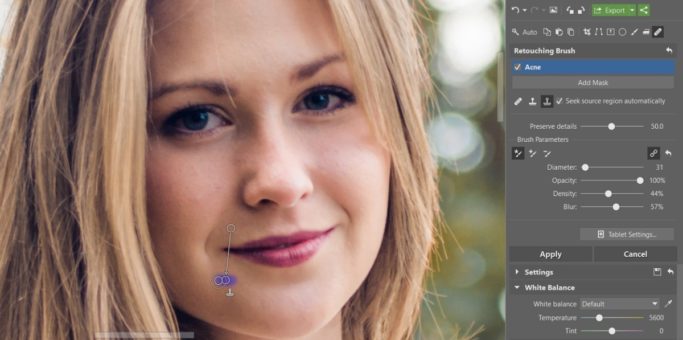 Then by clicking or dragging you "paint" on the area you want to retouch. And if you discover that you made a poor choice of source area, click and drag the source marker to move it to a better location.
Besides skin defects, you can also e.g. iron out wrinkled clothing with structure cloning.
Get Better Skin Smoothing with the Retouching Brush
After removing the major defects, it's good to also smooth out the skin overall. Although you can do this using the classical blurring technique, that technique will remove the skin's structure and make your subject look like a wax dummy. So for more natural smoothing, use the Smoothing Brush.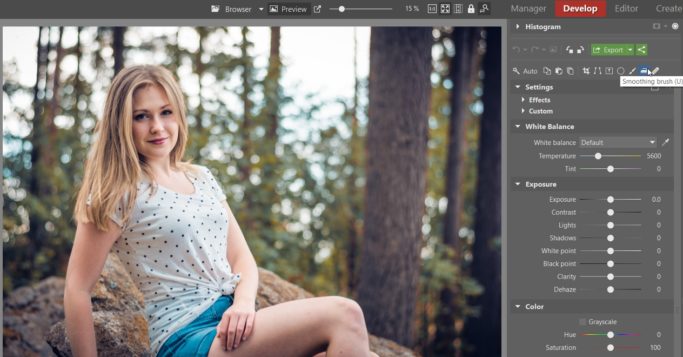 Using this tool, paint over all of the skin that you want to smooth out.
The

Intensity

setting determines the strength of the smoothing.

Detail preservation

sets how strongly the original structure remains visible.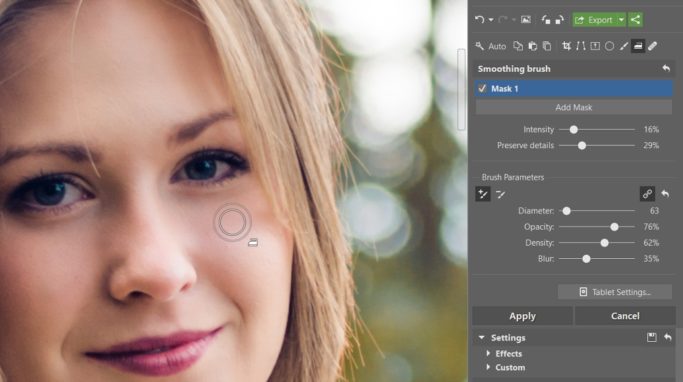 Use Masks for Even Better Retouching
We recommend dividing up your retouching work into at least two masks instead of doing it all at once.
Within the first mask, you'll be smoothing out the skin overall. So use low values for the settings here.

Then click Add Mask to create a second mask, and in that mask, edit the areas where you need to make major adjustments—e.g. to heavy wrinkles around the eyes.
Retouch With a Gentle Touch
Everyone wants to look good in photos, but you can take things too far. If the subject's skin looks smoother than a mannequin's, something's wrong. For a portrait to look believable, the skin has to have structure, not just a perfectly airbrushed surface.
So it's important to use the right tools and not to overdo their intensity. Luckily features based on frequency separation make this much easier. Try them out on your own photos! Download Zoner Photo Studio X, try it 30 days for free, and keep your photos looking natural even after you've done major retouching.