Sports Photographer Marian Chytka: The Main Thing Is to Not Get Carried Away, There's No Shortcut to Success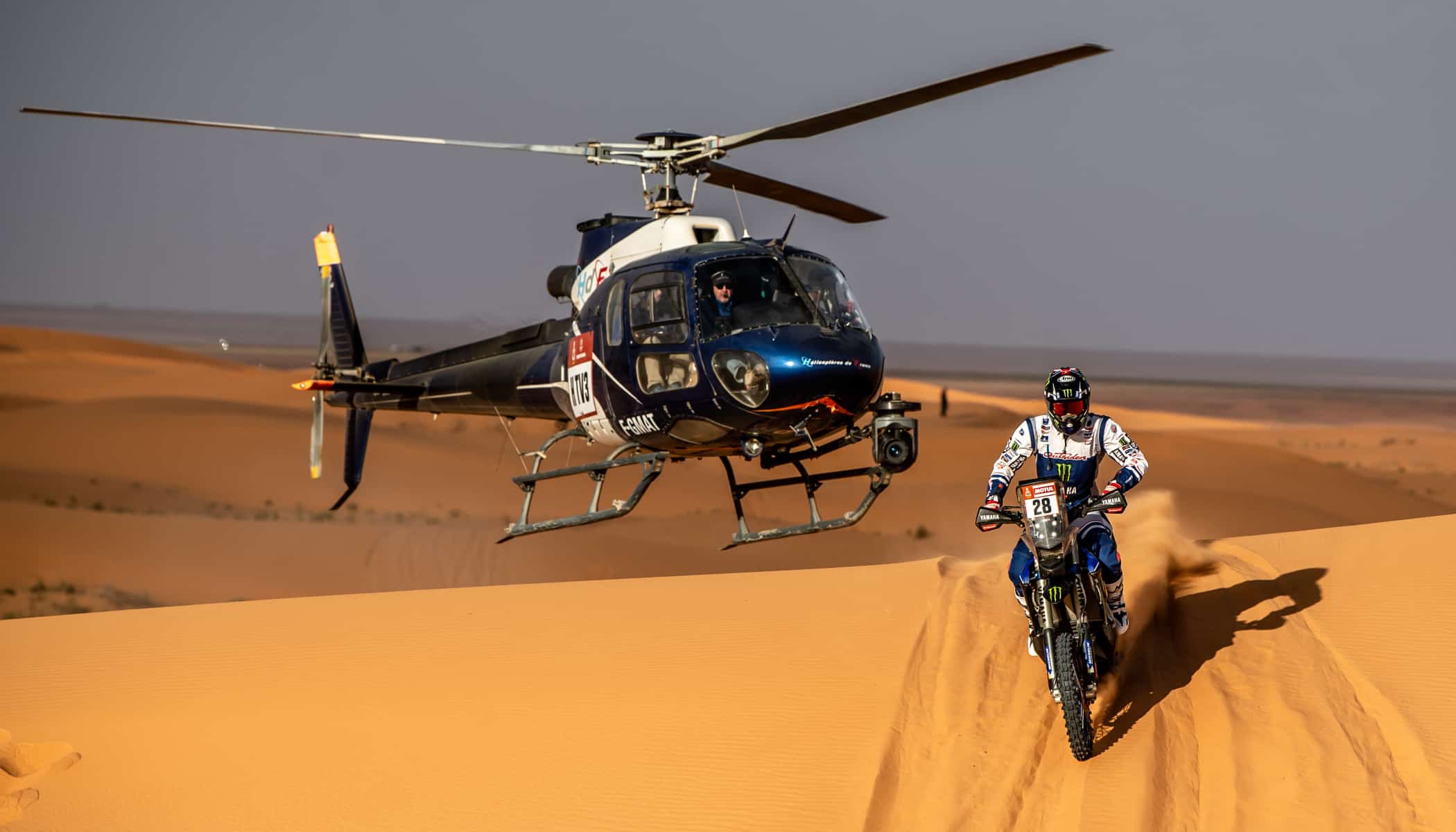 The 2020 Dakar Rally is behind us, and since this year, this demanding race came for the first time to Saudi Arabia, everything was a bit new for everyone involved. In today's interview, you'll find out what experiences world sports photographer Marian Chytka took back from this exciting race. You'll find out what led him to switch cameras, what he'd recommend to beginning photographers, and more.
How was Dakar 2020 in your eyes?
Kind of inconsistent. If I look at the whole thing, well, we couldn't expect the very first year in Saudi Arabia to be great. But I'd say that from the standpoint of the organizers who were behind it, it turned out respectably.
I'm pretty glad that they moved Dakar. I love South America, but last year it was in Peru and they rode five days out and five days back. And after that much time, I didn't know what to photograph, everything looked the same. And when you're photographing some dune for the seventh day, it's still just a dune. Here there were enough different things to photograph. Canyons, some rocks, rocky trails, etc., so we could choose.
It looked good not only photographically, but also thanks to the infrastructure. Saudi Arabia is in better shape than South America—Peru or Bolivia. Out there, when you leave the route, the roads are awful. While in Saudi Arabia, it's 90% highways, and you can go about 130 km/h the whole time, and meanwhile it's easier to work. When you have a computer on your knees, a highway really is better than some ragged trail. And they had better reception too.
As for the race, mainly at the start of the second half, things were pretty bad. Lots of people complained about how there were stretches—forty to fifty kilometers—where you rode straight ahead at full speed, then a left turn, and then another forty kilometers straight. And that doesn't have much to do with racing.
But how I take it is that since it was the first time, the organizers wanted to keep things simple. Nobody knew how everything would work, and they didn't want to dive into the risk that half the people would be stuck somewhere in the dark. I hope things will be better next year, because they definitely can be better, and there are more interesting terrains over there than what they drove through this year too.
Was it better from the standpoint of infrastructure and the bivouac than it was in South America?
About the same level. What did seem good to me was that we had, I think, just two "setups" for the bivouac. So when you came the next day, it looked exactly the same over there. I think it was how we had enough room, where we could build the same way each time. So after arriving we knew what to look for and where, because it was the same as the last day.
How many times have you been at Dakar, counting this year?
Nine times.
Isn't it all a bit routine now?
For me definitely not, and the main thing is that even if they rode the same routes in the same place, thanks to the length and the variety, you can always find something new. And that's what I enjoy about this the most. I can work with the surroundings and involve it in a context full of driving.
Also, a photographer can do what they want there. I can feel free to get so close to the cars that it basically will never be the same twice. I think I'll never get tired of the Dakar format. But I can't imagine doing all the MotoGPs in a season this way for, say, thirty years.
You mentioned that you can work with your surroundings at Dakar. Do you seek out your own places to shoot, or do you stick to photographing places set by the organizer?
This year it all worked a completely new way, and it was complicated, because the organizer wanted to go back to the roots. So until halfway through the routes, they only gave us the itineraries in the morning, and until then we didn't have any information that we could pass on to others.
Until halfway through the routes, they only gave us the itineraries in the morning, and until then we didn't have any information.
So this year the way things worked was that in the evening they described a spot to us that was outside the route itself but close to it and that also had a cell signal. They also told us that when our cars reach that point, they'll send us exact information the next day at six in the morning. Along with this point they also gave us a list of four other places in advance with supplementary information. So we more or less had an overview.
The problem was that when you get to this so late, there's no time to change anything. And there wasn't much room to head out anywhere than where they set for us. We just went a few kilometers back and forth to make some kind of decision. It was also problematic that there could easily be twenty other people at a given site. That's about the only thing that bothered me—when you finally find a good place, there's twenty other photographers there.
When you finally find a good place, there's twenty other photographers there.
What did your typical day look like?
I got up before four o'clock, and we usually rode out around four thirty. It was pretty cold in the morning, and after three hours of sleep, I didn't feel like leaving my sleeping bag. It was 5° C or so, but at least that got me going. This year, unlike previous years, I went to breakfast every morning.
Right the very first day my car broke down, so I basically was riding straight from the second day in the organizers' car, which was actually a bit good, because I didn't have to drive at all. On the other hand, my car's breakdown broke down all of the things we had planned. So I rode with the organizers for some two hundred kilometers somewhere onto the route, where I spent about four hours taking pictures, then I got back into my car and then edited my pictures.
I even sent them as I traveled, thanks to the good cell signal. Generally I made a few edits in the bivouac and then we put it together with the boys (some other photographers taking pictures for my company) and sent out some photos. But it depended on the day. I usually went to sleep around midnight, and at four a.m. wakeup time again.
How many of you were in the team?
Five in total. Me, Jirka Šimeček, Honza Stárek, Kuba Fišer, and Pavel Mothejl. We originally were going to take two cars, but in the end we took four, and that was the biggest problem. A guy from Poland was going to go with us too,  but he called it off at the last minute, in December. In the end I took Jan Stárek with me too, so I wouldn't have an empty spot in my car, and I also called out to clients who I couldn't take originally.
In one of our past interviews you've said that you'd like to come to the next Dakar in your own helicopter. Are you working on that?
I've thought about it, and several times I've also wondered if they'd take me in the one they use themselves. But was never room, it was always full of people from the agencies. They said next time they'd like a second one so they can put more people in there. But even so I start trying to find out the cost of helicopter rental, and in the end it didn't sound to me like total nonsense, and financially it could probably be worked out somehow.
I asked whether we could report a helicopter in 2021 as a media vehicle and they haven't answered me yet. Maybe because nobody's ever asked them anything like that before. On the other hand, a week later they wrote me that next year they'd like to arrange closer cooperation, so in the end it probably won't even be necessary.
How far in advance do you prepare for Dakar? I mean sending out the cars, organizing all the documents needed, and so on.
I do it a full year, more or less. Part of that situation is that I also ride around to other races during the year, and I need things to work among my clients at Dakar too. This year my first work on specific documents was at the start of October, because the official accreditation was to go out by the end of October and everything was supposed to be ready.
Then I worked on papers for all of November and December with all of my clients and worked out all the things that were needed. This year the car went out later, because it could only be shipped to Saudi Arabia in certain weeks, so we took it through Jakub Fišer to France at the start of December, but it was in preparation before that.
How many teams did you photograph this year?
We photographed the individual participants roughly fifty to sixty times. Five categories are judged at Dakar, and we photographed the winners of four of them. We photographed the majority of the foreign teams, namely Toyota, Mini, Kamaz, Honda, Can-Am… Out of the Czech teams, we photographed Martin Prokop, Buggyr, etc.
Could you say that you're the largest out of the photo teams at Dakar?
Yes. As far as freelance agencies go, there's nobody there who's bigger, nobody with more of the better clients.
Was there anything that surprised you this year?
Not really, because I've been in Saudi Arabia several times before. Maybe just the fact that 99% of all the cars over there run on gasoline. We had problems with diesel fuel and its quality because of that, and that's probably why our car broke down. Then it was a problem to get it repaired, because they don't have parts for diesel vehicles over there, and that was the main stumbling block.
I noticed that you switched brands from Canon to Nikon. What led you to that?
There were multiple things, mostly personal. I often felt like my colleague with Nikon gear had less trash gear than me. And above all he always had nice and sharp photos, even with a lens with a focal range of say 70–200 mm. I had trouble with everything beyond 30 m being blurry on my Canon, which could have been due to the gear or to some defect.
Another thing is that Nikon's colors sit much better into my photo editing and outputs. The colors from a Nikon are the right ones in my view. Not because I have a Nikon, but because it fits the real world better. My Sony for example had trouble with sand, it colored it pink. With Canon it's similar, it also went more towards pink than towards gold.
The Nikon also has more dynamic range, and the batteries hold out a lot longer, which is important for me too. And another thing is simply access to that brand within the Czech Republic and access to servicing. Now I'm satisfied. We'll see with the Nikon D6.
Are you preparing to buy a Nikon D6?
Well, I likely don't have a choice (laughs). I'll definitely try it out, and we'll see. I don't want to judge it based just on its specs on paper. Right now I've got two camera, and I need three. I thought the D6 would come earlier, so I bought a D5. I'd also like one mirrorless too.
Can you imagine using a mirrorless as your main camera? Even if it was high-end, but it had a grip like today's mirrorless cameras? And how about the use of EVF in sports?
I've had a Sony A9 in my hands a couple of times, and I'd say it's about habit. Regarding how the viewfinder doesn't have any delay, that part's OK. That probably wouldn't bother me. As far as the grip, that's a little worse. Right now I also have a Nikon D850, which is smallish, even if it's bigger than a mirrorless, but it's probably a matter of habit.
You often take pictures in bad weather. How do you protect your gear?
Somewhere at the start we did use some protection. In the past I wrapped my cameras with the usual tape, and most reportage photographers have that, to keep their camera's edges from getting banged up. But mine are already so banged up that it's basically all the same. It's natural that mine get banged up, because when I head five kilometers somewhere, the sand gets everywhere, and since the cameras are swinging, they get banged up.
Or, when I put my cameras in my bag, some miniature sand grains always get in there, and with how I'm always moving them around… I'd have to have them wrapped fully, and that wouldn't be very comfortable. That's the reason why I stopped using Lens-Protect. It just bothers me how it leaves me less quick and ready. Zoom lenses don't have the grip to catch onto and if you want to turn it, it slips. And I need everything fast, when I'm switching among cameras. Well, and rather than maybe miss a photo because of that, I left it alone. And made sure to regularly bring the camera in for cleaning.
What kind of gear did you take to Dakar?
My cameras were: a Nikon D5, a Nikon D850, and a Nikon Z7. Lenses: Nikon 20 mm f/1,8, Nikon 16-35 mm f/4, Sigma 50 mm Art, Nikon 70-200 mm f/2,8, Nikon 24-70 mm f/2.8 (for the Z7), Nikon 105 mm f1/4 – in my opinion the best lens; it's good in how it's sharp and yet also soft, unlike the Sigma. The Sigma looks nice but is pointlessly large and extremely overfocused. And the Nikon 200-500 mm f/5.6 on top of that.
I also have a Nikon 180-400 mm f/4 that I use for the circuit, and I didn't want to take it to Dakar and see it suffer, what with its cost. I personally don't like the 24–70 lens type very much, because it's boring. I use 16–35 much more—at the 16 end. But for my "Z" the 24–70 had very nice detail.
Was there anything besides photo gear, cars, etc., that you couldn't do without at Dakar?
Not much besides gear occurs to me. The only thing, but it's also a gear thing, was my disk and card reader. This combo made my life easier and saved me maybe fifteen to thirty minutes every day. When you're standing in your photo spot, your photos are copied before you've gone back to your car.
When you're shooting at Dakar, is it dangerous? You often shoot with a wide lens, and the cars are really close. Was any situation on the borderline, life-or-death?
There were a few situations where I had to jump back, but fortunately I always jumped the other way than the car was going. One time a motorcycle knocked me over, but that was a long time ago. The driver jumped, landed, his handlebars got away from him somehow, and all of a sudden he turned completely right, to where I was standing, and knocked me over. You have to think about where you go. It's always less than a 100% guess, but you have to think while you're acting.
That's what I enjoy quite a bit about it—you can do more or less what you want. It's not the style where somebody sticks you in one place behind the fence where a window has been cut out, and twenty other people are standing next to you. It's mainly about common sense and having some experience.
Are you preparing to head to Dakar next year too?
Definitely.
Do you have any unfulfilled photography dreams? Maybe some race you'd like to photograph?
Not completely. Last year I photographed a lot of new things, and I'll be trying to do the same this year too. Last year I went through the things I wanted to photograph in three straight weeks. I was at the F1 in Monaco, on the Isle of Man, and from there I rode to Le Mans 24. Right now there's not especially a lot. I might like to photograph Formula 1 more, because it's very much about prestige, and it can push me and my brand somewhere ahead.
Is there some sports photographer who you like to follow?
Vladimír Rys for example has great photos. For me he's the best Formula 1 photographer, he's got really nice stuff, but I do follow a lot of people on Instagram.
What would you recommend to sports photographers who are just starting out and would like to go to, say, Dakar one day?
There probably aren't any shortcuts. It takes a few years to get somewhere, and I had to sacrifice a lot of personal time. And even when some place looks nice in pictures, I don't always want to fly there. It's important to not let yourself get carried away. In our day and age due to social media people have the possibility of going straight up to people like Rossi with their cameras.
I was helped a lot by not pushing things and never expecting that I would do this or that. It was a natural evolution of me doing what I enjoyed, and I did it during school too, I had an advantage there. I can't imagine someone being somewhere at a job and having to decide whether they'll give it up and do photography only. I fortunately didn't have it that way, because I started taking pictures in my third year at law school, and after two years I realized that law wasn't really for me and that I could stick to pictures. It was mainly because at the start I was doing it just for fun with the idea that I would be traveling, and I took it as pocket money.
I started taking pictures in my third year at law school, and after two years I realized that law wasn't really for me and that I could stick to pictures.
People often don't hold out in the end, because it simply takes a while to get anywhere. And it's not about a person going to one event, or ten. I think that even if their pictures are good, they won't get anywhere right away. I can feel it in myself, how it's terribly hard to get anywhere past entrenched structures and it's not about your photos, it's about contacts and about what kind of people are sitting there.