Batch edits are one way to quickly fix a large number of pictures. You can use them to automate series of several steps and thus save yourself a lot of time spent editing similar pictures.
You come back from vacation, download a whole camera's worth of photos, and need to fine-tune some of the best to show your friends. You make a point of never showing off a photo until it's been touched up. But! Vacation's over, and you don't have much time for those touchups. Don't worry—Zoner Photo Studio and its Batch Filter are made precisely for you!
Quick. Easy. Basic.
The main purpose of the Batch filter is to quickly give a whole group of photos the same basic "look," while taking as little work as possible. It's very important to keep in mind that these are automatic edits, and so they may not turn out like you expect. Also, a batch filter can't manipulate layers or do "brush work" such as skin retouching. So never use it for finalizing photos that need close attention (portraits and nature photos). In short, if a photo really matters to you, edit it individually.
Also note that the Batch filter overwrites your original photo files. So if you prefer to keep access to your originals, or as we say, if you prefer to edit photos non-destructively, then use the Develop module—or at least make backups.
Set Up Once, Use Forever
You'll find the Batch Filter in the Manager: Edit > Batch Filter (Ctrl+Q).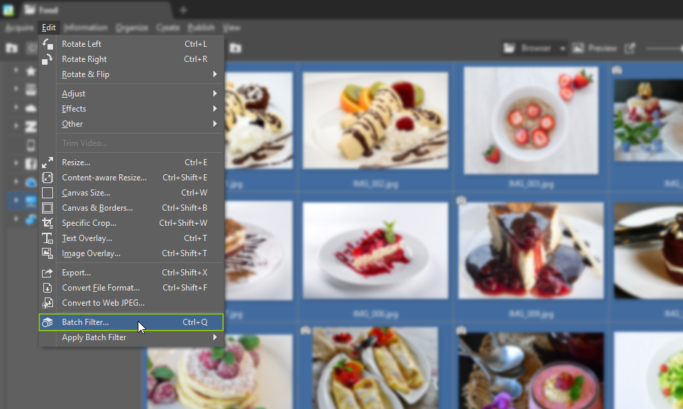 The basic workflow for the Batch Filter is:
select the pictures

show the Batch Filter

choose and configure the effects and edits you want

and then apply it.
Before you leave the Batch Filter, you can save your settings—and then easily load them back in on similar future jobs. Use the buttons at the bottom of its controls for this.
Choose Your Edits
Most of your work with the Batch Filter will be telling it which filters (which edits) to use and how. While you're doing this, Zoner shows a before-and-after preview in the middle for the picture that's selected on the left. Each time you change settings or add a filter, the preview updates. This update can be a bit slow if you have a lot of filters, a large photo, and/or a slow computer.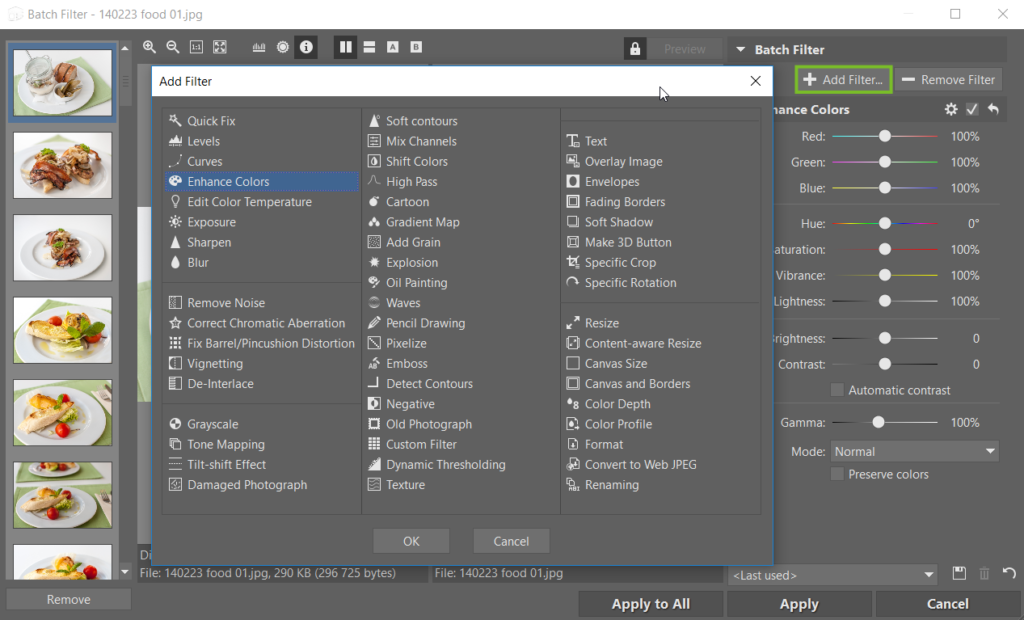 Since you'll typically use the Batch Filter on more than one picture, you'll generally want to use it from the Manager module. First select the photos that you want to use it on. Then use Menu > Edit > Batch Filter…, or press Ctrl+Q.
The Batch Filter starts out with the Enhance Colors filter showing automatically. To deactivate that filter, or any other filter, uncheck the checkmark at its top. To remove a filter completely, click Remove Filter and pick it in the list. To add a filter, click Add Filter… and then pick from the Add Filter window. Use the buttons at the bottom to save, load, or delete sets of Batch Filter settings—"presets." Note that the Batch Filter opens up each time with the same settings as you used in your last visit.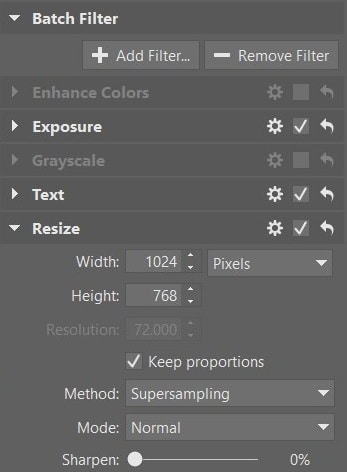 Arrange the Filters in a Logical Order
The different parts of your filter are applied in order, and it's important to have that be a nice, logical order. If you're not sure how to order them, let your intuition be your guide. For example resizing pictures and saving them to a new file format should always be among the last steps, just as sharpening them should come after shrinking them, and so on.
Not Made for Single Photos
Use the Batch Filter to supplement or simplify batch work. Avoid using it on individual photos, unless you're already in the Editor and you happen to have a Batch Filter preset that matches what you'd already be doing there anyway.
Otherwise, open and work with your photos in the Editor if they need work with layers and selections, or in the Develop module if they don't. But when you have a large set of photos to process, for example from a vacation, celebration, or gathering, the Batch Filter is a lifesaver. Just like it can fix photos again and again, you'll find yourself appreciating it over and over.