The Latest Smartphone Trick: Combating Bullies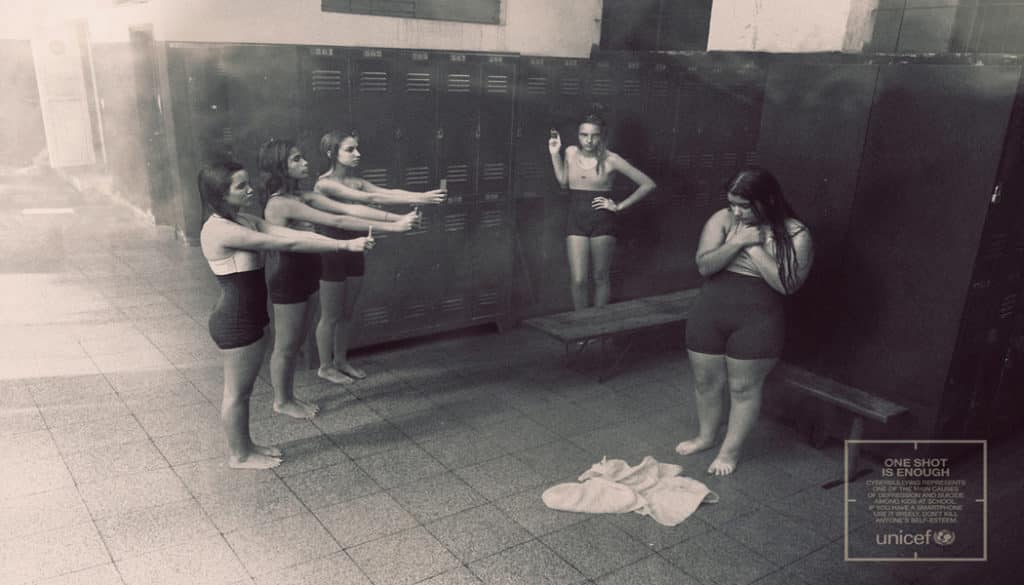 It's a childhood problem that goes back as far as anyone can recall and has truly damaging lifetime affects. We're talking about bullying and it's taken on a new form in the 21st century and smartphones have largely played a negative role ….up til now.
UNICEF, the United Nations Children's Fund, recently launched an ad campaign in Chile that speaks out against cyber bullying with smartphone photos. The campaign titled "One Shot" consists of three ads that feature images that show a group of teenage students pointing their mobile cameras at one of their peers, in a kind of firing squad-style.

 These three "execution scenes" are titled "Fatty," "Nerd," and "Weak". We have the three images in this piece and you'll see why they are titled thusly.
The ads starkly read "One shot is enough" and then add this text: "Cyber bullying represents one of the main causes of depression and suicide among kids at school. If you have a smartphone, use it wisely. Don't kill anyone's self-esteem."
Smartphones Negative Role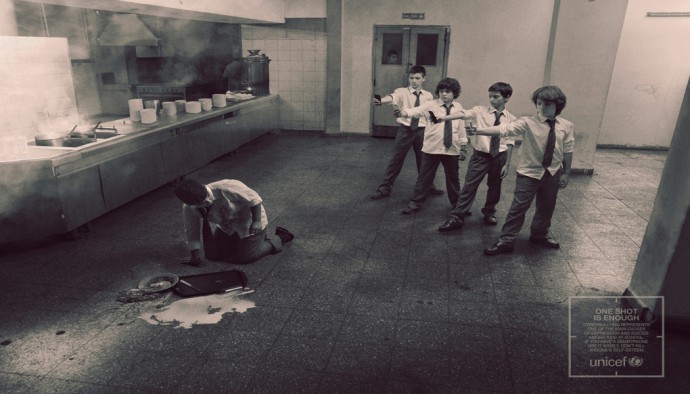 A bit about that negative role before I get into the UNICEF campaign. While cyber-bullying had been a thing for a few years before smartphones arrived on the scene, the rise of the mobile devices over what has been almost a decade now, took the trend into the fast lane, creating a powerful new venue for the cyber-bullying.
The fact kids were also emboldened to capture stills and videos of these bullying moments and post them to social media added a whole new layer to the humiliation victims felt.
"Here was this incredible imaging device that initially opened up photography to a new generation of young shooters," began Oren Firth, a child psychologist in New York. "And so many of videos and images we were being treated too early on that were being uploaded to Flickr, Facebook and YouTube were magnificent. Then, somehow, we lost that and this new, disturbing trend began taking hold."
Firth added that the bullying imagery being posted today essentially has the affect of forcing the victim to relive the attack again and again, deepening the depression and psychological scars.
Suffice it to say, it was clearly time to turn this mess around and how fitting to use the device that was escalating the problem to help combat it.
Campaign Digs Deep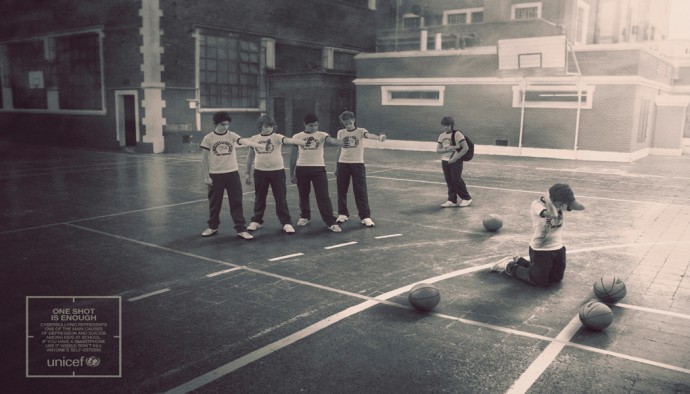 UNICEF's "One Shot" campaign brilliantly takes that trip into the complexities of technology and social media to shine light on the very serious issue of bullying in general and cyber-bullying in particular and through the images in the ads mobilizes and forces us to redefine our views on the subject.
It's become an ugly topic and the imaging tech in smartphones has made it even uglier. In the campaign the images expertly portrays the victimization.
The campaign highlights the power of photography, spotlights and vilifies the role smartphones play in bullying today and raises awareness of an issue that far too many parents are either unaware of or worse, simply ignoring. Not surprisingly, the "One Shot" campaign recently won a set of gold Press and Outdoor Lions at Cannes Lions International Festival of Creativity 2015.
I don't know of too many ad campaigns that are accomplishing all that and let's all hope this important message goes viral and has a more global impact outside of South America.
Time to get back to capturing and posting life's more spontaneous and special moments and enough of all this ….ugliness.
— Images in ads courtesy Prolam Young & Rubicam/UNICEF Chile