The Most Common Mistakes in Animal Photography and How to Avoid Them
We've probably all tried to photograph a small animal at some point, perhaps a cat, a dog, or a tame squirrel in the park. But many photographers make basic mistakes here that leave their pictures with no spark. So let's take an illustrated journey through the usual defects.
A small hedgehog was strolling in my garden, and I took this opportunity to shoot a series of pictures from various angles exploring the basic differences between them.
The first few were taken in the way you often see on Facebook or elsewhere in the galleries of recreational photographers. And yet taking better pictures is easy! You just need to respect certain rules of composition and be willing to lay flat sometimes.
Let's examine my sample pictures now, to see their problems and what would have to change to make them look professional.
Photo 1: A Safe Distance—Boring!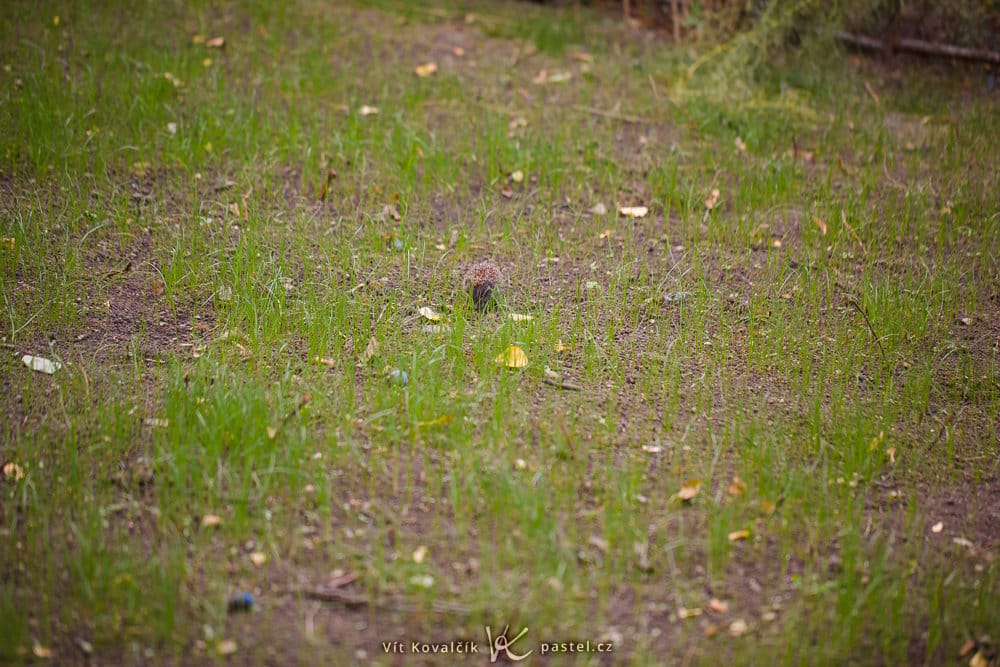 This is a shot that you can always take. So I took it too. I mainly took it just in case the hedgehog was going to be uncooperative and run away: even if it robbed me of my samples, I'd still have a "souvenir."
But… basically any other shot is better. This one is taken from pointlessly far away, and the hedgehog is barely visible. The top right corner with the fence also isn't helping things. Here it would help to significantly crop the picture, or better: to move closer and try retaking it.
Among other things, you can notice here that despite my fast f/2.8 lens, I had to use an ISO of 500. Even though this was an outdoor scene, night was coming, and so there was little light to spare.
Photo 2: Baby Steps Forward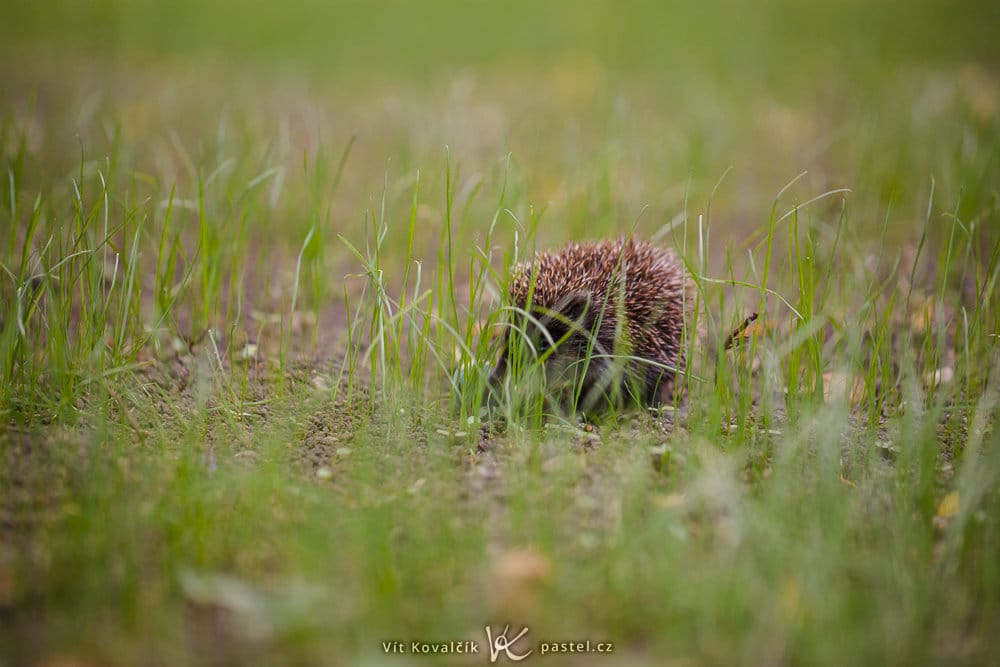 The next shot is better, but our little insectovore still occupies just a small part of the photo, with boring grass in the rest. Although it gives the photo context, it also covers the subject, and in most of the picture it's all one big green blah that won't interest anyone.
An important rule appears here: shoot at a height appropriate to the animal, ideally the height of their eyes. This will pull your audience into the scene much more strongly. Here I couldn't go any lower, or else the hedgehog would be hidden by the grass. So I'm right above it.
Photo 3: The Weird, Cold Route—From Above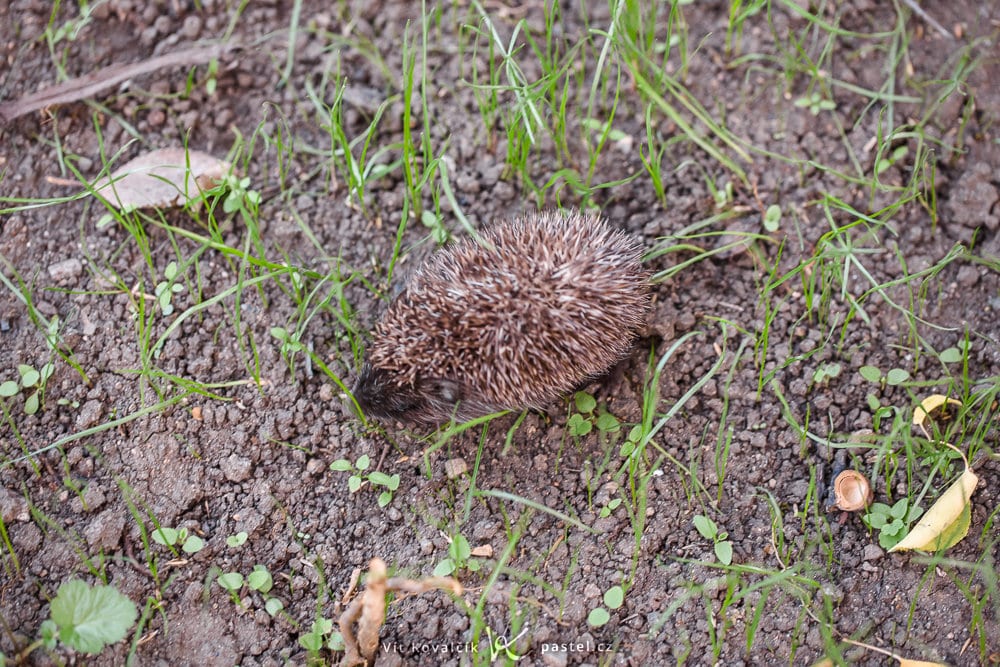 This is a view of small objects that you can see in a lot of Facebook "phone photos." I'm not saying that this is one to throw out, but it really is very cold, producing no feeling of connection with the living being "below." (In this case, due to my low f-stop the picture is needlessly blurry, but that's unconnected to this article.)
Although the picture was taken from up close, it ignores the last section's lesson on the right height. See the next photo for how things should look.
Photo 4: The Winning Version—Close and Low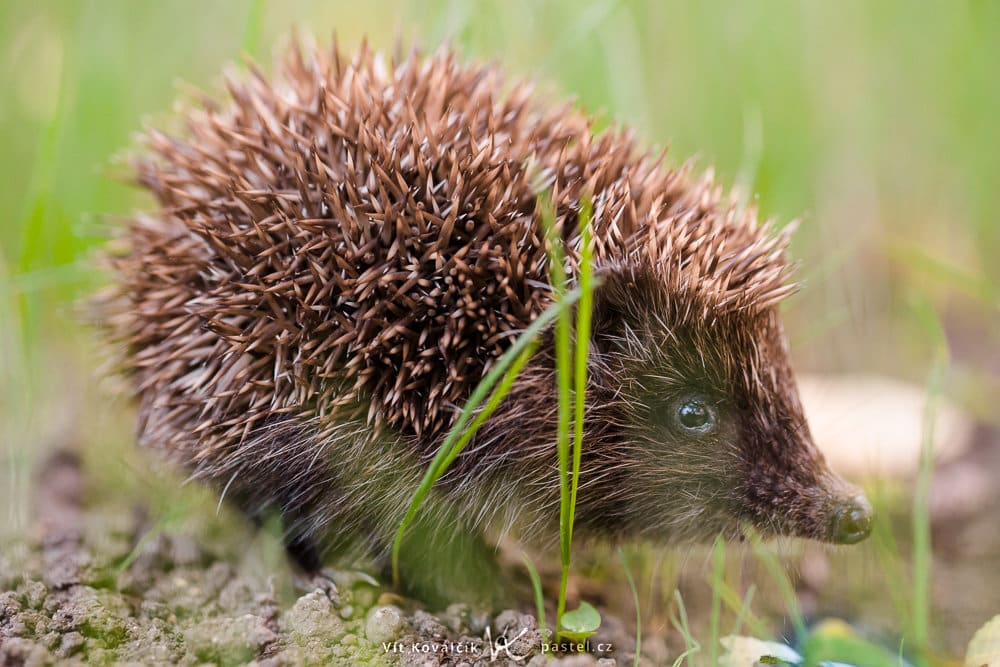 The view that will probably have the biggest impact. I filled out the frame, making sure I was using it fully, to capture the little beast in all its beauty.
But. Next time I probably really would include a sliver of space for framing—here I filled the frame so tightly that I couldn't find a reasonable crop for this article's 16:9 title photo, and so instead I had to stretch it and "retouch in" the missing side areas. (But don't tell anyone; the boss probably hasn't noticed.)
Because getting up close reduced my depth of field, I used an f-stop of f/4, but I also ended up in a tree shadow, and so I had to use an ISO of 4000.
Compared to the article's first photo especially, you can see that this low-angle shot works much better. Unfortunately it's also a bit harder to take, because it's not always easy to focus well on an animal in motion. Their eyes, at least, should be sharp. I don't manage that in every photo, and this one here took me several tries. Fortunately my model was cooperative; he let me experiment for a total of about 15 minutes and spent the whole time strolling around, ignoring me. If I hadn't moved out of his way several times, he probably would have bumped into me. Or started nibbling me.
In shots of this type, cameras with a folding or otherwise adjustable display are at an advantage. Mine doesn't have this feature, and when using the normal display, I struggled to see the current picture and focus point at least for orientation. In some cases it can even pay off to lie flat on the ground. I carry a folded plastic sheet in my tripod case for use as a makeshift mat, and this has paid off for me several times now.
If you want to include some surroundings in the picture, try not to put the subject in the middle; shift them towards an edge. But not every shift will work equally well (like for example in the pictures below).
Photos 5 and 6: Alternatives with Free Space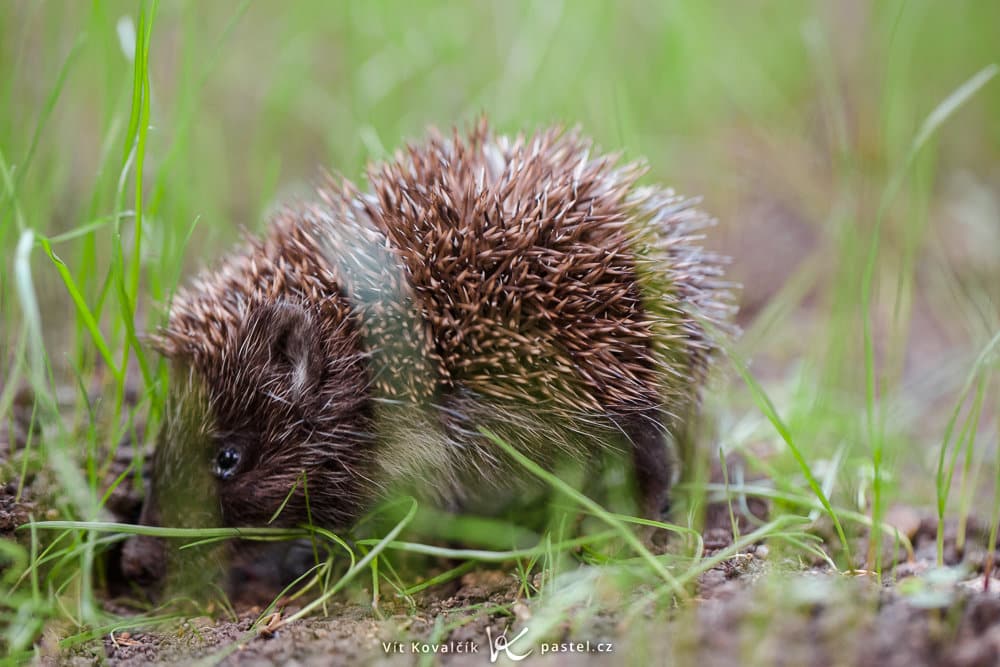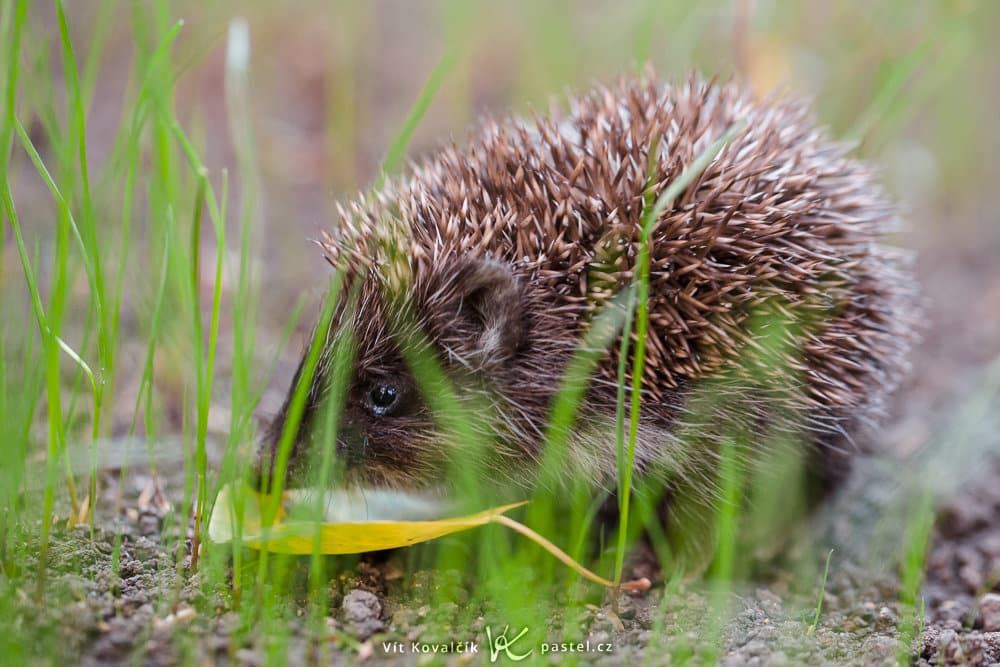 If you're also including the surroundings, try to add room in front of the subject's head, or in the direction in which their head is turned. The picture will then feel open, unlike the first of these two illustrations, where the hedgehog's head seems to be practically ramming its way out of the frame.
But you can't always produce such a picture directly, since you don't know where the animal is going and may be too slow to react to its motions. In that case it's simpler and more practical to take a wider shot with the subject in the center and give it the right crop on a computer.
Photo 7: A Closeup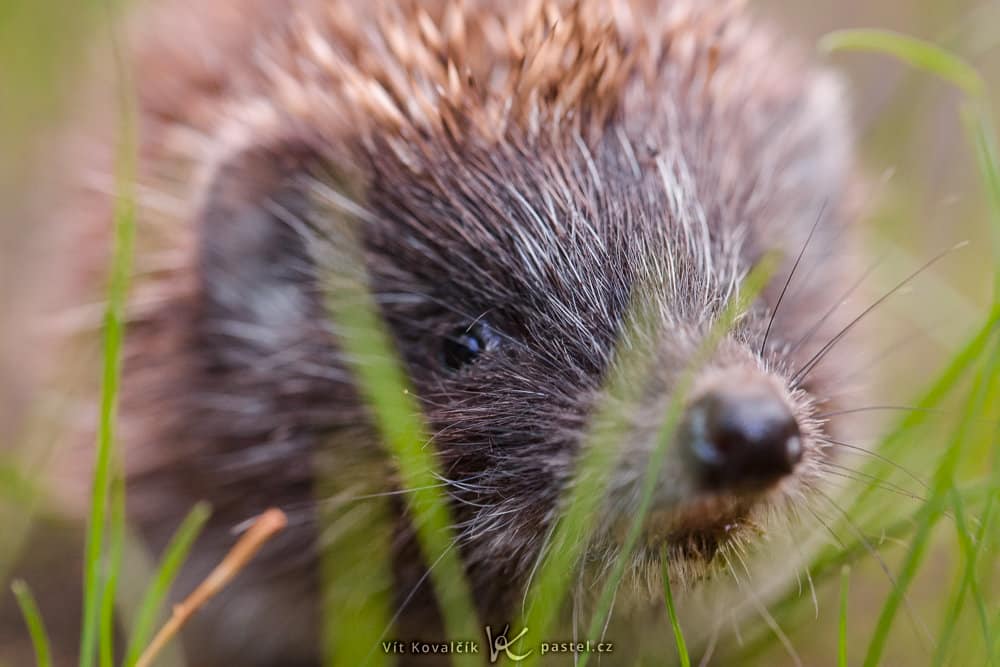 I tried an even closer shot, but the hedgehog was too fast for this: the focusing mechanism on my camera was too confused by the grass, the hairs, and the weak light. I tried to stay focused on the eyes, but couldn't do better than this shot here. These experiments demand patience, but can also reward you with a striking or amusing animal-kingdom closeup.
Conclusion: Closer and Lower!
It's no wonder that one of the best-known photography quotes goes: "If your pictures aren't good enough, you're not close enough." It fully applies here too.
I'll just note that the examples mentioned above apply not only for hedgehogs, but also for other animals, and also children, or flowers. You'll get good pictures everywhere if you engage your knees and "lower yourself" to your subjects' level.