Understanding Photographic Copyrights a Slippery Slope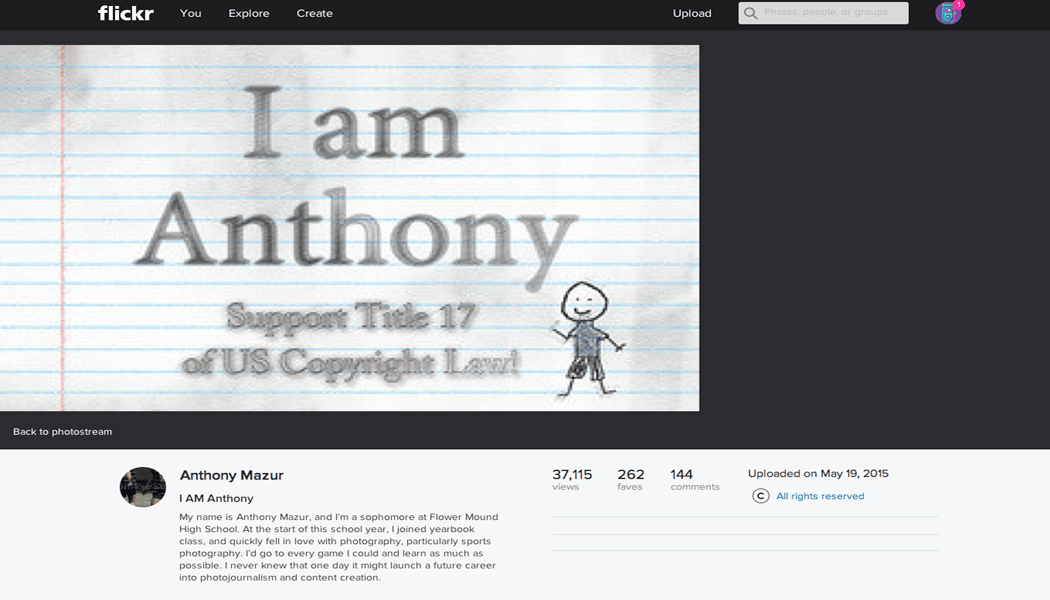 We've chatted about copyright issues in the past in this space and attempting to paint a clear picture on this matter remains a difficult task. As yet another example of this, we give you the recent story of high school student Anthony Mazur of Flower Mound High School in Lewisville, Texas.
The story here, while very local in flavor, has very national and quite frankly, global impactions in the area of photo copyrights. In the event you missed this one here's a brief synapsis. After discovering a deep love of sports photography in his sophomore year, the Lewisville Independent School recently claimed that all Anthony's photographs shot of school-related sporting events are theirs and that he essentially has no right to use them.
A recent trip the principal's office caught the young Mazur by surprise as his Flickr web page was displayed by the administrator where he had posted his school sports photos. He was quickly instructed to remove all the images immediately claiming the usage was illegal with an in-school suspension and ban from all extracurricular activities hung over his confused head.
Where this surprising dispute heads from here is anybody's guess. As we posted this piece, Mazur's family has filed and lost an appeal to the principals of Flower Mound High School. The school claim centered on their feeling that Mazur's work "violated students' privacy by posting their image". Currently, the family has filed an appeal to the Superintendent of Schools.
The real question is whether or not Anthony Mazur has a case on his hands. In his support stands Title 17 of the United States Copyright Law, which denotes that the "Copyright in a work protected under this title vests initially in the author or authors of the work"; in the case of photography, the individual who presses the shutter is the 'author'.
The intent of this piece is not to delve too deeply into the Anthony Mazur case – it will play out in a court of law over the months ahead and I don't think we need to tell you who we are rooting for.
The bigger issue here is copyright awareness and our guess here is that there is a large percentage of photographers out there that simply are not aware of where they stand with regard to copyright issues in the digital age.
We checked in with PPA on this and were directed to their website. They explain that "copyright" essentially describes the rights given to creators for their literary and artistic works. They then bullet point a few things to be aware of every time you either point-and-shoot or consider using someone else's work:
Copyright is a property right.
Just because you buy a print does not mean you have purchased the copyright.
Professional photographers are the smallest of small copyright holders.
Under the Federal Copyright Act of 1976, photographs are protected by copyright from the moment of creation.
Photographers have the exclusive right to reproduce their photographs (right to control the making of copies).
Unless you have permission from the photographer, you can't copy, distribute (no scanning and sending them to others), publicly display (no putting them online), or create derivative works from photographs.
A photographer can easily create over 20,000 separate pieces of intellectual property annually.
Professional photographers are dependent on their ability to control the reproduction of the photographs they create.
It affects their income and the livelihood of their families.
Even small levels of infringement—copying a photo without permission—can have a devastating impact on a photographer's ability to make a living.
Copyright infringements—reproducing photos without permission—can result in civil and criminal penalties.
Zoner actually offers a couple of ways you can protect your photos  – in Zonerama you can add your own watermark as well as disable the downloading of your photos. In Zoner Photo Studio you can put the copyright and author name and/or contact into the EXIF of the photo and  add a watermark to your images as well. For a quick look at exactly how to do this click here.
There are so many layers to this issue it would take multiple pieces just to scratch the surface but suffice it to say, those of us in this industry will be keeping a close eye on the Mazur vs Lewisville Flower Mound High School case as verdict here may have some important repercussions down the road.