6 Ways the Life and Photos of Sebastiao Salgado Will Stun You 
From a left-wing activist to a master of humanist photography. The work of Sebastiao Salgado (*1944) is amazing in both its sheer volume and the passport stamps and worn-out boots behind it. It shows us the suffering and beauty of the world, often hand in hand. Through his pictures, Salgado evokes in us a desire to understand and protect the world, or at least discuss its downfall. Additionally, he reminds us of just how enchanting black-and-white photography can be as a medium.
What Sebastiao Salgado Would Never Advise
Salgado would never give you advice of the sort: "you need a better lens" or "balanced composition and work with light are a foundation without which you'll never break through," or even "above all you have to drop your mouse and head out and shoot, shoot, shoot." Even though his photographs are technically perfect, the foundation for the work of a socially oriented photographer is, he says, understanding society and one's chosen topics—not the best angle of rotation for a polarizing filter. A photographer should take an interest in not only photography itself, but also history, anthropology, sociology, economics, and geopolitics.
Time plays a fundamental role as well. The more time you set aside for a series, the better you'll understand your subjects, Salgado says. The environment where they live, the situations that shape their lives. "There comes a time when it is not you who is taking the pictures. Something special happens between the photographer and the people he is photographing. He realizes that they are giving the pictures to him," says Salgado.
"Photography is not objective. It is deeply subjective—my photography is consistent ideologically and ethically with the person I am." – Sebastião Salgado
Down into the Mines, Down and Hitting Bottom
Six years and twenty-six countries. His "Workers" series documents the hard-working inhabitants of the poorest corners of the world. Fishermen, weavers, welders, miners, builders, gold-diggers, pickers of tea, cocoa, and tobacco. Here the left-leaning Salgado, with his strong sense of social justice, aims to depict the disappearing world of manual labor and, through it, the end of the industrial revolution as well—without taking away from the workers' dignity.

If this walk through twenty-six countries feels a bit long to you, well, in his subsequent project, "Migrations," Salgado walked even longer—through forty-three countries on every continent. This time he directed his lens and his empathy towards the fates of people living in the slums at the edges of metropolises.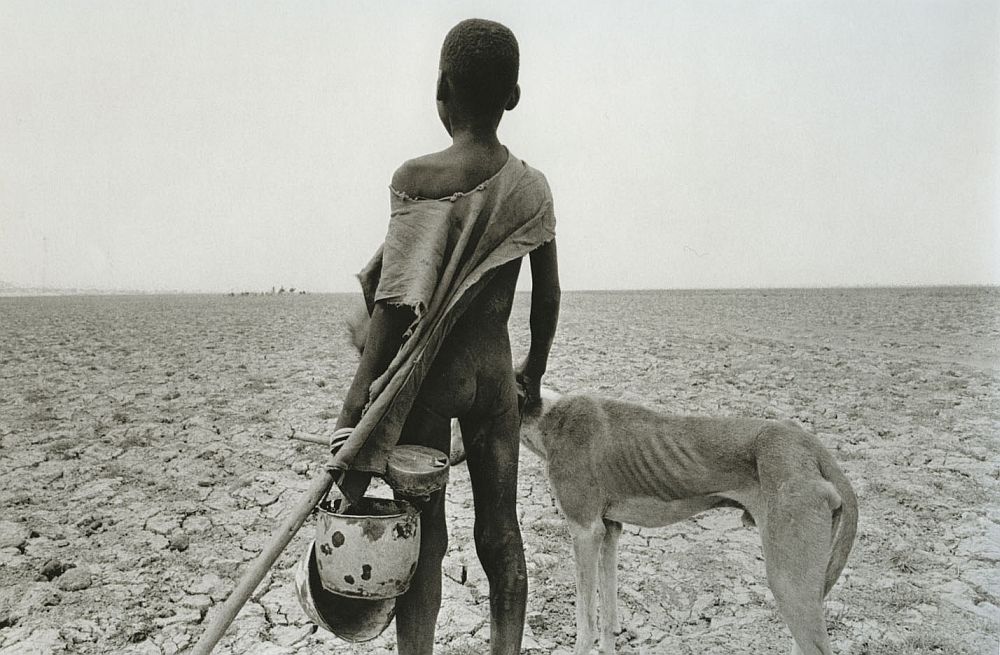 And because he never does anything halfway, his next long-term project lasted another six years and took place in Africa. Alongside Doctors Without Borders, he captured human starvation and death caused by drought. It's hard to imagine the effect that this situation had on this empathetic photographer. Finally while witnessing the Rwanda genocide, he took home the trauma and lost his faith in humanity. He fell ill and his shutter fell silent.
The Man Who Planted Trees
If you're full of curiosity as to what happened next with this Brazilian photographer, I understand. Don't worry; next comes one of the world's great photo series. But first things first: In 1994, Sebastião Salgado came back to his family farm in the Rio Doce river valley near the city of Aimores. The once-wooded hills full of life that he knew from his youth were bare and quiet after years of logging and the devastation of the landscape. Another life-changing blow. He felt the world was just as sick as he was—that it all had been destroyed.
But he had the good fortune to have a good wife. Léia Deluiz Wanick has always supported him in his long journeys around the world even though he has two sons. She has always been the planner of his exhibitions and events, and she has founded an independent organization to disseminate her husband's work as well—but in addition to all that, she came up with an ingenious idea for saving the surrounding landscape and her husband as well. She suggested they could save the rainforest through their own efforts. Ambition visibly runs in the family.

Over the course of just a few years, their volunteers managed to plant two million trees of over three hundred different types. Salgado was surrounded with life, he saw trees grow, and with them came the returning birds, insects, mammals, and the rest of the animals. The time had come for him to find his way back to photography.
Seeking a Lost Paradise
Salgado sought a way to accept the world and react to it, and uncovered a solution: to come back to the beginning and show people a not-so-lost paradise. He came to realize that the planet's environment is likely the most pressing and universal problem of our time. He was 59 years old when he set off on his eight-year journey among places untouched by civilization. Crisscrossing the Amazon, Alaska, Indonesia, the Congo, from Madagascar to Colorado, from Siberia through Chile to New Guinea. Naturally this wasn't for free. The project cost 1.5 million dollars, and countless magazines, foundations, and organizations joined in on it.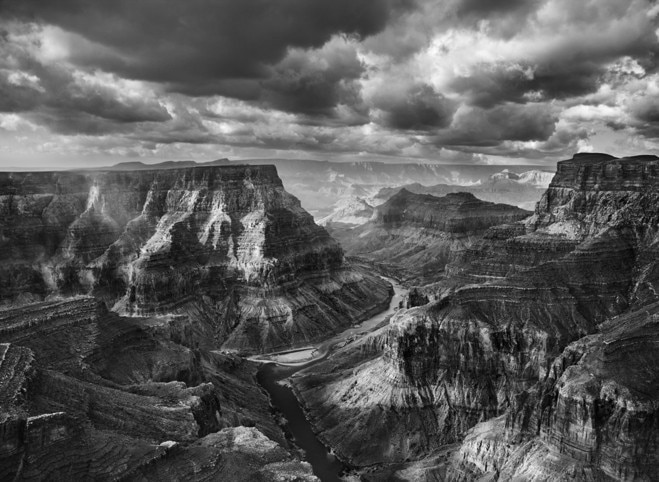 The result was his "Genesis" series, packed with stunning pictures. Photographs of indigenous tribes with age-old ways of living are intermingled here with detailed photos of animals and broad river deltas and mountain ranges from a bird's-eye perspective. Salgado shows the beauty of nature and a natural way of life, to inspire people to protect it. Photography expresses itself in his hands as an unbounded language, a means of communication among nations. 
Learning From a Master
No matter what purpose Salgado ascribes to his photos, he is a true master of black-and-white photography. He supports their content with precise work on their visuals. In the following pictures we'll look at how we as photographers can take inspiration from his works in terms of exposure and composition.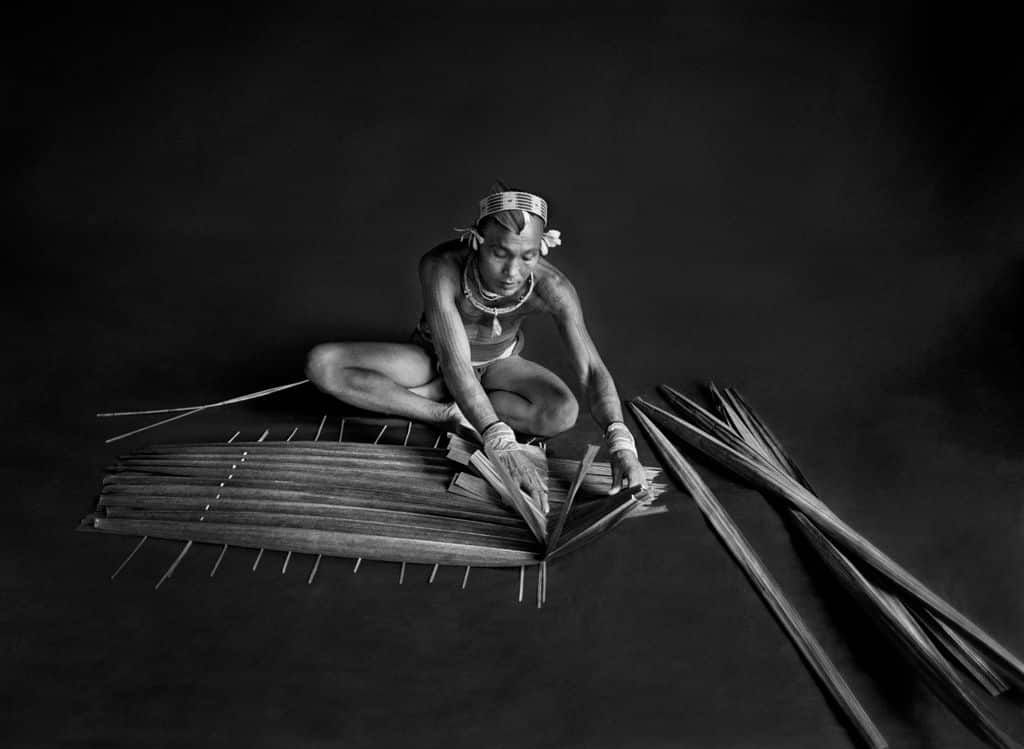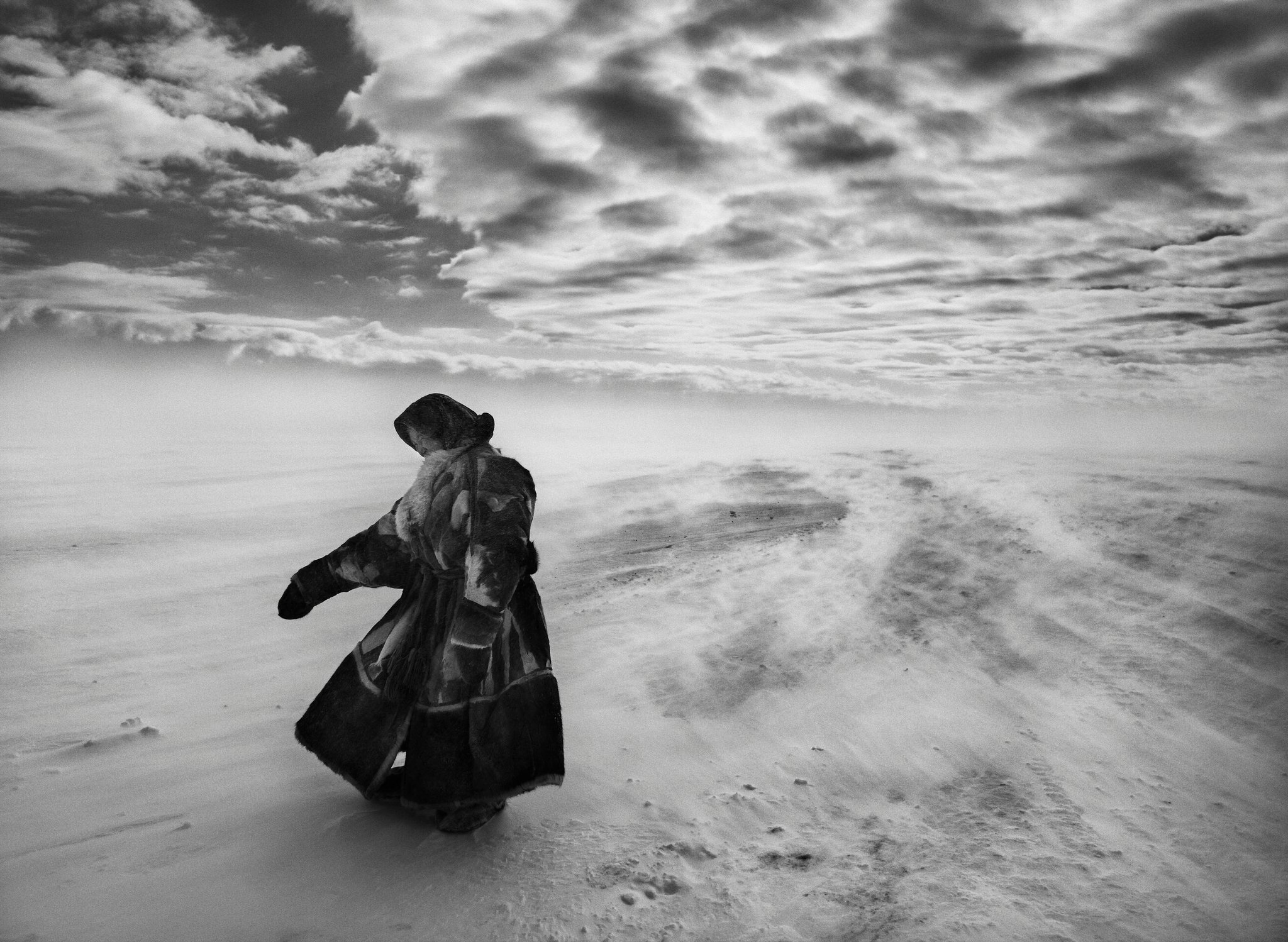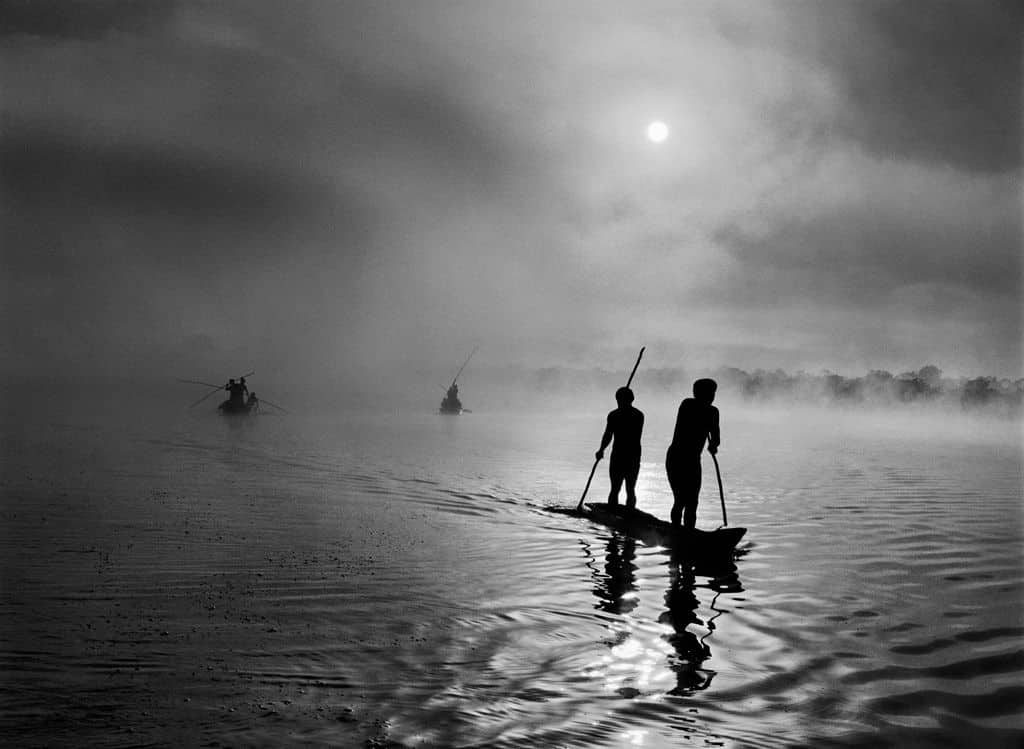 Not only do the pictures in his Genesis series capture the nomadic life retained for centuries in the far north, they are also a great example of photographic minimalism. We can't find even a single element within them that might distract us from the subject. Through this, Salgado also succeeds in depicting a space of never-ending emptiness and quiet. The key to the success of many of his pictures is indeed simplicity, despite the fact that there is likewise a bit of his art in the way he is able to deal with the composition of a picture containing a wealth of motifs, and light plays a large role as well.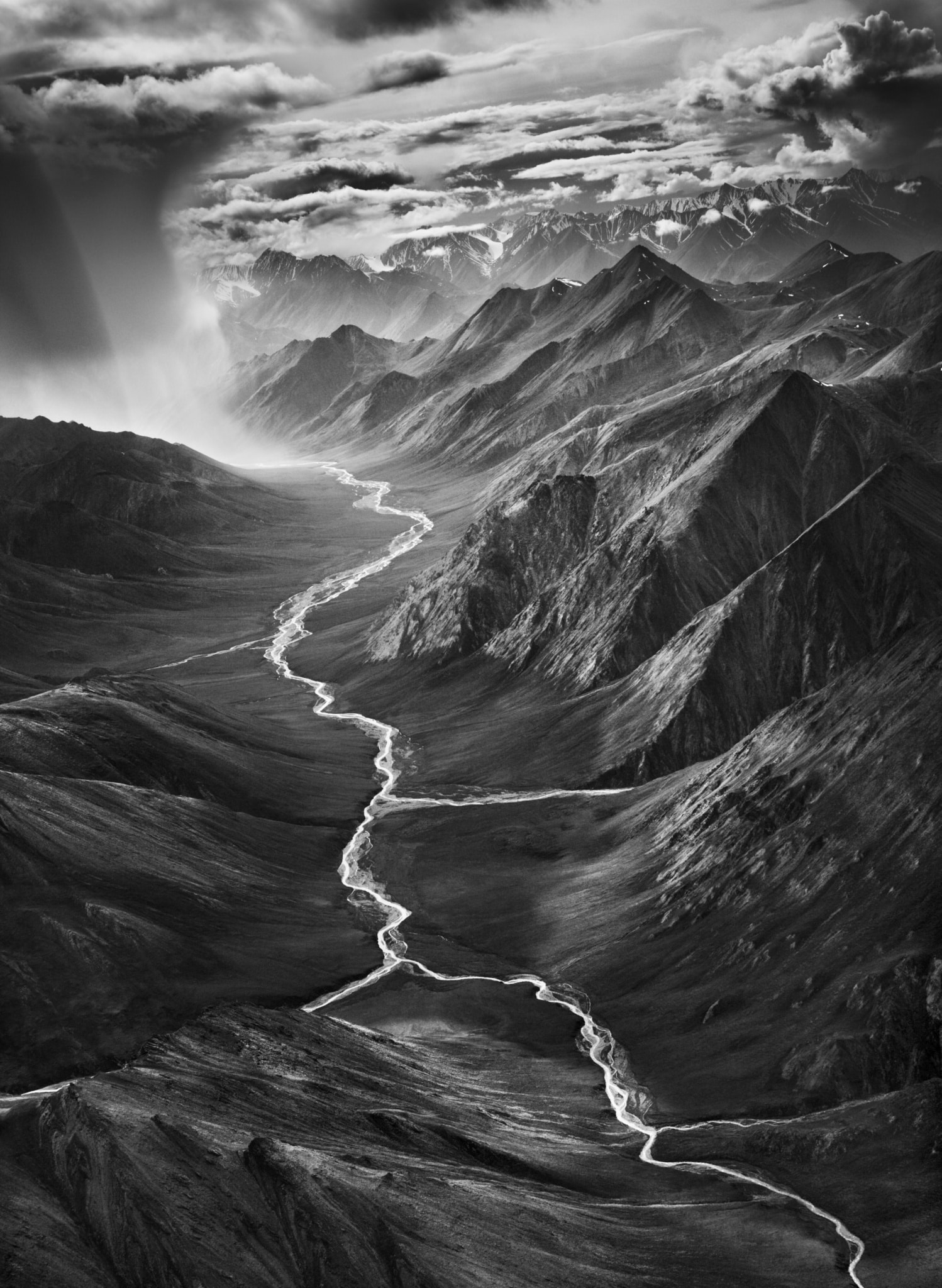 The reflection on the river twisting through the landscape leads us diagonally through the whole scene. A rich range of tones is characteristic for Salgado's photographs. Here he uses a "fifths" composition that is typical for landscape photography, devoting one fifth of the picture to the sky.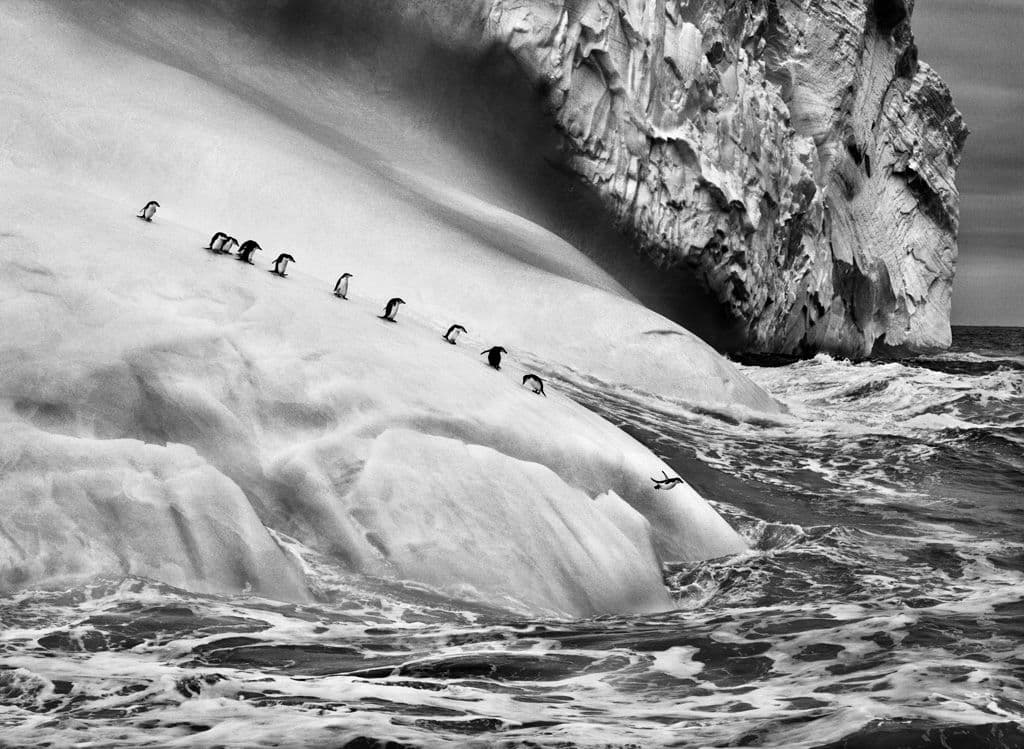 This diagonally executed composition made up of a line of black-and-white penguins against a light snowy background unerringly leads us to the picture's main subject—the group of leaping penguins. The scene overall is framed by the sea and the rocks, which add to the picture's drama. If you've ever seen the documentary named Planet Earth, you know very well that a penguin's life isn't all happy feet.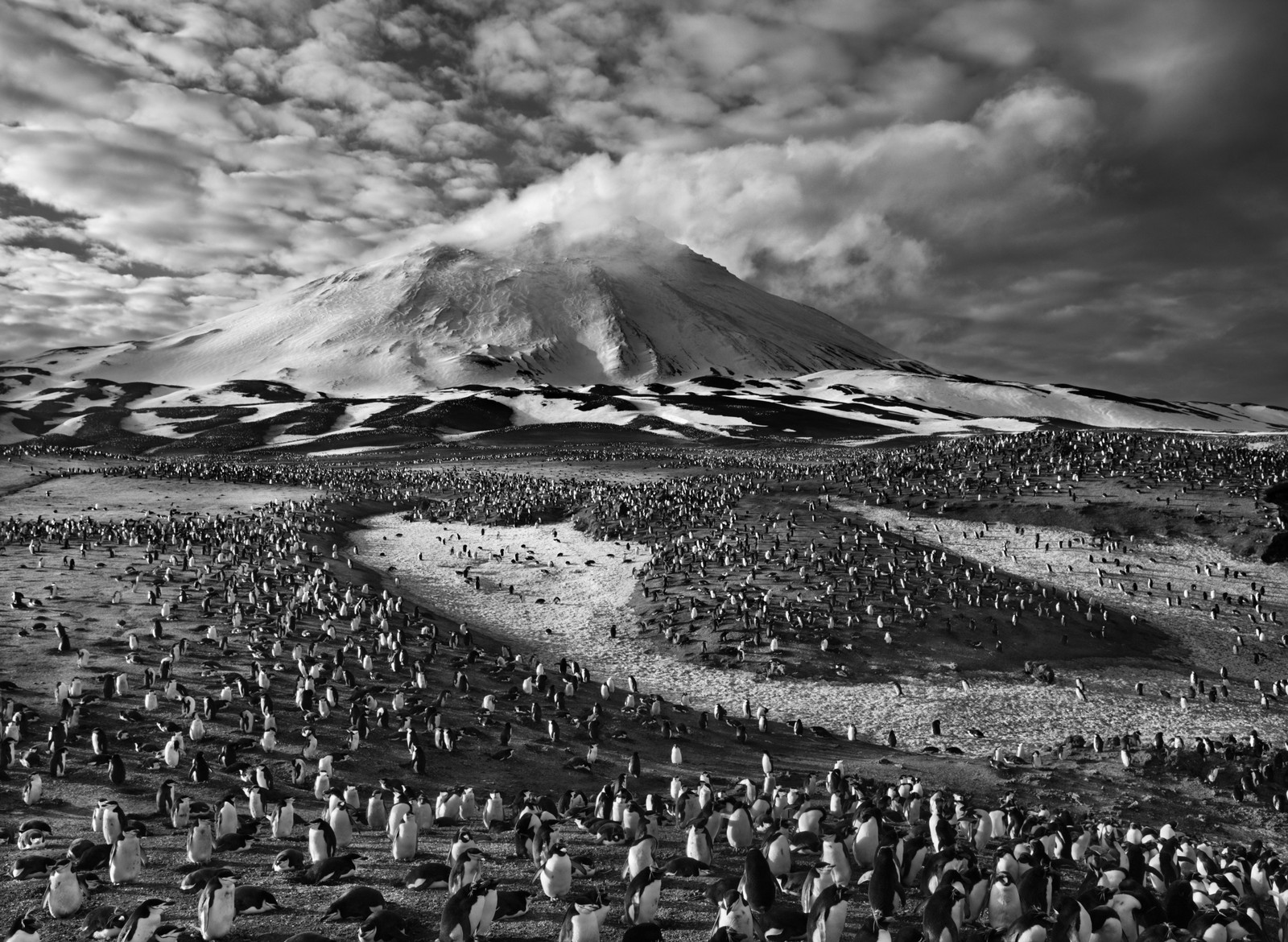 Note how strongly Salgado emphasizes the sky. The clouds are in dramatic contrast in nearly every one of his pictures, in part because of his use of black and white. And yet this does not distract us, but on the contrary leads our eyes to the events down on Earth and keeps them from "escaping" the picture. And for his photos from a bird's-eye perspective, they also add a sense of scale.
Love at First Sight
One personal note in closing. My first encounter with Sebastião Salgado was in Berlin, at a sturdy oak table in one unnamed bookstore. A coffee-table "book of Genesis" laid upon it. "Heh, landscapes and animals again," I said to myself when I began leafing through its pages. Two hours later I was not only in love with Salgado's work, but also highly suspected by the sales clerks of wanting to stick this little 522-page book under my coat and run away. The quality of Salgado's photos in print is bewitching, both in books and at exhibitions. And the personality of the Salgado himself is too.