How to Apply Gradient Filters to Your Photos on a Computer
The Gradient Filter tool is generally used to darken or desaturate the top portion of a photo—the sky. It basically copies the effects of the physical gradient filters that you can place on a lens. In the new Zoner Photo Studio X, this simple feature is enhanced with some new possibilities, opening it up for new uses.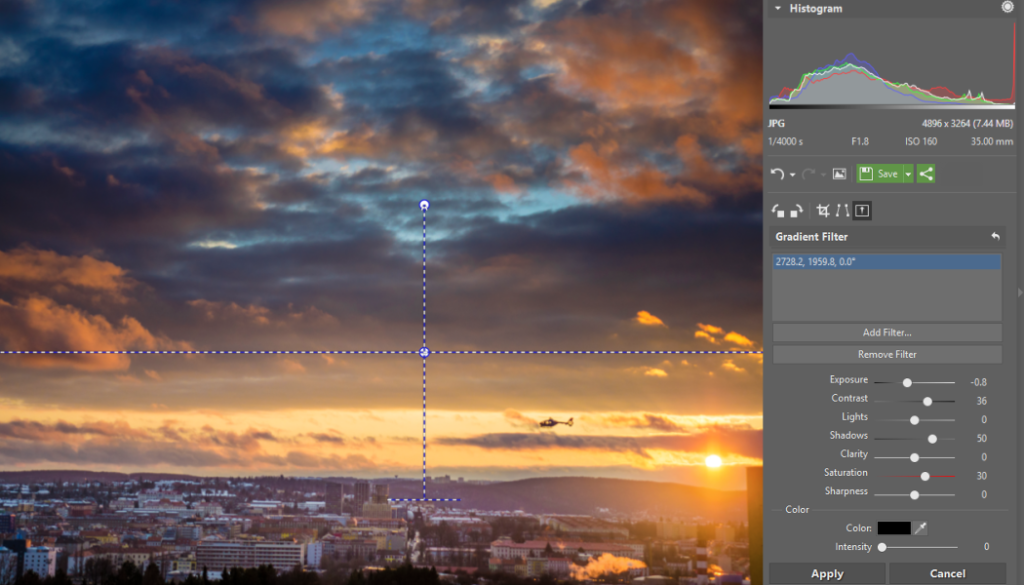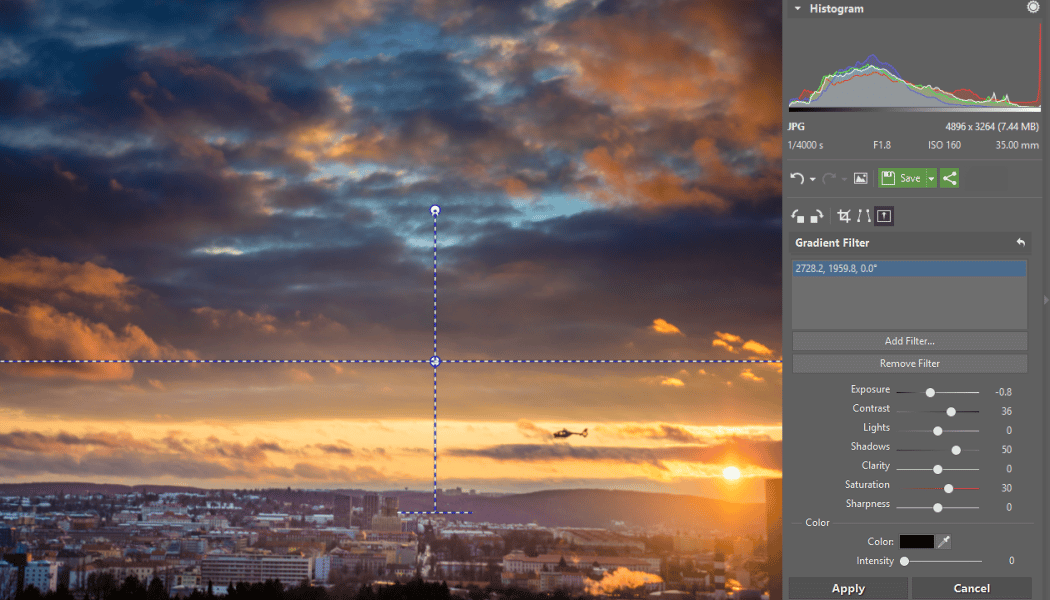 Besides physical graduated neutral density filters (about which you can read more in our article Everything You Need to Know About Graduated Neutral Density Filters), there's also a "virtual" kind. You can find the tool Gradient filter in Zoner Photo Studio, where it was available in the Editor already in earlier versions. But in Zoner Photo Studio X it also became a part of the Develop module, and it has some new abilities as well. So you can now use the gradient filters non-destructively and use them on RAW files directly.
Setting Things Up
Gradient filters now have a total of eight settings that you can adjust.  In addition to the traditional lightening or darkening of photos, you can also have these filters add contrast or sharpen, or work with lights only/shadows only. There is also still the classical option of toning the filter towards a specific color.
Coloring Evening Clouds
Evening skies are generally tinted towards interesting colors. You can further enhance that atmosphere if you'd like, by using a gradient filter to emphasize the saturation and contrast of clouds' colors.
Emphasizing the Stars
To emphasize a starry sky, use the Clarity and Sharpness settings. These settings are available in ZPS in many places besides gradient filters, but when you only need to draw out detail in one part of a photo, e.g. just the stars, the Gradient Filter is the ideal choice.
Enhancing Photos Taken on a Shadow/Light Border
On summer days you'll often have the sun shining directly on one part of a photo while the rest is left in shadow. That leaves one part overexposed and the other underexposed. If this shadow/light border is a fairly straight line across the whole photo, then you can can use the gradient filter to correct it, as I've done here.
Using Multiple Filters at Once
In this photo it would be appropriate to darken the sky a bit more. Click Add Filter to add another gradient filter to a photo that already has one. We'll have the second filter darken only a small piece of the sky at the top. Notice how, if you're applying multiple filters, you can use the box at the top to keep track of them.
Color Toning Just Part of a Photo
Another thing that you can use gradient filters for is color-toning just one part of a photo. For this, however, you will want to choose the Gradient Filter within the Editor. That's because you'll be needing to use the Mode setting to set the Difference blending mode. I'll be using a dark violet filter for illustration.
A Practical Tool That Will Save You Time
Personally I actually prefer to wait and use a gradient filter on my computer, not my camera, because when I'm shooting there often isn't time to mount something onto my camera. If you're shooting to RAW, you'll usually be able to pull out enough data that your picture will still look fine after you've applied gradient filters in post-editing.
The new abilities for gradient filters in the Develop module make them an extremely practical and effective post-editing tool.

Last updated 2. November 2016