Change a Photo's Colors in Just a Few Clicks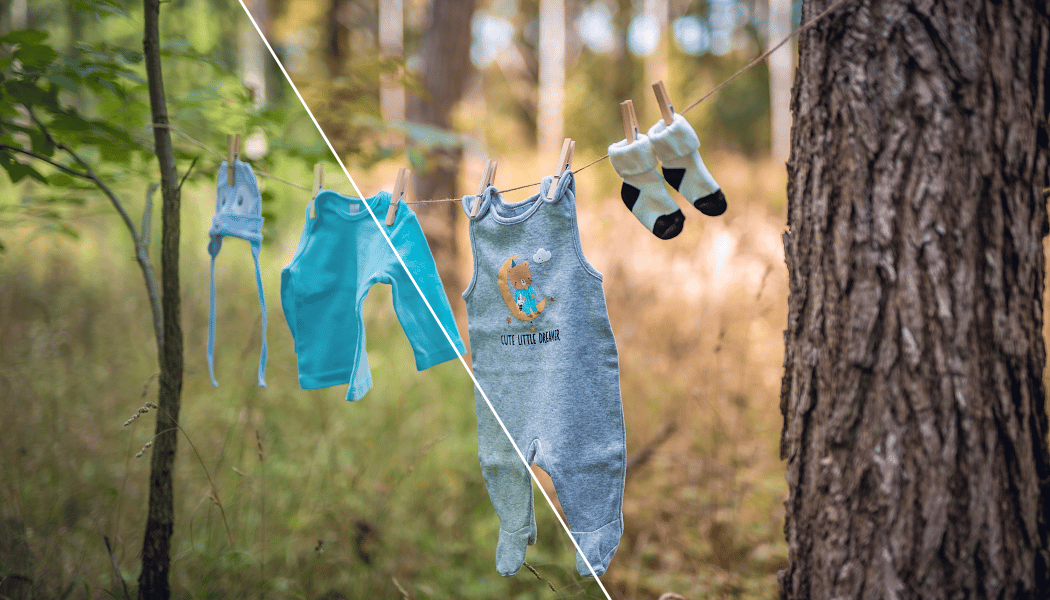 Turning blue into red, turning green into yellow. These are some great options to have in your toolkit. And meanwhile edits like these aren't really hard at all. You can change a photo's colors in just a few clicks. And that goes no matter whether you want to change just one object in a photo or shift colors throughout a photo.
Overall recoloring comes in handy for example when you want to give a photo a different atmosphere. Changing the color of just a single object, meanwhile, is something you'll more likely use in creative edits and various experiments. But the process is similar for both jobs.
Tinting a Whole Picture
The Develop module in Zoner Photo Studio X will help you with editing a picture's colors overall. The tool for changing colors here is in the Color group, just below the exposure sliders.
Within that group, expand the Color Shift controls, because that's where you can work the biggest magic.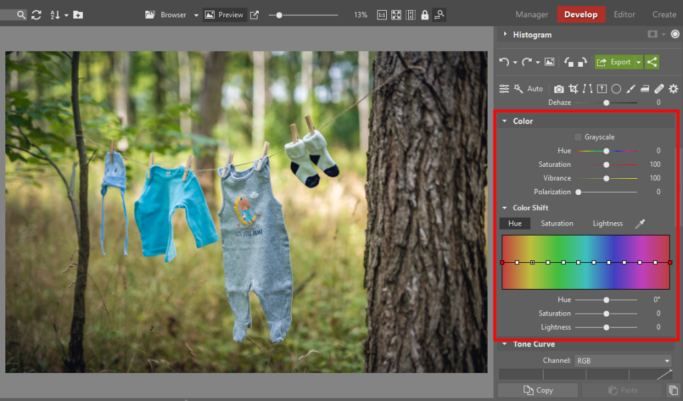 With this feature, you can adjust the
Hue

,

Saturation,

and

Lightness

for individual colors.
Use the Eyedropper
To make sure you're adjusting precisely the color that you want, use the Eyedropper. It will really speed up your work.
Activate it and click on a place in the photo that has the color you want. That then becomes the selected, active color.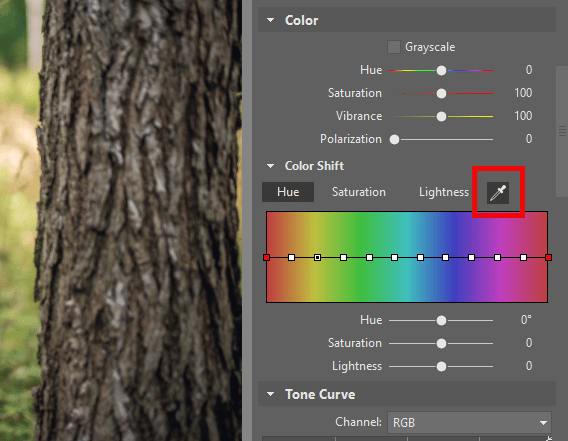 Try Out Different Hues
Shift colors around based on what feels and looks good for you. Or if you'd like to be trendy, try shifting blue to turquoise and green to orange.
But whatever you do, take it easy and try to keep it looking natural.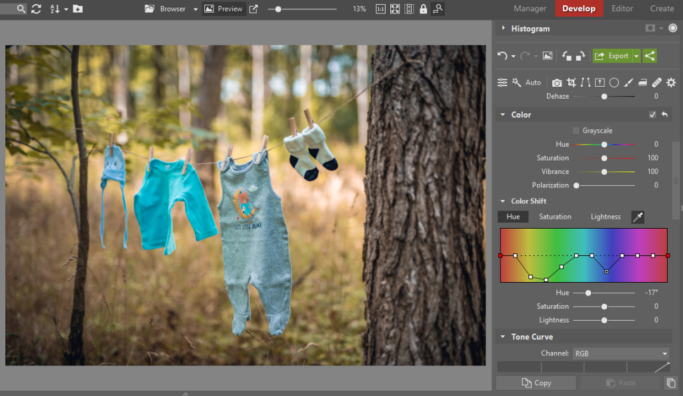 To keep a color shift around so you can re-use it later, save it as a Preset. Then you can find it and use it again at any time. Even on a whole batch of photos at once.
A photo before and after color shifting.
Toning down a picture's green shades is one interesting option for recoloring work. But watch out that there isn't some green in someone's clothing in the picture, like there is in our example. Still, the solution is simple even then. It's similar to work with balancing skin tones.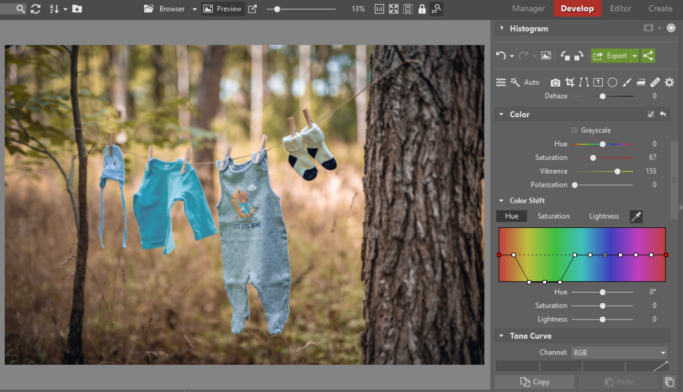 Color shifting in Develop has the limitation of only being able to shift a color's hue to a limited degree. So you can't, for example, turn yellow into purple.
If you need to change colors more strikingly, switch into the Editor.
For Big Color Changes, Use the Editor
Just like the Develop module, the Editor offers a Shift Colors feature. Just click the Adjustments button and scroll down to the Effects group. This is useful for shifting a single color throughout a picture. It works the same as in the Develop module, but with the difference that you can apply your edit (using the Apply button) as many times as you'd like. That lets you shift colors much more strongly.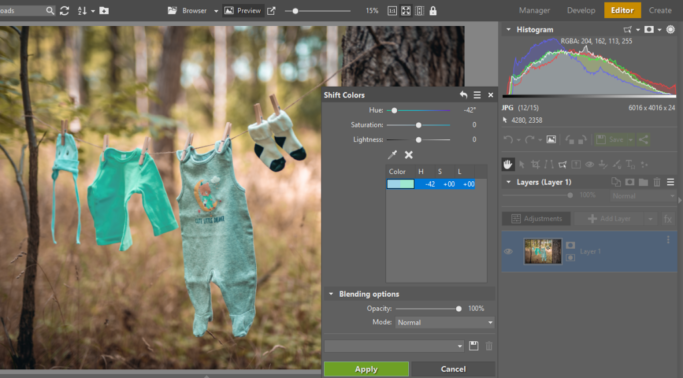 Changing the Colors in Just One Part of a Picture
If you need to shift a color just within some particular object instead of the whole picture, use the selection tools and masking.
First select the object using, for example, the Magnetic Lasso (A). Then duplicate the current layer, and then use Mask – Reveal Selection.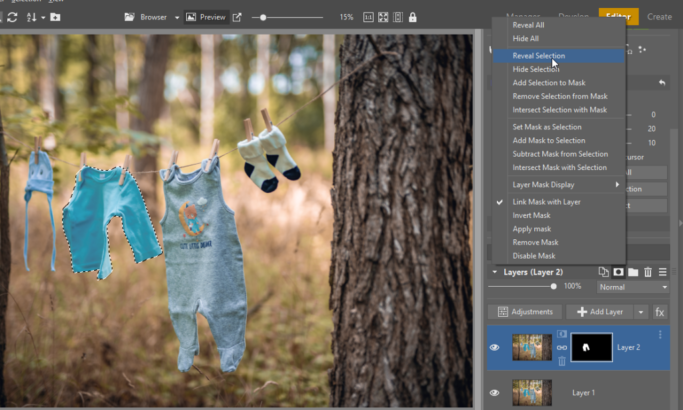 Then feel free to cancel your selection. Thanks to the mask, your changes after this will only affect the area that you selected.
You can use Shift Colors for this, or turn to Enhance Colors. Enhance Colors has the advantage of being able to shift colors much further at once. That speeds up your work. But on the other hand, it shifts the whole color spectrum, so it's a bad choice for multicolored objects.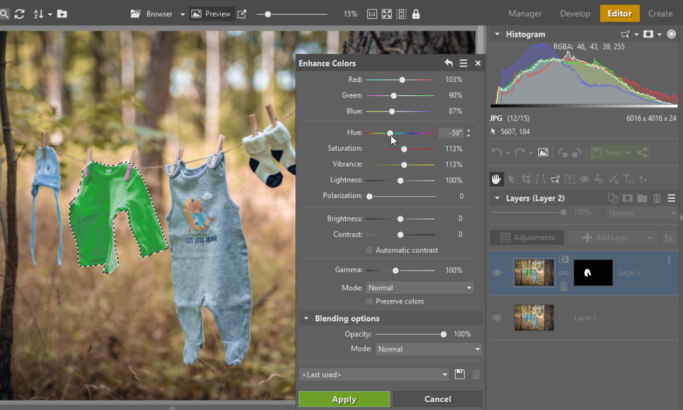 The layer's thumbnail shows shifted colors in the entire photo. But because you used a mask, that change is only actually expressed in your selected object.
Go through and use this same approach on all the objects whose colors you want to change. Then save the result.
Unlimited Possibilities
Don't be afraid to try out color shifting on your own photos as well. Just download Zoner Photo Studio X, try it 30 days for free, and get started editing. The possibilities of color shifting are endless.
But don't get too crazy.
Remember that the biggest color mistakes will always be visible in people's skin color. That's a place where the line between "still OK" and "now it looks unnatural" is clear immediately.