5 basic edits to improve your photography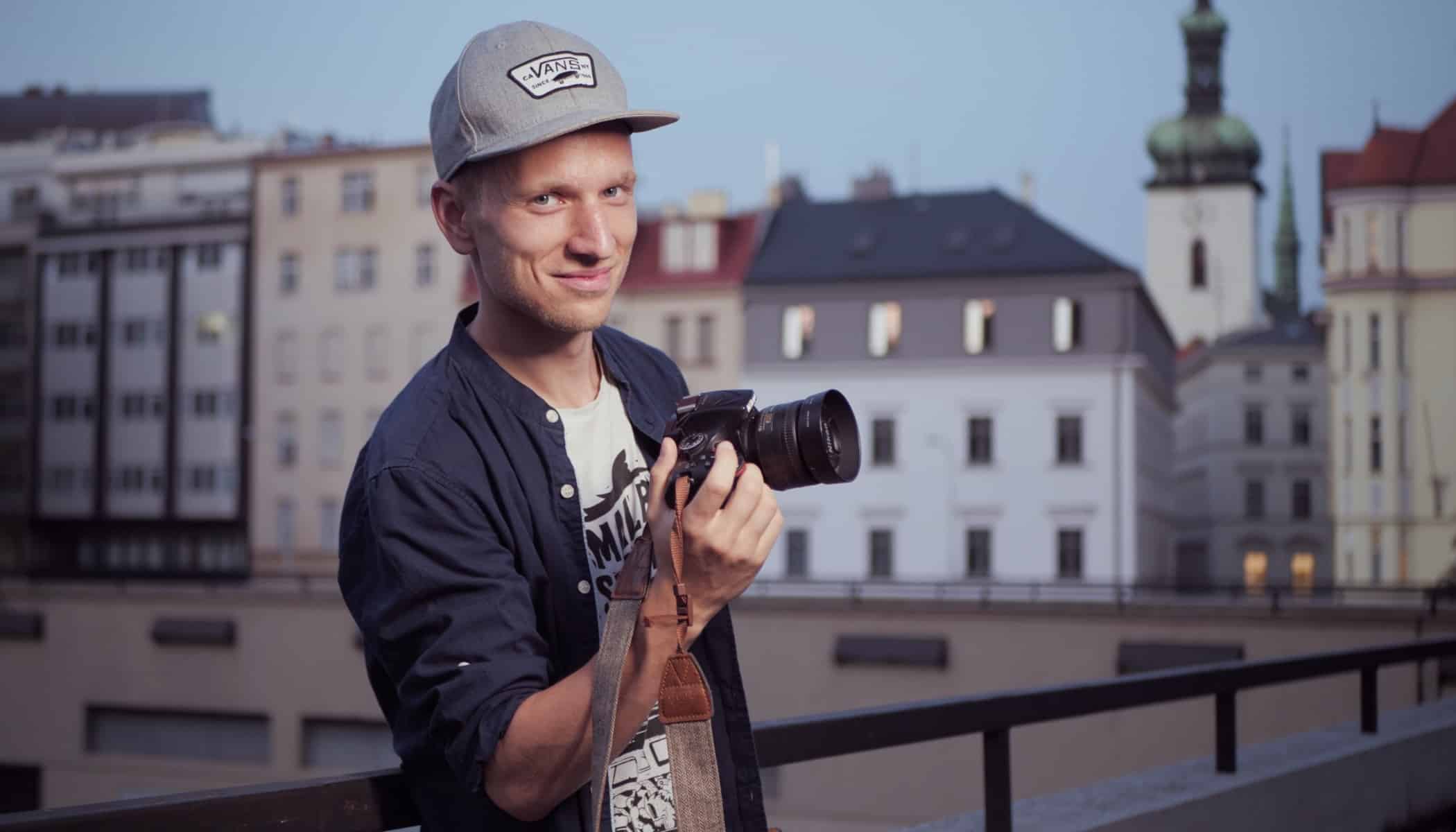 Almost every single photograph that is taken on your digital camera will need at least some type of editing. In just a few simple steps, you are able to take your photograph up a notch. Whether you need to lighten up an image that's too dark, or you're unsure how to crop a photo, this article will help you.
If you're new to photography, you may be wondering what type of editing you should do to make your photos really stand out. We'll show you some very basic edits. Master them and you'll manage to correct some of the most common photo mistakes. For instance, they'll help you correct an image that's too dark, too yellow, or crooked. You'll soon see how with a bit of basic editing, a little really goes a long way.
Switch to the Develop module in Zoner Photo Studio X where you are able to do non-destructive editing.  If you find one of your adjustments doesn't work, you can easily return your photo back to its original form. At the same time, the software won't overwrite your original photograph, so you don't have to worry about losing your original photo.
1. Crop and Rotate
Use the Crop and Rotate (C) tool to easily straighten your crooked photo or crop to improve composition. In our demonstration photo, the horizon is extremely tilted and requires straightening. To straighten the photo, use the Rotation slider. Or, you can click outside the highlighted crop area, and then drag and rotate. 
For more advanced straightening of the horizon and intersecting lines, you'll find the Straighten Lines (K) tools very helpful. However, for basic editing, Crop and Rotate (C) should suffice. 
Cropping will help you edit composition or remove distracting items from your photo. In the demonstration photo, I cropped the photo so that the subject was placed approximately according to the rule of thirds. 
Be careful not to crop the photo excessively. In doing so, you're needlessly reducing its resolution, which you'll need later if you're printing in larger formats or sharing the photo on Facebook. We also recommend you use a fixed aspect ratio. This will help you print in standard formats. For instance, you can't go wrong with 3:2 or 4:3 aspect ratios, which are proven and frequently-used ratios. 
2. White Balance
White Balance is an important adjustment. Frequently when shooting in artificial light, the photo is overly yellow, or when shooting after the sun goes down, it may be too blue. 
White Balance can be adjusted with the editing tools found in the righthand panel. It will also help you tweak color temperature. If your image has an object in a neutral color (white or gray), we recommend you use the eyedropper and click directly in a neutral part of the photograph, such as the eye-whites, a white shirt, or snow. 
If the image doesn't have a neutral color area, adjust White Balance with the help of the Temperature and Tint sliders.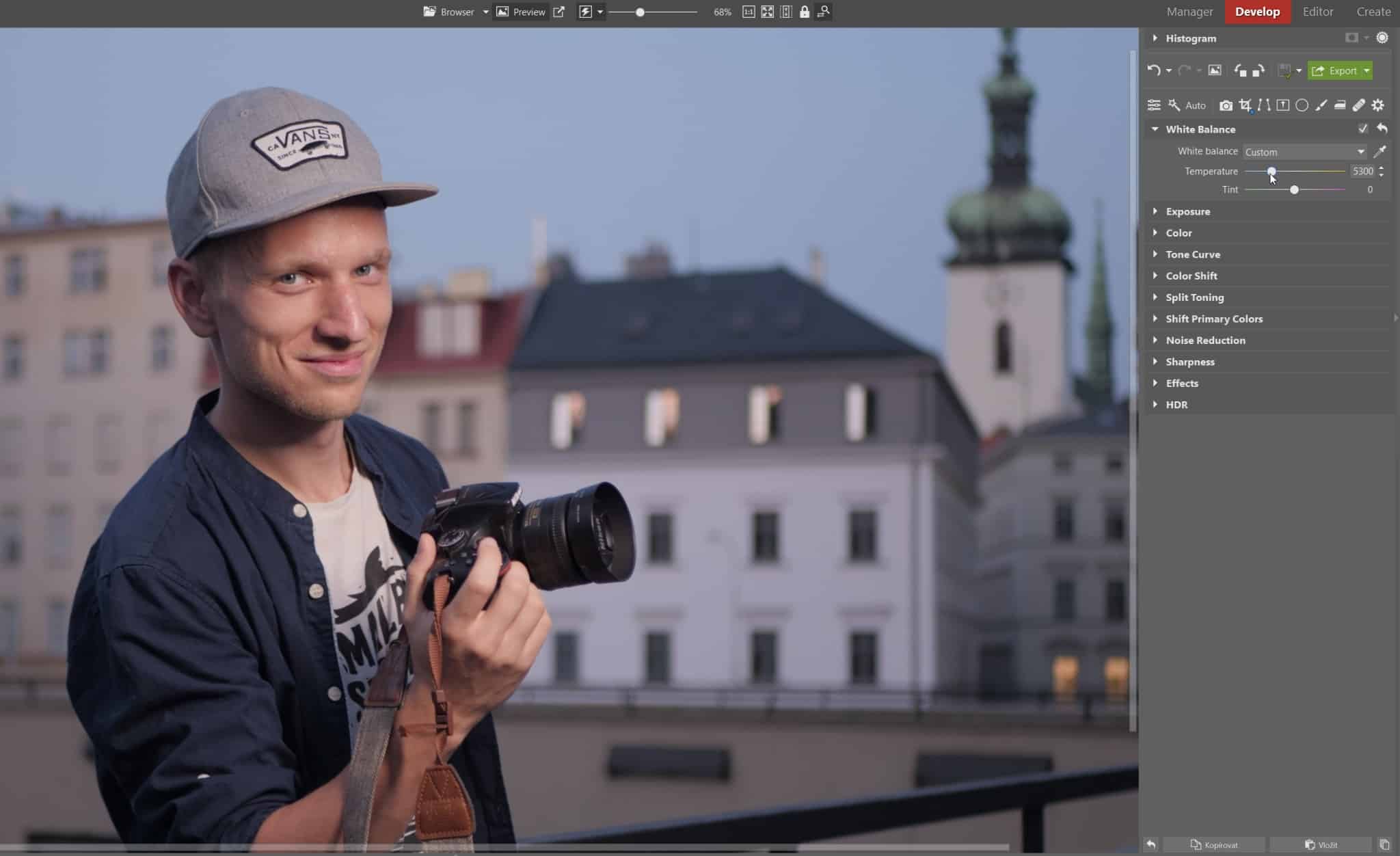 3. Exposure
By working with the sliders in the Exposure panel, you will lighten or darken the photograph, along with other adjustments related to exposure. First, use the Exposure slider. The positive Exposure values will lighten up the image, while the negative values will darken it. 
Lights and their dimming will come in handy in the case that your image is overexposed, or has overly light areas. Moving the slider into negative values can reduce this issue, but not completely eliminate it. Positive values, on the other hand, bring out the light. The Shadows slider works in a similar way, but this time in the darkest areas. 
Black point will then darken dark areas. It is used in the case that black is lacking in the photograph. White point performs a similar function for lighter areas. 
Only use Light, Black point, and White point when you are unable to properly adjust your photo using the Exposure slider. 
When adjusting Contrast, you'll rarely adjust the values into the negative. You will only need to lower contrast on rare occasions. 
Make sure your photograph has details in both the lights and the shadows. A great way to check your exposure is by keeping an eye on the histogram, which displays how the brightness (lights and shadows) is distributed in your photo.  
We also recommend you use the Clarity slider. With it, you'll increase contrast at the objects' edges. Overall, it makes the photo stand out a bit more and appear a bit sharper as well.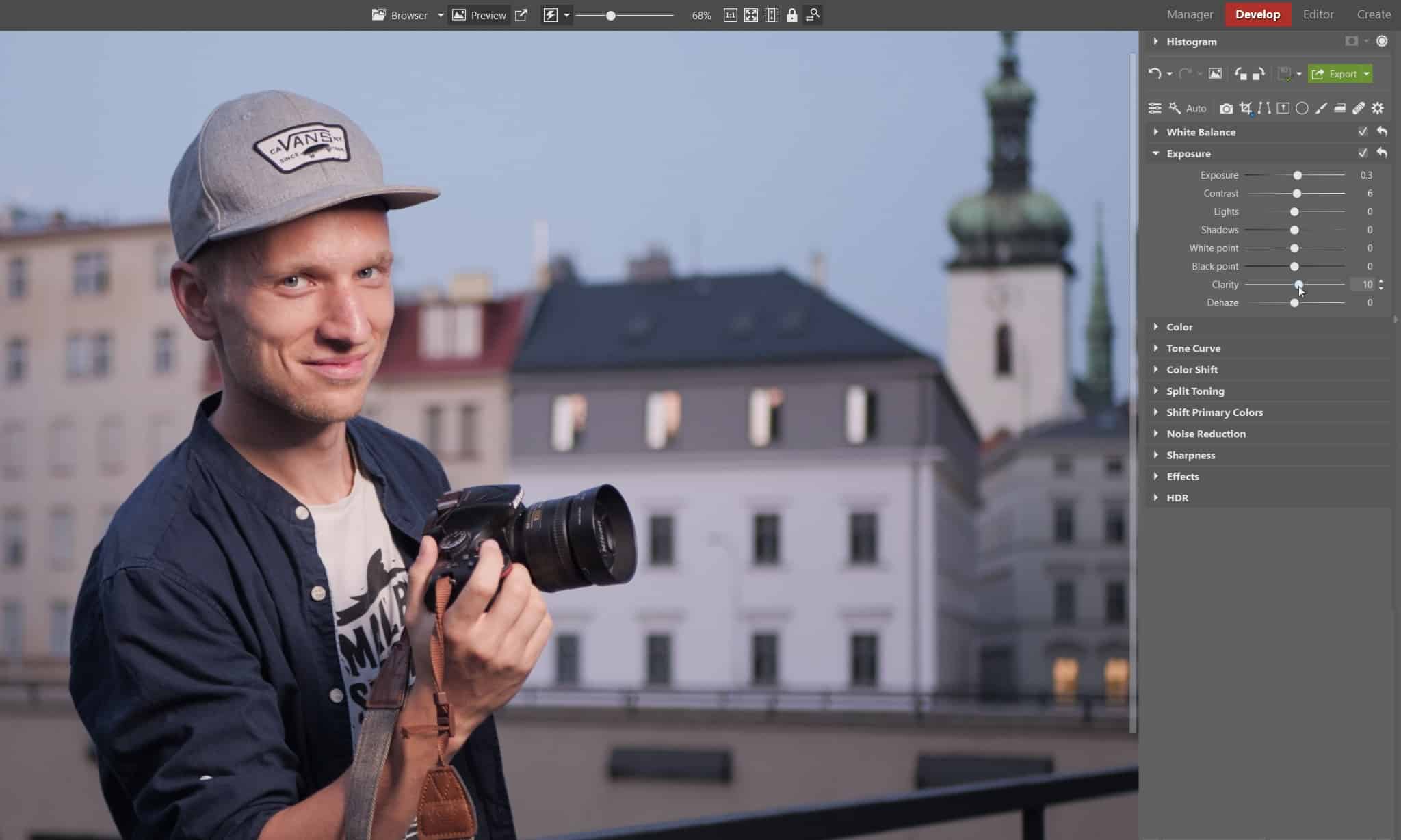 4. Basic color correction 
Color saturation is among the first things that require adjustment. Go to the Color panel and keep your eye on the Saturation and Vibrance sliders. The Saturation slider will affect the saturation of all colors found in the image. The Vibrance slider will only affect those that were less dynamic in the original image. 
It is usually a good idea to lower Saturation and increase Vibrance. This way you'll get more balanced colors.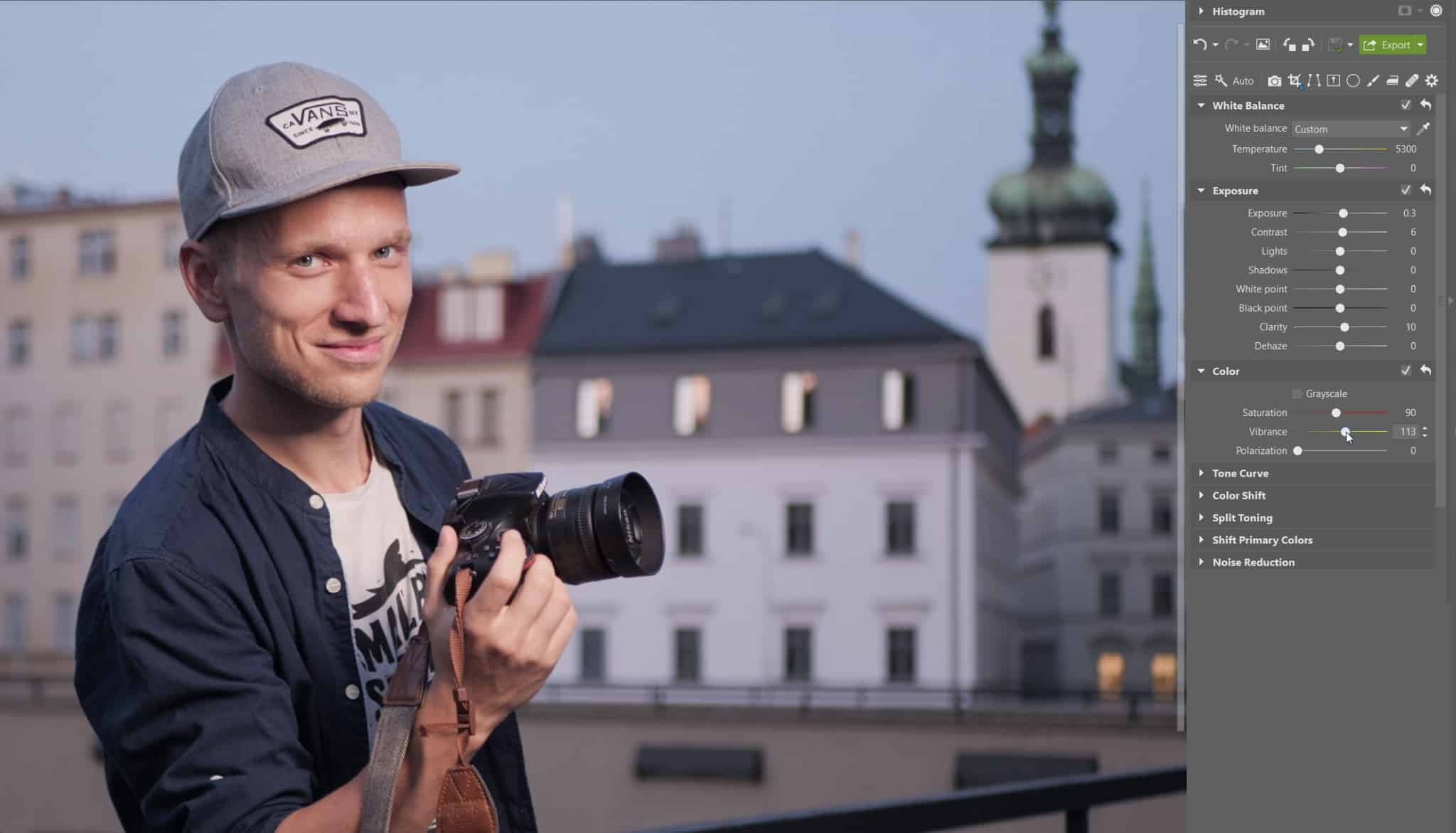 A very quick and easy, though effective adjustment, is Split Toning. It will help you give your photo the look you want. On the color wheel, you'll choose the colors Zoner Photo Studio X should use for the shadows and for the lights. 
Lights and shadows can be clicked separately and you can set their saturation or hue more precisely. There are a number of color combinations you can use, but we recommend you use complementary colors. They are the ones that lie on opposite sides of the color wheel. 
Zoner Photo Studio X has a full range of other tools for color work. Change the color of an object or the entire photo with Color Shift. Adjust basic RGB channels using Shift Primary Colors. Color Shift can also be used locally. 
5. The cherry on top – effects 
In the Effects panel, you have the option to add a vignette or grain to your photo. Both effects are frequently used and much-loved, but we recommend you don't overdo them. A well-done vignette rarely ever detracts from your photo, but rather will help draw your viewer's attention toward the center of your image. 
The ideal amount of vignette is that which you don't even notice at first. This effect can also be made using the Radial Filter (R). The radial filter has the advantage that you can create many other effects using it. But that's been written about in the article 5 tips for getting creative with the Radial Filter. 
And the finale? Save and get ready to show off 
These are some of the most basic editing steps. As soon as all the values are set and the picture is to your liking, save it using the Export button. Choose between TIFF, PNG, or various JPG formats. 
When exporting completed photographs in the Develop module, you can choose from various settings and conveniently export the photo in various sizes at one time. With a single click, you'll save it in full-quality as well as sizes suitable for sharing on social media. 
TIP: You'll find more useful information in the article 6 most frequent photo problems and how to solve them. 
See for yourself how easy it is to get the right exposure or crop your photo like a pro. Download Zoner Photo Studio X free for 30 days and see how you can improve your own photos in a snap.