Get inspired! Halloween portrait photography and edits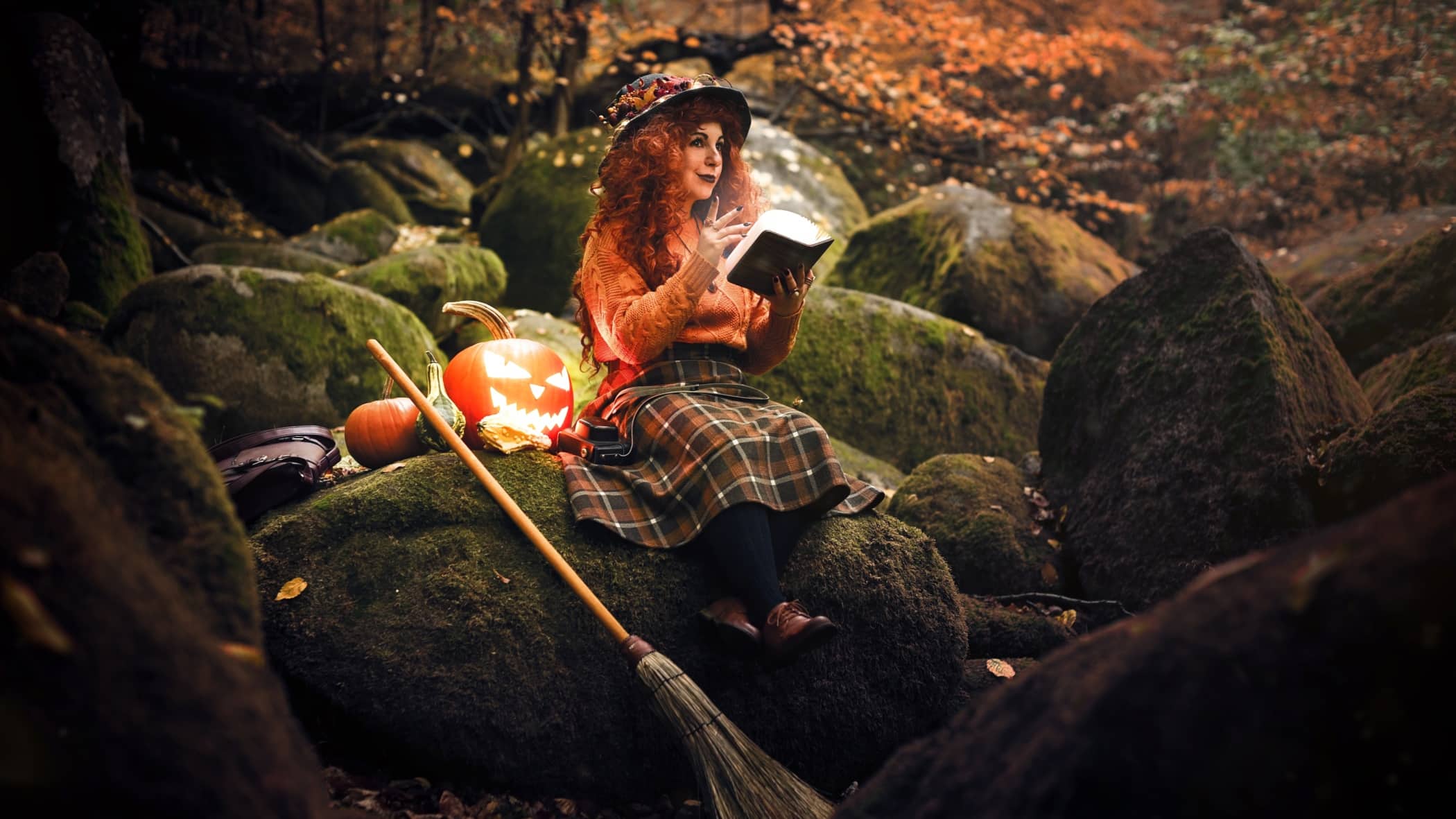 Halloween is one of those photographic opportunities that we most look forward to. It's a creative and imaginative time full of costumes and jack-o-lanterns. That's why this year we've put together for you a Halloween-inspired photoshoot with a witch, her broomstick, and pumpkins. 
Every year, there are plenty of ideas for what to photograph during the Halloween season. You can make a spooky atmosphere, or even horror themes can be captured. But at the same time, we see cute witches with curly hair and black cats. Pagan culture and different bloody rituals are also gaining popularity.
In a photoshoot like this, however, it is necessary to consider whether we know enough about the topic to not make a fool of ourselves by driving a certain culture, such as the pagan culture. There are so many themes to choose from that you don't have to worry about a lack of options. We set out with our friend Joan to take a few fairytale witch portraits. I had the witches of Hocus Pocus or Sabrina the Teenage Witch in mind as my inspiration.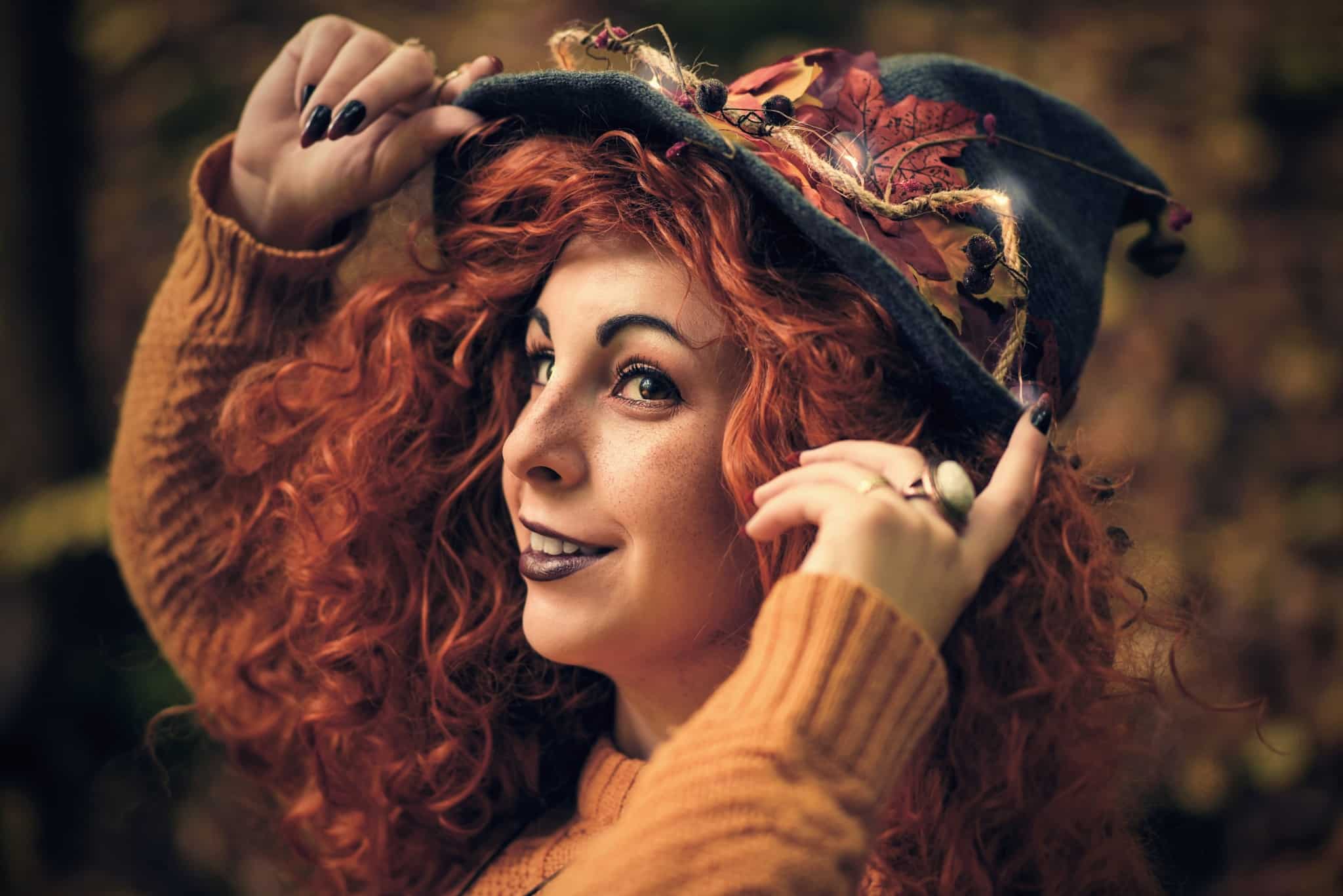 Don't forget the smoke bombs
I love working with smoke bombs. I'd much rather use a transportable fog machine, but right now, it's beyond my capabilities. Nevertheless, even with smoke bombs, be careful and responsible. You need to report their use to your local fire station. Luckily, all you have to do is fill out this online form. 
Also, whoever is helping you with placing the smoke bomb needs to wear heavy-duty gloves. More than once, this product has exploded in its users' hands! Don't let yourself be scared away, but do be careful. The result will be worth it. Like the moment when the sun breaks through the trees and the smoke bombs create columns of light. It's all very photogenic. 
Or, if you're more of a risk-taker, you can wake up at the crack of dawn and hope for fog. It's certainly a safer, yet unpredictable effect that Mother Nature gives us. Neither the model Joan nor I are early birds, so we took the pictures after lunch. A great trick which you can try is putting the smoke bomb into a carved pumpkin. We had it planned, but whatever happened, it slipped our minds. Now, at least we know what we'll do next year. 
A beautiful hat that Joan herself made is perfect for our photoshoot, but pay careful attention to just how much the hat shades the face. Have your model lift her head a bit and catch the light from the sky. Or help your lighting with the use of a reflector.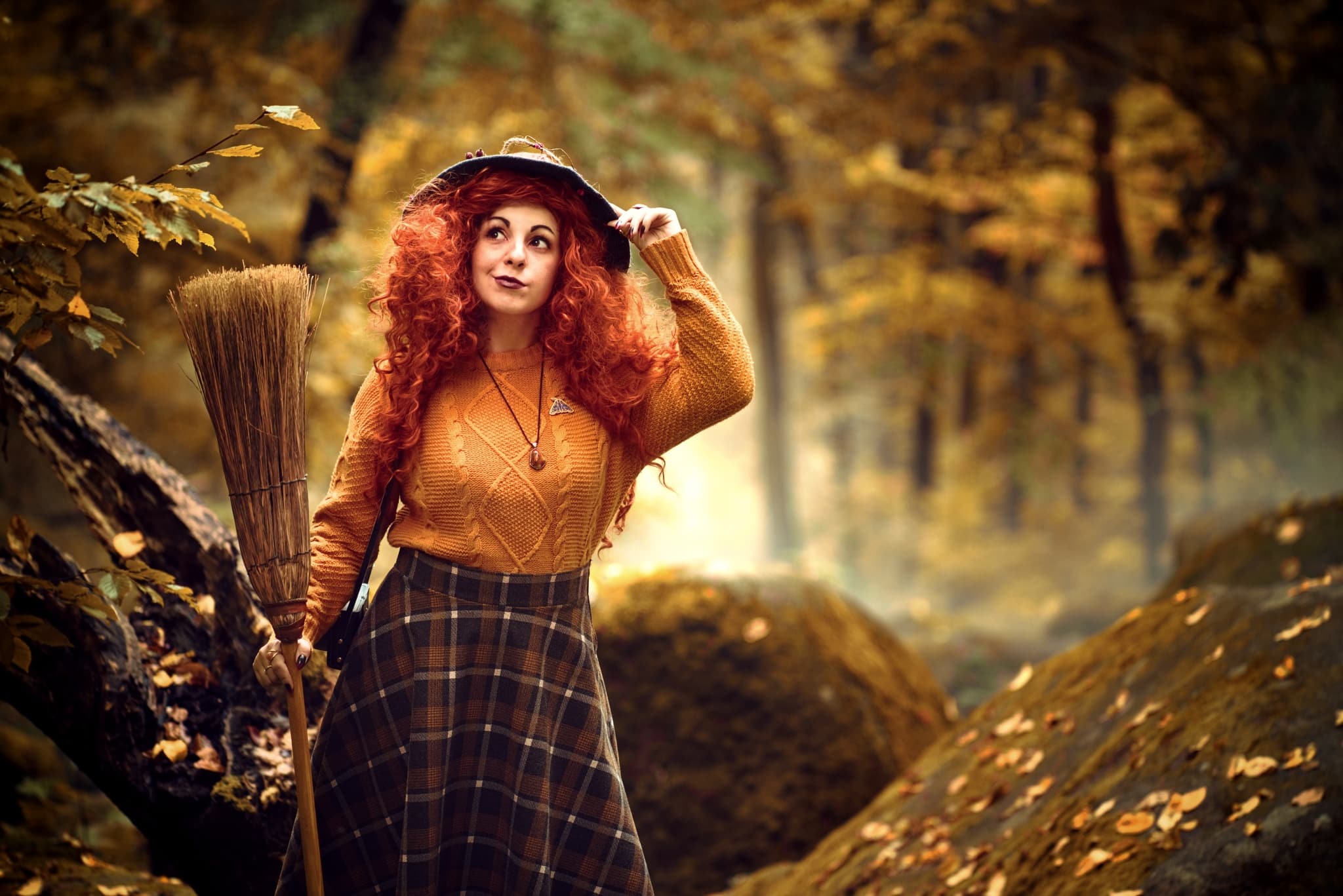 A majestical trip into the woods 
Though we had plenty of props for our photoshoot, at one point we noticed the beautiful mushrooms growing on the tree roots not far from us. So, we decided to climb the tree roots. Joan had a beautiful old 35mm camera with her and her whole witch look was quite modern, yet with a touch of vintage. Then, we got the idea for a photo of her taking pictures of mushrooms for a filmstrip movie– and also my favorite photo from the whole photoshoot. 
Of course, getting to the little mushrooms was a bit treacherous. In the middle of fall, the ground is often wet, can crumble, and is slippery. The hill in front of us was very steep and Joan had great shoes for photos, but I wouldn't recommend them for rock climbing. In the end, we did it. Just when we finally scrambled up the hill, Joan started to strike a pose for her photo and her hat fell. It tumbled all the way down the hill. 
While I was laughing at her, I was holding on to the tree roots because my feet had dug into the ground and were slipping out from under me, pushing dirt down the hill. Down the hill, where anything that hadn't been nailed down or glued was falling. After a bitter fight and several near-death experiences, we finally got the shots we had set out for. We have no regrets! 
Treetops 
One of the telltale signs of fall portrait photography is the colors. The most beautiful ones are hidden high up. The most beautiful fall leaves are above eye level, often at heights of several meters. When I see a tree with emblematic yellow, orange, or red colors from a distance, I quickly run to it with excitement. Only then do I realize that I will have to lay on the ground to capture the colors behind the model, or lose the battle with composition and move a few (kilo)meters closer. That's why in this particular photoshoot, I appreciated shooting in hilly terrain. 
On the way back to the car, I noticed the treetops below in the valley were suddenly at our level. So, I rushed Joan over to the wonderful burst of yellow that had taken shape before us. And because Joan had on a beautiful yellow coat, the overall feeling of the photo in combination with her orange sweater and red hair created a color spectrum that's just about as autumnal as can be.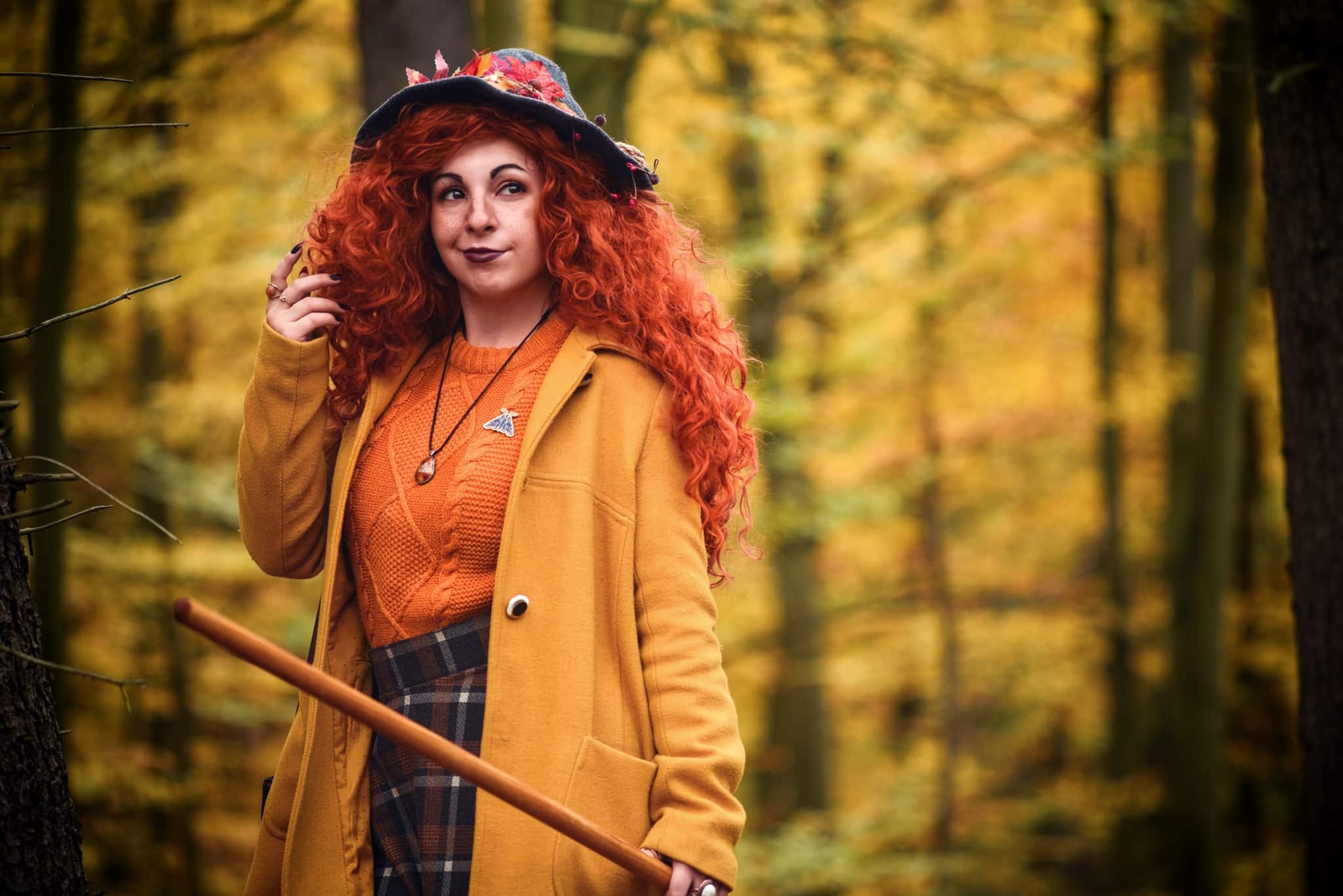 Don't be afraid to bring your entire closet with you 
One of the things I've learned is props for photos are always a big advantage. They can be a source of inspiration, increase production value, and be entertaining to hold. 
They are a source of inspiration because thinking about how to use the items gives way to ideas for composition, an overarching theme, and poses. We brought a book which lights up when opened, a large, carved pumpkin, a small squash, a retro camera, broomstick, witch's hat with lights, and a goat skull.   
These will give you at least six ideas where you'll be able to use each prop. Then you are left with one photo where you place all the props, and some where they are combined. And all of a sudden, you have a good hour's worth of work. 
Increased production value happens when you add something extra to your photo. It's the idea that the extra effort you've put forth is interesting and beautiful. It adds that extra 5% to your results. And every percent counts. 
Something to occupy your hands, like a cane, is used so that models have something to do with their hands. In costume photography, it is a good idea to put something in your subject's hand. It adds to the natural feeling and is often a part of the storytelling that is integral to costume photography. What's more, it doesn't look good when your models' hands simply hang at their sides. Hands should, in some way, be occupied even if it just means they are in their pockets. But, putting a broomstick, cane, or magical potion in your subjects' hands brings your photography to a completely different level.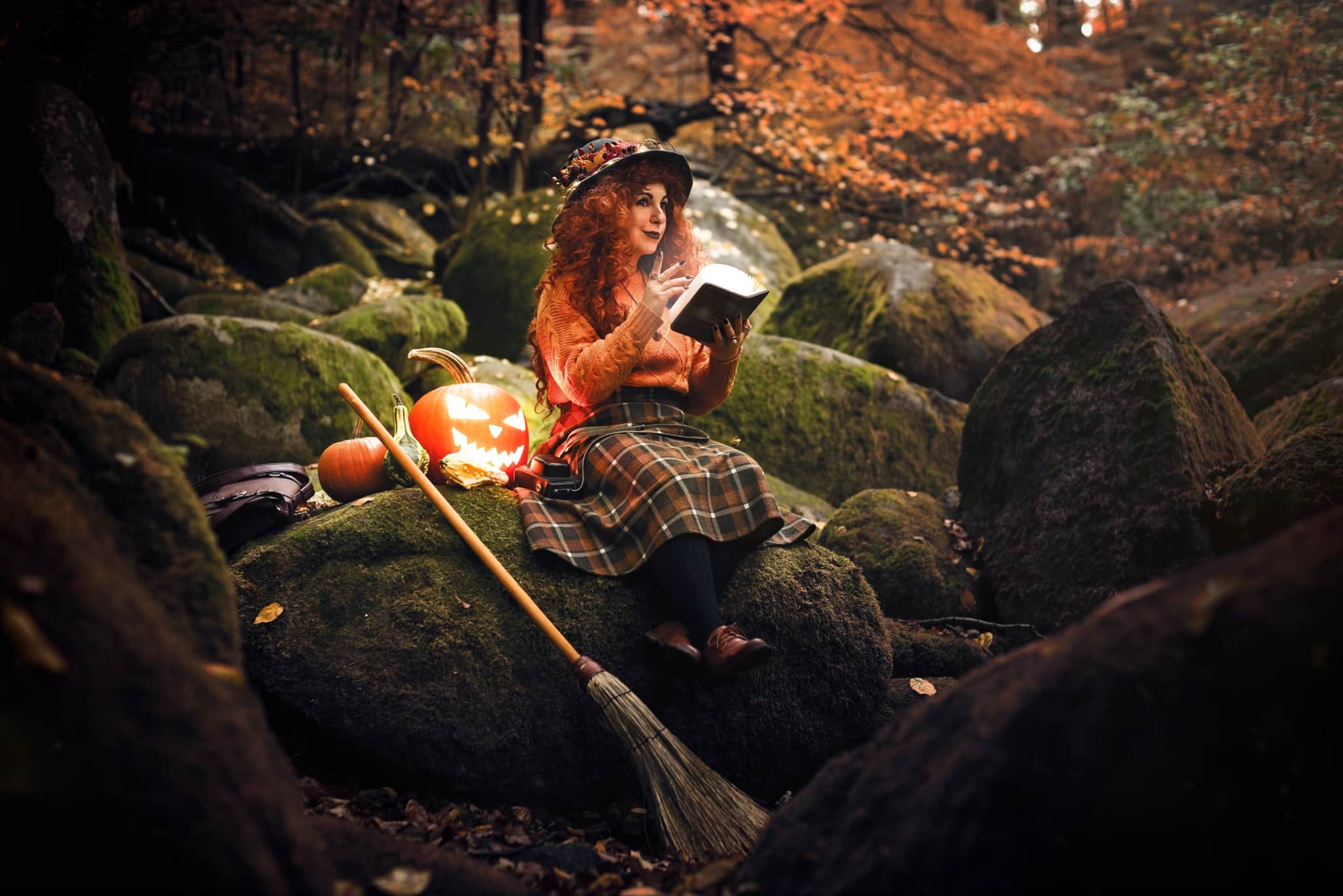 How to edit
I used Zoner Photo Studio X to tint my colors to shades of orange. Radial Filters were my friend and I highly emphasized the glow of the pumpkin. For the photo which had the most success in the end, I used the Develop Module for 95% of the edits. Radial Filters helped me not only with exposure and adding strong vignetting, but also while performing local edits in color shift. The high intensity of the transitions within the photo now naturally matches the rest of the photo. Now, the moss remains green and I was able to tint the leaves to shades of orange. 
To achieve the orange look, I especially recommend adjusting the green hue in Color Shift. And when your entire photo is tinted orange, use the Filter Brush (B) to balance skin tones and you're done.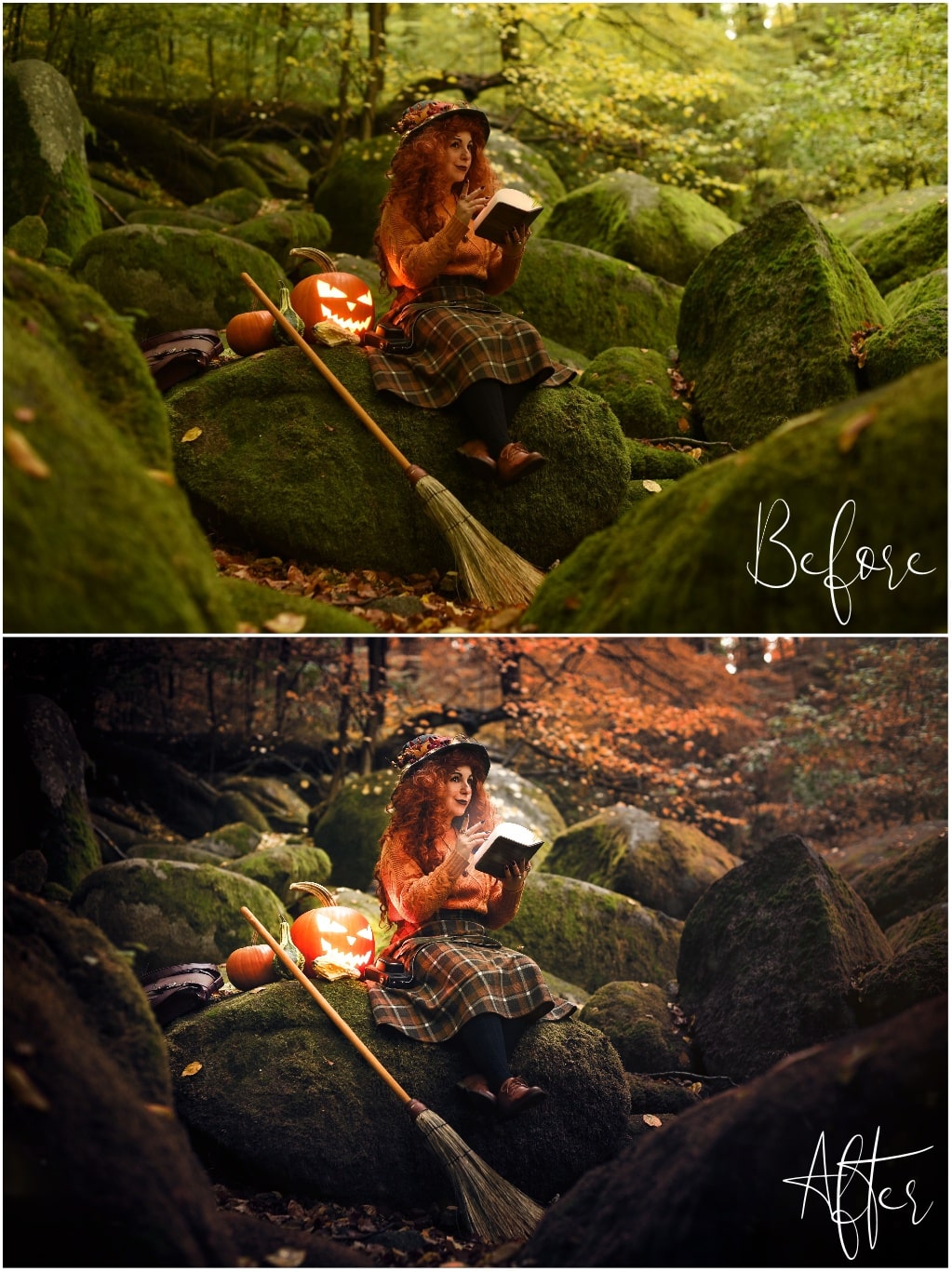 Zoner also offers a package of great fall presets, which you can use when you're unsure, but want to get an undeniable autumnal mood. Presets can be used as a source of inspiration or to add a subtle look to your photo, because their intensity can be set according to your wishes.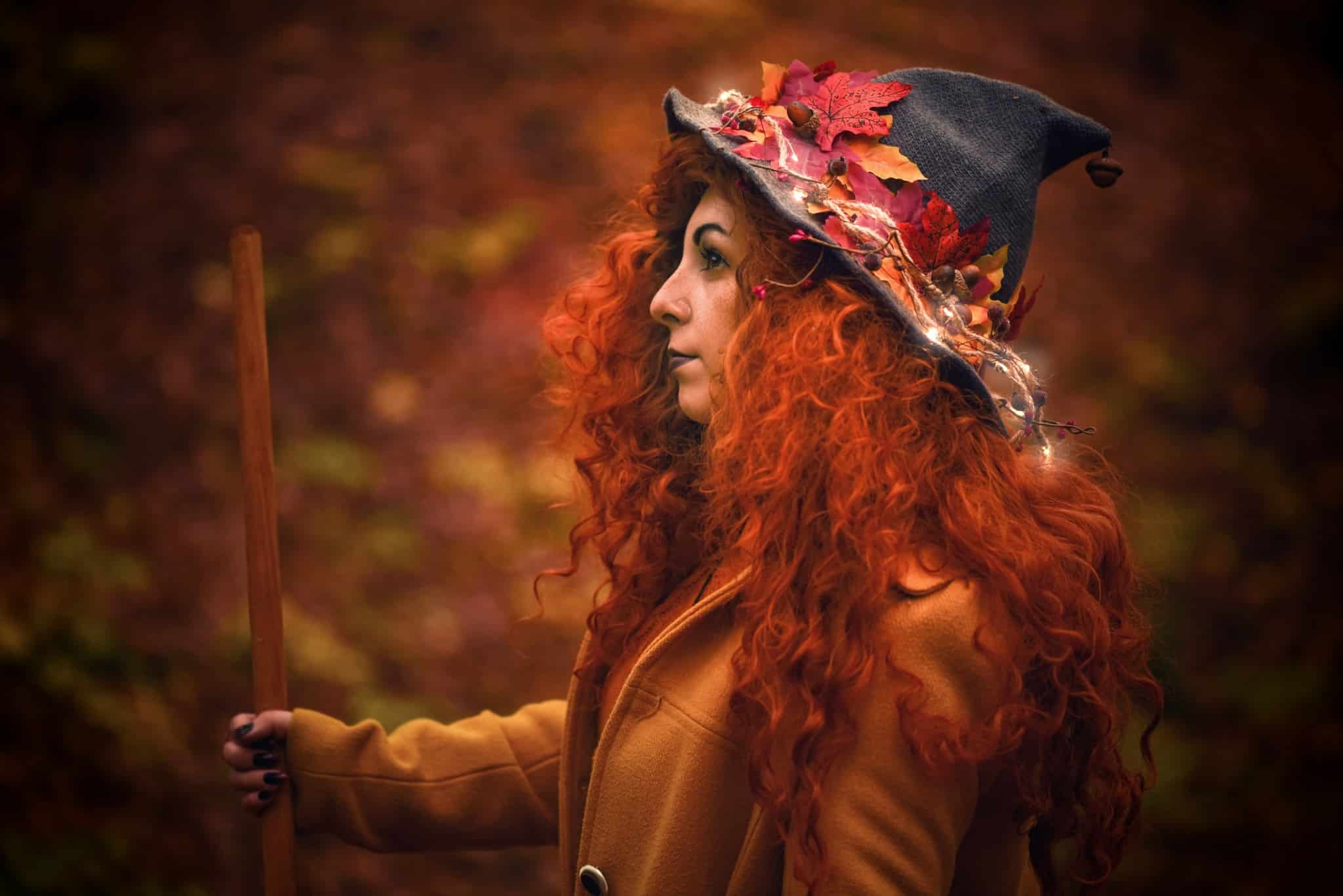 Get inspired by our fall photoshoot! 
We had a great time with our Halloween photoshoot. We flew on a broomstick, up and down the hill, to the treetops, and brought an army of pumpkins to the forest. We had a great day taking in the fall colors and found beautiful places for shooting (Vlčí Rokle u Prosečnice). We experimented with smoke bombs and even got some great shots on a Praktica analogue camera, which I inherited from my grandfather and occasionally bring along on photoshoots. We can't wait for next Halloween and other crazy ideas for our photoshoot!