Get the Maximum with Minimalism
There are many ways to approach photography. When something catches a beginner's eye, they just point, and click. (What innocent bliss!) With experience, photographers start thinking about subject placement and the Golden Ratio. But have you ever thought about taking composition to the extreme, for example by shrinking the main subject until it's almost invisible, or by practically eliminating the background? That's minimalism. What do you get after that? Well, if you want to take a break from the sea of Christmas ornaments around you, read on.
Minimalism is a style where you eliminate all parts of a photograph that are not criticially important.
A very common example here is capturing an isolated tree in a landscape. This is such a popular theme that some photo banks have started explicitly asking photographers not to send photos like this.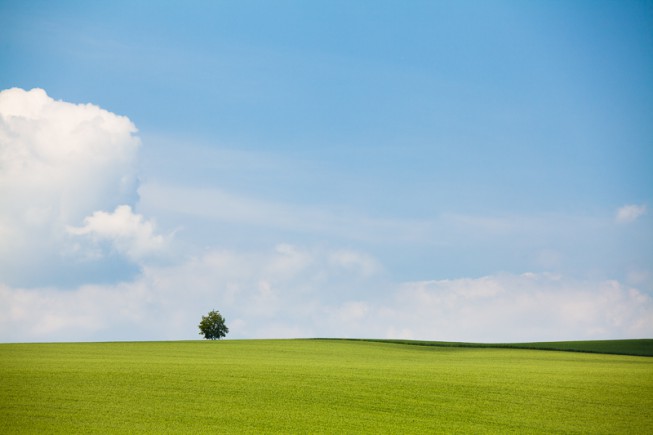 The key for these minimalist pictures is to properly frame and isolate the subject. I have no idea anymore how the surroundings looked in the case of the previous picture, but it's quite possible that there was a forest on one side, and a highway or electric poles on the other. All of that would divert my audience's attention. By leaving out elements like these, you can get a much stronger effect on your audience.
Winter, meanwhile, gives you unique opportunities here. Snow can drastically simplify a scene. If you wait for a snowy landscape and a white sky, you can experiment with high contrast for everything else: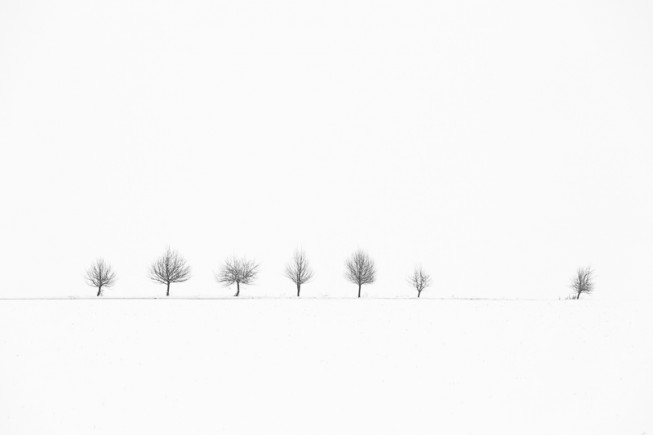 Our next picture looks very different, but it's just as minimalist. The sharp sunlight against the lens produces very strong contrast, making the remaining objects practically black. But the scene itself would look empty if not for the two people amid the reflection on the ocean surface.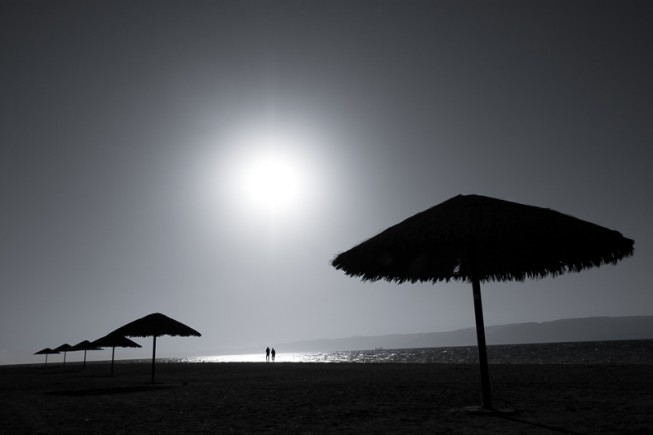 The following photo with an isolated bird is in a similar style to the isolated tree. In these pictures, every detail counts. The picture would look different with two, one, or no birds flying in the background. In the end I left two birds, but I'm still not sure if that was the best variant.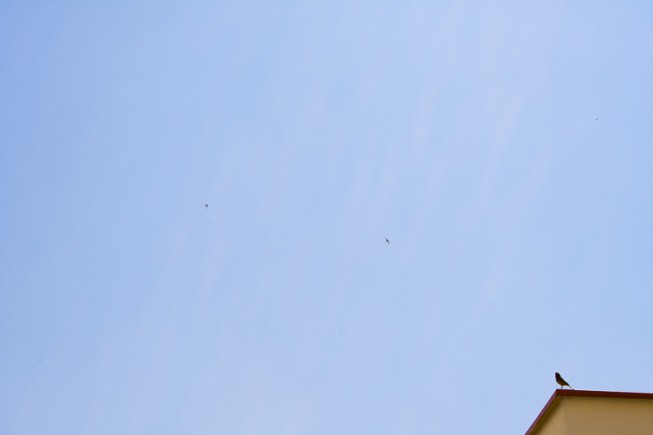 But I don't always have to have the sky as my background. I can also get pictures with minimally distracting surroundings using the walls of buildings, for example when a plant is creeping along a facade that has no visual impact beyond a little noise:
There are many other pictures that could be classified as minimalist, such as e.g. the blurred abstract photos that we wrote about in the runup to last Christmas.
So if you want to try something new, on your next photographic adventure, try looking carefully around you and picking out the simplest composition. This is an approach that can help you train your attention and your photographic eye. And if you have taken some minimalist pictures recently, we'll be delighted if you leave an example of them in the comments. There can never be too much inspiration!