Essential Travel Photography Gear: Pack Like a Pro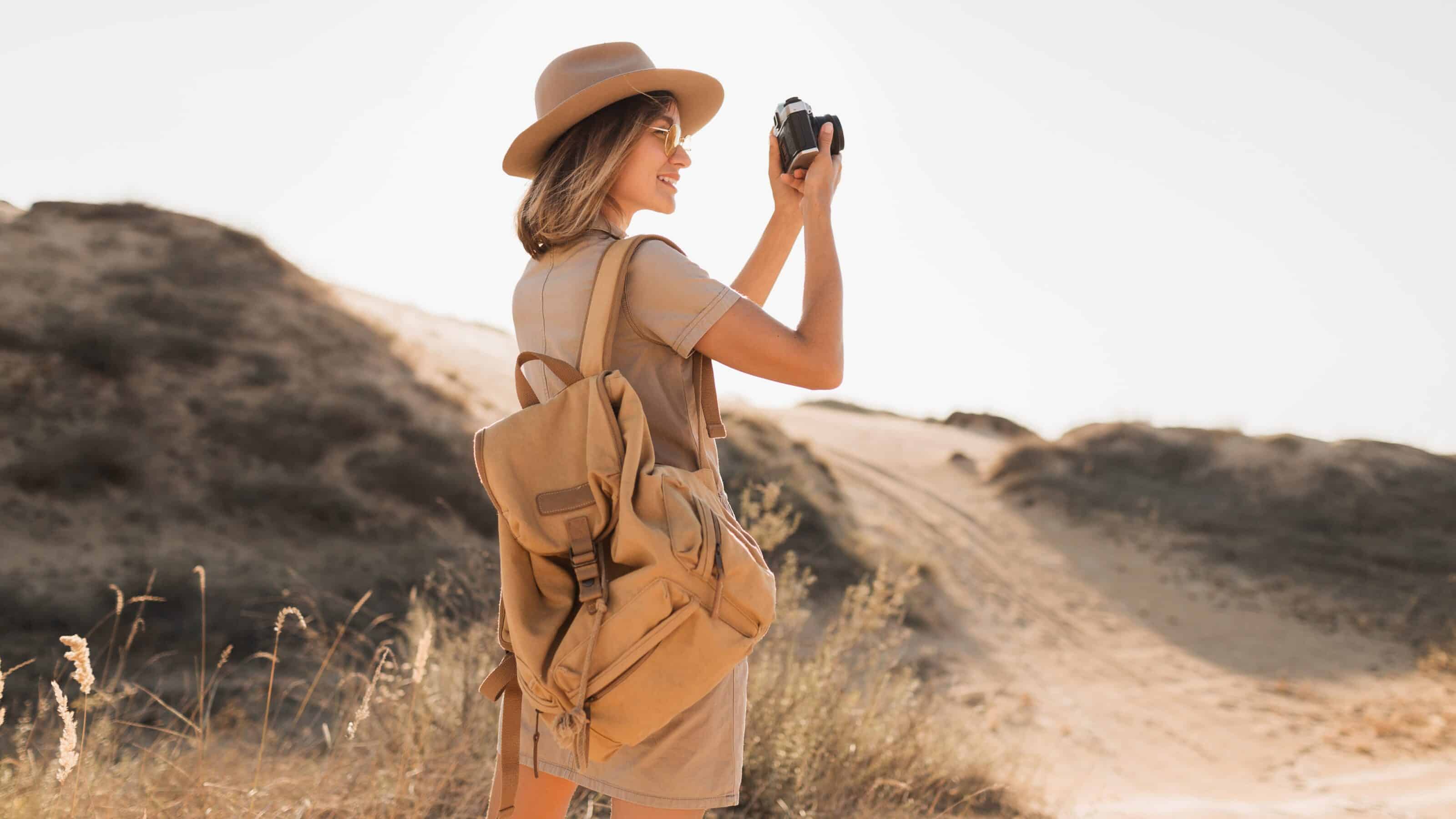 The sun is shining brightly again, and the time has come when most of us are furiously looking forward to vacation. That cocktail of excitement and anxiety that clutches your attention from the present moment. But before you take off in a hurry, make sure to carefully consider what camera and equipment to bring along so you can capture and preserve your experiences forever without being burdened by mundane concerns.
When packing for a vacation, we almost always bring everything we deem necessary. Ideally, though, it should all fit in a small suitcase or backpack and weigh as little as possible. And with everything demanding and fighting for our attention nowadays, making a list of things to bring can be a strong crutch. We've taken some time to prepare one such list for you.
What to Pack
It goes without saying that essentials like your travel documents/passport, wallet, and phone, as well as clothing, need consideration. In addition to travel essentials, snacks, and a positive attitude, don't forget to also pack your photography items:
1. Camera
The most crucial consideration is, of course, selecting the right camera. Think about the goal of your trip. Do you need a large camera with interchangeable lenses or will you be content with a compact camera; perhaps just your mobile phone?
2. Batteries
This also ties into another essential consideration – batteries. Either your camera has a sufficient battery life, requiring just one, or you need to find an alternative solution. You can carry two spare batteries or bring a charger. It depends on your destination.
When traveling by plane, batteries must always be in your carry-on luggage and disconnected from devices.
3. Charging
If you won't have a stable power source and your vacation involves camping off-grid, a power bank will definitely come in handy. If your charger has a USB port, you might manage it with a high-capacity power bank that you can also use for your mobile phone. For multiple recharges and larger devices, we definitely recommend a capacity above 15,000 mAh. Some larger power bank models even offer an AC outlet slot (230 V).
Solar panels that harness the sun's energy are a compact and lightweight accessory or alternative. You can choose from various sizes and between panels that only power charging stations or direct solar power banks.
If you're planning an extended stay off the grid and aren't restricted by luggage, you might appreciate a solution like a Charging Station. With these personal power stations, you can charge items like electric bikes as well.
If your accommodation offers standard amenities, don't forget your charger and its cable.
The best approach is to combine both options. However, remember where you're headed – for instance, in the UK, the power outlets will be different from the rest of Europe, so it's necessary to bring an adapter.
4. Memory Card
Another essential to consider is memory cards. It's always worth having more of them with you. You never know what might happen, and it would be a shame to lose reminders of your experiences.
The bigger the card, the more memories you can capture, but the more photos you have, the longer you'll spend sorting through them. Cards with capacities above 512 GB and high read and write speeds are already standard. It's definitely a good idea to have multiple cards with you (even with smaller capacities). Anything can happen, so having backups or recording individual days or experiences separately can be helpful during processing. An external hard drive where you continuously back up your data can also be a great solution.
There's nothing more frustrating than hunting for a memory card in local stores when you realize it's been left at home after arriving.
5. Lens
If you have a camera with interchangeable lenses, you'll face the decision of which lens to pack. Consider what will be the main focus of your vacation. If you plan to relax by the sea, take occasional walks through the city, and attend a few cultural events, opt for a prime lens with a wide aperture. Use a higher aperture setting at the beach and a lower one in dimly lit spaces like churches and galleries.
However, if your vacation involves a significant trek through rocky terrain, consider bringing a zoom telephoto lens. It allows you to "bring closer" a sunset on the horizon or a friend standing at a distant point among the terrain.
6. Filters
Polarizing filters not only protect the lens from glare, dust particles, or unwanted scratches but also enhance the visual appeal of your photos. They weigh almost nothing and take up little space. The choice and usage depend on the goal of your vacation. A UV filter guards against ultraviolet radiation and ND filters enable photography with longer exposure times.
7. Selfie Stick, Tripod
Taking a group photo either requires a long arm or a selfie stick and if it's not a mobile phone photo, a few weeks of strengthening before departure. Tripods usually take up quite a bit of space, and most of us are reluctant to carry them around. An interesting alternative for group shots and longer exposures is fixed or flexible tripods, easily adaptable to uneven terrain or fence wrapping.
Capturing a moving photographer in a group photo taken with a self-timer is something you might have deleted from your archives at some point. These situations can be resolved with a remote shutter release, which also doesn't take up much space.
8. Cleaning Kit and Additional Protection
For minor impurities from water or sand, it's beneficial to pack protective cases, even for your mobile phone. While warmth, water, salt, and sand might be good for you, they won't be kind to your equipment. Bringing a cleaning kit, typically including a blower to remove small debris from the lens, a brush, wipes, and often cleaning solution, is advisable.
9. Action Camera, Drone, or Both
Revisiting your vacation spots through videos is priceless. If you have a small action camera or even a drone in your gear, don't hesitate to pack them. Footage from a bird's-eye view by the sea, in stunning landscapes, or amidst mountains, lakes, and waterfalls will undoubtedly evoke pleasant sensations when you watch them later.
For underwater shots, it's wise to verify the water resistance of your action camera.
From our experience, an external flash isn't entirely necessary to bring on vacation. The built-in flash usually suffices. You can even use it on days when you're shooting against the light. Without a flash, objects can appear dark and indistinct; with a flash, they are well-defined. However, if you're a more demanding photographer or have ample space for larger photography gear, consider an external flash as well.
10. Camera Backpack
All the aforementioned items need to be packed into a camera bag or backpack. Since you and others will handle your baggage in various ways, plan the interior layout so that everything is safely stored. Also, keep in mind that during security checks for air travel, you might need to remove some electronic components, so they should be easily accessible.
Packing too many items is practically impossible in a small carry-on bag for air travel.
And that's it, you're all packed. You can look forward to your departure, the journey, excursions, experiences, and arrival, but most importantly, fully enjoy everything and be present. Create a photo documentary of your vacation from beginning to end.
Continuously delete the unusable photos and share the really great ones with your friends through social media and in person once you meet up.
Preserve unique memories forever and don't underestimate the power of preparation for photography on your vacation. Have you already considered which lenses you'll take? How many spare batteries to bring and what memory card sizes?