How to Shoot a Boudoir Portrait That Captures the Beauty of the Female Body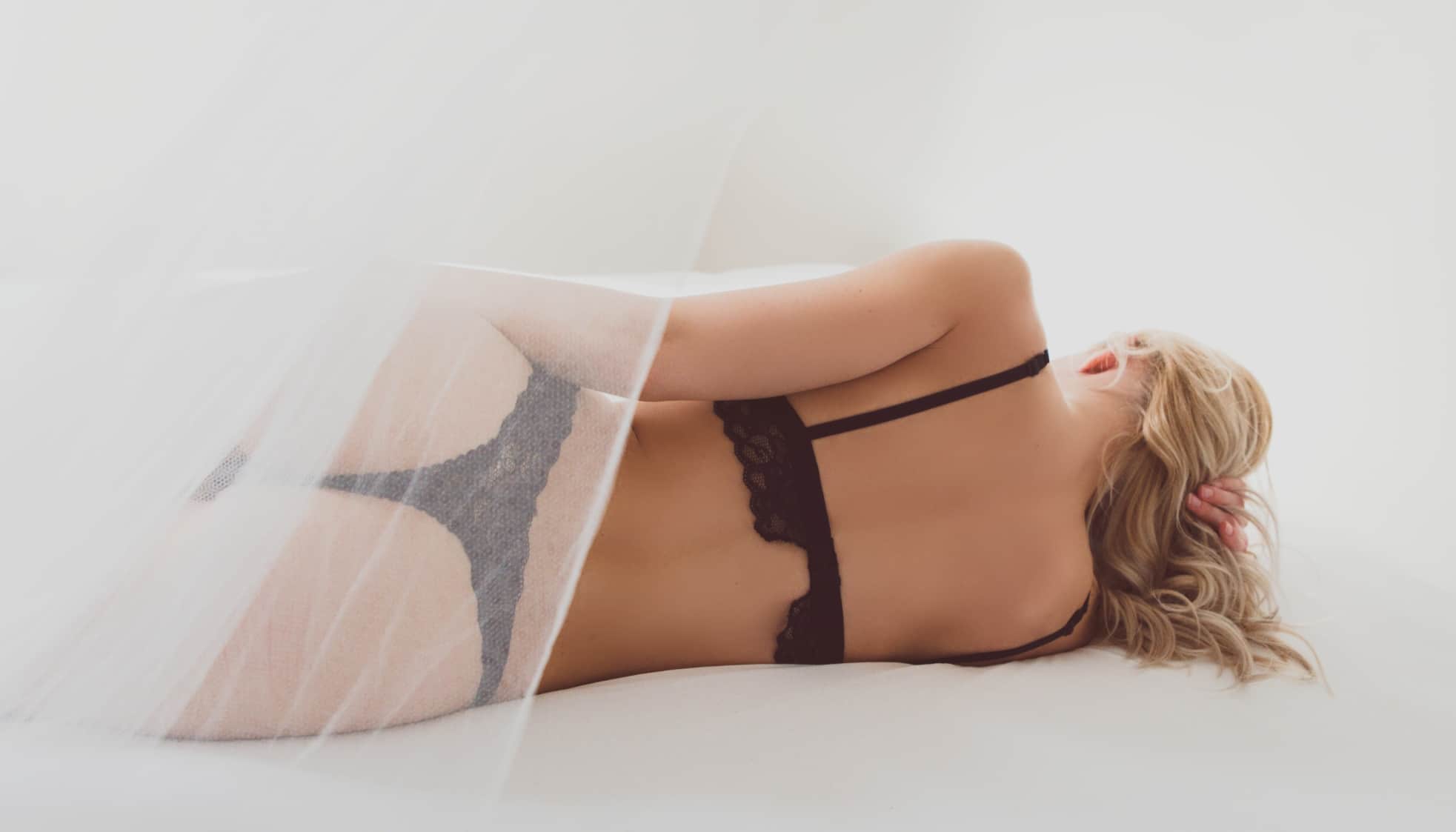 In this article, we delve into the provocative genre of boudoir photography. Boudoir photography continues to be very popular, but also brings with it a number of challenges. How do you get started with boudoir photography? What pitfalls should you avoid when shooting boudoir? How do you communicate with your model? How do you break the ice with a nervous model? Find out the answers to these questions and more below.
The French word boudoir translates to "lady's private bedroom." The word alone evokes something unique and luxurious. Throughout history, many painters dedicated themselves to this artistic style by painting scantily-clad women in flattering positions. With the advancement of technology, boudoir drew the attention of photographers and remains popular to this day.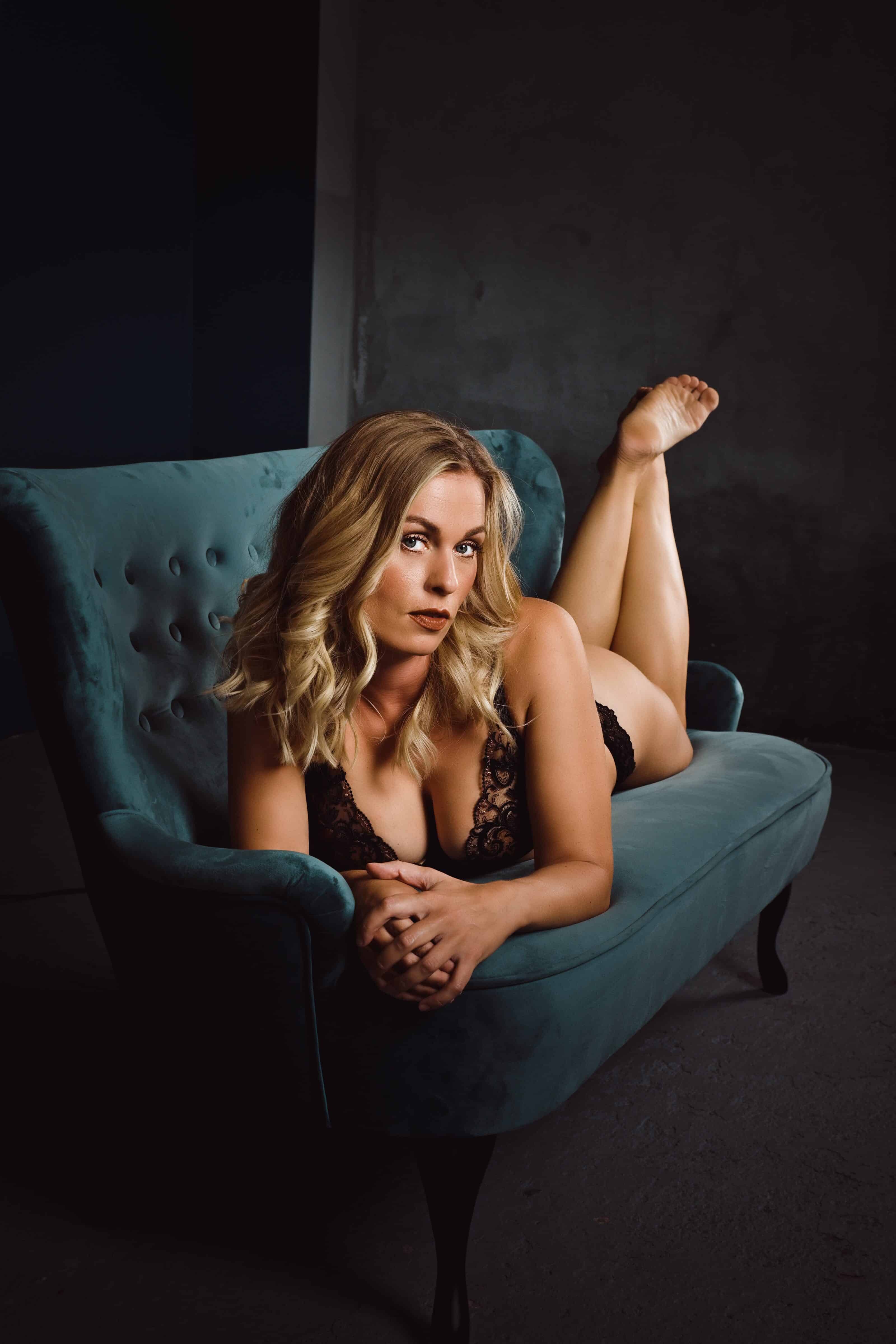 What is boudoir photography?
A boudoir portrait captures the beauty of the female body in a very intimate and seductive way. It involves fine lingerie accompanied by accessories like jewelry and high-heel shoes. Fine lingerie can just as easily be replaced by an ordinary bed sheet or blanket. The possibilities are endless. A studio or room with a bed or designer couch/chaise lounge is most often used for this type of photoshoot. The important thing is that the resulting photo is sexy and sensual while remaining tasteful.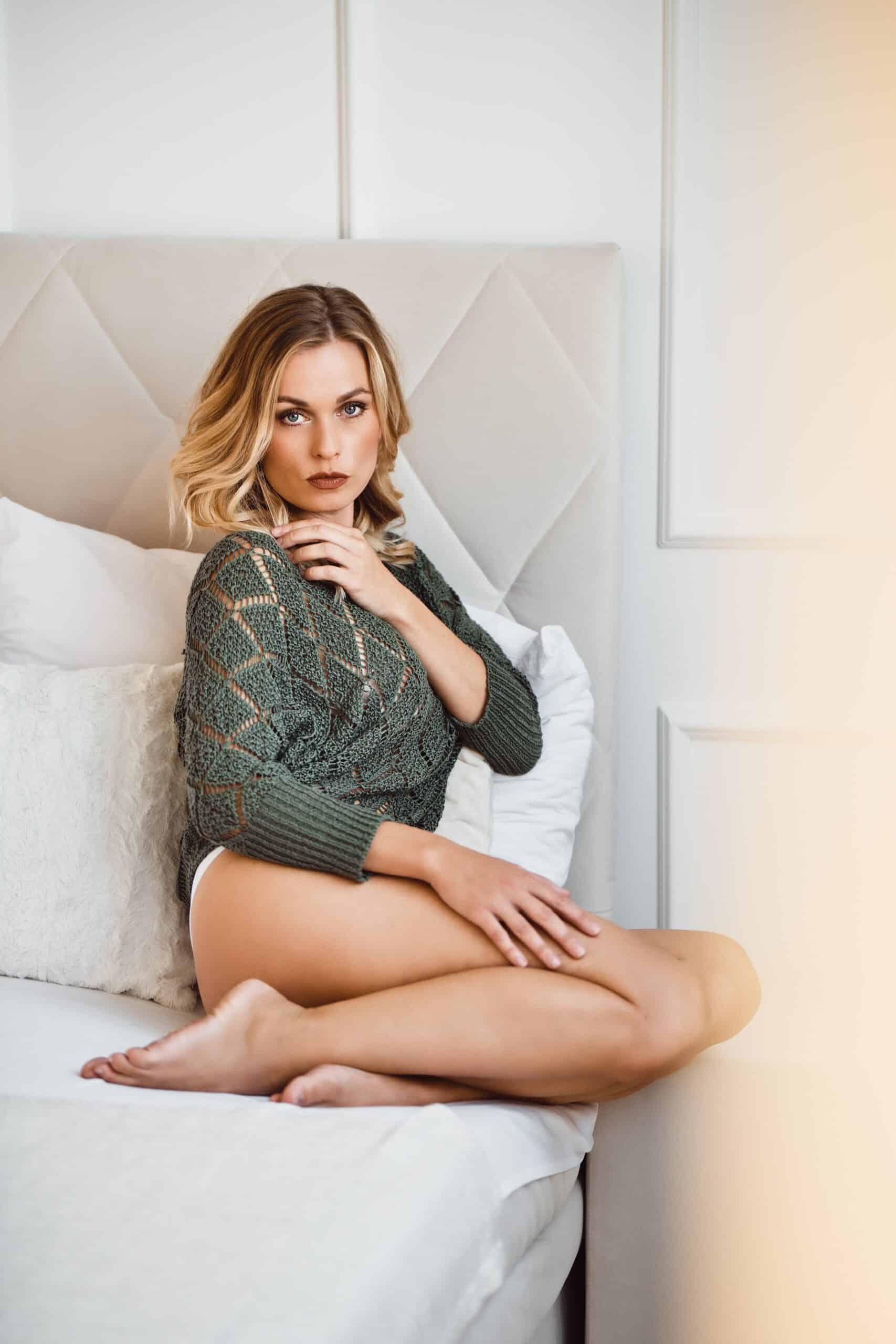 Key elements of a boudoir portrait:
A sensitive approach and discretion

Photos that capture the sensual beauty of a woman

A comfortable setting 

Respect for personal boundaries

Soft lighting 

Props – jewelry, lingerie, garters…

Professional hair and makeup

Post-processing – retouching
Getting started with boudoir photography
If you are just started out with boudoir photography, it's a good idea to do a dry run of everything first. I asked a few of my girlfriends to join me for a "girls' day" and arranged for professional makeup and set up the room for our photoshoot. This allowed me to practice posing different body types as well as working with light. An equally important part of boudoir photography is post-processing. Every photographer should be able to handle at least some basic retouching.
All of my retouching is done in Zoner Photo Studio X. Zoner Photo Studio X offers several retouching tools. And believe me, it's hard to go without retouching at least some cellulite, spider veins, skin imperfections, scars, or slimming certain areas. There are several books and workshops dedicated to this topic that are good to look through when getting started. 
Communicating with your model
To get professional-looking boudoir photos, the most important thing is that the model feels at ease. We do this by chatting with her beforehand, during the makeup session, creating a relaxed and friendly atmosphere. If my model is not driving, in addition to coffee or water, I offer a glass of prosecco to help her loosen up. I usually ask for ideas about what she expect from the photoshoot, what she likes, what she doesn't like, and what she's most self-conscious about.  
We all have our insecurities, something that we don't love about our body or something we are self-conscious about… It's important to assure your model that you'll find the right poses that will flatter her body type and, if needed, deal with imperfections using post-processing.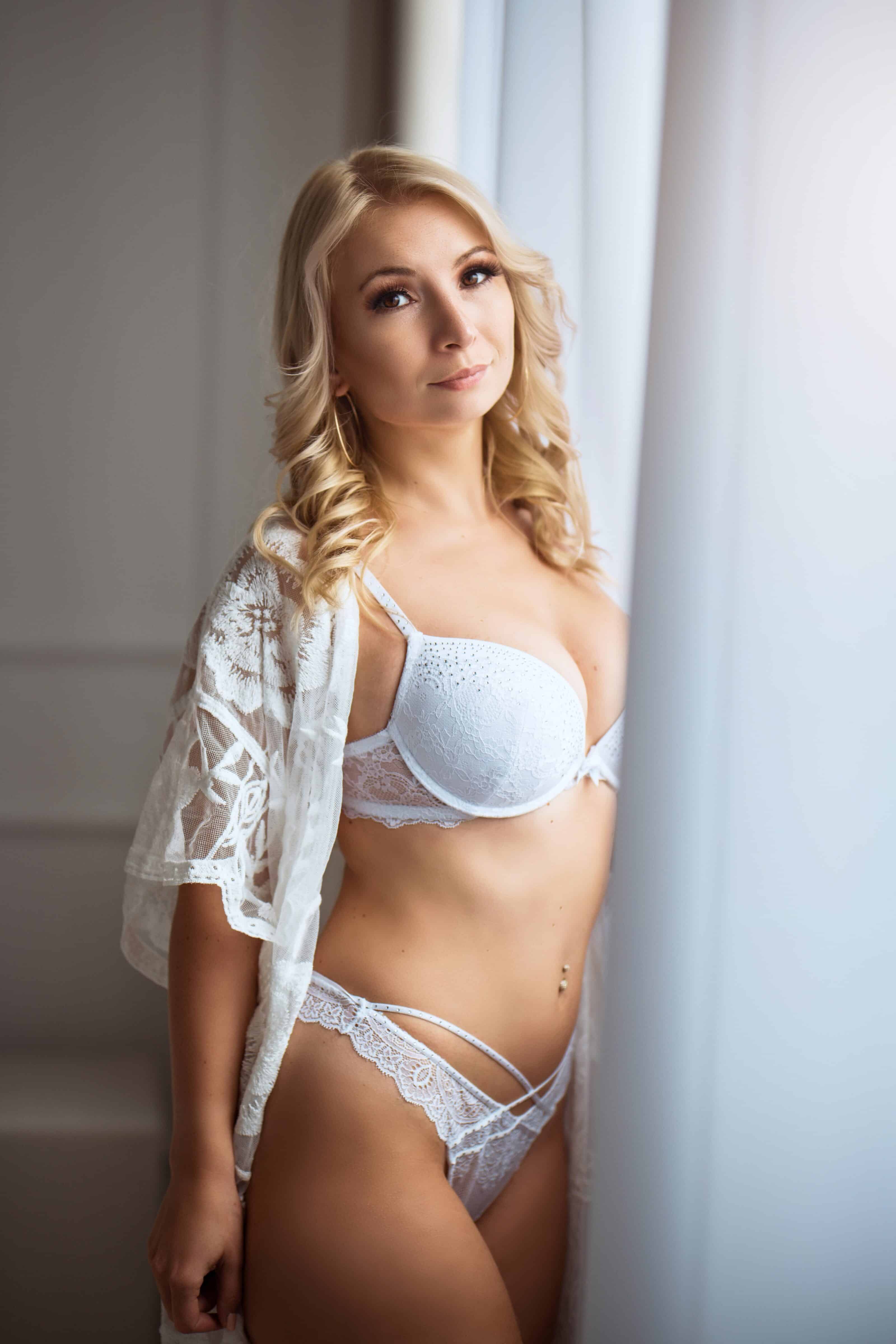 When setting up the photoshoot, I also offer the option to have the model bring someone with, such as a friend or family member that will help her feel relaxed and encourage her when needed.  
During the shoot itself, I have found that praising the model works best. Every woman is beautiful in her own way and it's our job to discover and showcase this beauty. I don't just praise physical appearance, but also the model's willingness to cooperate, poses, facial expressions, and so on. I have only one rule that I stick to at all times– your praise must be completely honest! 
After each series of shoots, I sit down with the model and go through the images on the camera and indicate what I like and what I want to showcase. I ask her what she likes and what she'd like to change. The idea is that each client chooses her favorite photos and walks away from the photoshoot feeling happy.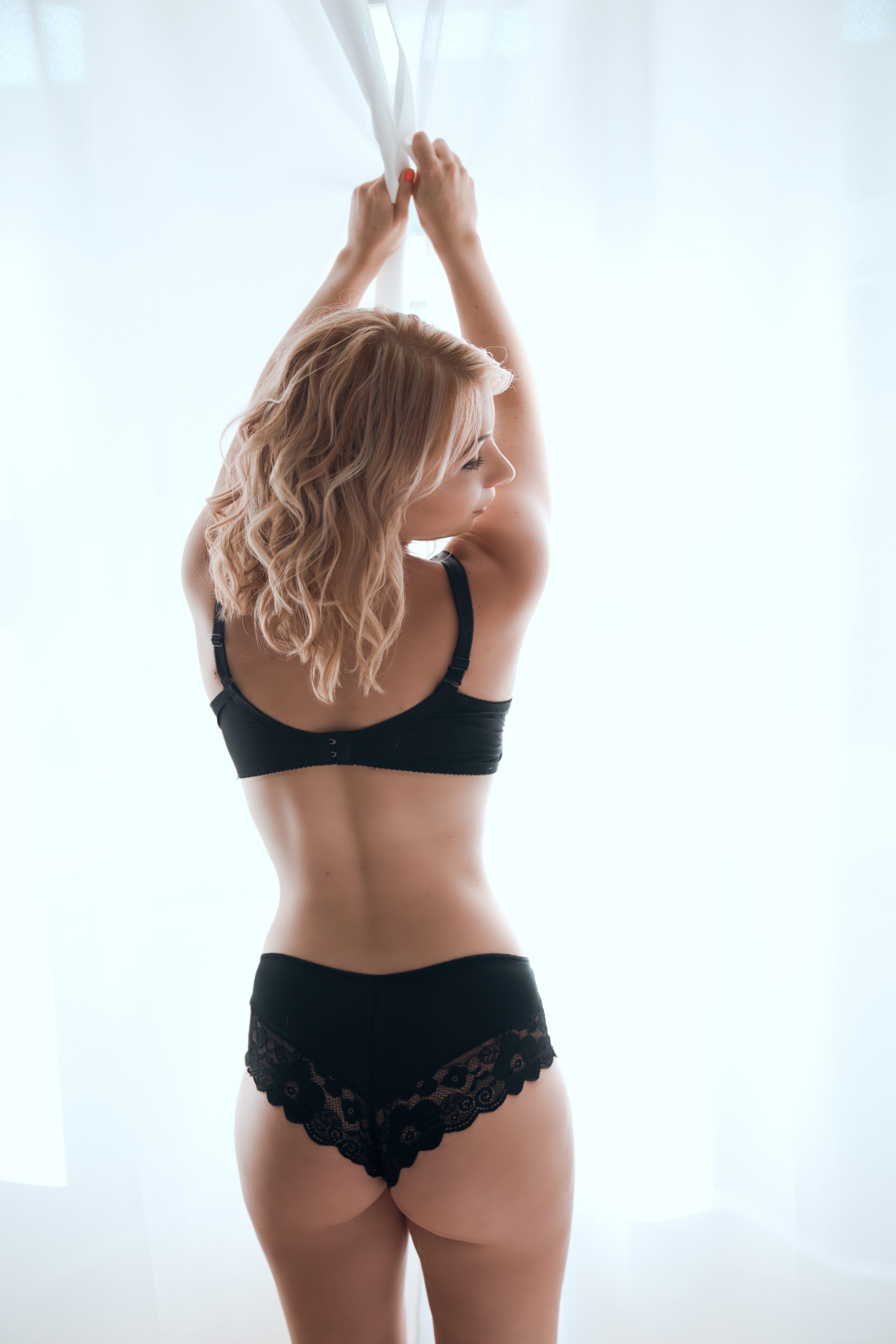 Poses
If your boudoir model is a professional model, you're already halfway there. In my boudoir photography, I don't tend to photograph models. My clients are normal women that may be in front of the camera for the first time in their life. Each photoshoot is a challenge and you must be well prepared. For this reason, before each assignment, I search through books, my old photos, and Pinterest for inspiration.  
My model and I agree on poses for the shoot beforehand. Of course, during the shoot, we discover new poses or slightly adjust the ones we've agreed on. Boudoir demands a certain level of discretion. For this reason, be sure that any private parts remain covered or out of focus. It's important to feature the model's assets and conceal the flaws. The main thing is that the poses are natural. If a certain pose doesn't suit the model and makes her tighten up, it's worth changing the pose. Boudoir doesn't have to only be shot with the model laying down. There are plenty of sensual poses where the model is sitting, kneeling, or standing. Pose the model so that all limbs are visible. For example, don't pose your model so that she kneels and her feet aren't visible or her hand is hidden behind her body or under her leg.  
Don't forget to take detail shots! To be honest, I often forget and find myself later regretting not getting enough detail shots. Beautiful details of the curves of the female body often tell more about the woman than photos of the whole body. You can focus on jewelry, tattoos, birthmarks…anything that is unique and draws your attention.  
Things to avoid
Confusing boudoir photography with nude photography

Uncomfortable poses

Cut-off limbs in the photos

Inappropriate comments to the model

Harsh or high-contrast lighting

Too much or too little retouching