Mexico and Guatemala: Photography in a Tropical Jungle
Imagine being literally flooded with greenery. It's so thick it even blocks the sun and only a ray or two sneaks through every so often. Everywhere you turn, there's a new scent to discover, something rustles, and then there's the howling of monkeys that carries over everything. From this beauty, unique hills emerge that upon closer inspection reveal mysterious monuments of lost civilizations. Does this sound like something out of a movie to you? The truth is this is the reality you can encounter in the jungles of Mexico and Guatemala. 
Along with this cinematic description, there are several more practical things I must mention that tend to be forgotten over time. There are the ever-present, oppressive mosquitoes, the mud, the nearly 100% humidity level, wading through the swamps, and the constant rain. But without these things, it wouldn't be a true adventure. What does a photographer need to know about these exotic, photo-worthy places?  
Be careful with humidity 
We'll start with some practical information about caring for your equipment. Your camera's biggest enemy in the jungle, aside from the rain, is humidity. Unlike rain, humidity is always present and the only time you can avoid it is when your camera is safe inside your backpack. If you don't have a waterproof camera, it's important to consider whether to carry it in your hands or put it away. My mirrorless camera is not very waterproof, but I still chose to carry it in my hands. You never know what may run across your path in the rainforest.  
Bring along lenses of all types 
Different size lenses are important if you want to photograph the sheer vastness of nature that surrounds you. Keep in mind that in the rainforest, everything is huge. You'll feel like you are stepping into an enormous cathedral each time you enter the rainforest. A wide-angle lens allows you to best capture this vastness and have it conveyed in your photography. The downside of wide-angle lenses is that they distort reality. An undeniable advantage is that when walking through the rainforest with a wide-angle lens, everything towers over you. For these reasons, the wide-angle lens was an obvious choice and the reason why I used my favorite 16-35mm lens most of the time.  
Use a telephoto lens too
If you want to photograph animals and are fascinated by wildlife, then you'll appreciate a telephoto lens. In the jungles of Guatemala and Mexico, you can most often see monkeys and birds, but they are often high up in the treetops. With a wide-angle lens, the entire scene is lost. I recommend a focal length of 100mm and higher for shooting wildlife in these places. Also, since you will be shooting against backlight, a telephoto lens allows you to effectively separate your subject from its background.  
If you are a true animal lover, Guatemala and Mexico may not speak to you as much as other wildlife destinations. Wildlife is much harder to find in Mexico and Guatemala than in the jungles of Costa Rica, Nicaragua, or the islands of Indonesia. So, what makes Guatemala and Mexico so unique?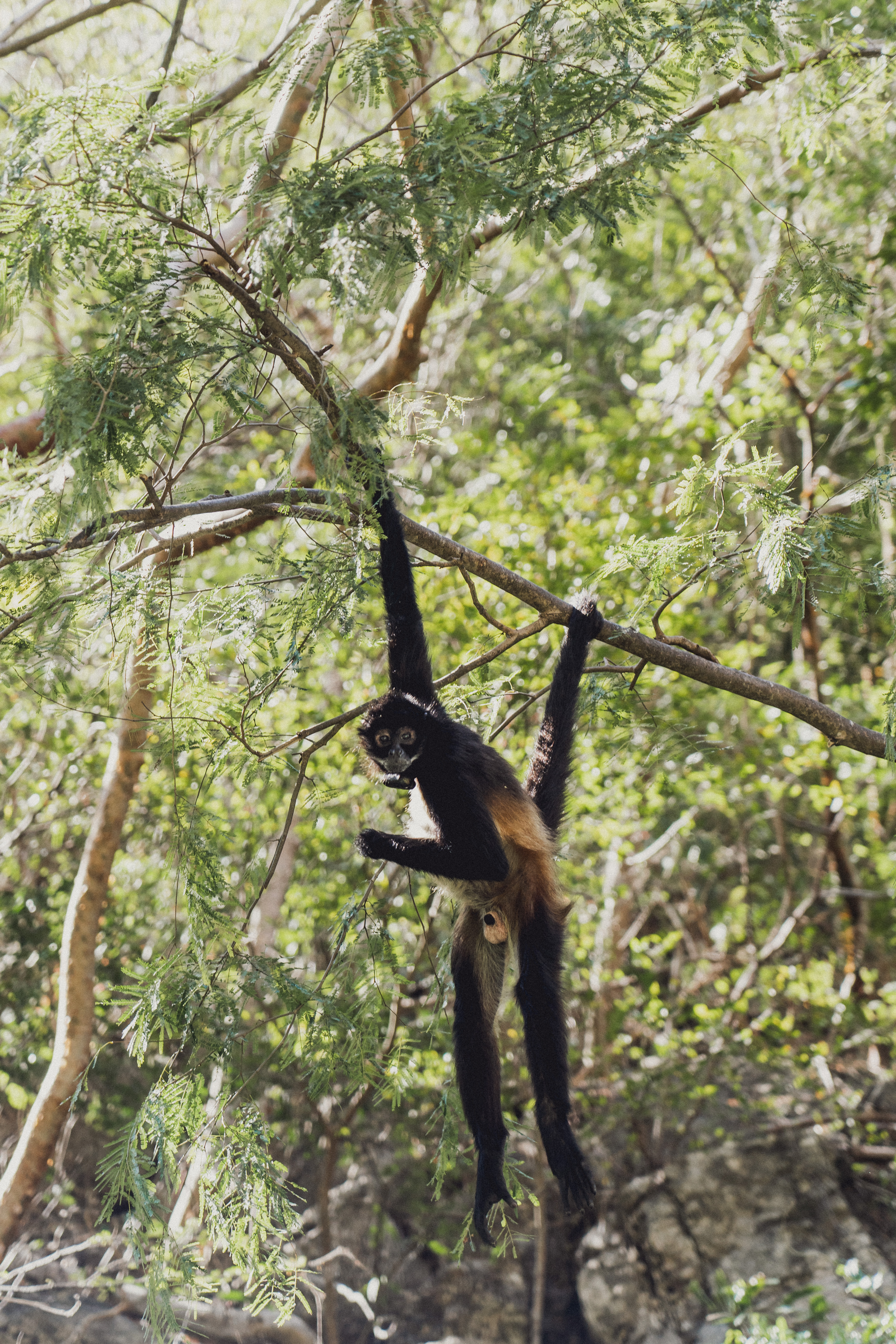 Lost cities
You'll find traces of ancient civilizations, the Maya in particular. These lost cities are everywhere you look in the jungles of the Mexican regions of Yucatan and Chiapas, as well as northern Guatemala. Sometimes, all you'll find is a pile of rocks or a mound of dirt. Its regularity reveals that there's a structure beneath the topsoil. Sometimes you'll find entire ancient cities that are so vast you can spend all day walking through them. The Maya weren't a singular culture like the Romans were. There were likely several competing civilizations that left a wide range of structures behind.  
In the jungle, you'll find famous lost cities such as Tikal, in Guatemala, or Palenque, Calakmul, and Coba in Mexico. If you're up for an adventure, I'd recommend heading deeper into the jungle for several days and visiting the monumental El Mirador in Guatemala. For even more adventurous types, there are many more lost cities to discover that aren't even marked on maps. 
Nothing ventured, nothing gained
I wrote that you won't find much wildlife in the jungles of Guatemala and Mexico. This doesn't change the fact that these jungles are home to poisonous snakes and disease-carrying insects. Just because you don't see them, doesn't mean they don't exist. My European eyes had long since gotten used to the never-ending shades of green in the jungle. I could only see solid green and was unable to distinguish any hidden creatures that were camouflaged amongst the flora. That's why if you head into the jungle for a several-day long hike, I recommend finding a local who knows the jungle well. More than once, I had the experience of walking right by some large creature that was so well camouflaged that I didn't notice it until a local alerted me to it.  
Don't hesitate to travel to these incredibly unique destinations. Fall is the best time to visit, specifically at the end of November. Or, the beginning of the year in January is a great time too. I would recommend avoiding summer and winter holidays when these destinations can become overcrowded with other tourists.