Not Sure How to Pick the Best Photo? Multi-selections Will Help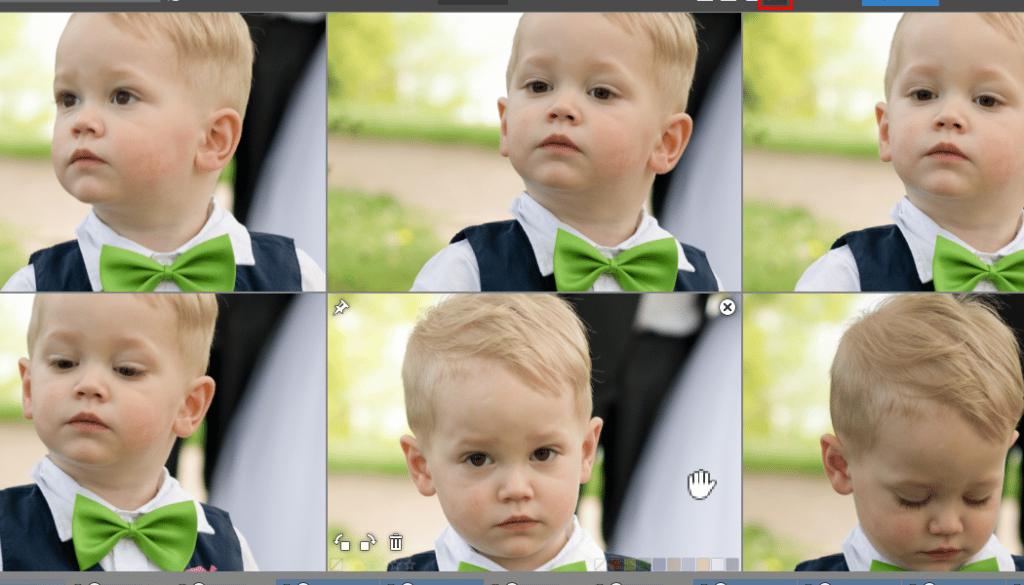 In our age of digital photographs, you can snap as many pictures as you'd like. So it's easy to take several pictures in a row to get a higher chance of getting at least one that's usable. However, you then face a demanding task—picking the best photo out of all these similar ones. But Multi-selections make it easy.
You'll find Zoner Photo Studio's Multi-selections feature in three of the Zoner Photo Studio X modules: Manager, Develop, and Create. You just have to be in Preview mode. (Use the Preview button towards the top middle to get there.) There are two ways to select the photos.
Hold down the Ctrl key, and in the Filmstrip at the bottom, click the pictures you want to compare. This selects them.

For consecutive photos,  you can also select them using the Shift key. You just click the first one you want to work with, hold down Shift, and click the last one. The program then automatically selects that whole series of pictures. You'll especially appreciate this when trying to pick out the best picture in a series.
In the Manager, you have one more possibility on top of this. Press Ctrl+A to select all the photos in a folder.
Multi-selections can always show up to nine photos. They are shown in the middle area. In the right panel, instead of the usual histogram, you can view summary information on the number of pictures selected and their overall size.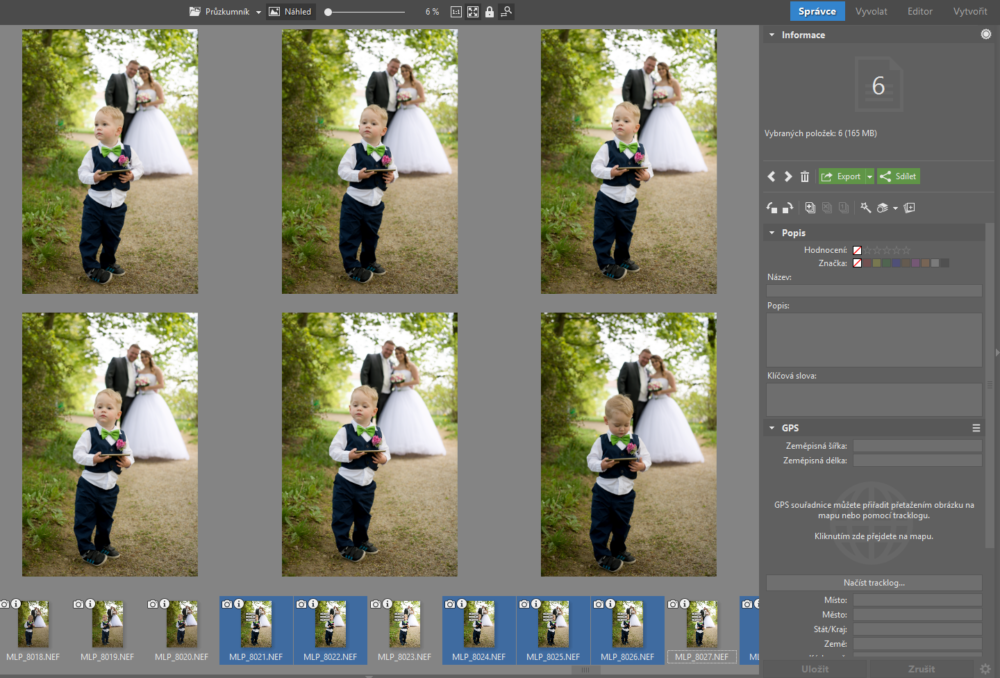 Checking Details at 1:1 Zoom
Now you just need to pick the best picture out of the ones you're comparing. For an easy way to compare all their details,  just click on one of the photos, and they will all be shown at 100% zoom. This is an easy way to check which photo in a group is the sharpest, for example, or has the best facial expression.
Use the magnifying glass icon on the top panel if you want to turn off zoom syncing. That lets you check each picture at a different zoom level.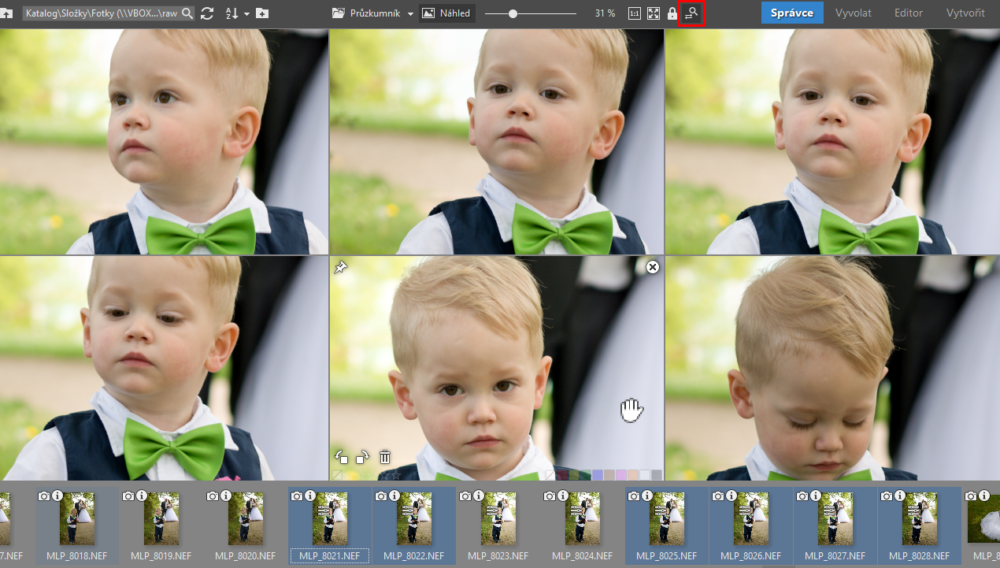 When Multi-selecting photos, you can easily rotate them, give them labels or rating stars, or for example delete the blurry ones.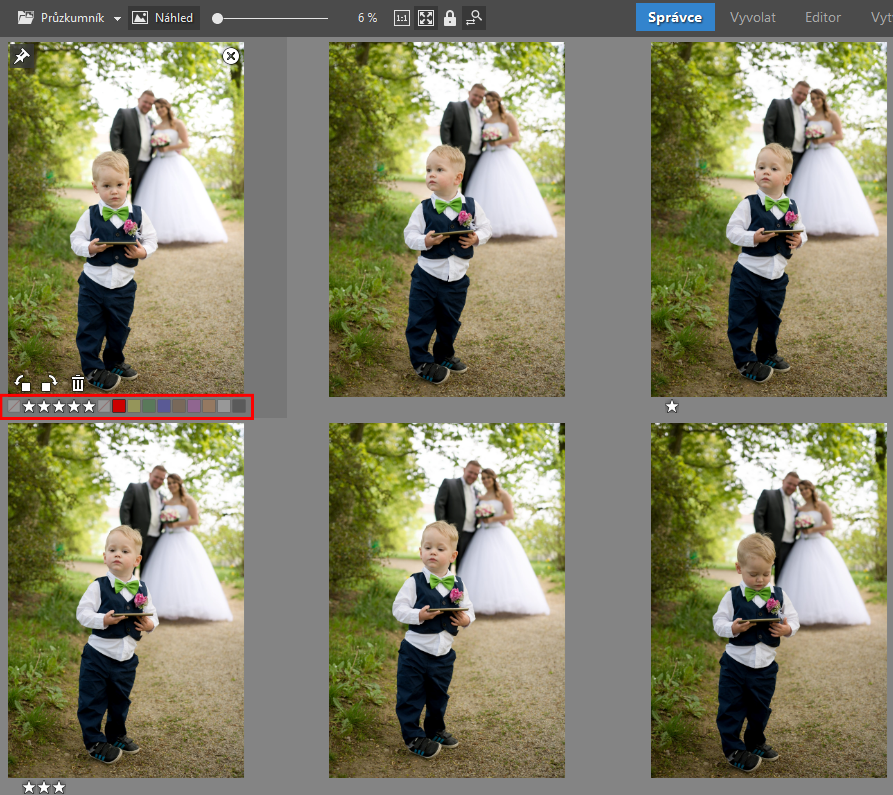 Photo Pinning—Great for Unifying Photo Sets
Another advantage of Multi-selections is that you can pin a photo. Pinning makes it easy to compare one picture with the rest.
Just click the pin icon at the top left corner of the selected picture, and the photograph is automatically pinned to the screen. Then just click other pictures to visually compare them to the pinned one. This helps you to pick the photos that you are most satisfied with. You'll also get good use out of pinning when checking how well different photos' colors match each other.
And it's all up to you if you'd rather compare the photos one by one, or select several to compare with the pinned picture.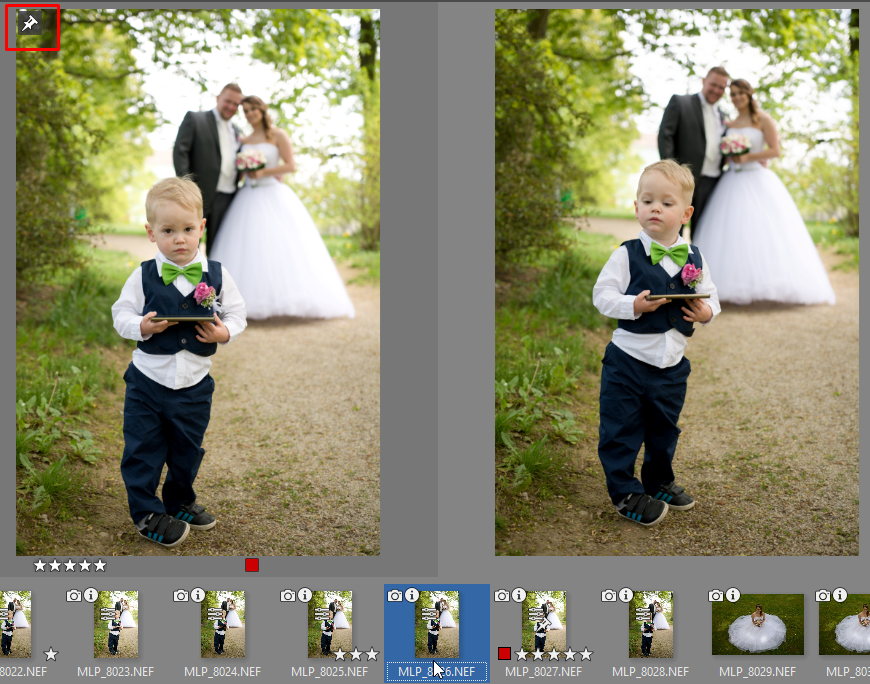 Goodbye to the Mess
Multi-selections will often save you long thinking over which picture to pick. And what's more, you can also use it to batch-edit photos in the Develop module.
Make sure how easy is to work with the Multi-selections. Just watch our video tutorial.