Photographer Lukáš Kenji Vrábel: Enjoy Your Photography!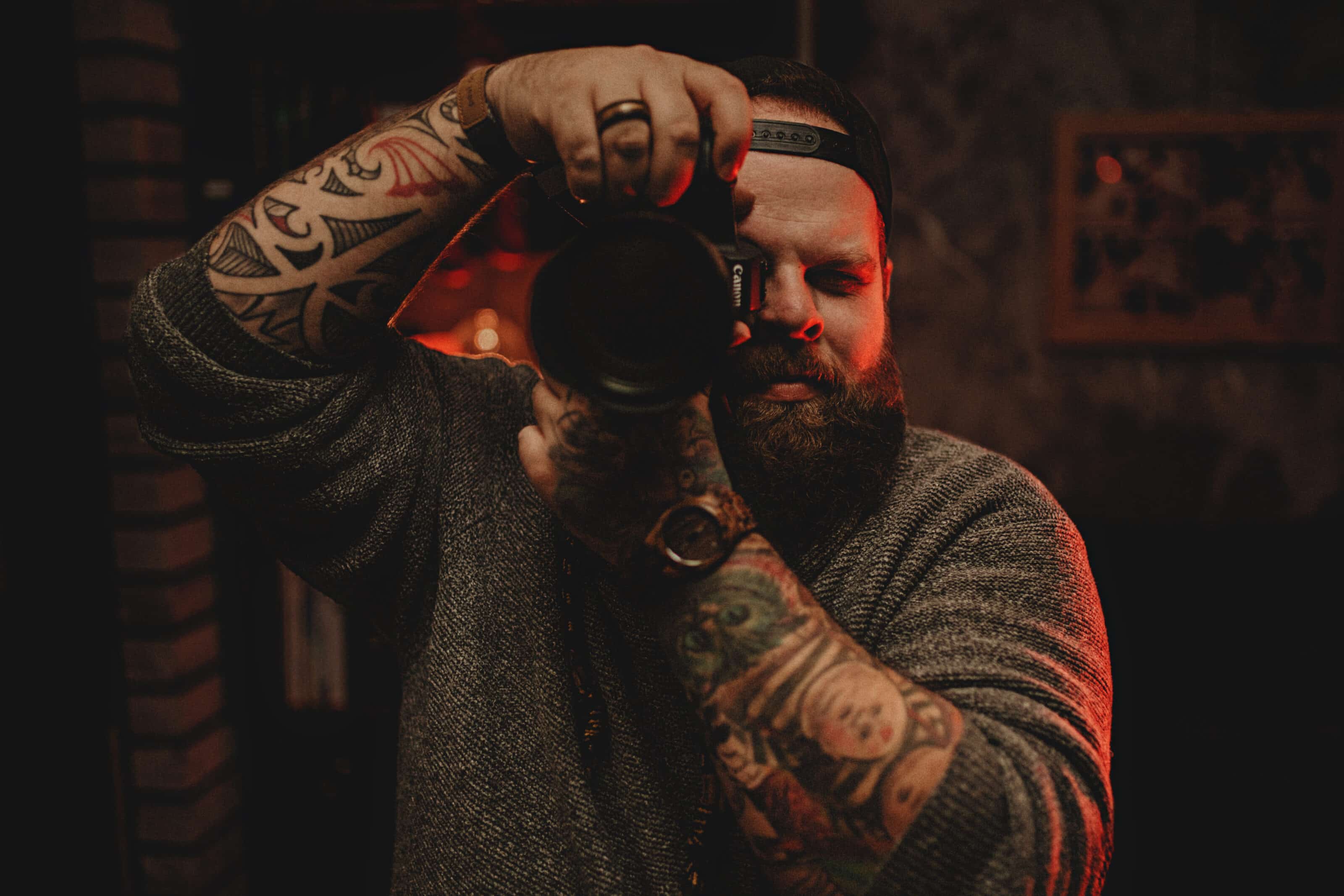 Lukáš "Kenji" Vrábel has a signature style thanks to which his photos left a mark on us at first sight. Wide angles, distinctive and yet tasteful work with colors, and a pleasant mood that simply wafts from his portraits. Those are just some of the ingredients due to which Kenji's style will leave a positive impact on you.
But we desired a more in-depth insight into his work, and so we've questioned him equally in-depth. The result is this inspiring interview. Read on to find out how he works, how he thinks about his work, and what's under the hood of his know-how.
Name: Lukáš "Kenji" Vrábel
Age: 31
Web link: www.kenji.cz
Who I am: Lifestyle, product, portrait, and wedding
photographer
What I photograph: Emotions, experiences, and stories.
What does photography mean for you?
For me, a photo is a way to capture things that can't be captured any other way. That sort of brief moment overflowing with emotions that few people can see with their naked eyes. And what's the most fun for me is when a photo of mine enraptures someone for several moments and compels them to soak in the feelings it depicts. I want this to be reflected throughout my whole portfolio. No matter whether that's private portraits, weddings, or commercial lifestyle photos for my clients.
Do you remember your beginnings as a photographer? What did you struggle with the most?
I definitely struggled the hardest with my camera's instructions. I should have read them; it might have saved me the year I spent trying to figure out everything in vain on my own. In the end, I only figured out its controls after reading several articles and watching a few YouTube tutorials. And what took me the longest? Figuring out which direction I want to go. Now I know—I think.
You also teach photography. Do you feel that people have to attend schools or classes to become good photographers?
I… might be careful about saying that I teach photography. A lot of people would definitely protest that statement. Let's say that at workshops and in classes I pass on the things that I have myself learned over time in one way or another. I don't try to dogmatically dictate to anyone how photography and post-production should be done.
And I just might perceive exactly this as a fairly basic problem at photography schools—all that forced teaching of how things should be done. I think that this slows down children's leaving the nest and becoming creative, and in the end, the school gives them a distaste for photography. I see this every year in young interns from photographic fields who work with me as interns. Classes can be as great as they come, but you have to only take from them what you need, and not try to copy someone else's approach.
Out of well-known photographers, whose courses would you attend? Who do you look up to?
I honestly don't know. I don't think I'd want to go to anyone's courses, because I most enjoy figuring everything out on my own. Those are the biggest challenges for me—picking apart a photographer's photo and trying to figure out what workflow they used to arrive at that result.
But there is definitely a wide range of successful photographers from whom I'd gladly learn some individual "tidbits." Above all in the areas of marketing, communications, and business. And who do I look up to? I'm definitely a fan of, for example, Jacob & Pauline—a super-successful Czech couple—and my other favorites include Denis Fueco, Jan Dikovský, Lucie Nesládková, Dalibor Bijelic, and many others.
You say of yourself that you're an inquisitive man. What has recently caught your attention the most?
Recently my biggest attention magnet has been the nine-month wait for an expected addition to the family and "heir to the throne." This is something new to me, and honestly, I tremendously look forward to everything awaiting me in connection with this. My feelings around this can't even be described.
As for my work, my attention is drawn to the search for ways to better present myself and automate my workflow. I'm trying to better organize my time so that I can spend more of it with my family.
Is there a picture or situation that you've long been wanting to photograph, but there hasn't been an opportunity yet?
For some time now, I've had an image in my head of newlyweds falling back-first into water. It may sound strange, but I feel a strong desire to capture that brief moment before the surface converges above them. There simply must be an enormous number of emotions in their faces at that moment, and I'd like to capture those in that photo. Naturally, and unfortunately, no couple has had the courage to go along with me on that yet. Which I understand—what with today's rental rates for wedding apparel!
In your opinion, does the photographer's mood influence a final picture? For example, when you're tired, and you have to force yourself to take a picture, do you arrive at the same result as when you're looking forward to taking it?
Definitely. The mood is one of the main factors influencing any final photograph. When the photographer doesn't feel OK while they're taking the pictures, in my opinion, they'll never arrive at the photo they want. I see this very often at my workshops, where I try to make communication with the model one of the main themes during the picture-taking portion. It's really visible there what a large problem it is for the photographers to be at ease. And so the person being photographed isn't at ease either, and you can tell in the photos.
I really do look forward to, and enjoy, the majority of my shoots. Then the customer quickly tunes in to the same wavelength and enjoys the shoot as well, even if they were nervous just a short while earlier. Learning to be at ease is much harder than learning to master your camera, and many photographers fail at this.
Every photographer seeks their own personal style. With your photos, people usually know right away that it's "Kenji's work." When you're editing your pictures, do you think about how to make them fit in with your other pictures, or do you not pay attention to this?
I'd say that from one look at my Instagram feed, everyone can tell I'm not very good at this!
I try for my photo output to work as a whole and consistently in some way, but I probably feel bad "slapping" the same filter on all of them and calling it a day. I feel that every picture or series deserves its own treatment, and my photos are often so different in style that I wouldn't like to give them the same tonalities. And I'm gradually coming to terms with the fact that this will probably never change.
The recognizability of my signature probably has its roots in my use of a wide angle (24 mm), which I really do use everywhere. I like how this gives each photo more of its environment, which in my opinion helps to shape the story of every one of my photos. But if people are recognizing "Kenji's work" based on something besides this, then I'd really like to know what that is.
Do you always use the same presets, or do you approach your edits for every photo and series separately?
I have about five presets of mine that I use for basic photo coloring. You can get them to try them out at gumroad.com/kenjisshotbook. These are preset that delight my eyes, and I think they work for the majority of my photos. But when I'm editing individual photos, I fine-tune each one individually on top of that, so these preset really do only determine my basic tonality.
You're a Sigma ambassador, but without regard to brands here: If you had to choose just one lens, which one would it be, and why?
Thinking with my heart—it's the Sigma 24mm f/1.4 ART. Ignoring the fact it's a Sigma, it's just the lens that sits with me the very best. I like the output and sharpness, and I use it for almost every shoot. What I like the most about this focal length is how it's able to capture an enormous amount of the surroundings and environment behind the object I'm photographing, which for me is pivotal to shaping a photo's atmosphere and story. Unlike for example long lenses, where the atmosphere has nothing but haze (bokeh), and actually at that point, it's all the same whether you shot your portrait with a tree in the background or in a studio in front of a crumpled green bedsheet.
Do you enjoy taking pictures every day and seeking new ideas? Do you have gloomy periods sometime?
Fortunately, I don't take pictures every day; if I did then those gloomy periods would probably come. I definitely enjoy seeking inspiration and new ways to move a bit towards somewhere. Sometimes I have moments when an idea occurs to me and what I'd like most is to run out and photograph it immediately. But in this, I collide with the fact that not everyone wants to immediately run out and pose in front of my camera. And I do have gloomy periods here and there too, like everyone perhaps. But more than somehow drowning in them, this quickly compels and motivates me to try out something new.
Besides sweets and your wife, what makes you happy in life?
My work, time with my family and friends, good music, successes large and small, new chances for cooperation, and relaxation. Actually what makes me happiest of all our life's ordinary little things.
If someone's thinking about working as a photographer full-time, how would you sum it up for them? What's ideal about it? What isn't?
It's 70% marketing, management, and organization, and 30% photography. I personally enjoy this a lot; it's really a daily struggle and striving to earn your place and succeed. But that's probably not great for everyone—70% is a really big number, and lots of people are unable to accept it and expect that being a good photographer is enough. But when nobody knows you're a good photographer, they're hardly going to hire you.
We've all been there. The season is starting—weekend wedding shoots, and then editing and smaller events during the week. Are you able to find time for your family? To tune out?
I am, and I'm proud of that. I try to really dedicate a lot of time to my family, it's the most important thing in the world for me. This year things have worked out so that I have just the right number of weddings, and I wouldn't want more. A lot of them will even be on weekdays, letting me save up a few extra weekends with the family. I'm gradually learning not to waste time on useless things—to eliminate them. It's all about setting priorities.