Prepare Your Own Christmas Greeting Postcard Right on Your Computer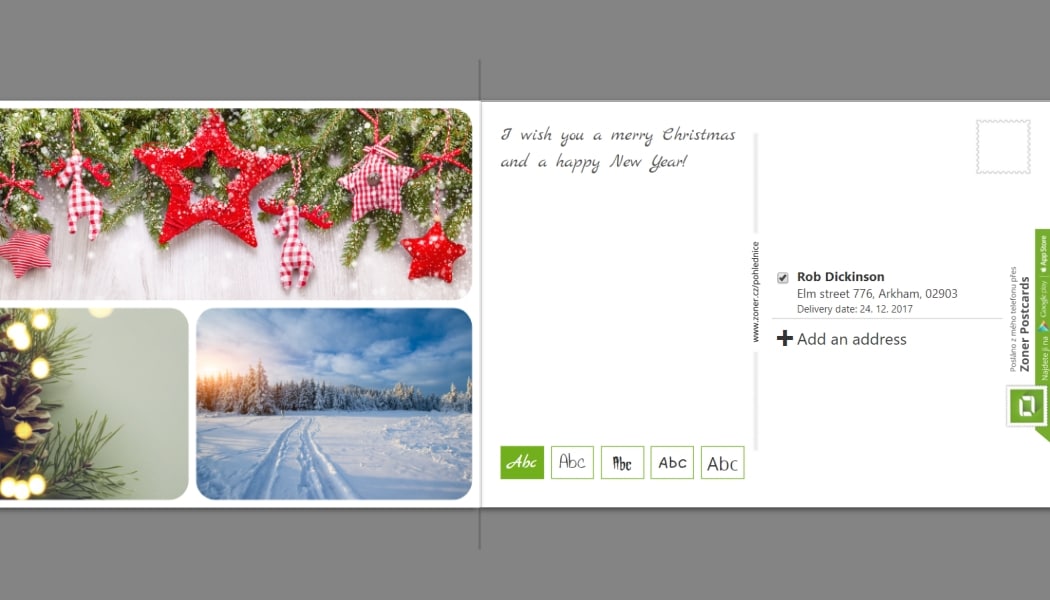 "Too impersonal." That's how many people see it when you send a text message for Christmas. And so they're slowly going out of fashion. People are turning to more original greetings—like paper Christmas postcards they make from their own photos. Take a look with us at how to create a postcard like this.
You put together your paper Christmas postcard and send it from your computer, and then your friends get it sent right to their letterbox. You just need to choose a good photo, add a nice text and an address, and put it all in a template that works right for you.
Create Customized Christmas Postcards with One Photo or Many
First choose the photos that you want to use for your Christmas greeting. Then open the folder with these photos in Zoner Photo Studio and go to the Create module.
Then go on and use the Postcard option, and you'll reach a selection of almost forty templates. Besides the classic layout with a single photo across the whole postcard, you'll also find layouts with multiple photos. Just choose one you like.
Then drag a photo or photos from the Filmstrip at the bottom up to where you want them. And then adjust the photos in the individual picture boxes however you need. So it's up to you whether to show a photo in full, or just a crop of it.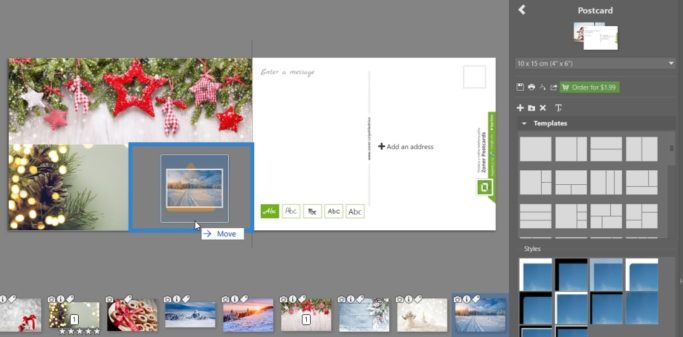 Send Your Christmas Postcard Worldwide
Now write your Christmas greeting on the postcard. You can choose any of five fonts for your text. So just choose the one you like the most. Then you can impress your loved ones with your "lovely writing," like I did recently when I sent a ZPS postcard to my grandmother.
Don't forget to also fill in the postal address you want to send your Christmas greeting to! You can also enter more than one. It's up to you how many people you want to please. And those addresses can be anywhere in the world.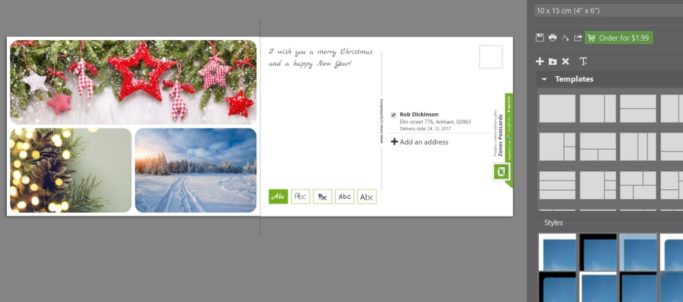 Once you've got it all written, click Order to send your postcard. You can also save your postcard as a PDF or JPG file and then send it by e-mail or publish it on Facebook.
We Print and Send Your Postcard
To wrap up, you just pay over the PayPal payment gate and the postcard's data is sent to us at Zoner, where we print it out and mail it to your loved ones.
Join everyone who's giving it a try—turn your photos into a Christmas postcard too. Download Zoner Photo Studio X, try it free for 30 days, and surprise your family and friends with an original Christmas postcard.
Attention: We no longer support the application for sending postcards from mobile phones. Please use the Zoner Photo Studio X interface or directly on our website.