How Do You Share Photos? In Just One Click!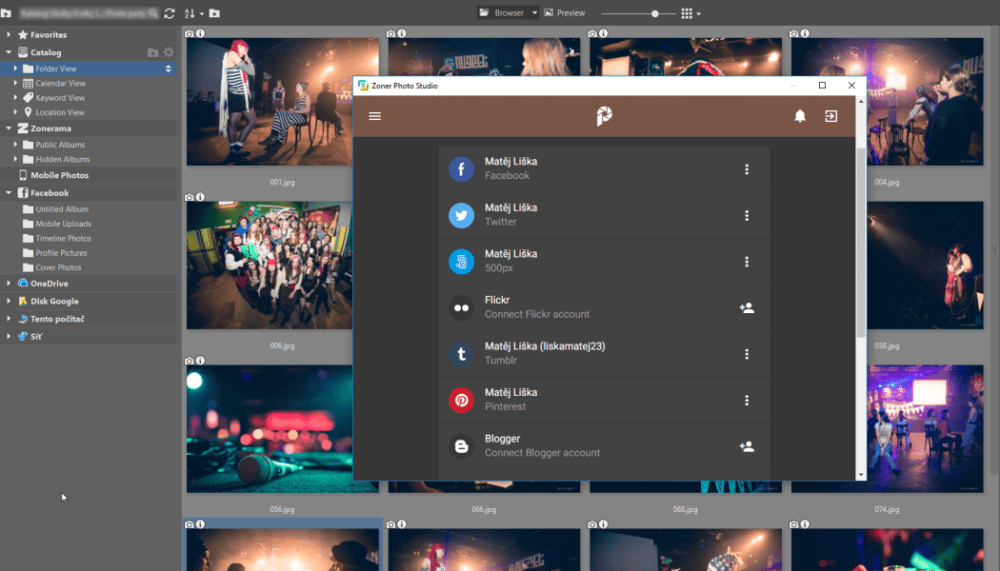 We all share photos every day. We upload them to social networks, send them to our friends, and create private or public galleries. And Zoner Photo Studio can help.
Photo sharing in Zoner Photo Studio has seen a number of improvements. You may already know about its tools for publishing on Zonerama or Facebook, or emailing photos. But now you can also take advantage of sharing on multiple social networks at once. And you can even create a queue of pictures and plan out how they'll be shared.
Meanwhile the foundation is the same almost every time—you just click Share in the right-hand toolbar. You'll find it in the Manager, Create, and Editor modules.
Share Whole Batches—Pixbuf Will Help
Note: as of May 20th, 2020, ZPS X no longer offers integration with the Pixbuf service. Information provided in this article may no longer be relevant because of this.
You can publish photos on multiple social networks at once thanks to Pixbuf integration. Zoner Photo Studio is newly hooked into this system, which lets you send your photos out to ten social networks:
Facebook,
Twitter,
Instagram,
500px,
Flickr,
Tumblr,
Pinterest,
Blogger,
EyeEm,
and YouPic.
To start your batch photo sharing, just click on Share -> Plan over Pixbuf. Your picture is then uploaded to Pixbuf, and from there you can share it to selected social networks.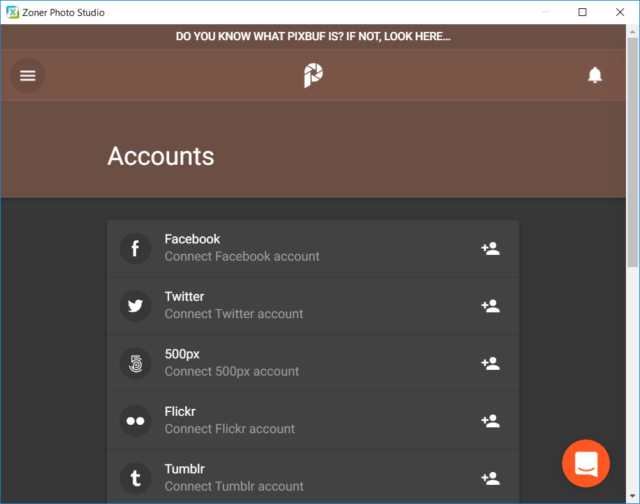 Before you start with sharing in Pixbuf, you need to log in to the individual social networks you're using. And then you can send selected pictures to all your networks at once in a single click. In Pixbuf you can also do things like give the photos a name and a short description and choose where you do and don't want to publish them.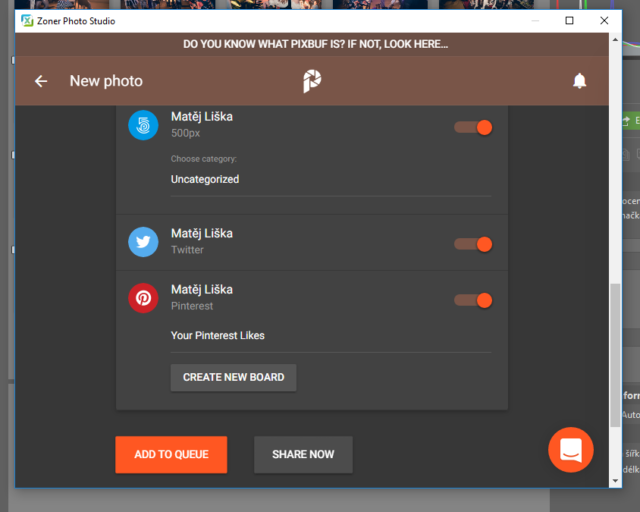 When you add photos to the Queue in Pixbuf, you set your own publishing times for them in the different networks. Either right away, or with a delay using the Queue.
The Queue is also the core tool that lets you plan "periodic sharing" in Pixbuf. With periodic sharing, you can publish periodically even if you don't have time—or even internet access. You just have to configure days and a specific time, and it's all set up. Zoner Photo Studio and Pixbuf take care of the rest.
Direct Sharing to Facebook and Twitter
For Facebook and Twitter, you can also share from Zoner Photo Studio directly. You just mark the photo, click Share in the right panel, and then Facebook or Twitter.
If you are sending photos this way for the first time, then you first need to sign in to your Facebook or Twitter account. When you send the photos, a window opens up where you can add a comment, choose an album, and send the picture.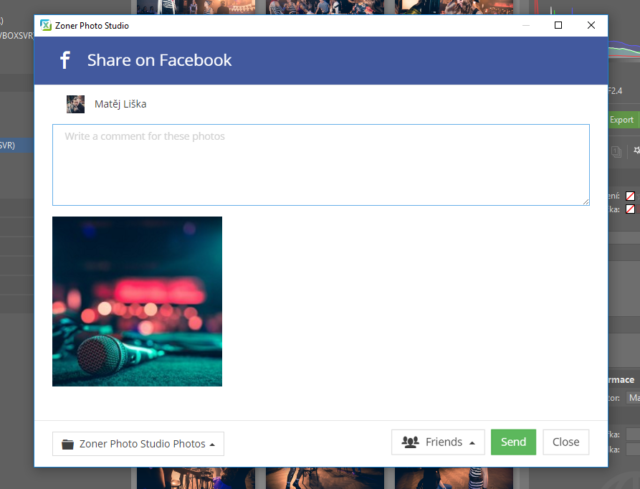 Sharing to the Zonerama Online Gallery
You can also share photos to the Zonerama online gallery. Just click the  Zonerama tab in the left panel of ZPS and then create a new folder (F7). Then just select the photos you want to share and drag them into the folder.
You can copy a whole folder full of photos to Zonerama the same way.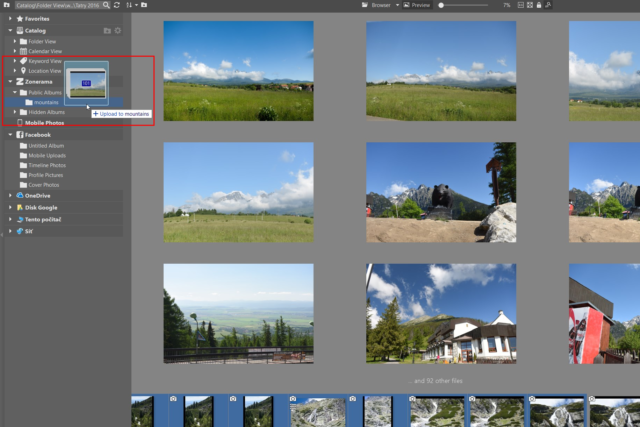 Sharing Photos in an Email That Won't Stuff a Mailbox
You can also send photos by email from Zoner Photo Studio. Here again, use the Share button in the right panel.
And you don't have to worry about stuffing up your recipient's mailbox with a large photo set. That's because ZPS uploads photos to Zonerama and sends your addressee a private, secure link. Then they just click it and download the photos.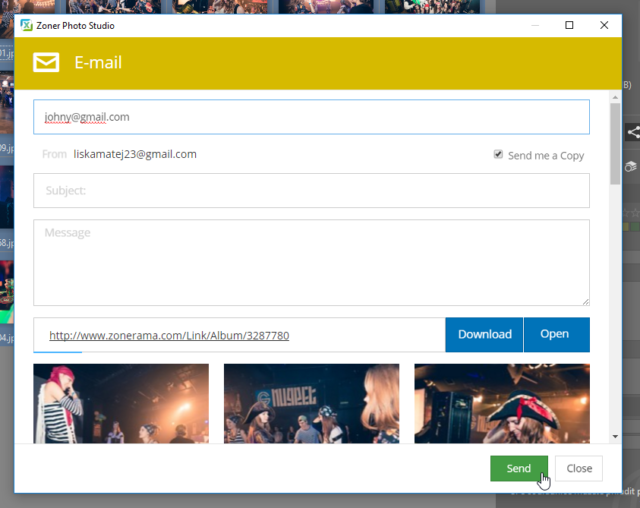 Share and Be Seen
Photo sharing lets you show off your photographic catches, and also share your experiences with other people. Zoner Photo Studio can make it much easier for you. Using the Pixbuf extension, you can work on multiple social networks effortlessly.
You too can check it out and share your favorite photos more easily. Download Zoner Photo Studio X and use it 30 days for free.