Sports Photography: Check out These Basic Tips on Sports Event Photos
Sports photography is a fairly popular discipline, but it's also demanding. It's basically reportage in which you have to be able to deal with very fast motion. Meanwhile, each sport has its specifics. But there are still general recommendations you can apply when photographing practically any sport. Get to know them.
Keep in mind that in sports photography, a mere fraction of a second is often what counts. So you have to be ready for the right moment to press the trigger.
Before your "first kick," configure your camera and scout the terrain—you'll be short on time, so don't underestimate preparation. And during a match or a race, try to spend as little time as you can going over previews, so you don't miss a moment.
The Foundation for Sports Photography: Good Preparation
Just like the athletes, you'll need thorough preparation to deliver the best performance. Start with a detailed knowledge of the sport that you'll be photographing. That's the only way to catch its most important moments.
For sports like hockey or athletics, you likely won't have any major problems learning the rules. But on the other hand, there are often local specifics, like less time per period or fewer attempts. So it's good to get to know conditions like these in advance. Then you won't be surprised when instead of another try, the referee announces the end of the game.
Also, before the event, go through the rosters or start list and find well-known names and interesting people in them. Then you'll have less trouble making sure you catch them in photos.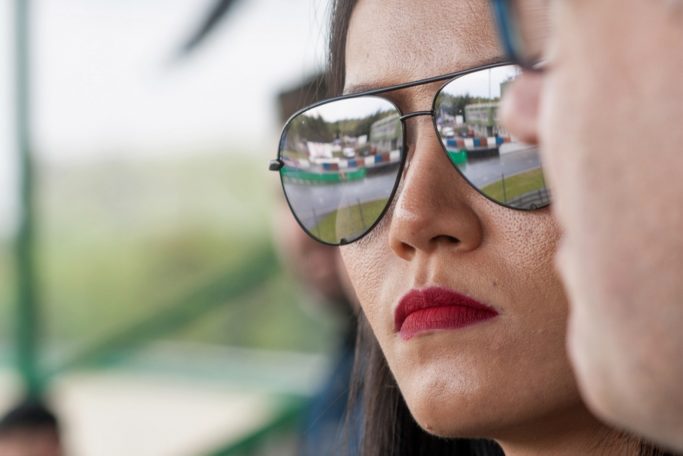 In sports photography, it's critical to arrive in time and get to know the venue before the event. That way you'll avoid unpleasant surprises in the form of treacherous light, a bad view, or being unable to get close to the action. Your research will help you find your bearings within your environment and prepare for the event's key points.
To Photograph Sports, Find Fresh Compositions
In sports photography it's good to seek out exceptional shots and use those to be unique. And meanwhile, there are many ways to add life to a composition. You just have to use the possibilities that the venue offers.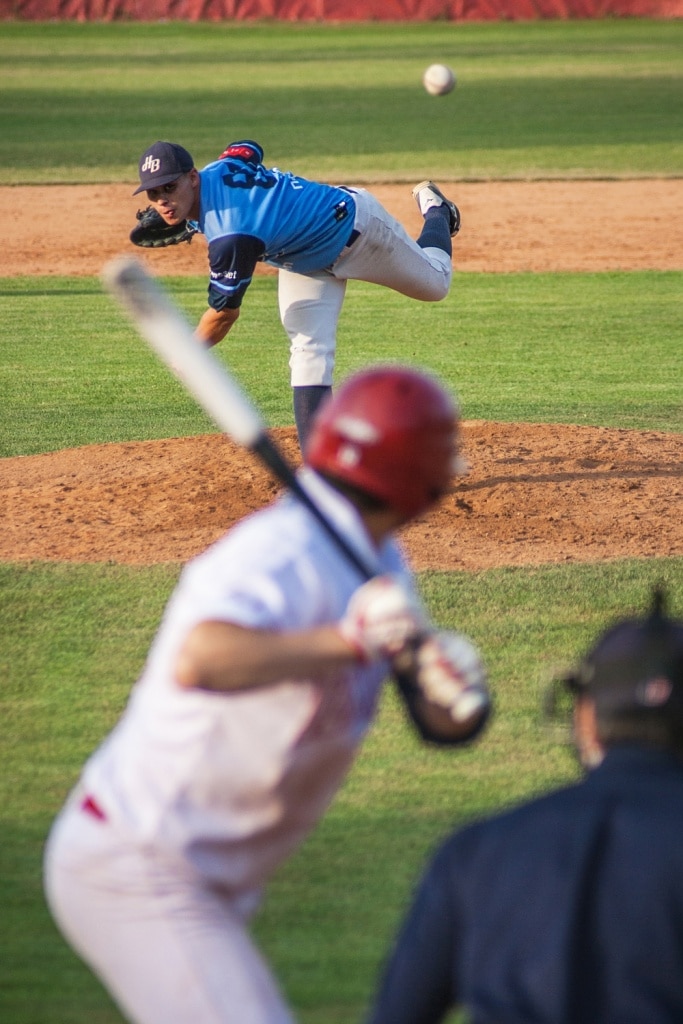 For sports competitions, you'll most often be moving around in the bleachers or other spaces reserved for the public. They're convenient and easily available, but only rarely can you take any truly original pictures from there.
So it's often paid for me to leave the crowd and head out for other, less familiar points of view. Sometimes it's enough to take a couple of steps, while at other times, opportunity might even take you up a tree. In this respect, a different perspective can play a significant role.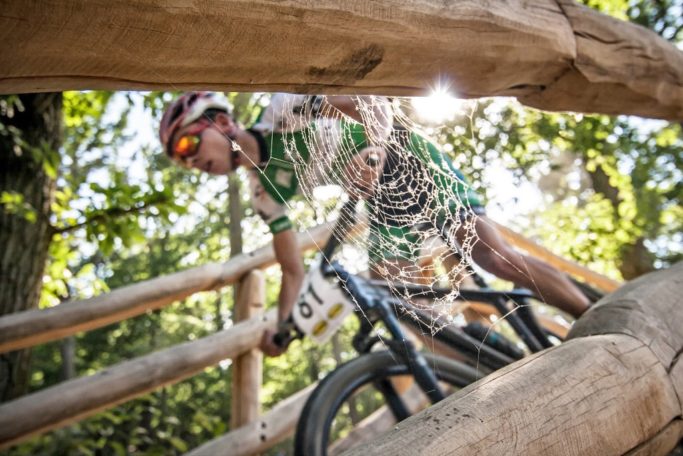 Seek Emotions for Your Photography
Unlike landscape photography, where you have plenty of time for composition, sports photography demands speed. So don't try to take compositionally perfect photos at any price. Instead, go for wider shots that will leave you enough of a reserve for cropping in Zoner Photo Studio.
Composition isn't the only thing that can make your shot a unique sports photo. Often the fundamental thing is capturing emotions or emphasizing details. After all, with the right shot of an athlete, you can express more than just the fact that they're participating in the contest. So focus on their facial expressions.
Photography is a great tool for immortalizing fleeting moments of tension, joy, or disappointment. You just need to look around and be nimble.
So What Should You Take?
A sports photographer needs a lot of gear. And a telephoto lens is among the most common items. I won't say you can't work without it, but it's rare that you'll get close enough to the athletes to not need it.
But what's even more important is to understand your tools. If you're struggling with your gear during a tense moment, it can cost you lots of good pictures.
Adapt your shots to the gear you have available. Got an ordinary compact and you're standing just under the ski jump? Then your pictures most likely won't be about flying skiers, but more about documenting a broader view of the whole area, with an emphasis on good composition and the atmosphere.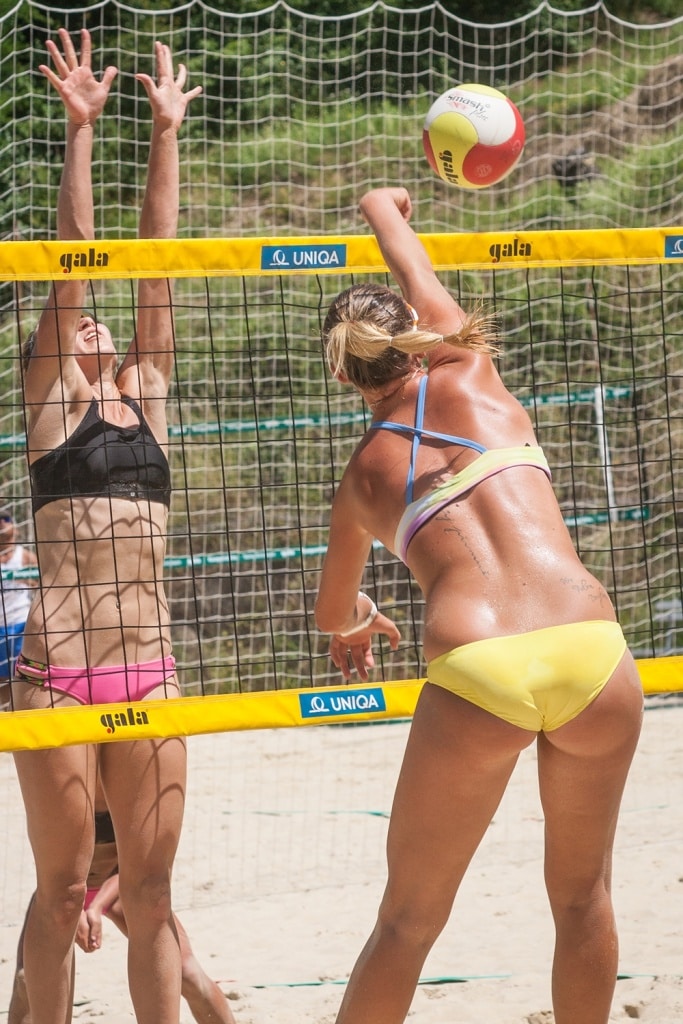 There generally isn't any point in bringing a traditional tripod to sports photography. But a monopod can be an invaluable aid. It will help you stabilize your camera and to thus get much better pictures with the same exposure speed. And once you get used to it, it can even help e.g. with panning.
Flashes, meanwhile, are something to use sparingly. Although they're useful for illuminating a backlit object that's nearby, or in bad lighting conditions, in other situations their use is unthinkable or pointless. If for example you're in the bowl of a big stadium, give your flash a rest.
Think About Sharpness and Variety
One vice in photography overall is trying to store every even slightly interesting moment on your card. Often the result is an album that ironically isn't very interesting.
The problem is usually that the events on the field will engage you so much that you'll stay in one spot for the whole time. And so your gallery is then full of photos from the same place and with similar composition. Meanwhile, seeking out different spots and photography styles can really spice up a photo album.
Be sure to also pay attention to sharpness in your sports photography. You have to have control both over your focus on the right spot and over motion. Generally what's most demanding is photographing moving objects under low-light conditions. So work with focusing mode and increase the ISO as needed.
It will also pay to take series of shots. That gives you a better chance of hitting on the right moment.
In your sports photography, you should mainly use shutter priority (marked "Tv" on Canon cameras and "S" on Nikons). With this mode, you set the shutter speed that you need in order to freeze the motion, and you set the ISO.  The camera then calculates the needed aperture.
Be Amid the Action, but Be Invisible
In sports photography, keep in mind that you should never directly intervene in the action in any way. So think about what places are safe to move around in. Have consideration for the athletes, the audience, and other photographers.
Meanwhile, don't try to be "neither a spectator nor a photographer"—you are a photographer. So seek out events where your main interest will be in photography. I recommend matches from the lower leagues, for several reasons:
You won't be as far away.

You'll have a better chance of reaching an agreement with the organizer and getting to places you could only dream of at big events.

You'll be right in the middle of the action, and that will motivate you towards better performance.
Don't Wait for the Starting Gun
When I recently went through one of my sports-event galleries, I realized one important thing. As a photographer, you don't have the same timeline as the athletes do. While they're still getting ready, you already have to in full-alert mode.
It also isn't too good to stop taking pictures right when the last whistle blows. Many of the album's good photos came from after the match. These moments, too, tend to be full of emotions—don't miss them!