Taking Portraits with Animals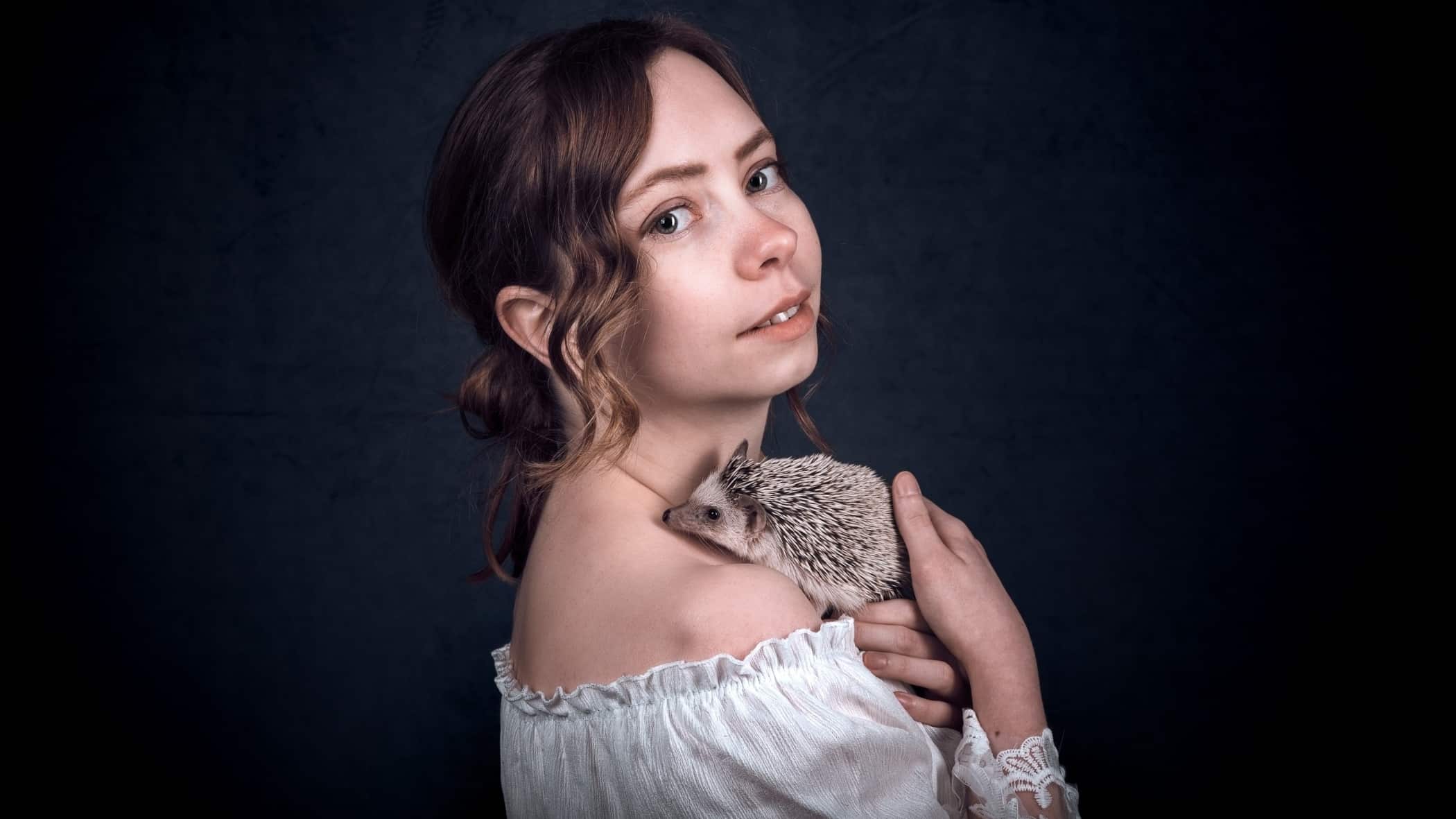 Portraits with animals are popular and eye-catching. But taking these portraits is not always simple. It's a process that requires a lot of patience and skill. And be ready to get your hands dirty in the process. Your animal subjects may not cooperate as well as your human subjects do, so it's a good idea to be well-prepared. In this article, we'll give you a few tips for what to expect from this type of photoshoot.   
Taking someone's portrait with an animal is a challenge. It's combining classic portrait photography with another live object that has a mind of its own. If you're willing to take on this challenge, the results will certainly be worth it. 
Treat all animals with respect 
Animals are living things that have feelings, thoughts, and fears. They are not a subject that is made to be photogenic. They are not toys. Taking pictures of animals, just as with human subjects, is a collaboration between two equal sides. 
Whether you are photographing dogs, horses, birds of prey, hedgehogs, badgers, foxes, cats, or even bears, it's important that you treat the animal with respect. It is your job to find something beautiful to convey in the photograph. This can become complicated when the animal subject doesn't behave exactly as you imagined. But if you have to force the animal to pose in a certain way, we can all agree that something is not right. Photography with animals requires patience and calm.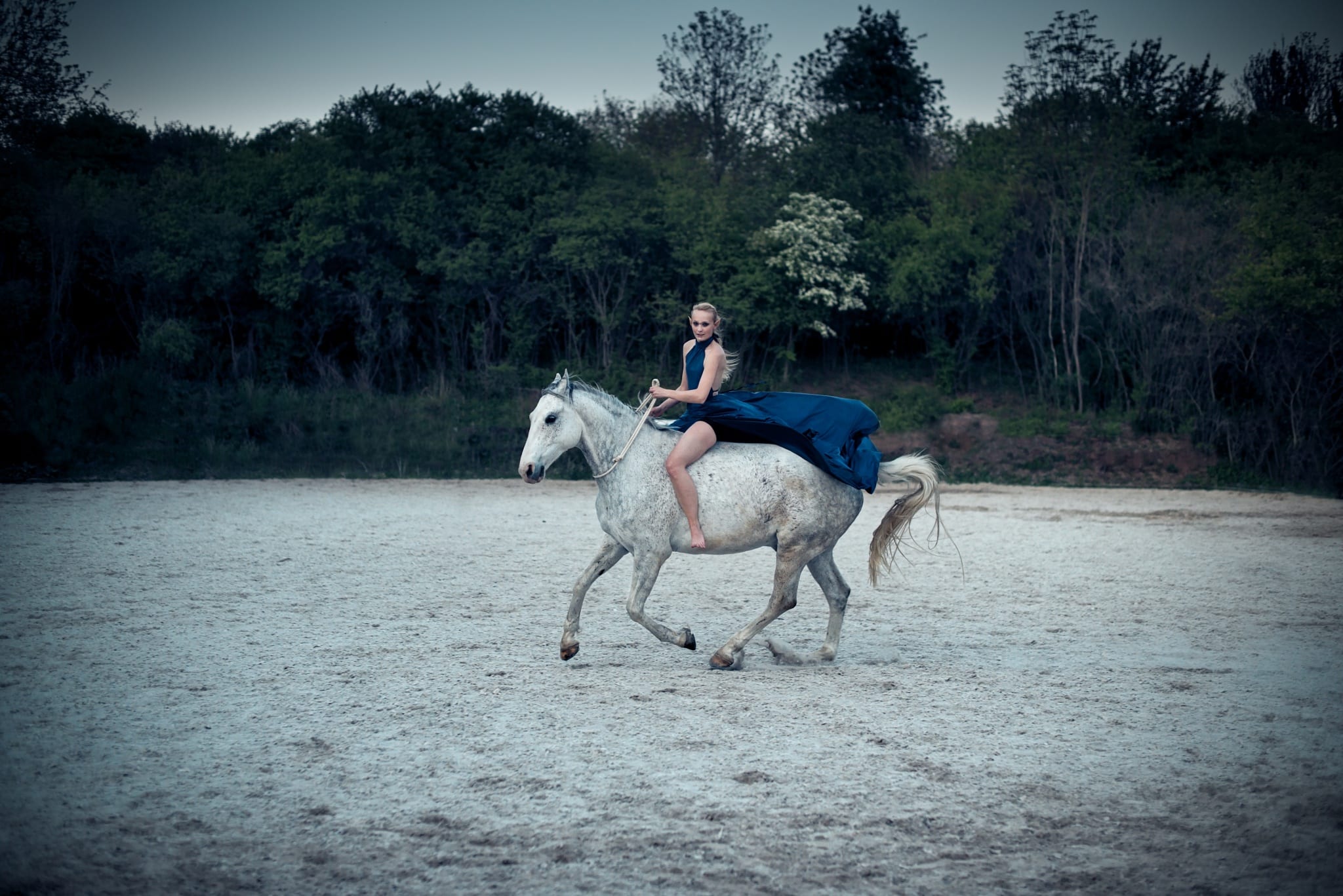 Quite often, photoshoots with animals are limited on time. This means that in the end, there may not be a large number of photos. However, this shouldn't be an issue. In the case of portraits with animals, it's quality over quantity. If an hour-long photoshoot gives you one perfect shot, it is enough. If your model or subject is expecting a large quantity of photos, then you will be stressed when everything doesn't work out just right. This is why we recommend letting your model know what the photoshoot will entail beforehand. You have to be delicate when working with another living thing that we don't want to make suffer or feel afraid, so certain limits must be planned for.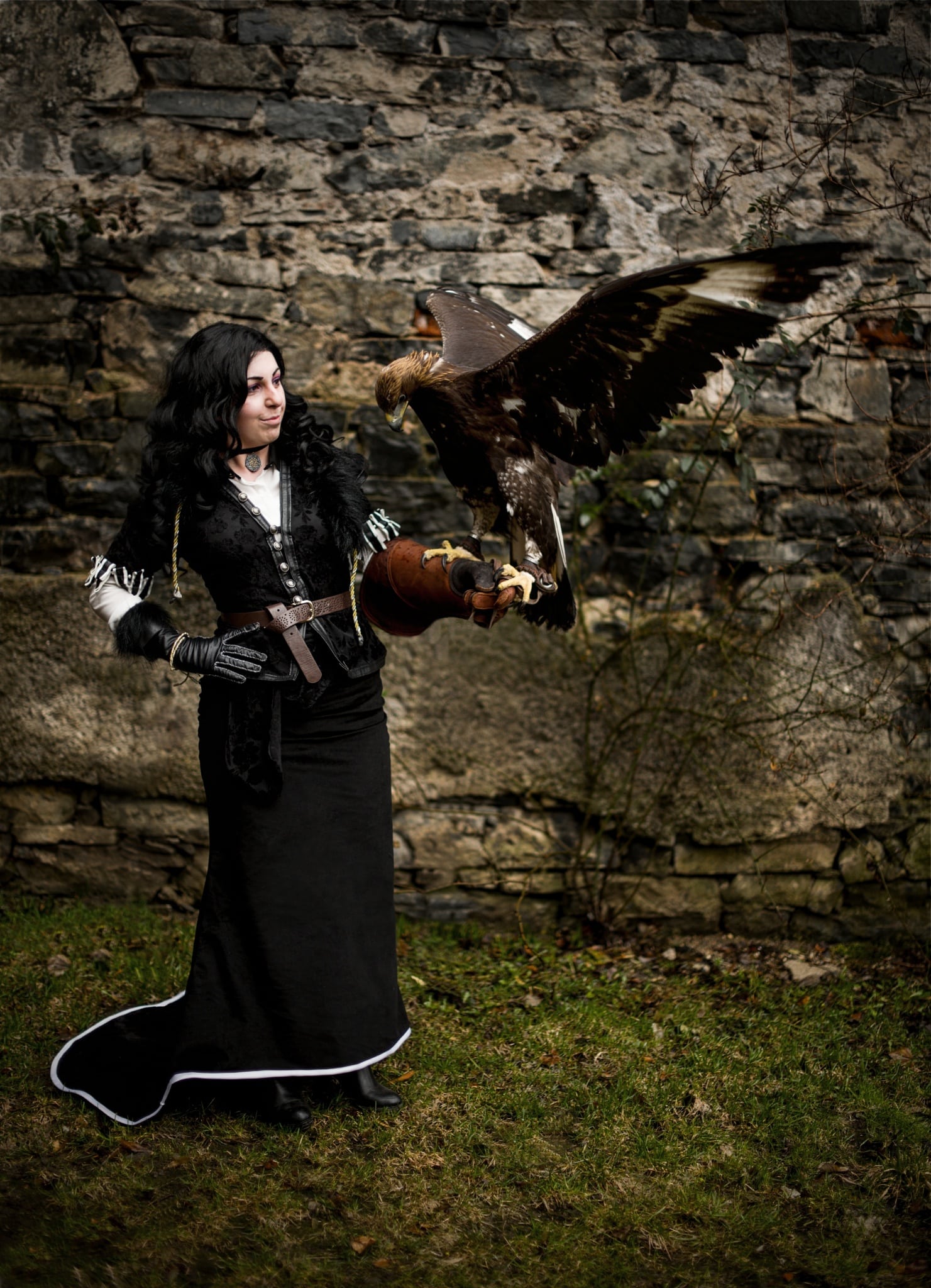 When photographing animals, don't bring any accessories or props. Things such as reflectors, smoke bombs, flashes can spook the animal. 
Always get permission from the animal's owner for the use of any additional accessories or props before the photoshoot!
Smoke bombs are a big no-no. Flash can be tolerated by some animals, but it's certainly better to use daylight.

There have been cases when using reflectors frightened horses.
Avoid anything that makes loud noises.


Don't use perfumes, which can irritate animals.
Technique for photographing animals with people
Get ready for fast shooting. I recommend finding the best lighting conditions since you will be using settings that correspond to the following:
Aperture

must be narrow, especially when photographing dogs. The animal subject is often in a different depth of field from the model and you don't want either of them to be out of focus. I recommend

f/4 and higher

. 

Shutter speed

should be very fast because the animal moves a lot. You want to be able to capture its every movement and have it be sharp. This means a shutter speed of

1/300s and faster

. 

ISO

should be adjusted according to the conditions and your equipment's capabilities so that the image is perfectly exposed.
When it comes to choosing your lens, I personally recommend lenses with longer focal length because you shouldn't be too close to the animals or else you may frighten them. Also, with a wide shot, a lens with a short focal length may show the animal's owner standing nearby.
Be sure not to lift your head from the viewfinder. That perfect moment in the photoshoot won't repeat itself and comes when you least expect it. Generally, don't waste your time checking your preview to see how your pictures turned out, just shoot, shoot, shoot – almost like with sports photography. For this reason, I recommend bringing enough SD cards of adequate size.
Different suggestions for different types of animals 
Horses are calm animals but should be treated with respect. There's a large difference between photographing an experienced horseback rider and someone who has seen a horse only a few times in their life. Models who are also horseback riders can be photographed in the saddle at full speed, as long as they are very experienced and feel up to it. You can even try getting them to do a trick or two with the horse.
For non-riders, try to come up with multiple alternatives. It's a good idea to be prepared and plan ahead for these. You can have your subject pose next to the horse. The horse won't jump or misbehave, allowing you to experiment with composition, and have a more relaxed photoshoot. Other ideas for photographing horses can be found in the article, How Do You Get Great Horse Photos? Soap On, Ears Forward, and Watch That Composition! 
Dogs are another favorite animal to photograph. Czechoslovakian Wolfdogs are popular and look very similar to wolves. Every dog is trained differently, but my experience has taught me that rowdier animals are more difficult to direct. Be prepared for a lot of movement and not much flexibility. However, if you are prepared, you should be able to handle it.
Dogs are frequently kept on a leash during a photoshoot, so I recommend learning to remove unwanted items from photos. We've also written an article exclusively about photographing dogs, How to Photograph Dogs – Don't forget the Treats!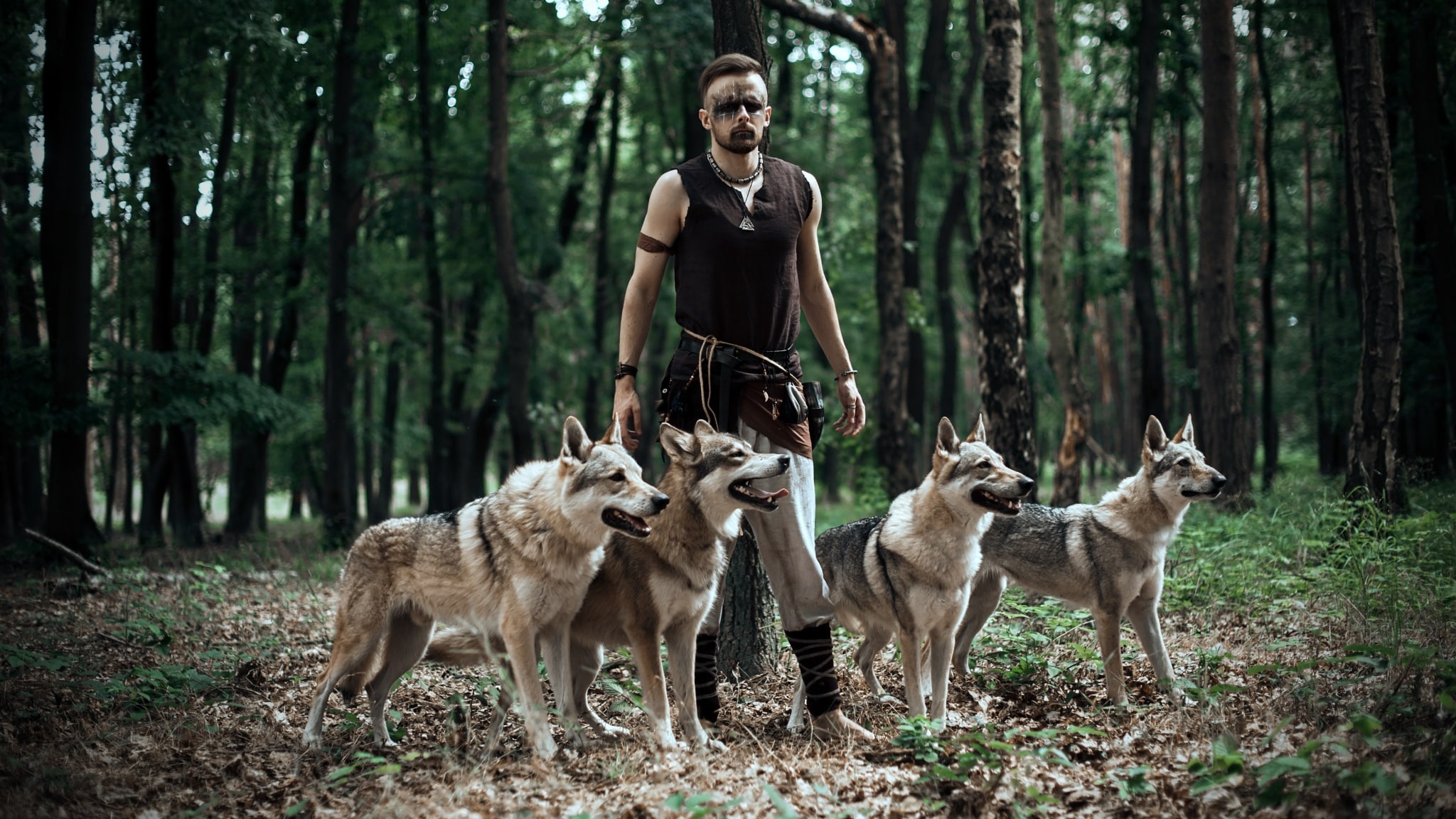 Birds of prey and other birds are beautiful and easy to work with. Most of the time they will calmly sit on your arm. But be careful, you can't hold them with bare hands because they have strong, sharp claws. Plan for this when selecting your model's wardrobe. Also, don't forget that larger birds are usually heavy, so more petite models may not be able to hold them on their arm for a long time.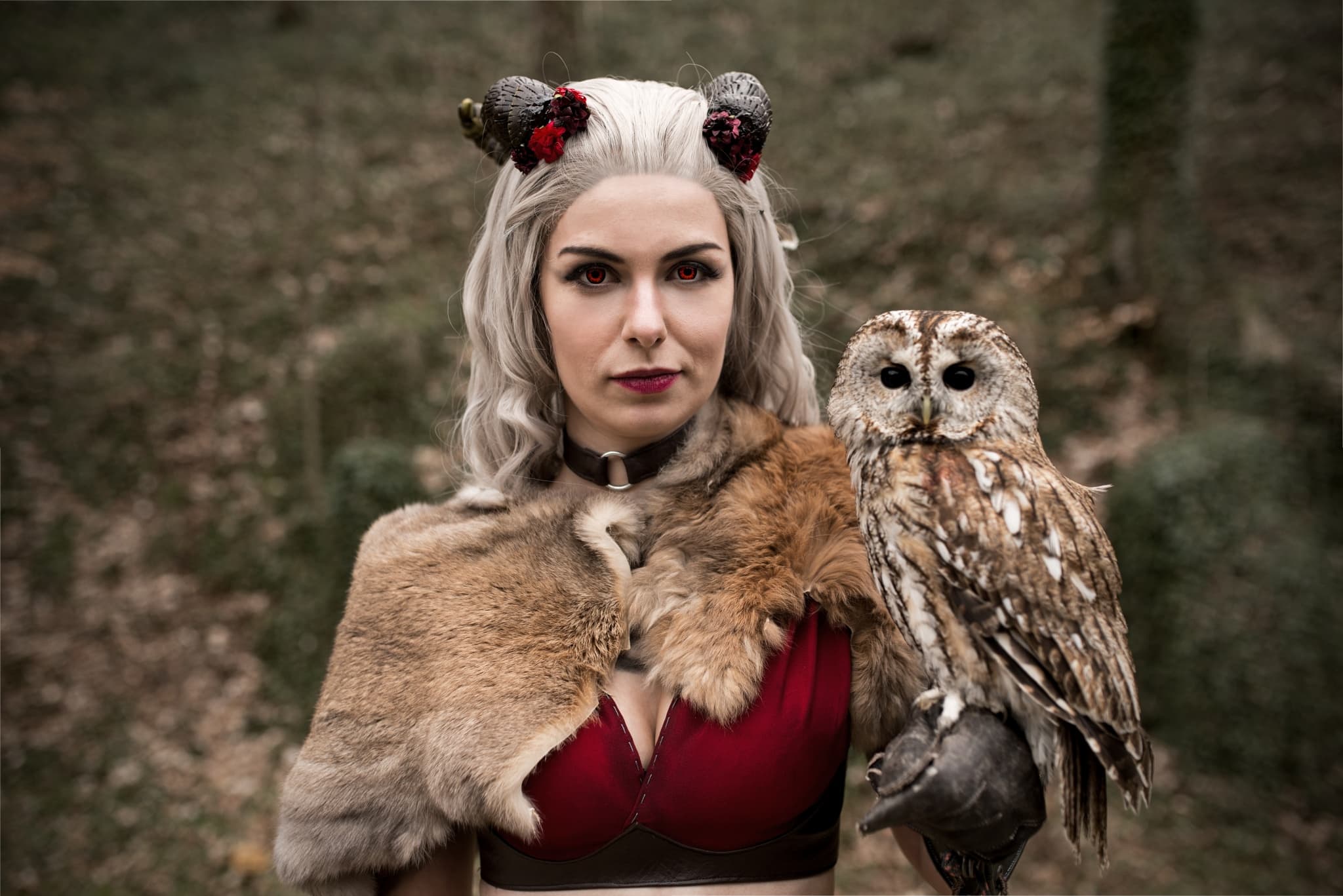 I'm also including some of my own experience specific to certain categories of animals:
Hedgehogs

need a warm environment but don't seem to be bothered by flash. 

Cats

are finicky and a lot depends on their personality. 

Badgers

are friendly and love grapes.

Foxes

are beautiful but don't forget they are still wild animals.

Snakes

prefer warm places.
In conclusion, I definitely recommend adding animals to your portrait photography. The cost of renting animals is usually reasonable and the fee covers their food, shelter, and ensuring they lead happy and healthy lives. There are always things that can surprise you in a photoshoot with animals, but don't let them scare you away. Hold on tight to your camera and take plenty of shots.
Other shots you take may be surprisingly simple. Just be sure that whatever ideas you have are cleared with the animal's owner beforehand. Study your options and be sure to talk everything over with your model, so that both parties are fully informed and there isn't something that can spoil the final product.