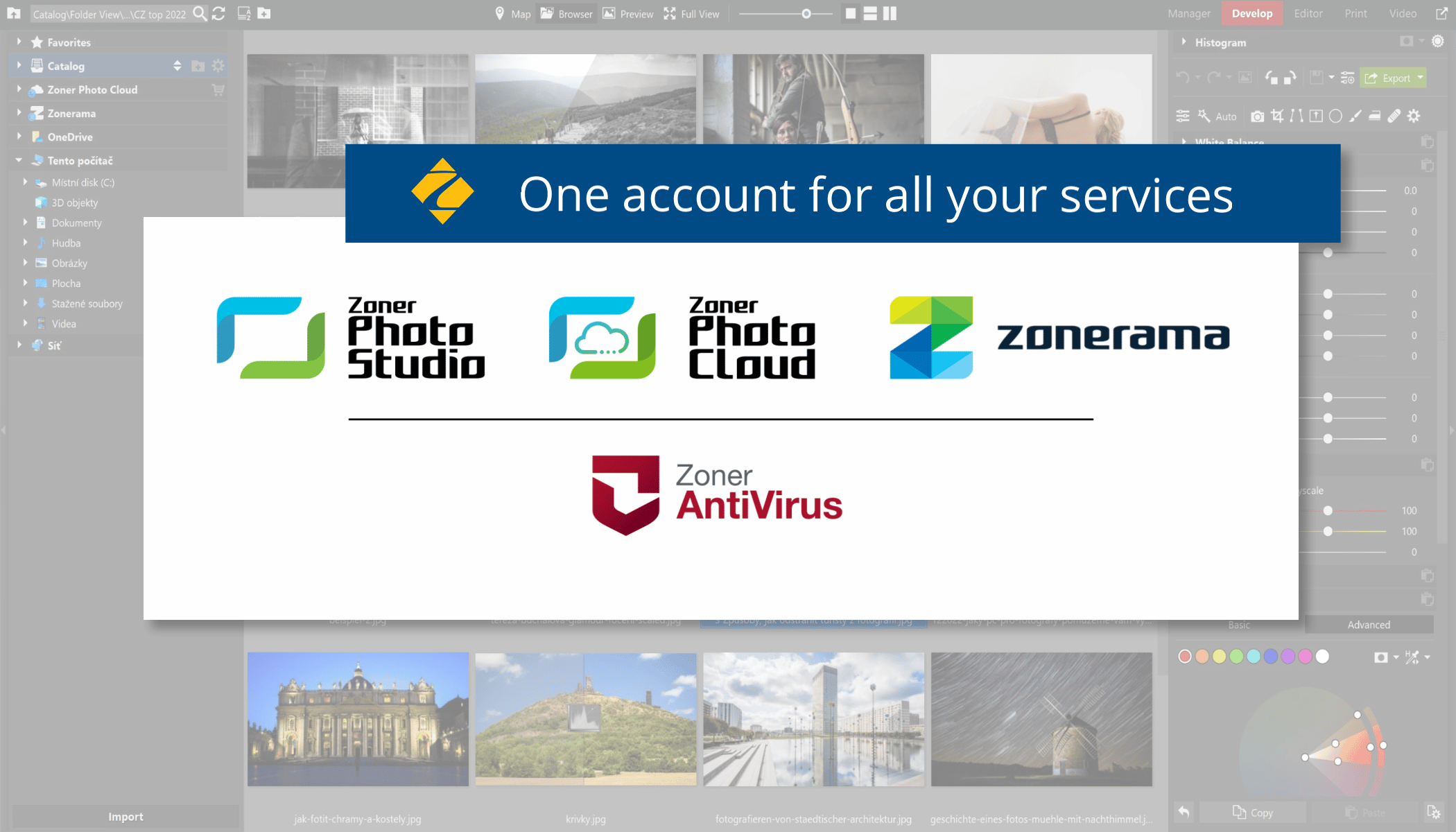 If you use Zoner Photo Studio, the Zonerama gallery, or use Zoner AntiVirus to protect your computer or mobile phone, then you also have a Zoner account. Read about the many benefits of a Zoner account in this article.
A Zoner account is the gateway to services associated with Zoner Photo Studio. In addition to the program for Windows, your account also includes the unlimited online photo gallery Zonerama and 20GB of space for your photos on the Zoner Photo Cloud. The Zoner family also includes Zoner AntiVirus and in part, the Learn Photography magazine which you are reading now. 
One password for all Zoner services
With a Zoner account, you can use the same email and password to access all Zoner services. You can also use it to conveniently manage your orders and licenses, including the ZPS licenses you have purchased. You'll never lose them, and you can activate older versions of ZPS after changing computers or reinstalling your operating system. You can also transfer your ZPS license to someone else. And last but not least, you can use your Zoner account to upgrade your license to the Family Plan or upgrade your cloud storage to 1TB.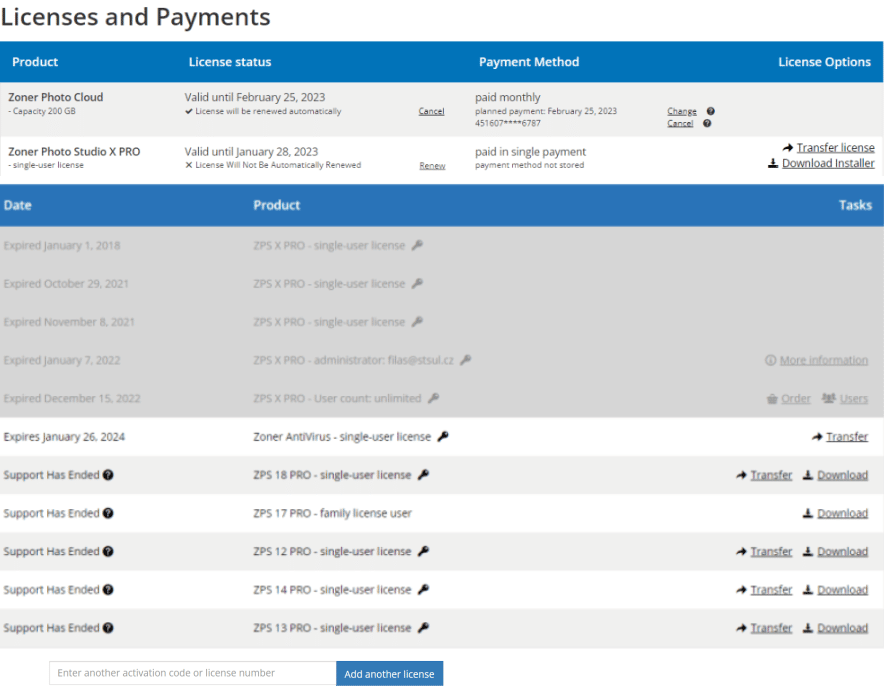 In the Payments and Orders table below the license list, you can even find your past photo product orders.   
How is a Zoner account created?
There are several ways to create a Zoner account, depending on which of the services you started using first. If you want to use another Zoner service, you don't have to create a new account, just use the one you already have. 
Create a Zoner account by:
Activating a trial version of

Zoner Photo Studio

Purchasing Zoner Photo Studio

Creating a

Zoneram

a

account

Creating a

Zoner account

on the website

Downloading Zoner AntiVirus
Every ZPS X user has a Zoner account
Zoner accounts have been in existence since 2014. Everyone who purchased an electronic license was automatically assigned one even though it wasn't a requirement. It is primarily used to store the licenses you have purchased. When purchasing ZPS X, a Zoner account is necessary, as there are additional functions linked to it. 
Your Zoner account for ZPS X 
Many users use more than one computer and would like to use Zoner Photo Studio on all of them. A ZPS X license is for one user, not one computer. You can use Zoner Photo Studio X on multiple computers at the same time. You must log in to the program so it knows you have a valid license—a Zoner account does just that. 
Additional ZPS X features also require a Zoner account, especially those that involve sharing. Use your account to log in to the Zonerama online photo gallery using either your browser or ZPS X.
You can also use your Zoner account to share photos by email. Email photos directly from ZPS using the share button on the right below the histogram. This works by uploading the images to a hidden album on Zonerama. The recipients then receive an email from our server with your name or email. Logging in to ZPS with a Zoner account makes this possible.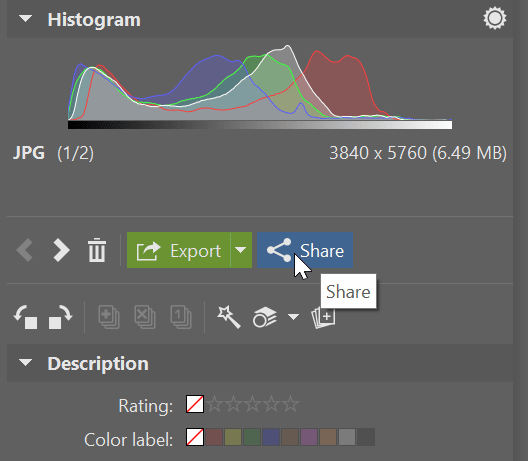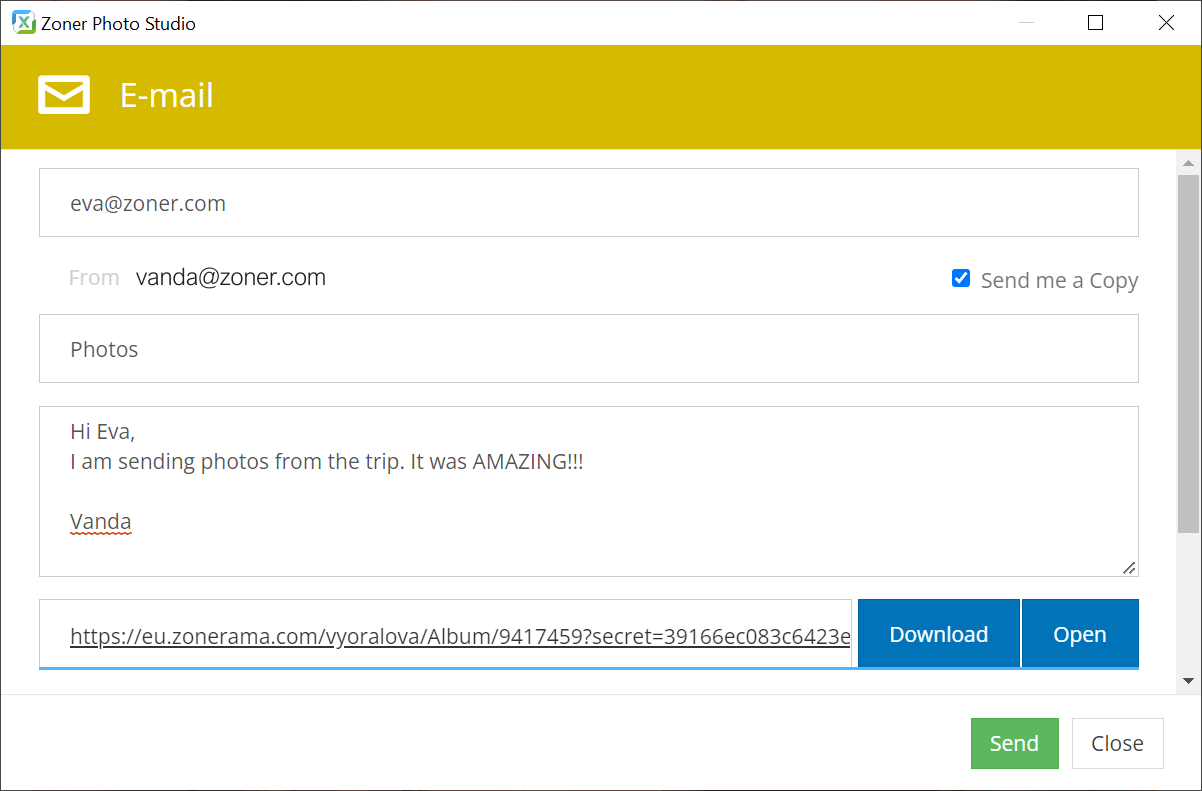 Simple login 
If you already have a Zonerama account, use the same login details. If you don't have a Zonerama account yet, log in using the password you received from us by email when you activated your trial ZPS version or purchased the full version.
If you don't know your password or forgot it, don't worry. You can always reset it directly from the Zoner account page. 
If you forgot your password, enter your email and the instructions to reset your password will be sent to you. 
Signups Settings 
In your Zoner account, under the Signups menu, you can manage your email subscriptions from us. You can choose whether you want to receive a newsletter with the best articles from Learn Photography, tutorials for ZPS, or be notified of special offers or news in Zonerama.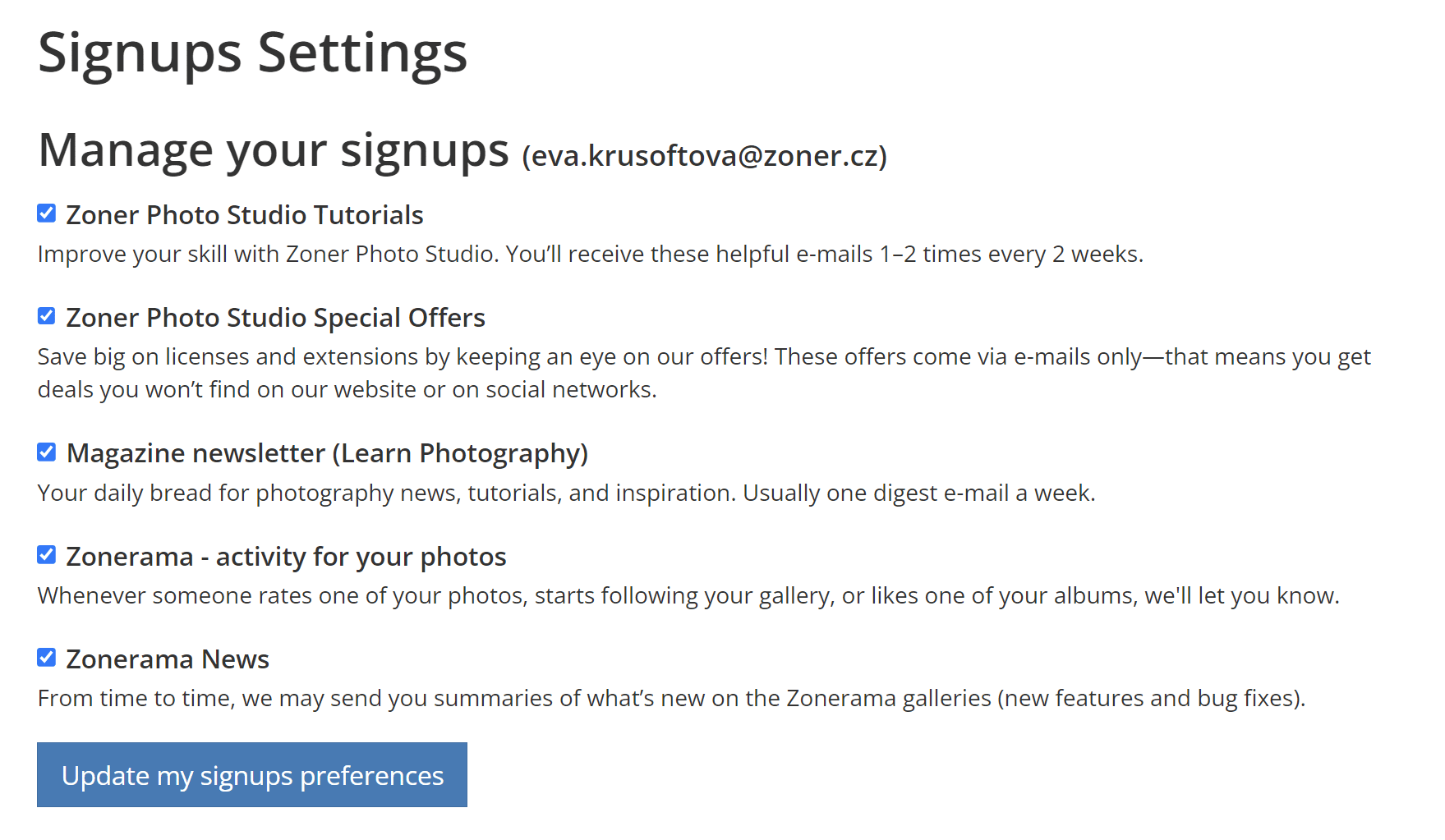 Changing your Zoner account information
Like with any other account, you can manage your personal information in your Zoner account including the email address and password. You can also connect your account to your Facebook account. Click Settings in the top menu.

Merging accounts 
A frequently-asked question is what to do when you purchased ZPS using a different email than the one you have registered with Zonerama. It is quite common to use multiple private email accounts so you may have used one to register for Zonerama and another to purchase ZPS X. In this case, you have created two Zoner accounts, which may be unnecessary. 
You can merge both accounts into one, but the only condition is that you only use Zonerama on one of them. 
We are currently unable to merge photos from two Zonerama accounts. However, transferring them is easy and you can do it yourself using batch upload directly in ZPS. 
Just like changing your Zoner account settings, the option to merge accounts is found in  Account Settings.
Merging accounts is also useful if you receive emails for purchasing a new version of ZPS X, but you have already have ZPS X. You most likely purchased the new version using a different email than the previous version, thus creating two Zoner accounts. 
Now that you know everything there is to know about a Zoner account, don't hesitate to try Zoner Photo Studio and all it has to offer free for 7 days. If you have any trouble, write to us at support@zoner.com and we'll be happy to help.