Cityscapes: Capturing Majestic Urban Landscapes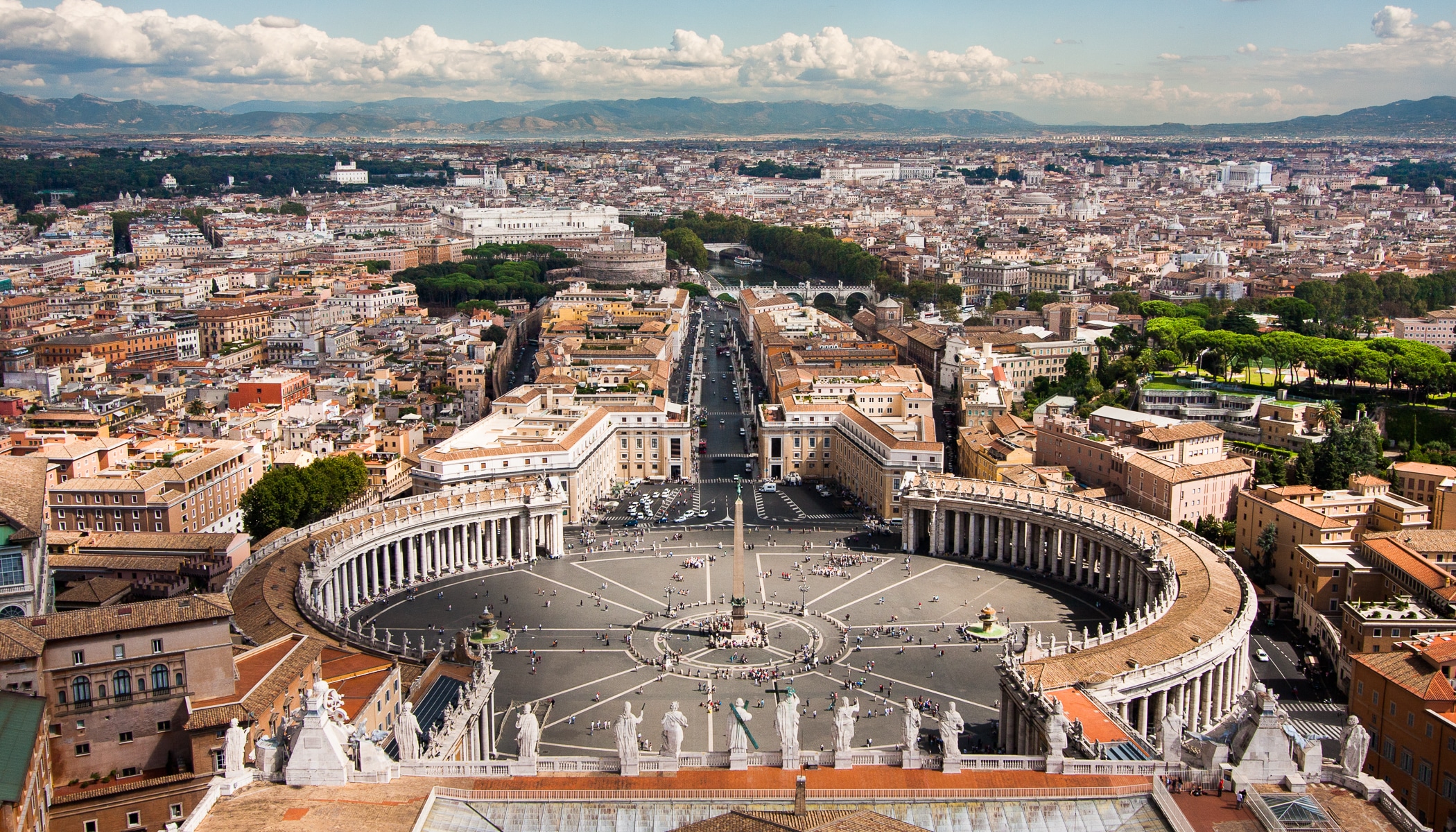 We visit many cities throughout our lifetime and many of us like bringing home photos as a souvenir. Of course, detail shots have their place, but in this article, we're going to focus on capturing a city in a way that portrays its character. After all, it's different every time.
The term cityscape is not always clearly defined. Sometimes it's understood to mean skyline views where buildings are seen from a distance with their skylines dot the horizon. Other times, it includes all types of urban images including detail shots with one building towering in the background.  
I'll finish this discussion of genre definitions and just say that it comes from the word landscape. By analogy, cityscape is the concept of shooting buildings as if they were an urban landscape lying before you. The skyscrapers are man-made mountains, the streets are rivers, and so on.  
Classic shot: The city from above
So how do you shoot cityscapes? The simplest method for shooting cityscapes is to get up high where you have the entire city in the palm of your hand.
If you find a tower, castle, or other building with a high vantage point accessible to tourists, you have the chance to get some captivating shots.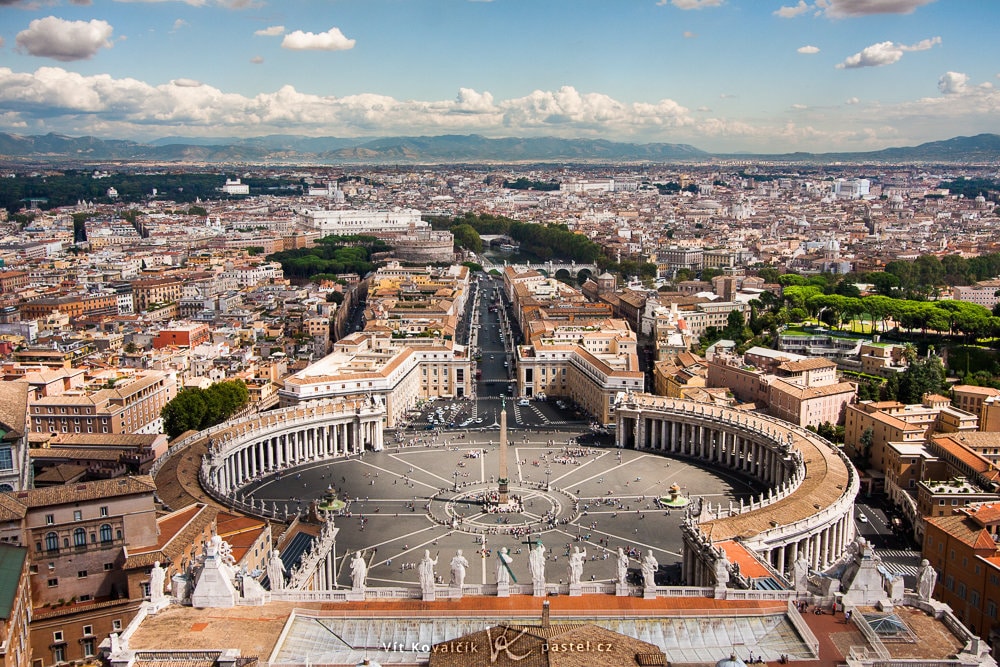 Sometimes all you need to do is find a hilltop that rises above the rooftops of surrounding buildings.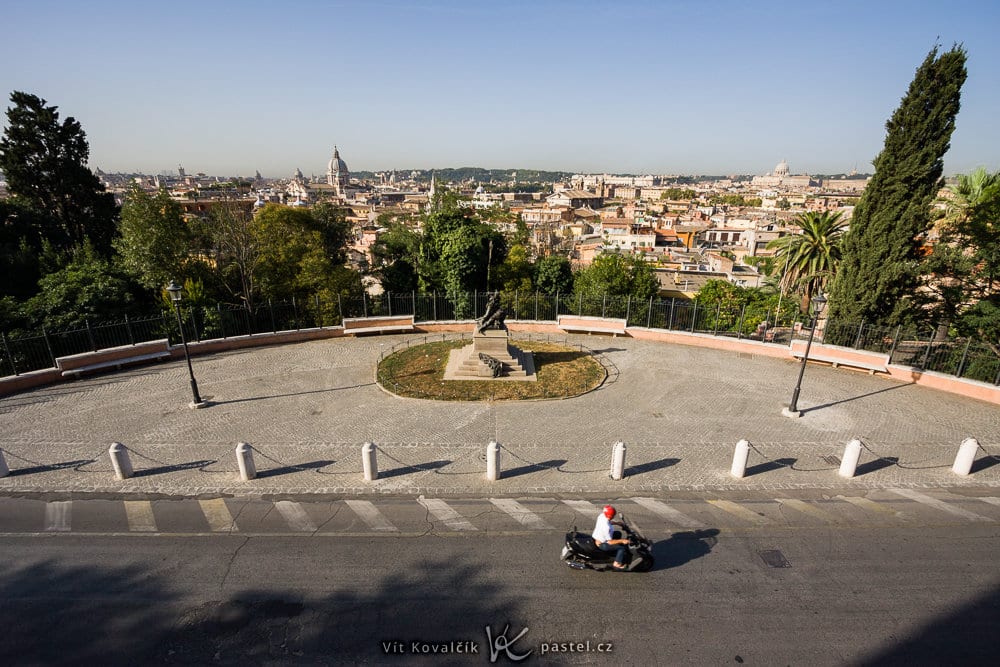 In this shot, the proximity of the foreground allowed me to add a dynamic element – the passing motorcycle, which I had to wait for. For those that are curious, a technical note on this photo's composition: Even though the general recommendation is to leave more room in front of a moving object, the motorcycle is intentionally placed very much to the right so it fills the bright space that lacks shadows. Sometimes two conflicting composition rules simply collide. 
Don't be limited by the city's geography. Aside from drones, which can be difficult to use in cities, there are other options to get up high, even though they may seem a bit out there. The following image was taken from a hot-air balloon.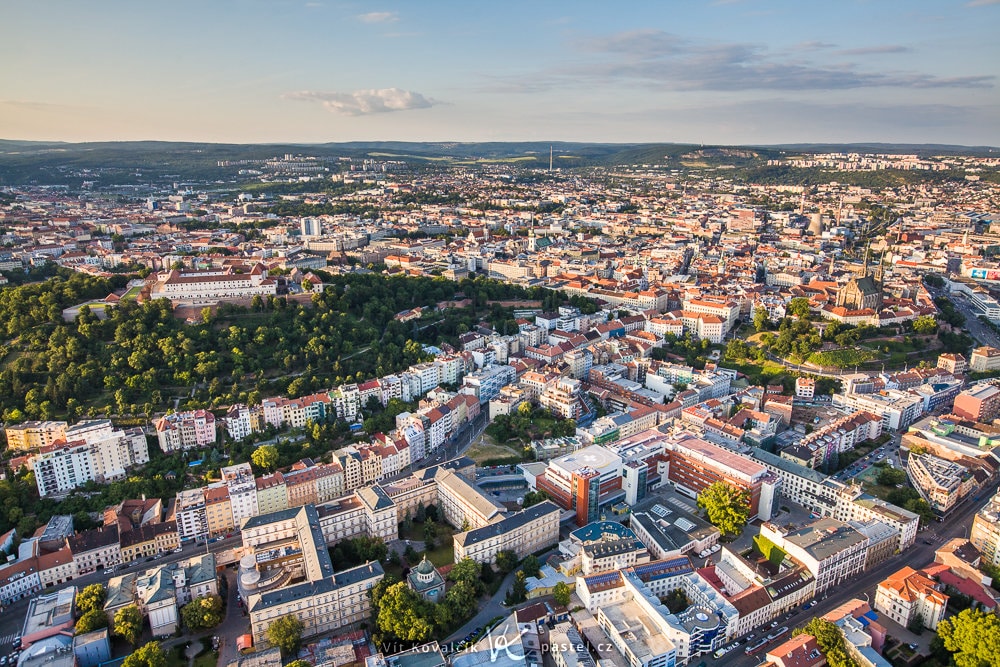 To straighten or not to straighten
I think we'll all agree that the horizon should be straight. Otherwise, you risk having your picture look amateur. In essence, nothing is keeping you from a straight horizon. Either you watch out for this issue while shooting or you easily fix it later. 
A more complicated question is whether or not to straighten what is known as converging lines (a building's vertical lines) which appear automatically with varying perspectives.
If your perspective is horizontal, you don't need to worry about converging lines and the edges of the building will be perfectly vertical. But the more you deviate from a straight-on view with your shot aimed significantly below or above the horizon, the building lines will increasingly converge. This can be corrected, but at the cost of losing the image's edges. However, there can be so much loss that the correction isn't worth it. I personally deal with converging lines on a picture by picture basis. In many cases, I choose to leave the image as is. 
City details
So far, all photos were shot on a wide-angle lens. But, a wide-angle lens is not the only option. A telephoto lens also gives exciting results.  
A telephoto lens can be used for emphasizing historical buildings: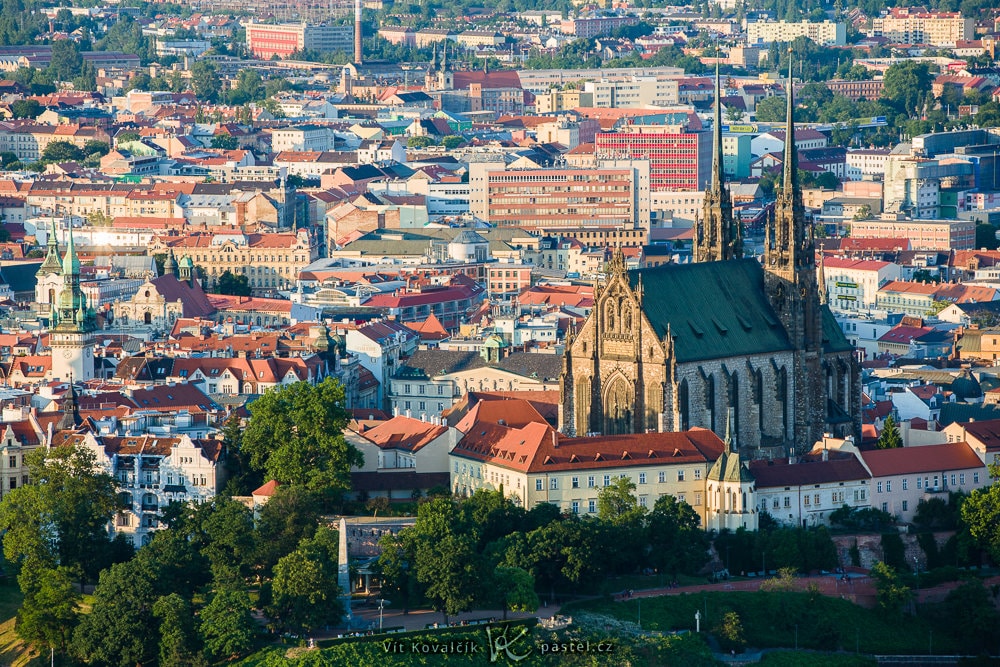 A telephoto lens can bring out even unknown places with repeating elements or buildings stacked on top of each other. A telephoto lens has lens compression which emphasizes these effects even more.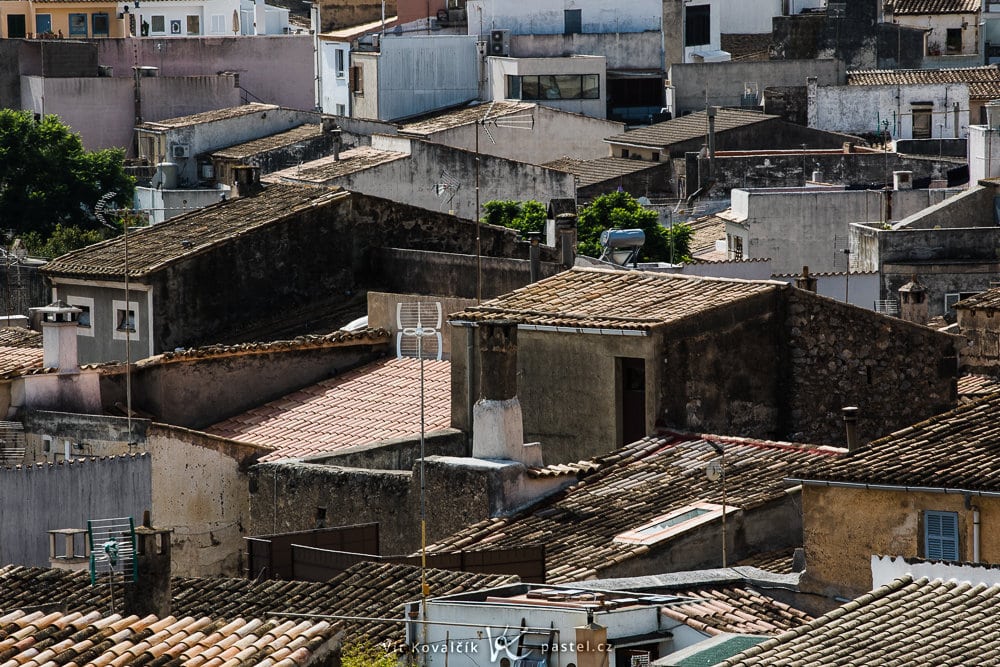 It's also a good exercise to look for a shot that captures something nearby and far away at the same time, where one object completes the other. This is the precise situation where we begin to deviate from the exact definition of what a cityscape is. According to some definitions of cityscapes, we may have already crossed the line.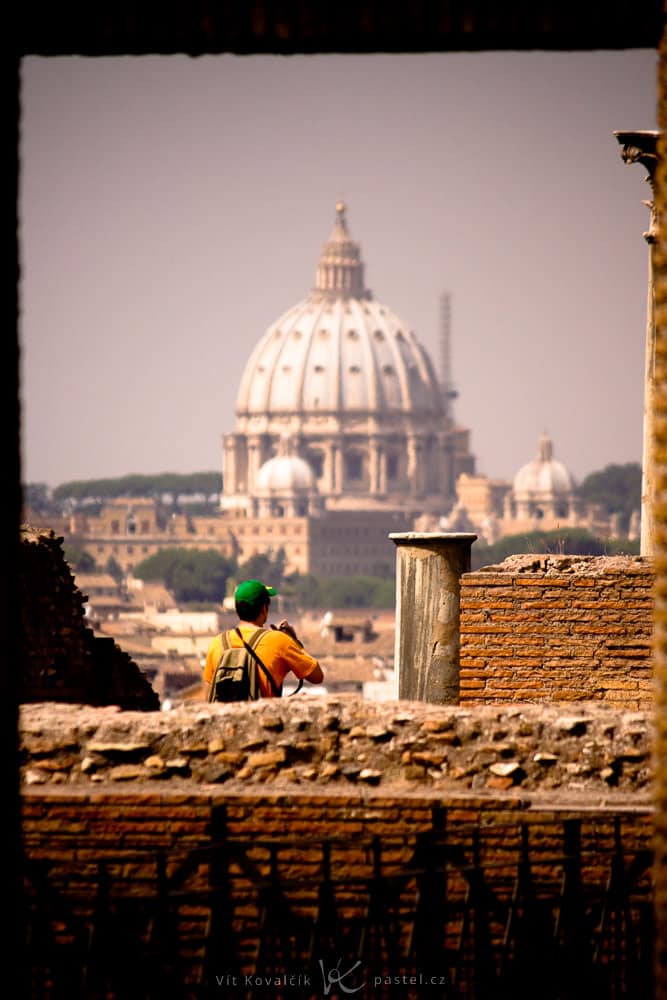 Evening photography
The setting sun gives city scenes a completely different atmosphere. If possible, I recommend heading out to shoot during the golden hour, or the time right around sunset.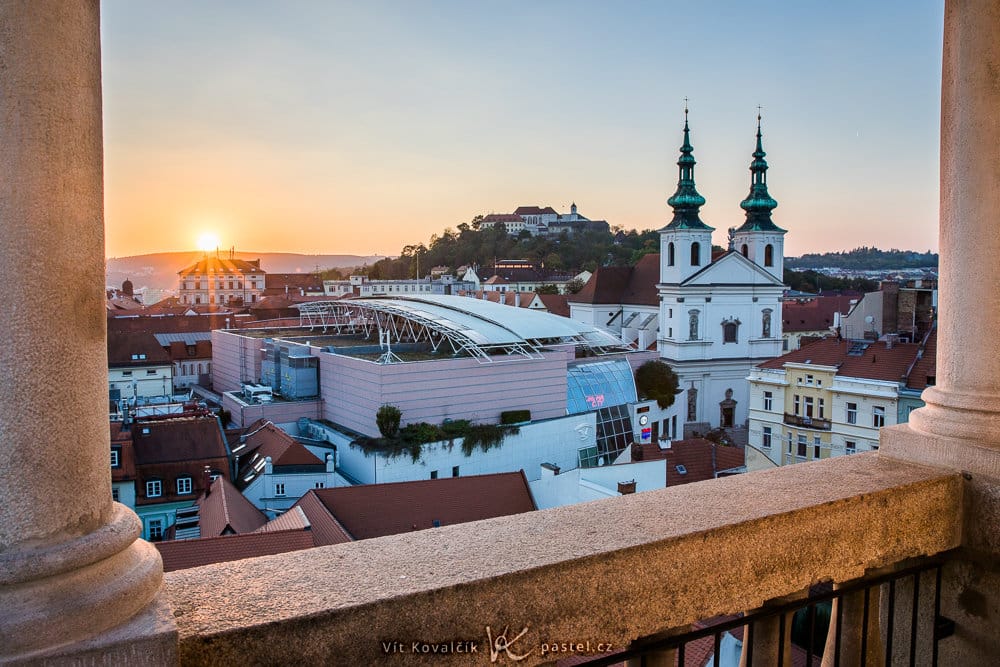 If you plan to do evening photography from lookout towers, it can be a bit tricky because the sunset in summer can be after ticket offices close. After summer, sunset is earlier, but many sites shorten their opening hours. Still, it can be possible to find a day during the year when the sun is setting, or at least about to set, and sites are still open. In this respect, fall and winter are better for evening photography. 
The rules and tips for shooting with the sun in the frame apply here. In particular, a large range of highlights and shadows can be a problem. If your camera or phone doesn't have enough range or can't combine several images, you'll have to use the HDR technique and do everything by hand. This will give you greater control over the result. 
The night city
At night you can get a whole new view of the city with lit-up streets and landmarks.  Again, it takes heading out when everyone else is having fun indoors and finding a place that's accessible after dark. In return, you'll get a photograph with a style that is completely unlike the others.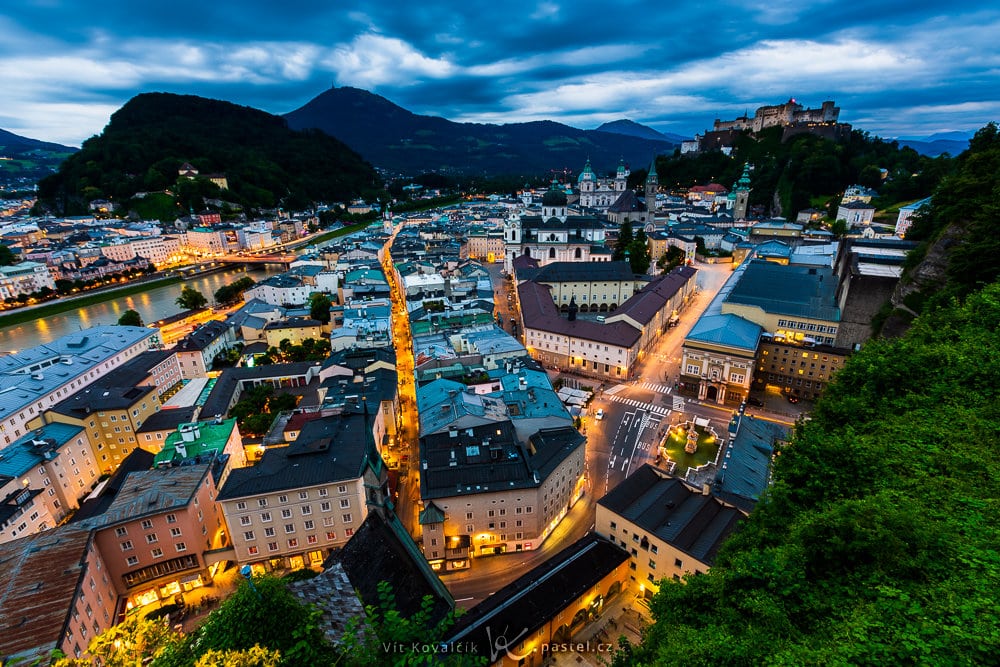 Car light trails
As darkness falls, there are other photography options that make use of long exposures – specifically, car light trails. 
Again, it's worth aiming to shoot during the fall and winter months when it gets darker earlier, and you can still catch the usual heavy traffic. You don't have to stay up until midnight to get that one car that happened to drive into the street where you were shooting. But if that's what you plan to do, I recommend at least choosing a major thoroughfare where there's a bigger chance of nighttime traffic. Similar pictures are often not a single exposure, but rather the result of combining multiple images.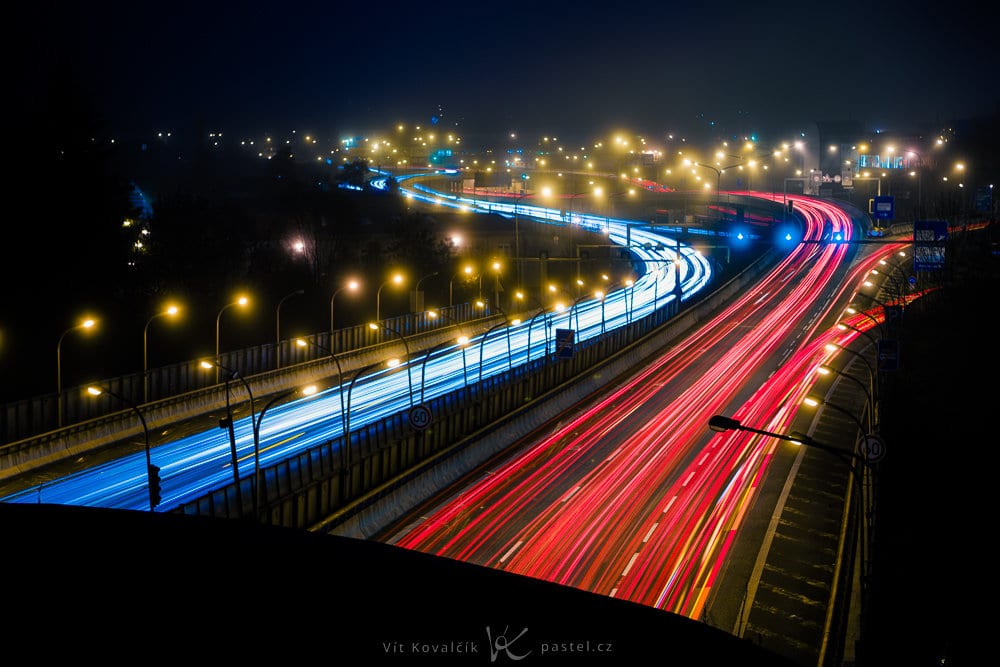 Snowy cityscapes
A bonus is if the snow begins to fall. In the early night, the streets are once again lit up with streetlights, but the roofs aren't dark just yet. Thanks to the snow, they reflect the remainder of the light from the sky. This is a situation that is hard to plan for unless you're in the mountains. But if are lucky enough to get an opportunity, act fast and you'll have another image for your collection. 
One of many ways to look at a city 
Cityscapes are certainly impressive, but having only shots of the city as a whole can get boring. For this reason, don't forget to shoot buildings and their details. Historic buildings such as churches and castles also work. With a bit of luck, you'll take an unexpectedly artistic photograph in a hidden alleyway.