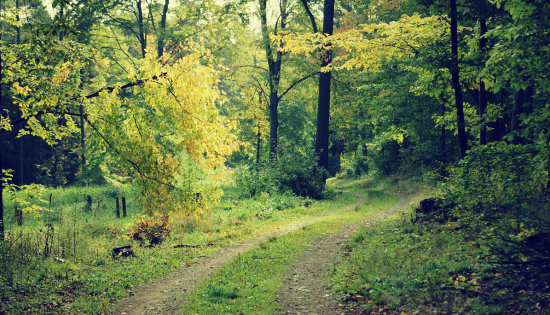 Making digital photographs look like they have various artifacts from the era of classical film is getting more and more popular. We are flooded with images every day, making it harder and harder to grab attention with pictures. Nostalgic techniques attempt to catch interest via a trip back into history.
Cross Processing in a Single Click
Version 15 of Zoner Photo Studio introduced several new features that make it easy to process and manage your photos. We'll be looking at one of those new features today: Quick Filters. It offers two different filters for imitating the Cross Process effects. Just click one of them and then use Apply to apply the effect if you're satisfied with it. There are many more filters available here as well, to imitate a variety of other photographic techniques, and even coveted, hard-to-find equipment like the Lomo. But today we'll be doing things the hard (but rewarding!) way: we'll take a look at how to achieve a cross process effect manually.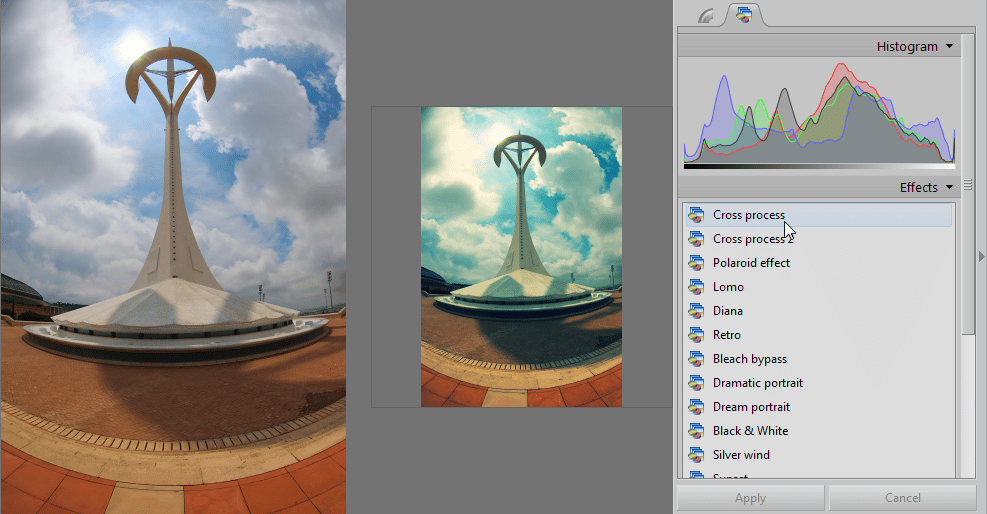 There are all sorts of nostalgic photo artefacts you can recreate, such as the look of a Polaroid or of a picture from a Lomo. And it is much moore easier with Quick Filters in latest version of Zoner Photo Studio (see stand-alone box on left). These effects are popular not only for how they look, but also for the very specific look and feel of certain materials and cameras. Whole communities have sprung up around Polaroid and Lomo, to help keep the spirit of these types of photography alive.

Developing Digital Photographs
For digital photographs, simulating cross-processing is relatively simple. You just need to mix up the digital bath in which you will wash your picture. Use a histogram curve editing tool for cross-processing edits. Such a tool lets you adjust the individual color elements in a picture. If you've ever seen a real or virtual (digital) Lomo photo, the outputs of this process will remind you of that.
In Zoner Photo Studio, use the Edit | Adjust | Curves menu item, or press Shift + C. The foundation for the whole edit is adjustments to the individual color channel histogram curves in a picture. Once you are in the Curves window, use the color channel dropdown to go from RGB (the default) to the red, then green, then blue channel. In all three channels, shape the curve into an "S" shape (illustrated below) to get your cross-processing effect.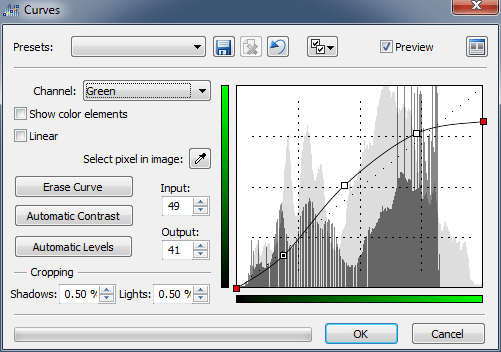 Cross processing
Cross processing also has its roots in film photography, and is closely connected to the way film is developed. There were four kinds of film that you could typically buy: color negatives, black and white negatives, color slides, and black and white slides. Negative film was used the most, and the output was classical negatives, to be sent to a darkroom where they would be blown up. Slide film meanwhile was used mainly for instant presentation on slide projectors.
Both types of materials needed to be processed in a lab, and for each type of film, a different process and chemicals were used. For negatives, this was the C-41 process, and for slides, it was the E-6 process. Cross-processing quite simply means instead using E-6 for negatives, and C-41 for slides. The result of this swap is a very specifc kind of tinting that accentuates certain colors in a photograph.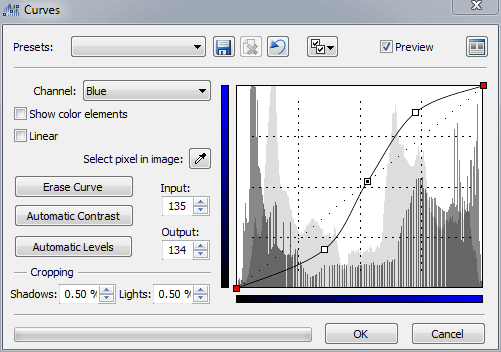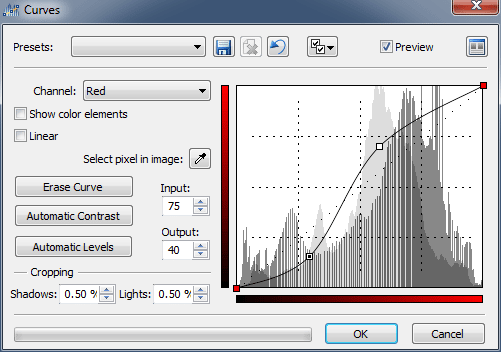 You can also try giving some of the curves the opposite shape, a "mirrored S." There are no limits to the experiments you can try! However, you really should try to keep the photo a photo. Too much shifting gives a "posterized" feel for part of the image and overall color shifting. Still, every photograph demands a slightly different approach depending on how it was developed, so don't be afraid to differ from the curves shown above.